The past year, 2021, was full of LEGO Collectible Minifigures series premieres. We received as many as three editions of minifigures, including the 71030 Looney Tunes Series, 71031 Marvel Studios Series and the "regular" Series 21. This year also brought a significant change: Currently there are 12 figures in the series, not 16 as in the previous LEGO CMF series.
It's no different with the upcoming "regular" LEGO CMF Series 22, which hits stores on January 1, 2022. The latest Hearty Dozen will include two minifigures in suits, two warriors, two science-fiction characters, two athletes, two animal-based characters and two characters straight from fairy tales or fantasy stories. And additional accessories, which are quite a lot!
The minifigures in this series will still be packed in plastic pouches, so you will be able to feel for your favorite figure, but beware: Some random figures are packed in an additional plastic bag and in some countries, COVID-19 restrictions forbid buyers from feeling the bags.
Just like in case of the Series 21, we decided to take our minifigures into the wild and into the privacy of the studio. I was assigned the role of a "studio reviewer" while Chellie Hyre (@littleplanetchell) shot them for the outdoor review.
Off we go then!
Chili Costume Fan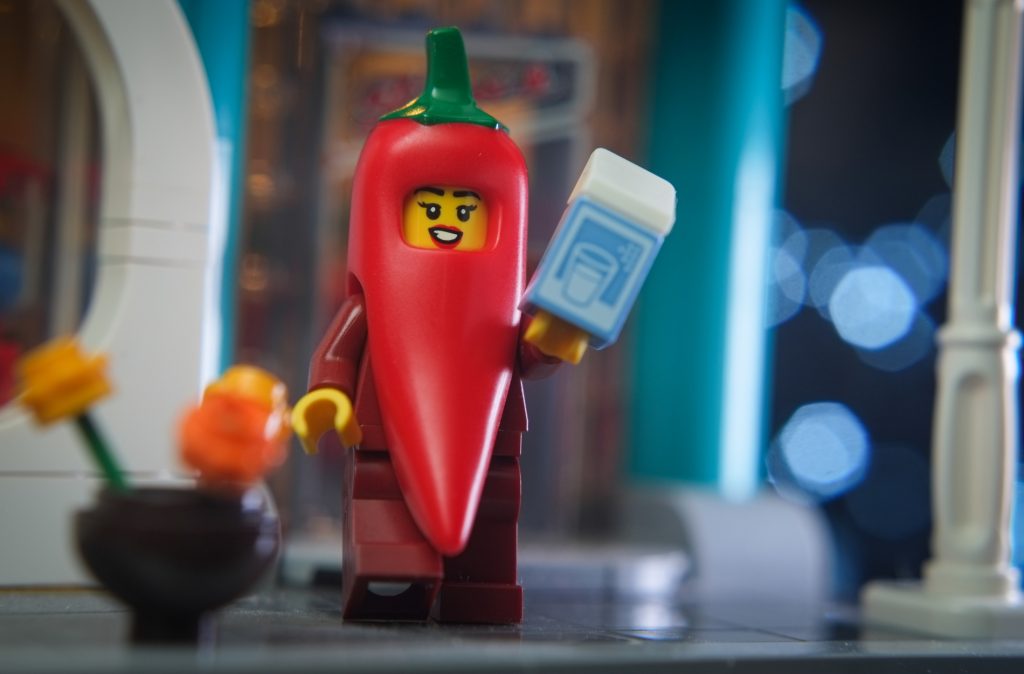 This minifig is hot! And not only because I am a hot spices aficionado! I admit I have long hoped for LEGO to do a "chilifig" and I'm more than happy. Here we have a minifigure and her costume, all in red, and a carton of milk. The milk is a nod to the experts on the subject; fat perfectly neutralizes the effect of capsaicin, the chemical that gives a chili its spice. Moreover, the minifigure is not just a hired person to encourage people to take part in a hot pepper-eating competition. Instead, this girl is a competition organizer, because after taking off the chili-suit, we can see a print with hot pepper on her torso. Chili Costume Fan also has red [of course!] hair and two facial expressions: smiling and one with sweat on her forehead. After all, it's hot in the red hot chili pepper costume, too! Or maybe even more?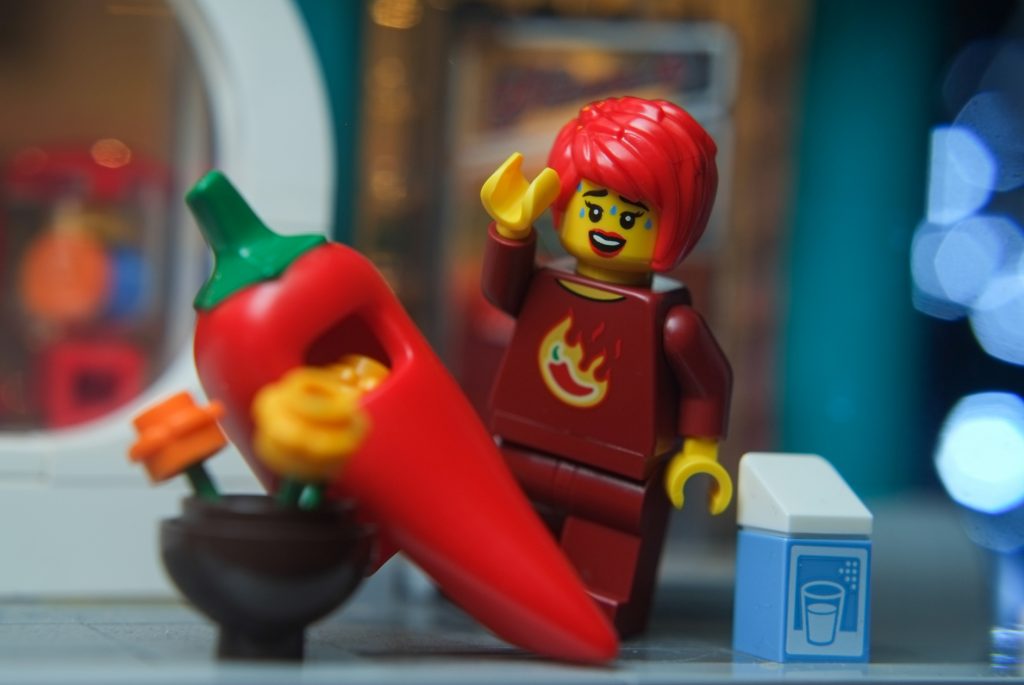 Racoon Costume Fan
This minifigure encourages you to play pranks! But it all starts innocently enough. Seemingly, it's another minifigure from the "… suit" series, and it is rather gray compared to the others. But it comes with a bag [implicitly with rubbish], a garbage can, gray hair [of course!] and two facial expressions. The first expression is rather neutral, but the other, a mischievous smile, changes everything. Maybe it's actually just a girl in a raccoon outfit cleaning up after Halloween, but maybe she's a clever thief hiding loot in a trash can? After all, the darkest place is under the candle!
Snow Guardian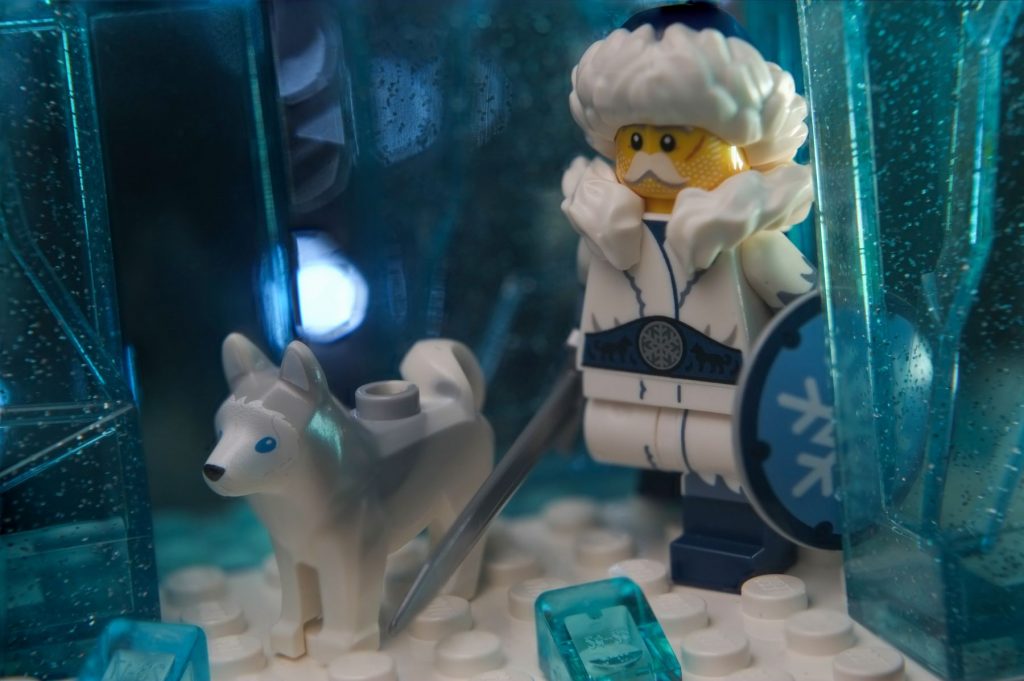 This is one of the few minifigures in this series that I would prefer to photograph outdoors [not only because it just snowed]. I don't feel confident in studio settings that are supposed to pretend to be nature. Not to mention the fact that I am not a MOCer. But I had to take up the challenge! In white and blue tones, this minifigure breathes cold. Thanks to evocative prints and accessories, it's not difficult to imagine the bitter frosts this veteran of many winters has to contend with. His neck collar fur is a well-known element, but a large fur-lined hat is a new element and probably valuable to many MOCers. This figure also has two expressions: focused on patrol, and angry when things get complicated. A faithful dog, looking like a husky, accompanies this warrior while traversing the icy slopes. The dog's color is, however, lighter than that of the dog known from the Medieval Blacksmith set.
Night Protector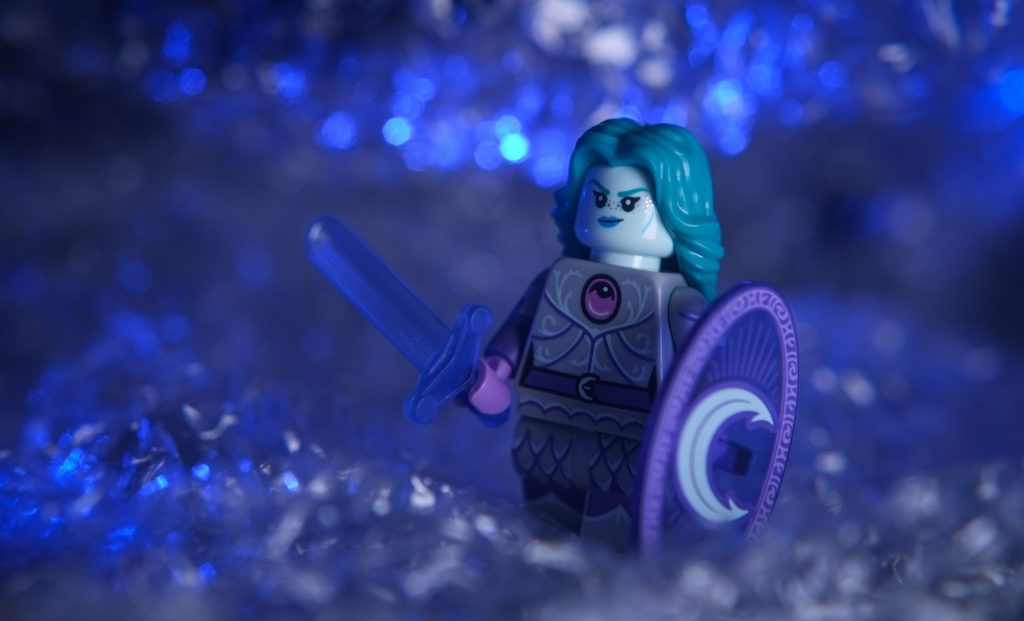 The Guardian of the Secret Crescent is one of the most beautifully printed minifigures in the series. Both the body and legs are covered with intricate, elf-like details that suggest extremely light yet durable armor made from some sort of moon metal. A translucent, probably magical sword also draws attention, along with a wonderfully decorated, transparent shield. In addition, green hair and a pale head covered with stardust freckles in both expressions—more focused and smiling—give this figure lightness. After all, the moon has 1/6 of planet Earth's gravity!
Space Creature
Classic space! Let me repeat: classic space! I don't even remember the last time LEGO made such an open reference to this cult series in a regular set. I think of 70841 Benny's Space Squad, but my RAM may be malfunctioning. And here we get a full-fledged classic space minifigure! Or at least legs and torso with a classic space print, and with additional prints on the arms and legs, in dark purple. The two-part head belongs to a representative of a non-human, alien race.
The headpiece, as seen on the Bumblebee Girl minifigure, was cleverly used here by changing the antennae into eyes on the stalks. This brings the minifigure closer to a space slug, which is enhanced by a green, transparent head with an imprint suggesting that it is a reservoir for an exploding gooey substance. From a distance, it also looks a bit like a shell. The only thing I'm missing is the hose that would connect the tank to the blaster the alien is holding in his hand. But it's great even without that—because classic space!
This, in turn, is one of those figures that I cannot imagine photographing too much outside the studio. Unless I had a botanical garden full of very exotic plants or a bunch of snails at my fingertips. And I have neither.
Robot Repair Tech
Now for my favorite piece of CMF Series 22! This pair of mechanical brawlers is definitely the standout in this collection, and not just because of the abundance of great prints. The yellow robot is full of stripes and markings characteristic of heavy industrial machines, which creates a very nice atmosphere around these robots.
Another nice addition is also the welding mask with emoji-like digital eyes printed on visor. The best, however, is hidden under the hood! The prints on the robot's head are great! There are nice gold PCBs on either side of the head, plus two visual receptors connected by a wire that looks like a smile, and a neat battery indicator on the back.
However, if we take a closer look at the printed circuit boards on the lower part of the minifigure's face, we will see something like a broad golden smile! I get the same smile looking at this pair—the yellow robot is accompanied by its creation [probably], the super-cute red robot! It's just a head on legs, but it's so much fun! Well, maybe less for the constructor.
It is also one of those minifigures I prefer to photograph in the studio rather than outside. But a decent junkyard could also be a nice background…
Wheelchair Racer
The first LEGO wheelchair appeared in 1975, and the latest, molded installment in 2016 as part of the 60134 Fun in the Park – City People Pack set. Along with the wheelchair racer minifigure comes a three-wheeled, race version of the wheelchair. The athlete minifigure is in a medium azure color scheme, including the bicycle helmet. He wears a medal made in a completely different color scheme—red and gold. This minifigure's head has only one expression, but it's determined enough to win every race.
The wheelchair is attached to the traditional minifigure plate with the help of a trans clear 1 x 1 round brick with open stud. I would like to photograph this minifigure outside, on the tartan surface of a running track or bicycle path.
Figure Skating Champion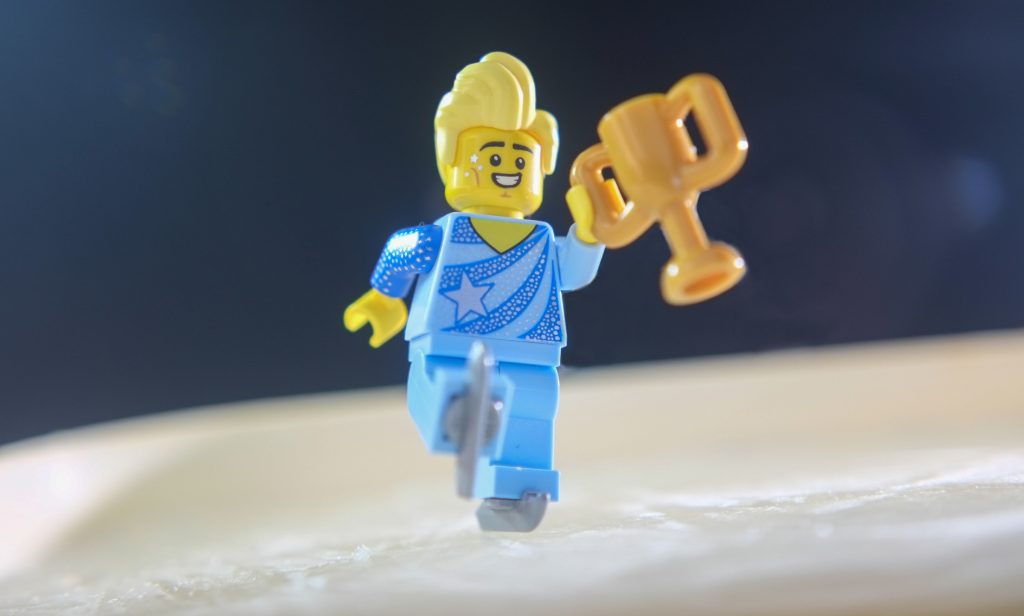 This minifigure is also a winner. With a radiant smile and subtle star makeup on his face, and blonde hair on his head, the skater is holding a golden cup and is getting ready for the round of honor presenting the best figures from his program. Silver details on the face, torso and arms make this figure shine. It's worse when it comes to accessories, because the skates, the cup, and even the trans clear minifigure stand, which allows you to jump over the ice, are not new elements.
Birdwatcher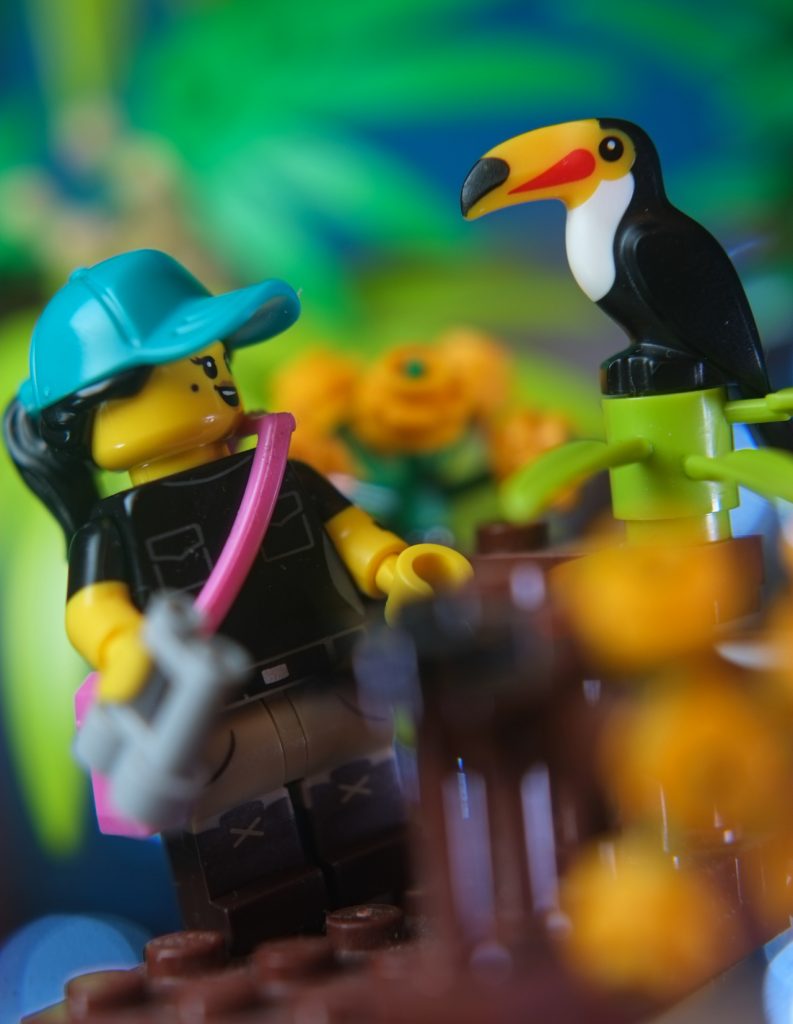 This is one of the three most colorful minifigures in the Series 22. The subdued colors of the cap, binoculars, torso and legs suggest that Birdwatcher is an experienced researcher of the lives of our winged friends. This pink bag doesn't fit the character, especially since LEGO has the same bag in more explorer-like colors. Maybe this color is supposed to attract birds? A great addition to this minifigure, however, is the molded toucan, which can enrich other exotic scenes, such as pirate builds.
Of course, I would also prefer to photograph this figure outdoors. As long as I go to the orangery.
Horse and Groom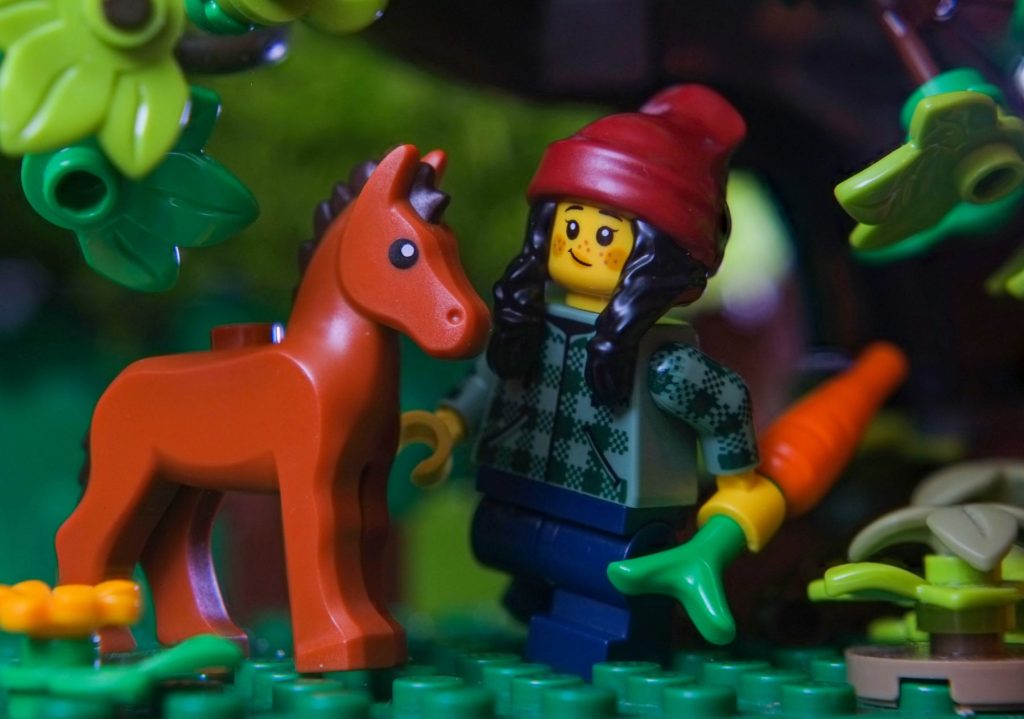 This is the second of the three most colorful minifigures in the series. The adorable teen feeding her foal with carrots is also one of the cutest minifigures in Series 22, not to mention the foal! The one in the "minifigure" series appeared for the first [and last] time in 1996 as part of the Paradisa series. So it's very good that this project has been refreshed. I think this foal will be one of the most sought-after elements in the series.
This couple is perfect for being photographed outdoors, but a commitment is a commitment!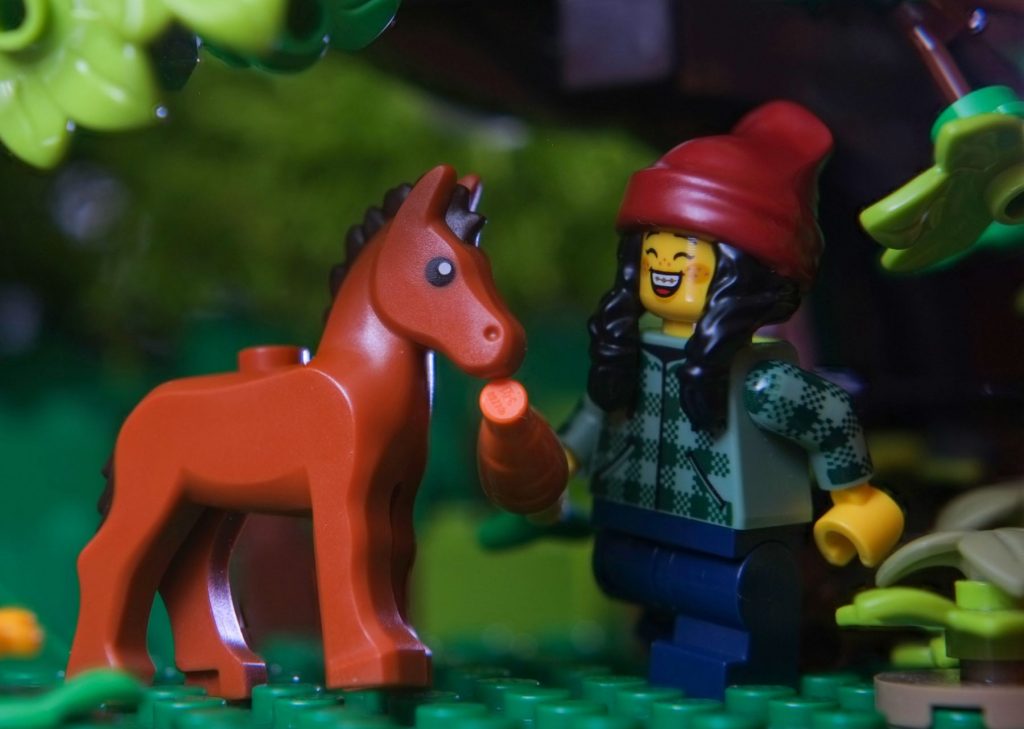 The girl has moving medium-sized legs, a cool plaid print on her green flannel shirt and an equally cool, laid-back headpiece with hair and beanie hat. The head has two facial expressions: medium smile and high smile, showing braces. As I said, this is probably the cutest minifigure from this series, but the next one is hot on its heels!
Forest Elf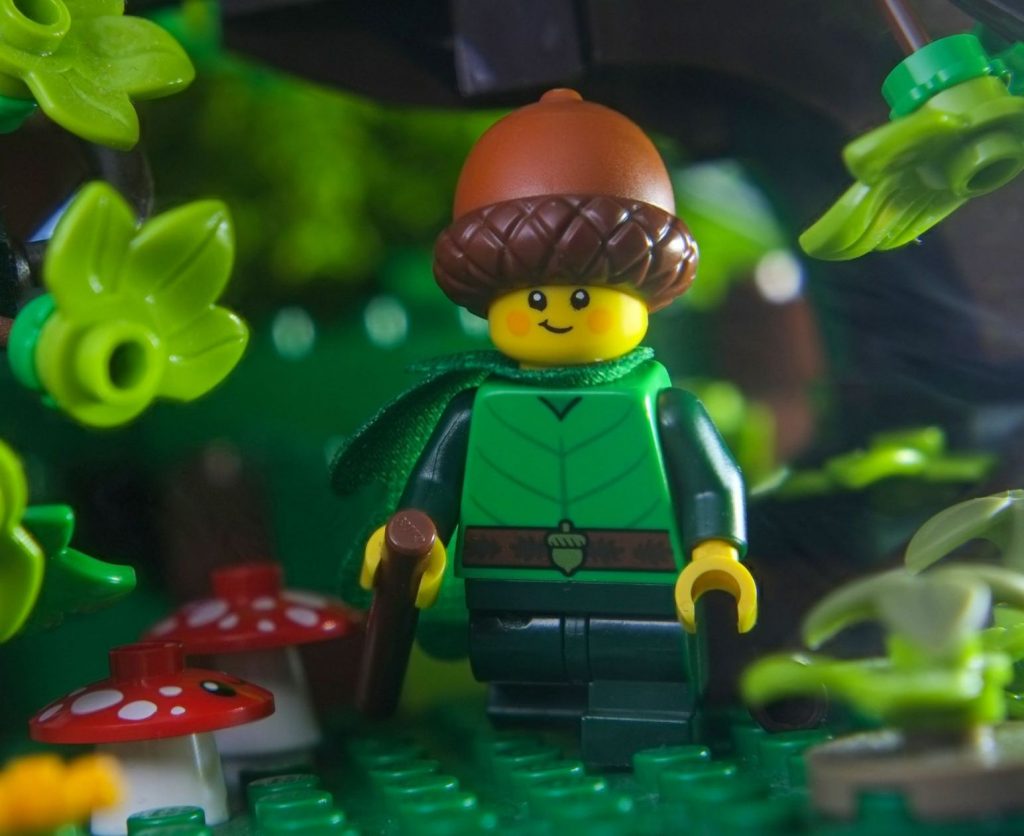 This is the third most colorful minifigure in the series and, at least for me, one of the biggest surprises. A little boy in an acorn cap and oak leaf coat is walking sweetness! The oak leaf and the acorn are the leitmotif of this minifigure. All the details, great by the way, have these shapes, including the clasp on the back of the sachet.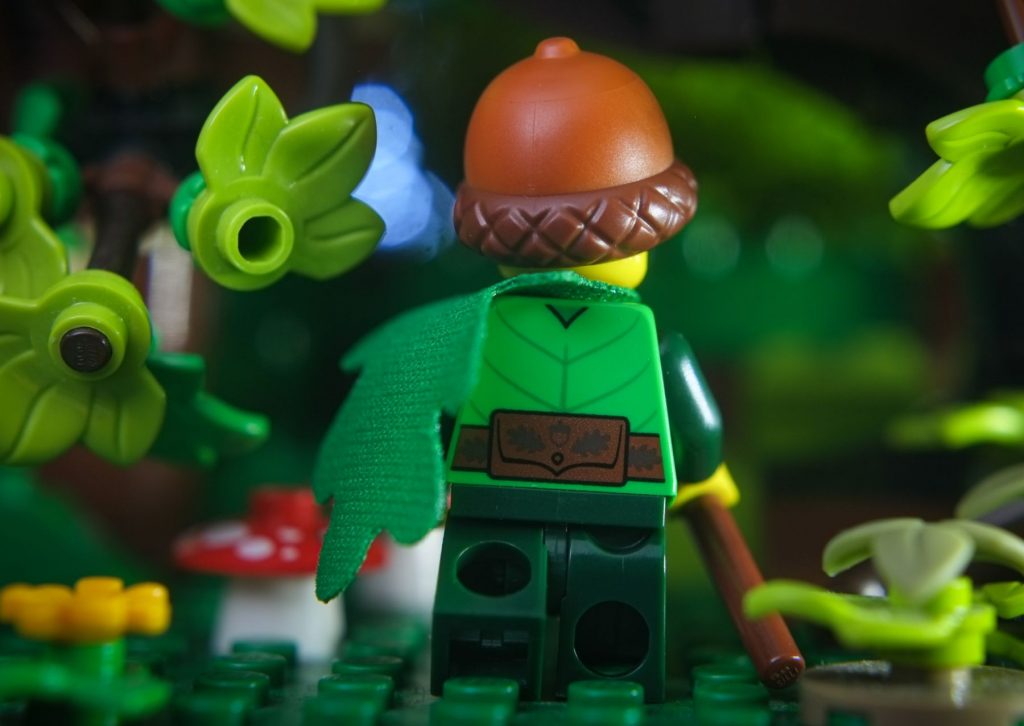 Forest Elf comes with another forest spirit—a smiling toadstool! It's difficult to call him a boy's companion, due to the mushroom's sedentary way of life. But they certainly have ties of friendship. Maybe the mushroom grows under the tree that this forest spirit calls home? Who knows?
In the case of this minifigure, my greatest regret is that I could not take a photo of it in nature. But there is luck in leisure…
Troubadour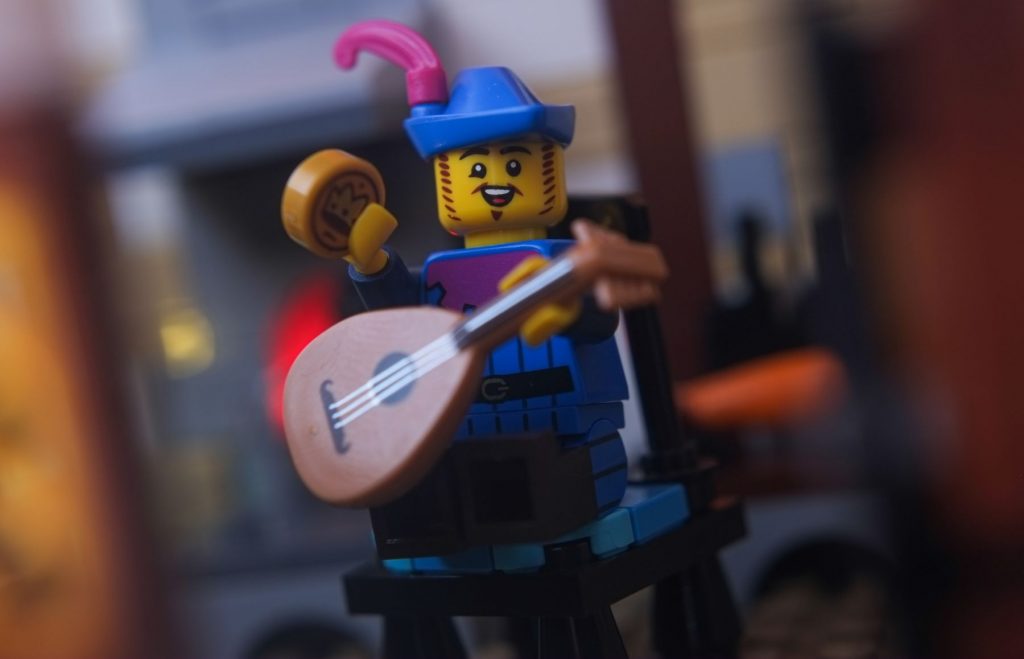 Toss a coin… I bet some of you instinctively hum this song while looking at the bard minifigure! This one is an exemplary representation of a characteristic persona from the medieval/fantasy world. So here we have a pencil moustache and a pointed goatee, a hat with a cheeky feather, a striped jacket with puffed sleeves, a compulsory coin purse and, of course, the bard's key attribute, a beautiful lute.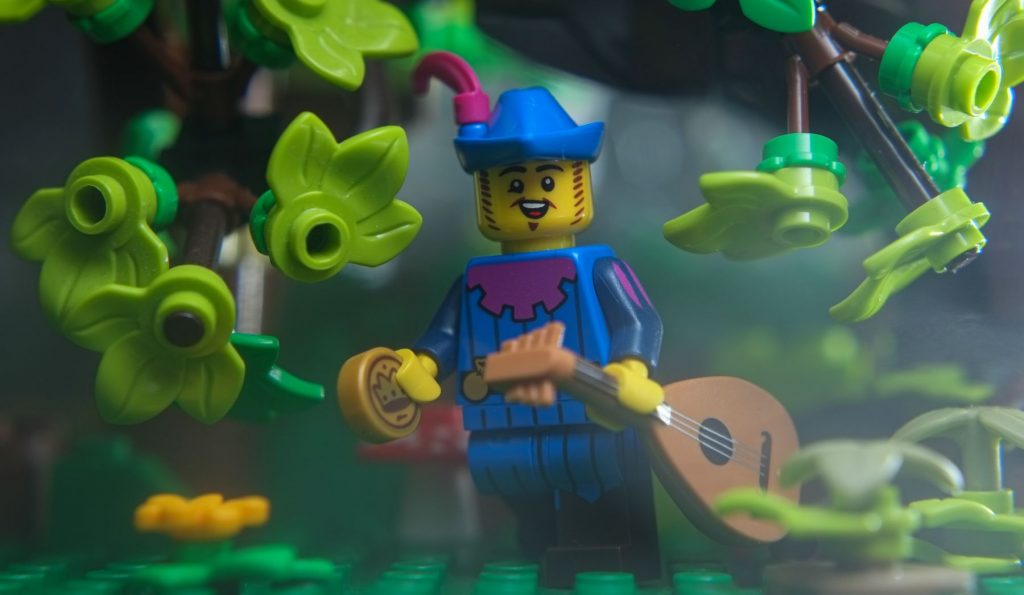 This minifigure will be attractive to all fans of Castle atmosphere. And no wonder—a bard has long been missing from the LEGO minifigure world. He only has one expression on his face, but when you look at that face, one expression is more than enough. Troubadour is also one of those minifigures that I will definitely take for a walk outdoors. Maybe in spring…
Final thoughts
Overall, while this series only has 12 minifigures, it is quite successful. Some of them suit my taste perfectly, and most delight the eyes with rich prints and accessories.
It is definitely worth noting the championship diversity in the case of the wheelchair racer and the fact that LEGO took care of the gender balance of the minifigures. Here we have five male and five female minifigures, one robot and one alien. Women's Brick Initiative will be pleased that LEGO has taken care to give equal gender representation this time.
Hopefully it will remain a steady trend.
Thanks to LEGO for sending us this series for review.
Howdy! While you're here, we invite you to sign up to our weekly Toy Photographers email roundup where you'll get a recap of all the week's babbling. And while you're at it, you should definitely join our MeWe community! We hold monthly contests with prizes and lots of other cool stuff.