As 2022 fast approaches, so does Chinese New Year and with it the latest release of the Lego Brickheadz, Chinese New Year set. This year it's time for 40540 Lion Dance Guy, a 151 piece set.
When I was asked to do this review I was really happy since my wife had just picked up my first Brickheadz for me and I enjoyed building it. Since it was Frankenstein I used it in a few mashup Halloween photos. Additionally, I have always been intrigued with all things Far East and Chinese New Year in particular. I mean, who wouldn't enjoy a celebration lasting 16 days and one that includes animals and mythological creatures as a symbol for the coming year.
My initial impression upon receiving the Brickheadz was that the box was nicely designed with the photo of Lion Dance Guy and the symbolism of the Lion representing strength, something we could all use during these difficult times. I also wondered if perhaps Lego may release a Brickheadz Tiger since 2022 is the Year of the Tiger.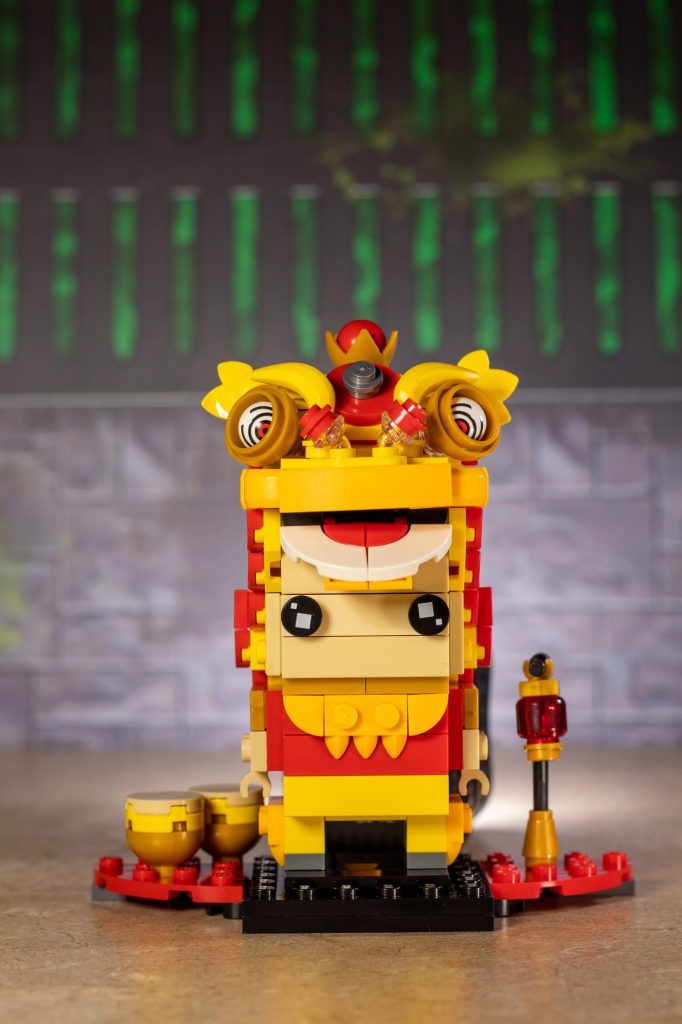 Build
Upon opening the box I found four bags, the 6×6 stand for the completed product and a set of instructions. The instructions were the standard color coded Lego instructions we have all come to know. I did find it a bit odd that they indicated I should open bag 1 and build then bag 2 and build. It didn't show any additional bags, so I quickly thumbed through the booklet and noted the instructions didn't indicate separate builds for the 4 bags. I opened all 4 bags and hoped for the best. I am not known for my Lego building speed nor skills.
The build itself had 65 steps and took me just under an hour at 58 minutes. It was fairly straight forward and easy to understand the color coded instructions once I got past the earlier hiccup of showing two separate steps with 2 bags.
When I completed the build I found the Dancing Lion Guy to be an attractive and quality character. It's standard Brickheadz size at approximately 4 inches tall. The figure is mainly yellow with splashes of red accenting the build. There is a lantern on one side of the stand and a set of tanggu drums on the other side. It definitely has a Chinese New Year feel to it with the extensive use of red tiles as well as the lantern, tanggu and overall feel to the character. I do wish the lantern had a tassel similar the the Brickheadz Panda set, but it still looks very nice without it. The large lion head the character is wearing also definitely adds to the feel of Chinese New Year and is the main point of this set. It would be nice if their were two "people" included with this set since it's traditional for two people to be in the lion costume. Of course that would completely change the build and likely increase the price point significantly. Nonetheless it is a lovely piece as is.
Overall impressions
At $9.99 I feel this set is priced appropriately for collectors of Brickheadz as well as Chinese New Year fans. Both should consider adding this to their collection. If you are considering buying this solely to photograph I think it's important to keep in mind the severe limitations this character will have on photos, as do all Brickheadz. They are too big to use with CMF and Lego build sets or MOC and of course have no articulation. As for buying this particular set as a toy photographer, I'm not sure it would be my first option unless I had a specific photo in mind or wanted to do some composite work in photoshop. I'm glad I was given the opportunity to review this particular set and hope I'm given additional opportunities in the future.
Thanks LEGO for sending us this set for review.
Howdy! While you're here, we invite you to sign up to our weekly Toy Photographers email roundup where you'll get a recap of all the week's babbling. And while you're at it, you should definitely join our MeWe community! We hold monthly contests with prizes and lots of other cool stuff.