With the end of 2020 on the horizon, the time feels right for me finally tackle my long overdue review of the LEGO Chinese New Year Temple Fair set (80105). This was originally released in the U.S. on January 10, 2020 alongside the Lion Dance (80104) to celebrate Chinese New Year. Both sets are wonderfully festive and colorful, and I could not wait to put them in front of my camera. Unfortunately, while I was able to track down the Lion Dance set at launch, the Temple Fair proved much harder to get my hands on.
*The first part of this post is a personal story. To get right to the set details, jump to 新年快乐 (Xīnnián kuàilè) – (Review Starts Here!)
Year of the Rat (and RATS!)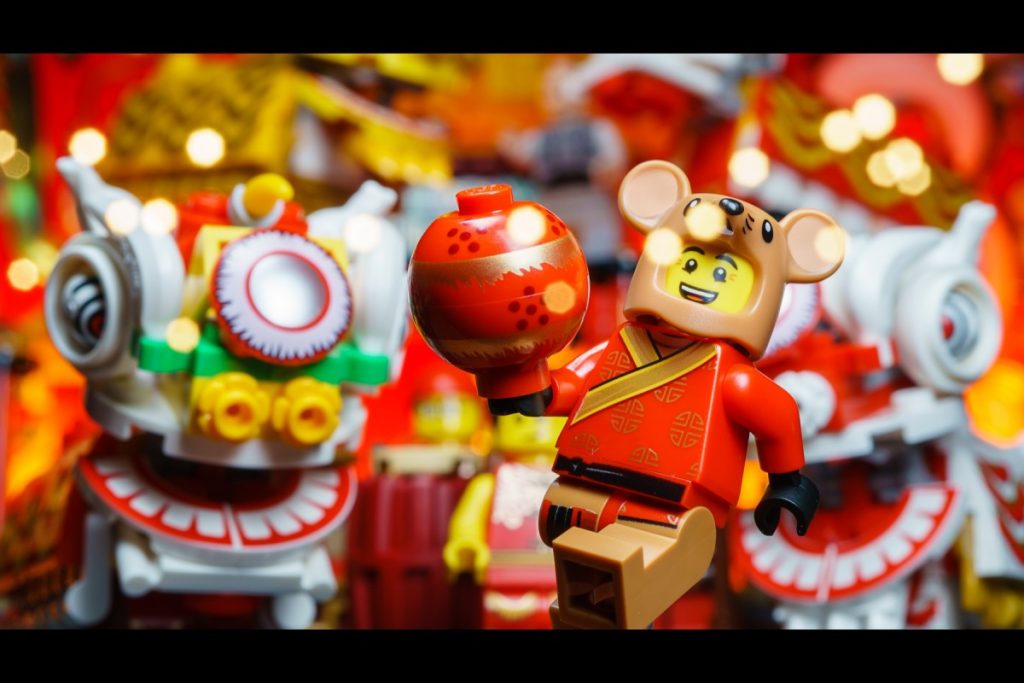 Backordered on shop.lego.com and absent from store shelves, I resigned myself to welcoming the Year of the Rat without the Temple Fair in my collection. My family celebrated at a local festival, followed by our traditional New Years 火鍋 (hot pot) dinner at our favorite restaurant. Little did we know it would be our last 'normal' family celebration for 2020. A mere few weeks later, COVID-19 would change the lives of millions around the globe.
Spreading rapidly, and costing lives and livelihoods at a staggering rate, the coronavirus stopped us all in our tracks. My family and I were fortunate to isolate at home and stay safe, but I was laid off from my job at the end of March without any previous indication or warning. For the first time in my adult life, I was unemployed, and my family was suddenly without health insurance during the onset of a worldwide pandemic. It was not the best of times.
I don't have a square to spare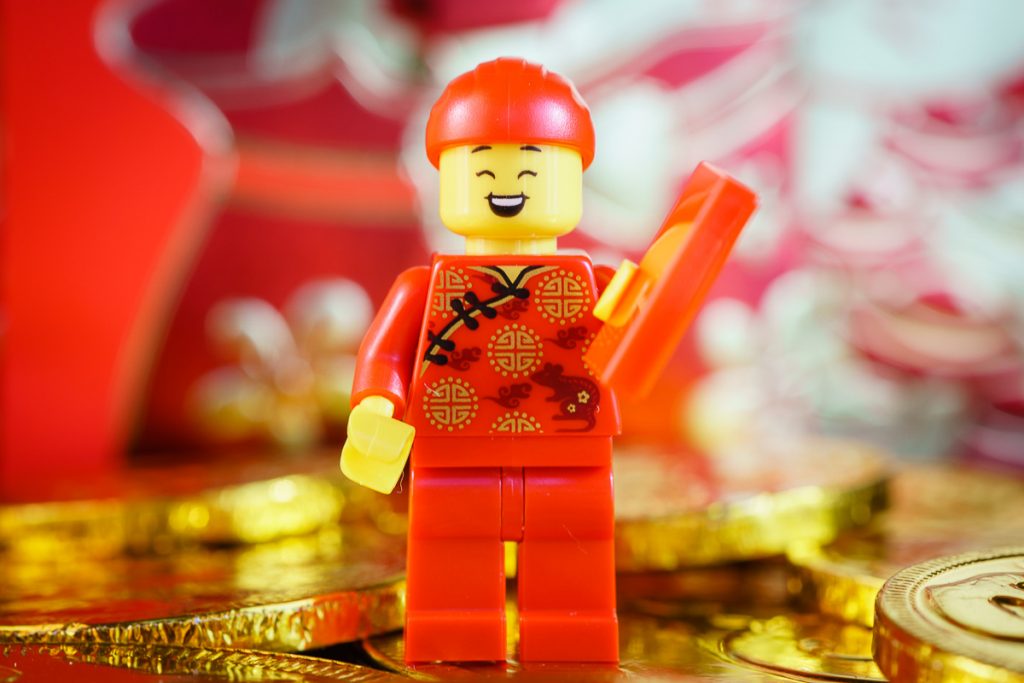 Searching for a new job, reducing our finances and rationing our toilet paper left little time or money for LEGO or toy purchases. So imagine my surprise in late April when a shipping notification showed up out of the blue in my inbox. The Temple Fair set was no longer backordered, and a review copy of the set was on its way to my door, courtesy of LEGO (thank you!).
This was a bright spot during an otherwise dark time. I was excited to tackle the Temple Fair set, but between job hunting and helping my son adjust to virtual schooling, finding time to build the set proved difficult.
The new normal
I found a new job in July, and life settled into a new, albeit bizarre, normal. By this time, six months after its release and three months after receiving it, the Temple Fair was out of sight and out of mind.
This brings us up to date. With the December holidays on the horizon, and the knowledge that they are going to be different this year, I decided to build the Temple Fair set in the hopes of better days and celebrations ahead.
新年快乐 (Xīnnián kuàilè) – (Review starts here!)
The Temple Fair is 1,664 pieces of pure LEGO splendor. From the ornate temple entrance to the four, unique vendor stalls brimming with goods, to the 14 included minifigures, everything in this set just screams "celebration."
Exploring the fair
Shooting this set had me feeling like I was walking through an actual fair—wonderful details could be found everywhere I looked.
The minifigures really drove home a feeling of joy and happiness, as they shared red envelopes—known as 紅包, hóngbāo—and wished each other good health and prosperity.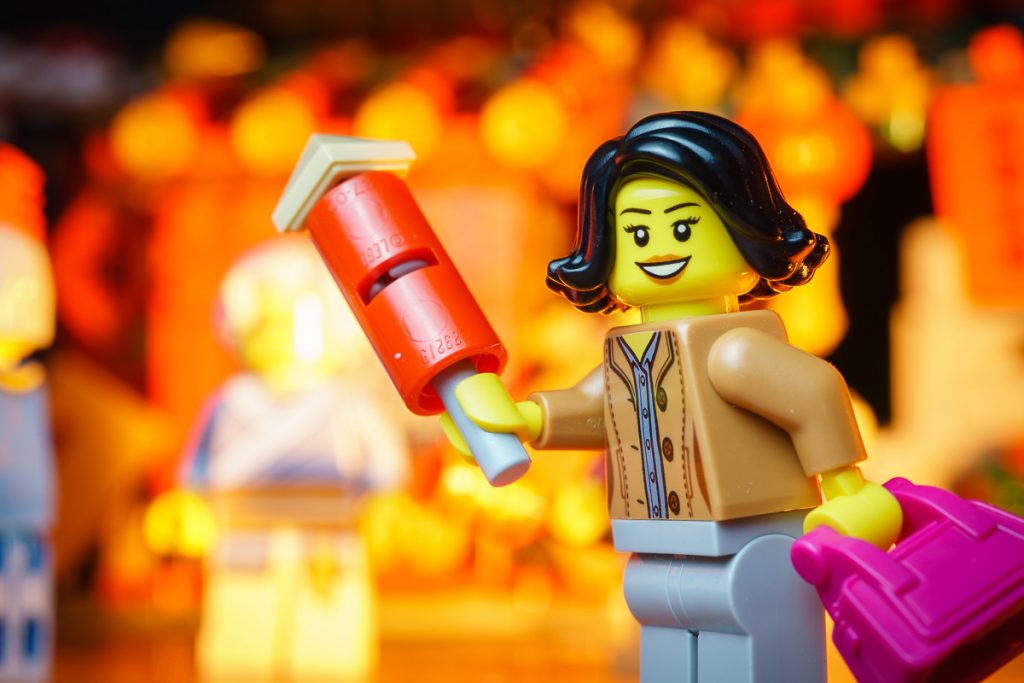 The fair has plenty of accessories for minifigures to enjoy during the celebration, including toys, fireworks, souvenirs and more.
To top things off, this set has zero stickers. Everything from the envelopes, to the signage, to the patterns on the temple use printed tiles.
In addition to the temple and vendor stalls, two cherry blossom trees appear decorated for the occasion.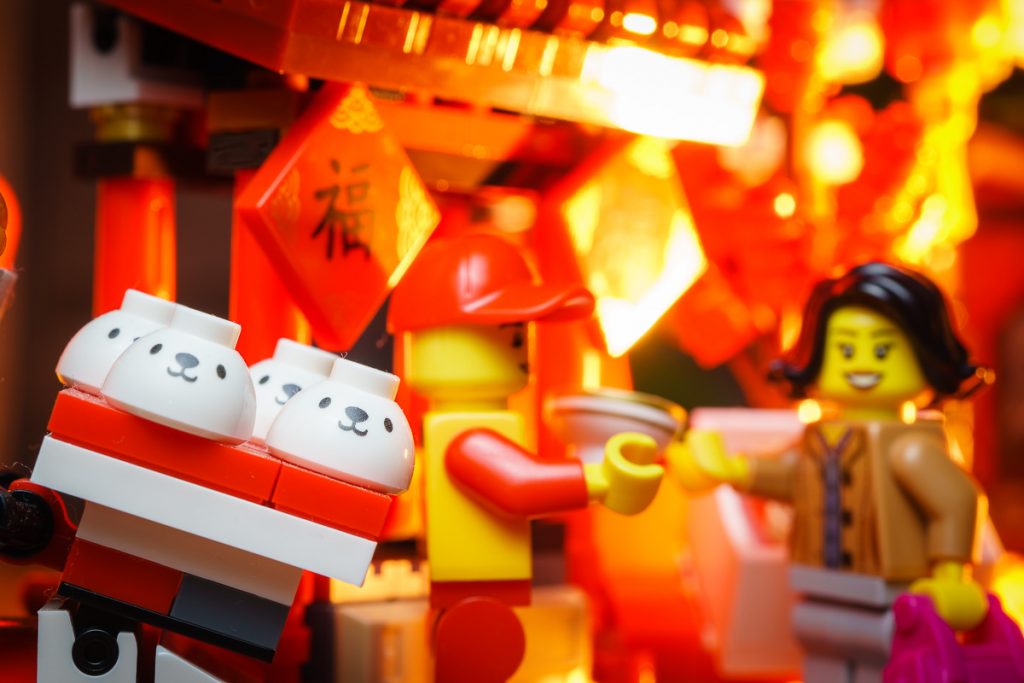 My favorite detail of the set has to be the steamed buns with faces printed on them. These are my favorite in real life, and their LEGO versions look every bit as delightful.
All the bright colors and smiles in this set put me in the best mood while I was shooting it. I found myself overwhelmed with a feeling of optimism and hope for the future as the set reminded me of better times when it was safe to celebrate together.
Warming it up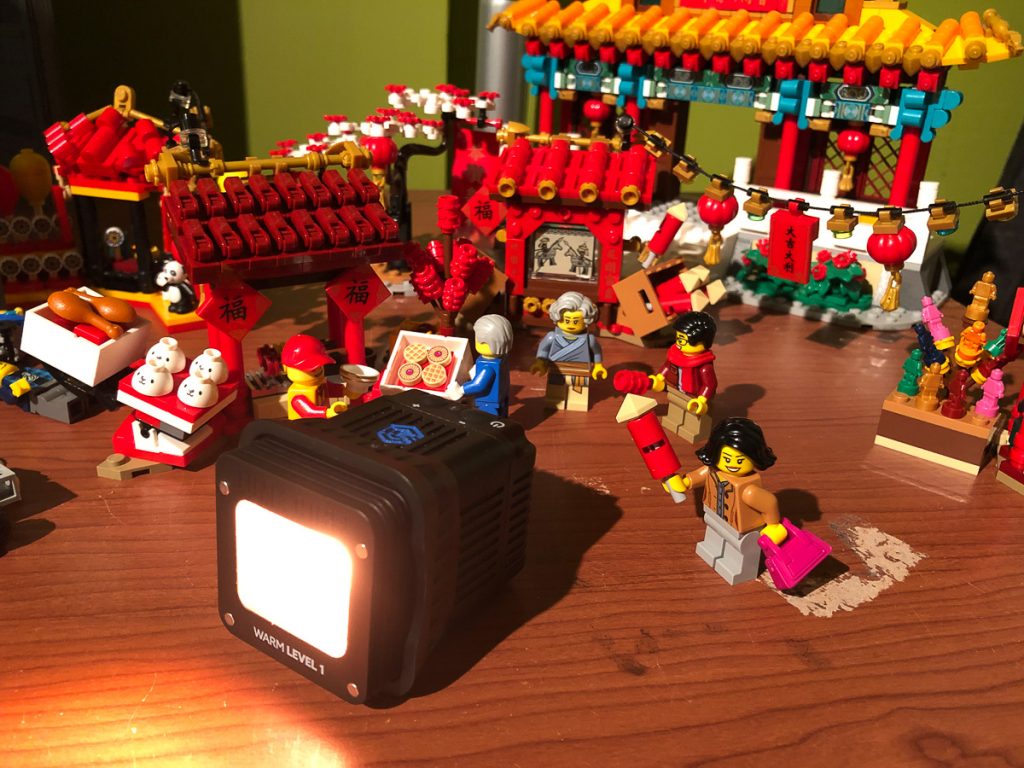 I took a very simple approach to shooting the Chinese New Year Temple Fair set, using a single Lume Cube 2.0 and a flash with a small softbox as my light sources. On the Lume Cube, I stacked four warming gels in oder to give the photos a warm, golden glow.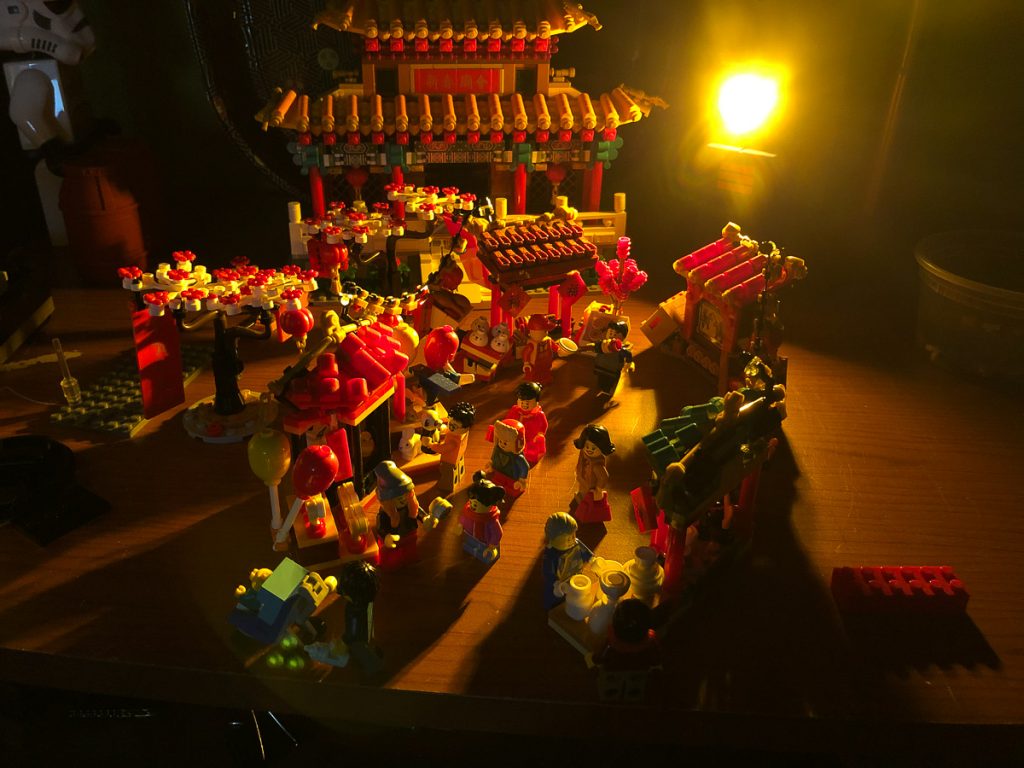 I had a blast shooting this set, and will no doubt utilize it for future toy shots. There is an extraordinary amount of versatility to be found in the stalls and accessories, not to mention a large selection of minifigures with wonderful expressions.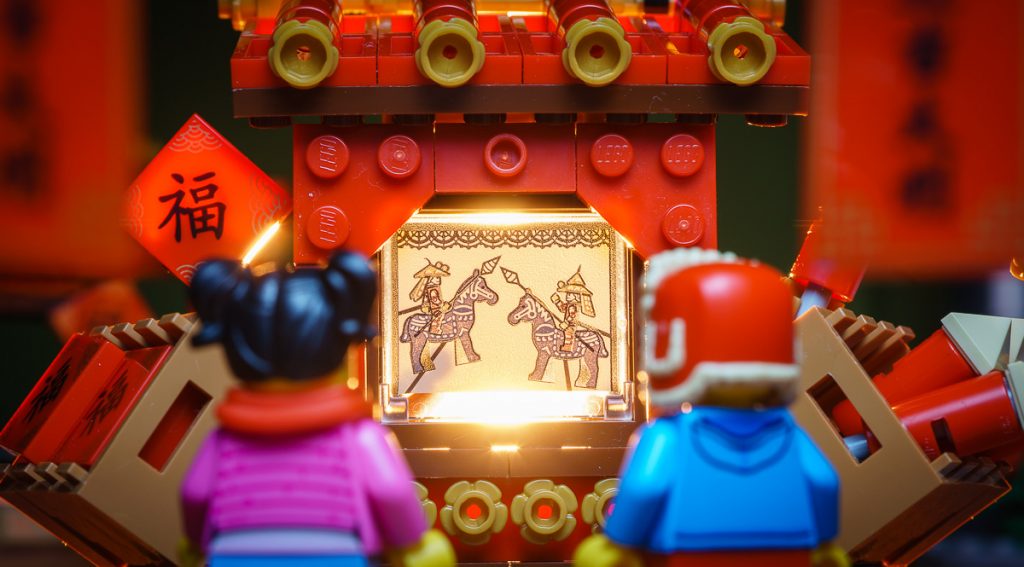 Reviewing this set has made me grateful for the family and friends I have, and has me looking forward to the day we can safely celebrate together again.
2021: Year of the Ox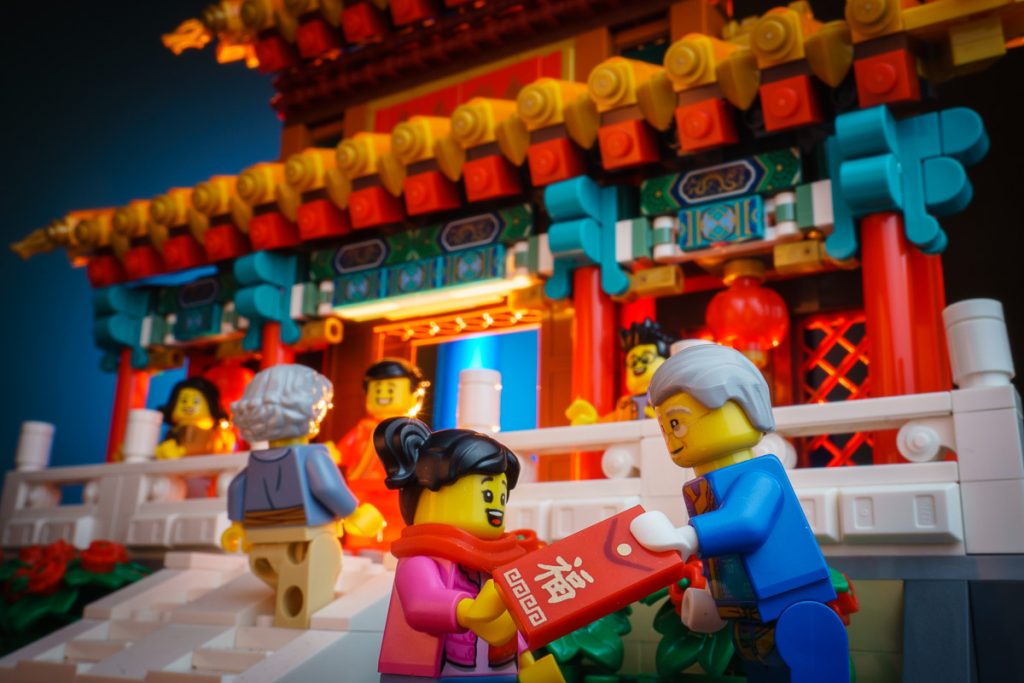 Thanks again to LEGO for sending this set for review. While I wish I could have gotten to it sooner, I was glad to be able to tackle it now. It was a wonderful dose of happiness, and I cannot wait to see what is in store for 2021's Year of the Ox celebration.
恭喜发财