After the long journey from the factory, LEGO's newest collectible minifigures (CMF) Series 22 team was ready to escape those shiny blue packages and head outside for some adventure. Photographing toys outdoors in early winter can be a bit daunting with its short daylight hours, unpredictable temperatures, and the bane of any toy photographer's existence, wind. But everyone was clamoring to go, so the minifigs and I set out to find some natural light setups "in the wild" to showcase their awesomeness and let their not-so-little personalities shine.
Robot Repair Tech
The minifig team helped brainstorm setup ideas for this project, and they decided that a grungy, industrial-looking scene would be a good fit for the Robot Repair Tech. We found just the spot near an old train caboose at the local park. Sporting a clever tool arm, three tools and a welding helmet, this futuristic builder offers plenty of options for toy photography setups. Check out his head-to-toe detailing! If that wasn't enough, he brought with him a small brick-built robot. Looking forward to lots of #mechanoidmonday photos with these two characters.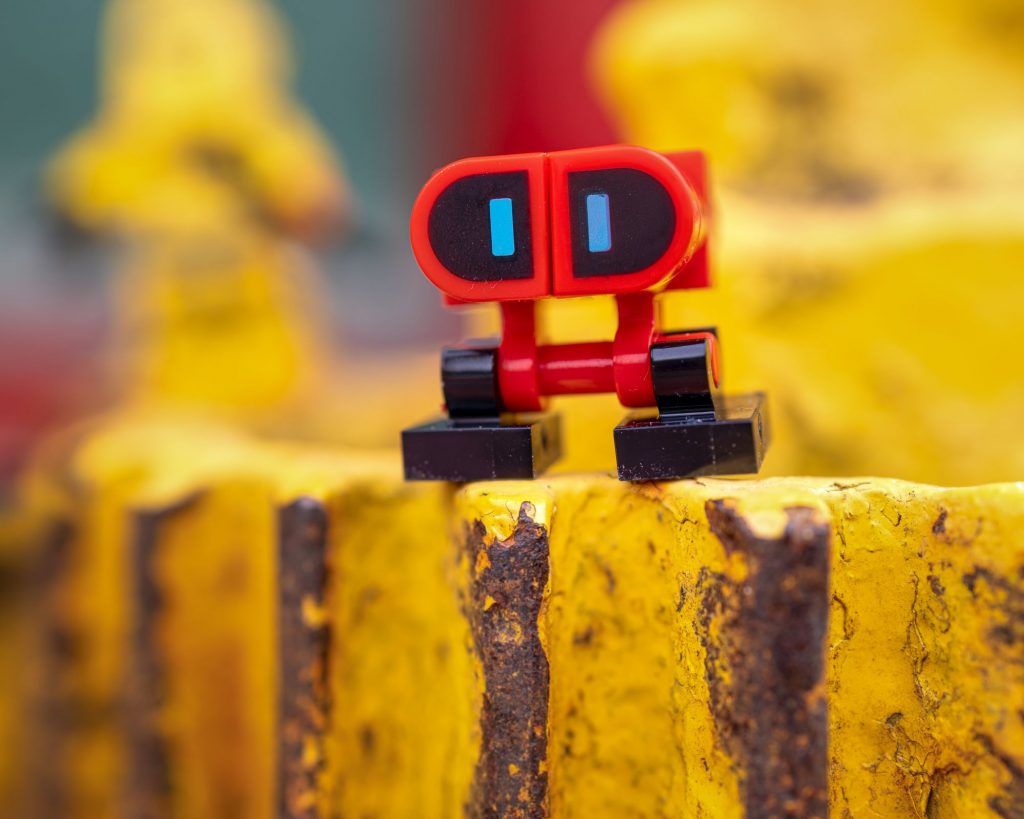 Chili Costume Fan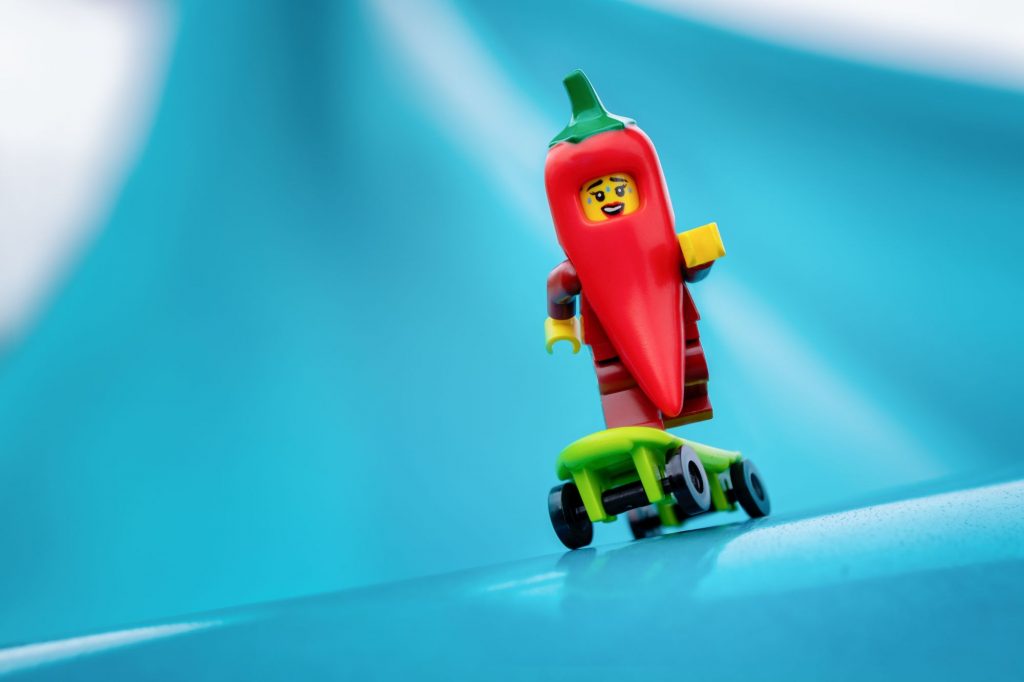 Note: The skateboard is not included with this minifig.
Chili Costume Fan is a red hot addition to the food-costumed minifig group, joining the ranks with Pea Pod Girl (Series 20), Corn Cob Guy (Series 17), Hot Dog Guy (Series 13), and others. Toy photographers have embraced them all, creating scenarios and antics that always make me smile. However, the costume piece tends to limit their movement, which can make it somewhat difficult to come up with creative poses, and that's also true with the Chili Costume Fan. Of course, she just rolled her eyes at this when we were discussing her setup and was determined to prove she's more than just a cool costume. So we grabbed a spare skateboard (she only had a milk carton and a bright red hair piece with her) and headed out to the playground for some action. Posing tip: You may want to stick with photographing Chili Costume Fan from the front as her side profile is, well, ummm, let's just call it seriously unflattering. Yikes!
Troubadour
I had one very excited minifig when we stopped at the castle (let's not tell him it's actually the gatehouse at the cemetery). This strolling musician is rocking a snazzy blue and purple suit and matching feather cap. Hint: If you plan on taking him out in the wild, you'll want to glue that feather in place, as it is easily lost … thank goodness there were extras in the package. Troubador is absolutely one of my favorites in this series and a great addition to the medieval/castle theme lineup. There will certainly be many photo appearances in his future, both indoors and out. HUZZAH!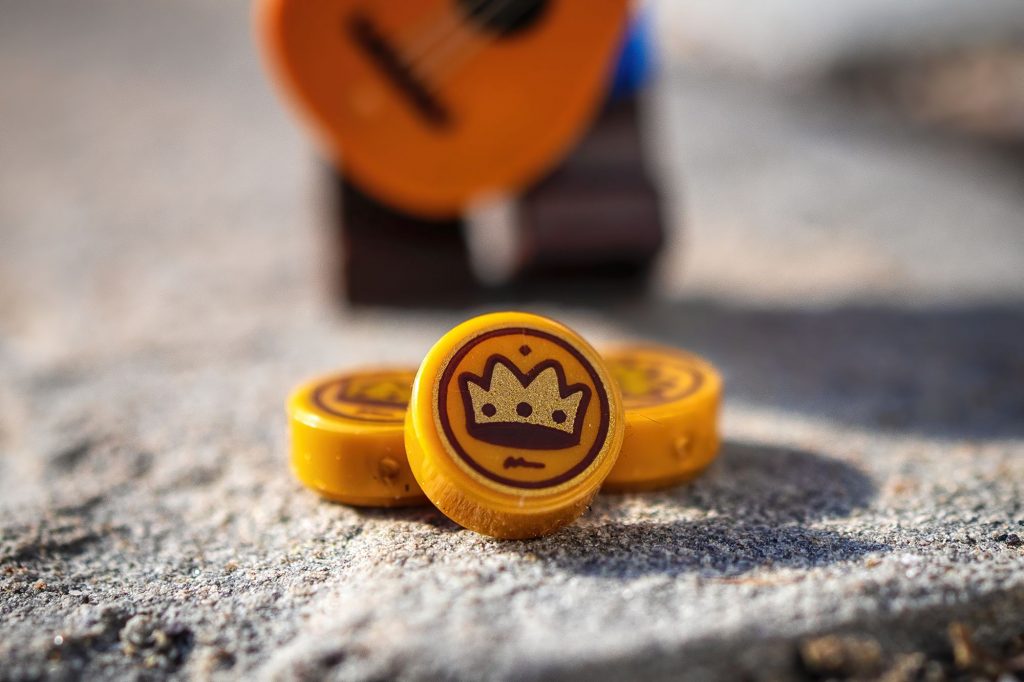 Snow Guardian
A beach volleyball court at the local park made the perfect wintery setting for the Snow Guardian. With his winter hat and collar, incredibly detailed outfit, and bold snowflake shield, he is fantastic and a must-have. And I love that they included the little blue-eyed husky. The warrior's fur collar limits his head turning, but he's still amazing to photograph. An overlay added in post-processing provided the finishing touch for this "snowy" scene.
Horse and Groom
The girl has a fun green plaid jacket and full "brace face" grin, or a smirky smile if you choose. Like the forest spirit, she has mid-sized, moveable legs, but her fixed-position long hair and hat may limit her posing possibilities. For me, the best part of this pack is the very cute baby horse (foal).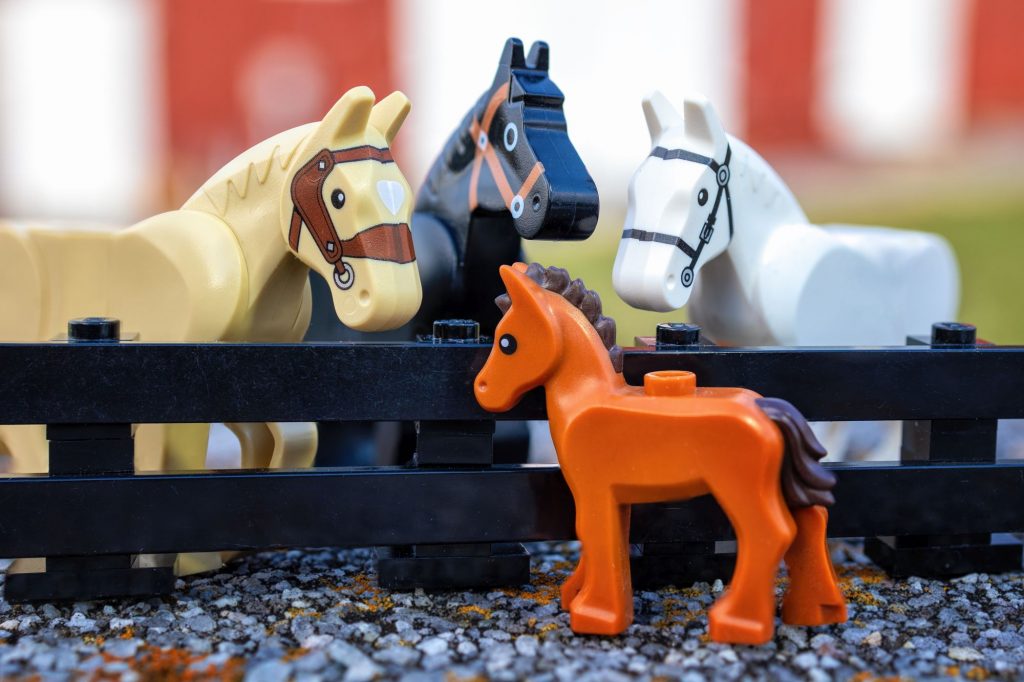 Figure Skating Champion
The figure skating champion in his sparkly suit arrives just in time for the 2022 Winter Olympics. He comes with posing stand pieces that I find helpful to use with other supports when setting up minifigs in action photos. Capturing a second frame with just the setup (no figures or supports) allowed me to blend two photos together, making it fairly easy to remove the extra pieces from the final image. A blur filter added during post-processing helped create a sense of motion.
I wanted to use a real ice surface for the Figure Skating Champion setups, but it's not cold enough yet for puddles to freeze solid, or for my go-to method of creating a more portable ice surface: freezing an aluminum baking sheet filled with water. Instead, I created the scene outside on the deck using a piece of white craft vinyl for the ice surface (a piece of white acrylic or plexiglass will also work), white towels for the background snow bank, and a string of colored LED lights for some sparkly bokeh.
Night Protector
Night Protector is a great little fantasy figure, and I will gladly add her to my minifig team. Her green-blue hair and head, nicely detailed outfit and transparent purple shield and sword give her an intriguing magical appearance. Capturing the transparency of the shield and sword in camera was easier than I expected, and I decided to add some light flare in post-processing for a bit of mystical energy. I already have quite a few ideas for future photos with this very cool warrior girl.
Forest Elf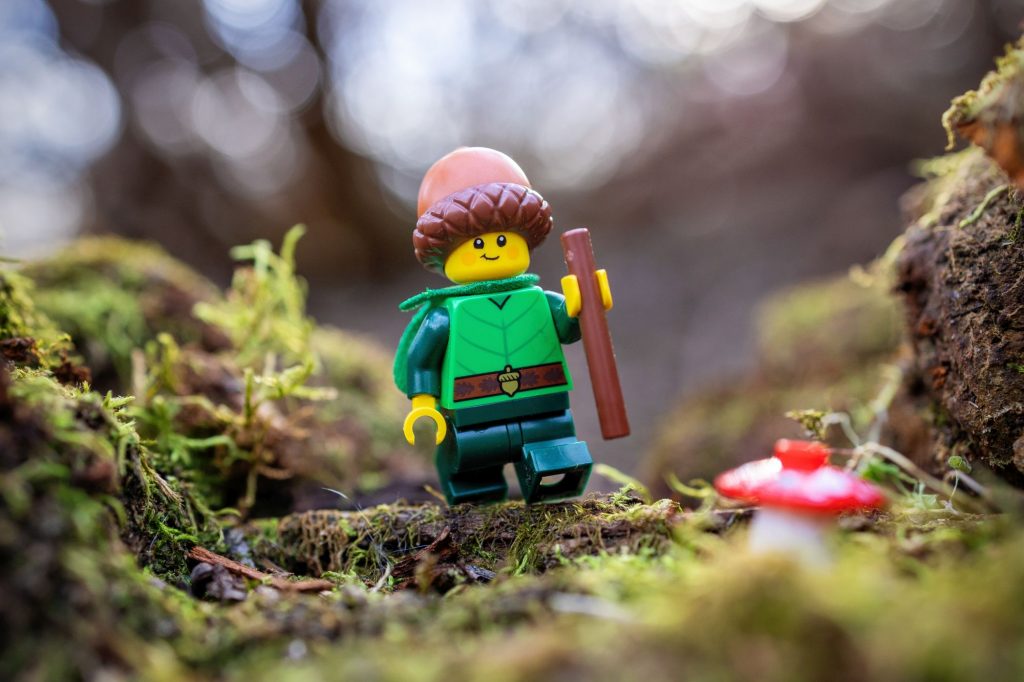 If ever there was a character made for exploring the outdoors, here he is. We headed right to the forest where he was instantly welcomed by all, including a very curious squirrel and a couple of hikers who stopped to watch us. With that acorn cap and oak leaf-shaped cape (not ashamed to say that I was jumping for joy when I pulled that cape out of the package!), he is easily my top pick in this series. This forest wanderer is grateful for his mid-sized moveable legs since he'll be doing a lot of exploring. His smiling mushroom companion is also a terrific addition. I predict this minifig is going to be popular with toy photographers. I plan to grab a few more and make a whole Forest Elf clan.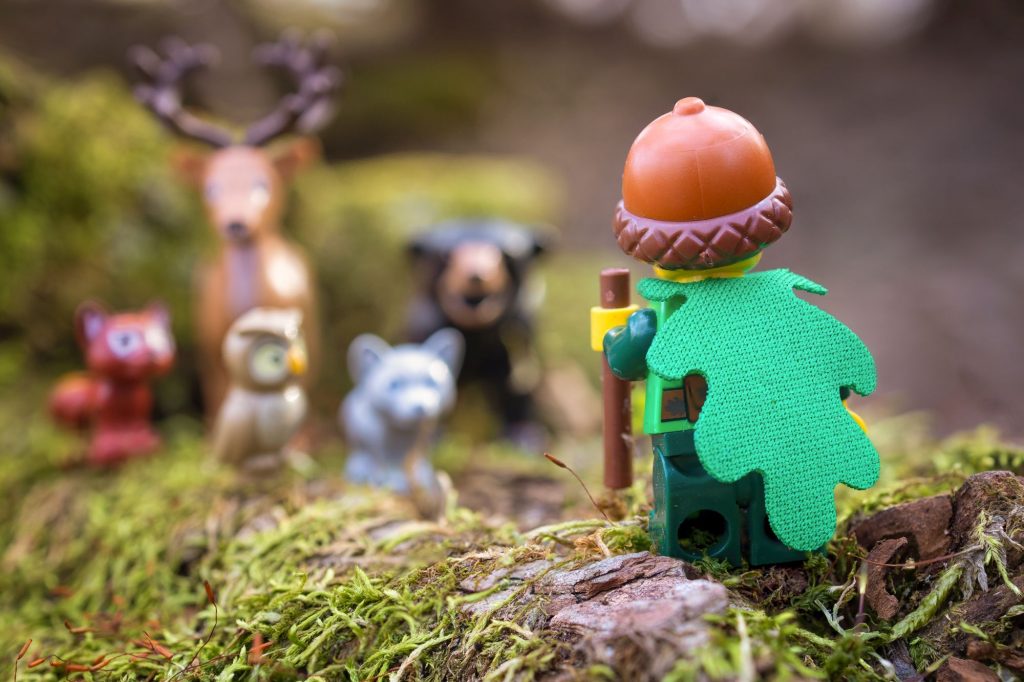 Birdwatcher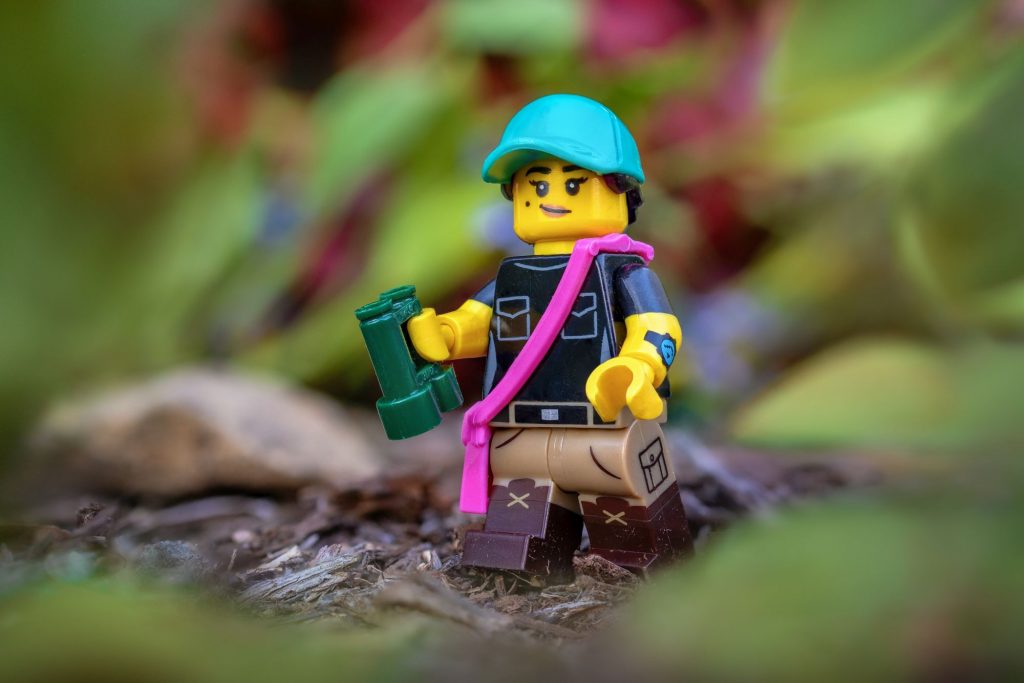 Another instant favorite. Cute and colorful with her green binoculars and a pink messenger bag, and those pants with laced boots and side pockets—my sig fig will most definitely want those for her hiking outings! I'm surprised we didn't run into the guy with the chameleon from CMF Series 19 out there in the jungle (or rather, the flower bed in the front yard). Maybe another day.
Raccoon Costume Fan
The animal-costumed minifigs are always popular and provide tons of photo inspiration, and I was happy to see that this series included one. Even though she's basically a repaint of the Series 19 Fox Costume Girl, the raccoon may be my favorite LEGO animal costume yet. She comes with a gray hair piece as well, which I'll likely just repurpose for another minifig. As packaged with her green garbage can and white sack, she's the iconic "trash panda," but like any proper raccoon, I suspect she'll find lots and lots of mischief to get into.
Note: You'll have to add your own money tiles to create a masked bandit setup like this one.
Space Creature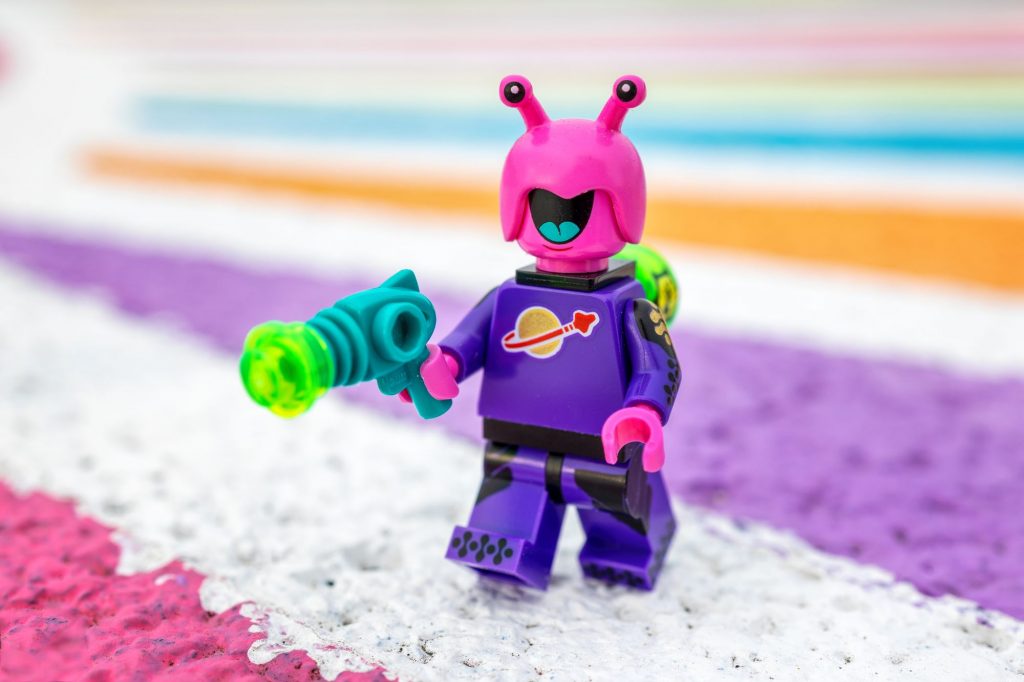 I was not initially sure I liked this character. The colors and detail are good, but the mashup of insect, spaceman and warrior seemed odd, and I am still not sure what's up with the transparent green backpack piece. After I finally saw that the antennae are eye stalks and the head print is a wide-open mouth and tongue (I can't believe I missed that, duh!), things got better—we've now bonded, and this crazy minifig will surely find its way into some super fun stories.
And look out #spacecowboysaturday, there's gonna be a new classic spaceman in town! Undoubtedly, quite a few fans will be hoping LEGO makes purple spaceman helmets and air tanks available. There is a dark purple motorcycle helmet at bricklink.com (part #2446) that might get you close enough for now, or maybe one of the other spacemen will kindly lend you their gear for a photo session.
About the setting for the space creature… at our local high school, the senior students are allowed to customize their assigned parking spaces by painting them. What a cool idea to liven up the school grounds!
Wheelchair Racer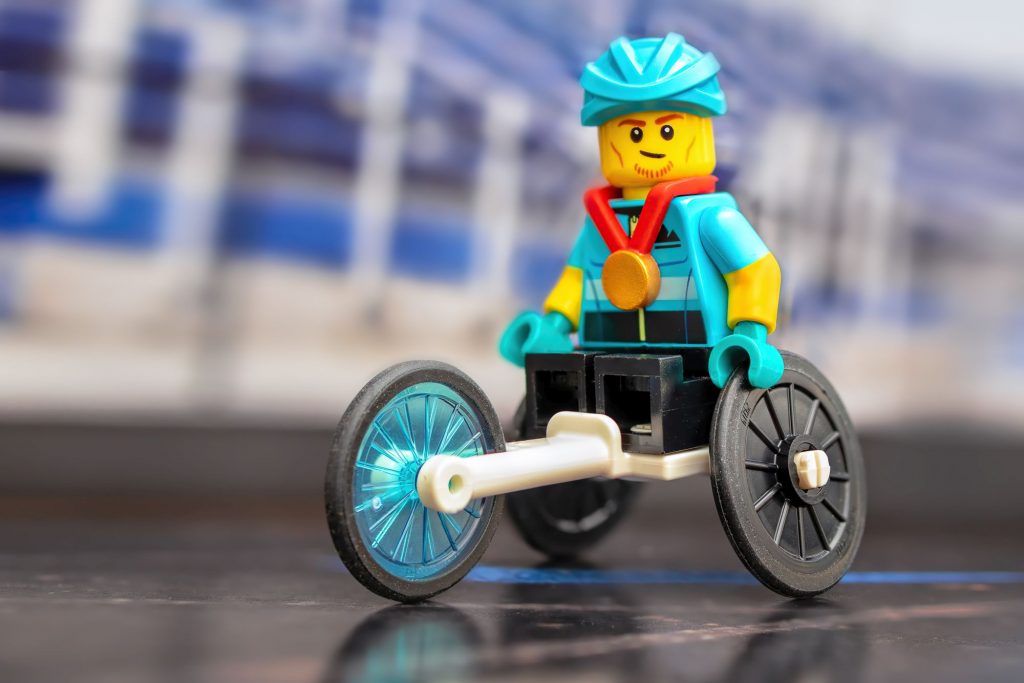 Last up, the Wheelchair Racer is a fantastic addition to the CMF series, and certainly worthy of his gold medal. With his detailed jersey, super sleek racing chair and realistic-looking bike helmet, he's ready for some fast photographic action. I had the perfect setup in mind for him, but when we got there everything was locked up. So I set up the scene outside on my deck, using printed photos of the stadium and track I took a few years ago. Hint: Use matte photo paper if you want to avoid glare. I didn't have any in the size I needed for this setup, but I think the reflection on the track works ok for this photo.
This guy really wanted to show off his racing skills, so I decided to use panning to try to get an in-camera motion shot. I tied a piece of clear fishing line to the wheelchair frame and pulled it across the setup with one hand while working the camera with the other hand (yes, I am sure there are easier ways), experimenting with various pulling speeds and slow shutter speeds until I had something close to what I wanted. The final image is a composite of two panning frames using a 1/15 second shutter speed (one for the foreground and the chair/racer, and one for the background), with more streaking added on the minifig and chair using a blur filter in post-processing.
Final thoughts
Except for the two figures for which I ended up using deck setups (still outside!), I would call this a successful and really fun "in the wild" challenge. For me, some of the figures—Forest Spirit, Girl with Foal, Birdwatcher, and Snow Warrior—lent themselves very well to outdoor setups. Robot Inventor, Chili Costume Fan, and the classic space alien (Space Creature) took a bit more brainstorming and scouting to come up with creative outdoor scenes. And for the rest—the bard (Troubadour), Figure Skating Champion, moon warrior (Night Warrior), raccoon suit girl (Raccoon Costume Fan), and Wheelchair Racer—I would be equally happy using either outdoor or in-studio setups. I look forward to seeing Tomek's LEGO CMF Series 22 review using indoor setups and reading his thoughts on this as well. And, of course, I look forward to creating a lot more photos, indoors and outside, with all these amazing characters.
Regardless of whether you prefer indoors or outside, LEGO CMF Series 22 is a really solid group with a lot of great opportunities for toy photographers. The minifigs are colorful and detailed, and photograph well with previous CMF series and LEGO themes, or even something totally different. (How about the classic space alien in the wild west?) If you like parts and accessories to switch out with your other minifigs, there are plenty of those here, too. There are so many stories waiting to be told with this series, and I can't wait to see what fabulous photographic adventures await these characters. 
A big thanks to LEGO for bringing us another great CMF series and for providing Toy Photographers with CMF Series 22 to play with and review.
About the Author:
Chellie Hyre
Photographer. AFOL (especially minifigs!). Always looking for wild and crazy adventures with friends—human, animal, or plastic. Follow all the toy-sized fun on Instagram at @littleplanetchell.

Howdy! While you're here, we invite you to sign up to our weekly Toy Photographers email roundup where you'll get a recap of all the week's babbling. And while you're at it, you should definitely join our MeWe community! We hold monthly contests with prizes and lots of other cool stuff.