Today be th' day o' natterin' like a pirate! 'Tis a great opportunity t' show ye th' booty that be th' pirate LEGO set! Avast Ye, scallywags! Sit 'n listen t' a tale about th' ship faster than th' wind 'n th' crew nastier than th' sharks!
As my pirate alter-ego said, September 19 is International Talk Like a Pirate Day. Could there be a better time to show you this "pirate to the bone" set? I think not.
And while we're talking about time, LEGO knew exactly when to launch a set that literally plunges into nostalgia. While reviewing the Creator 3-in-1 Pirate Ship set 31109, I mentioned that its sails are blown by nostalgia. In the case of this Pirates of Barracuda Bay set 21322, every brick is soaked with it.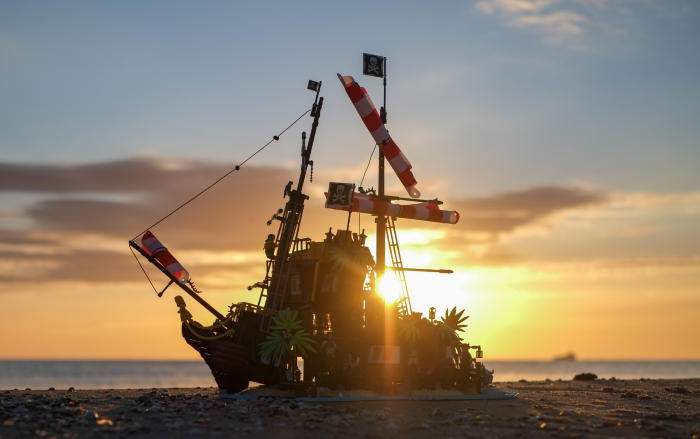 LEGO's pirates series left port in 1989 and vanished onto the high seas. A kid at that time may have dreamed of a LEGO pirate ship and probably tormented his or her parents to buy it. Now, 31 years later, this kid may be a parent himself or herself and is finally able to purchase this set and fulfill their childhood dreams, and maybe their children's dreams, too. History comes full circle.
Pirates of Barracuda Bay, of course, alludes to the iconic LEGO 6285 Black Seas Barracuda. Not exactly a remake, it's more of a tribute to this Holy Grail of the pirate series. Fans became different people, so did the set.
'Tis huge!
By me beard, 'tis huge indeed!
First of all, everything is bigger here. I've never seen the original, 6285 set in person, but even by looking at the photos you can clearly see that Pirates of Barracuda Bay is HUGE. While building the Creator 31109 3-in-1 Pirate Ship and comparing, for example, the size of the masts with the pictures of Pirates of Barracuda [which I did not have yet], I knew it would be a HUGE set (and indeed it is). This, of course, is a challenge if you want to take pictures of the set and your studio is a kitchen table, some bubble wrap and a sheet of blue paper. Fortunately I was able to take it to the beach for some wide, aerial views. The set is also full of charming nooks and has lots of details you can look at up close while shooting indoors.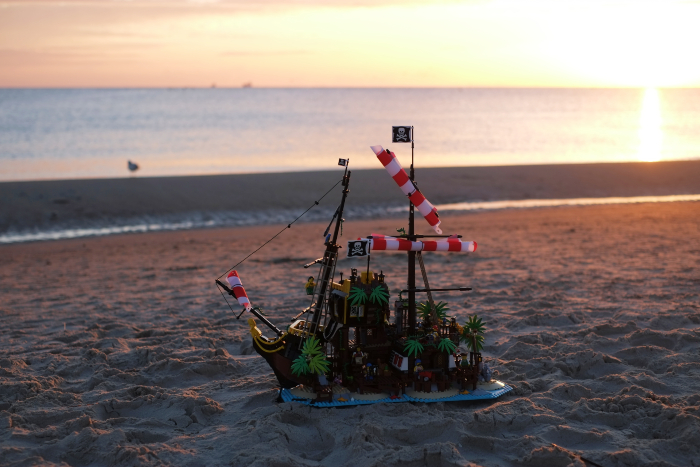 Th' hideout!
Aye! Here me weary bones will find peace!
Still, it's impossible to appreciate the beauty of this set without looking at the whole. The shape is pleasing to the eye, compact, asymmetrical and a bit triangular, with masts rising upwards. After a while the eye catches the details: a pig grazing by the wreck's prow, barrels and boxes filled with food and weapons, flowers, parrots, vines and lanterns. Amid this variety, three parts of the ship are hidden, composing a neat and pretty model of a pirate hideout-harbor. I'm not fond of the cage with the skeleton. It's very massive, and its location does not suit me either. I would more see this cage hanging on one of the ropes or, for example, half submerged in water, somewhere under the pier.
There is a lot of space here to set up and photograph genre scenes with the hideout's eight crew members. After all, even scary pirates lead a normal life in the intervals between plundering expeditions.
There is a beautiful nook with a statue buried in the sand, resembling the Tiki Golem from the 6262 King Kahuka's Throne set. It's a wonderful Easter egg for fans, and at the same time allows you to perform a ritual of sacrificing the fruits.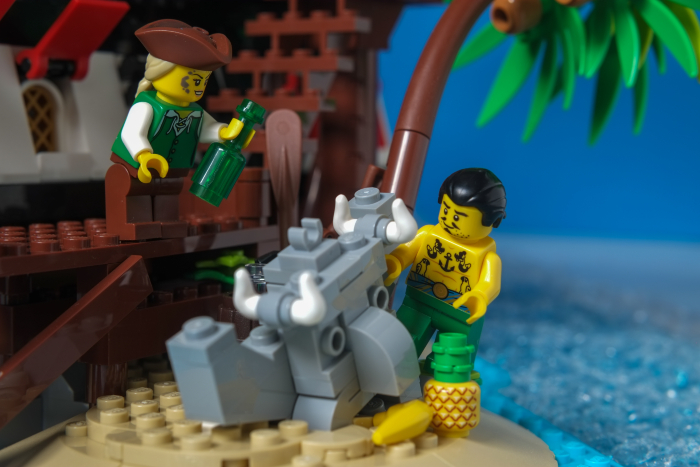 This surprisingly quiet life takes place in a maze of stairs, piers and passages, among which the three parts of the ship are cleverly arranged, and covered with palm leaves, planks and vines. The bare masts aim at the sky, the sails are coiled. The whole island gives the impression of a slightly run-down hideout, made from the remains of the ship's broken skin. Nothing could be more wrong…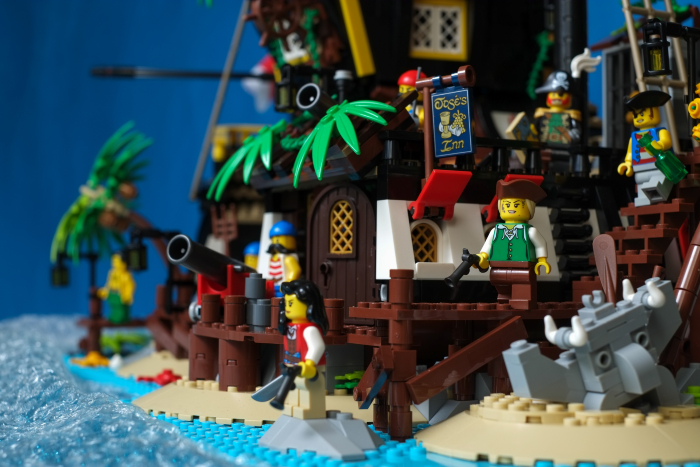 Th' ship!
Weigh anchor, mateys!
One only needs to remove three parts of the hull from the planks, make a few minor modifications [in the manual they only take 38 pages] and set sails, and a beautiful swan hatches from the ugly duckling—a new version of the Black Seas Barracuda ship. This swan metaphor is by no means an exaggeration. The ship is beautiful. A large number of bricks accurately reflect the oval shape of the hull and the fancy shapes and decorations of the grand cabin. From a distance, the entire body gives the impression that it was not made of bricks at all, which cannot be said about this ship's cult ancestor.
Equally impressive are the ship's stern and beautifully profiled prow with decorative figurehead. That slender prow is largely due to the shortcuts. The bow part of the hull is made of specially profiled, readymade elements. Very practical but not very elegant.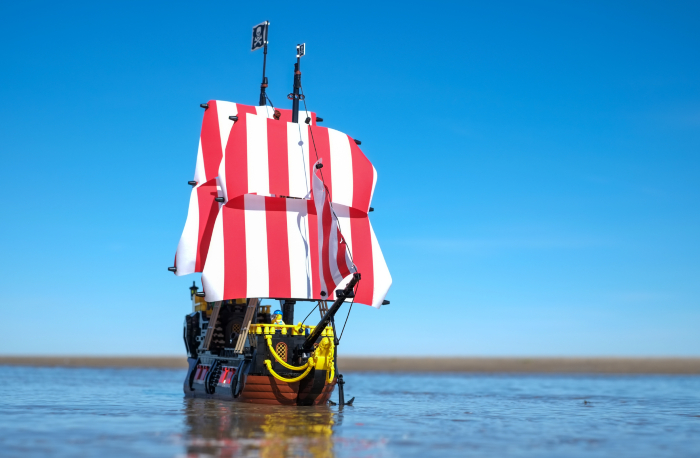 The middle part of the hull looks nice, too. The colors, ribbing and details in the form of a ladder and balustrade make a great impression. Unfortunately, this is also where the biggest disadvantage of this set is visible in my opinion: After opening the gunports, we see windows, not the barrels of cannons. In the island version, this part of the hull is also part of Jose's Inn and there is no space for guns. Of course, with a little bit of goodwill, you can rebuild the interior, which does not change the fact that the iconic scenes with guns emerging ominously from gunports are not on the menu.
The rig is poetry. These pictures say it all, making words redundant here. Okay, the sails could be printed on both sides.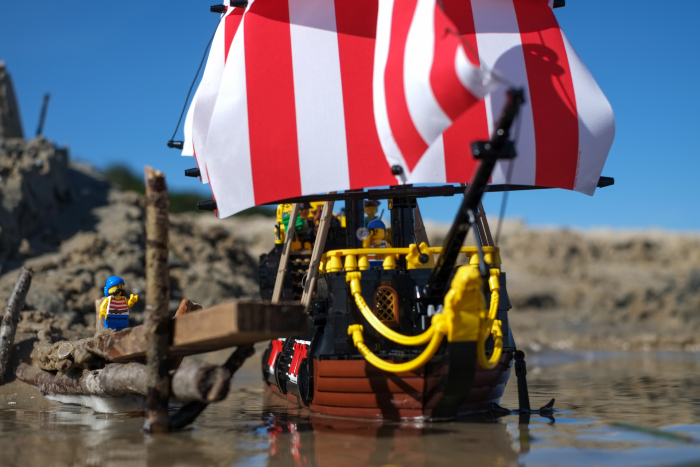 I would like to thank Jacob and his parents for allowing me to moor to a great pier, which they made of sticks and sand. It was a pleasure to stay in your port!
Th' final thoughts!
Fer a hundred thousand rusty anchors! 'Tis a nice boat at all!
These minor flaws, however, don't take away from my final impression of the kit: It is fantastic. Both versions. Not only does it look great on display, it's also very photogenic and offers many opportunities to take moody photos. If you are a fan of the pirate series, this set will be the flagship of your brickfleet!
Ahoy, me hearties! While you're here, we invite you to sign up to our weekly Toy Photographers email roundup where you'll get a recap of all the week's babbling. And while you're at it, you should definitely join our MeWe community! We hold monthly contests with prizes and lots of other cool stuff.