When I saw this LEGO Starry Night set, I was immediately taken by its beautiful rendition of Vincent van Gogh's art. But it's so much more than a mere brick mosaic! What a stroke of brilliance to make the art three dimensional, to truly marry the best of the brick with the surreal flow of the art. The designers outdid themselves with the creative ways the pieces assemble and fit together.
I'm a big fan of LEGO's Ideas sets. These are the ones where the community's desires and designs get a chance to shine, with the help of skilled LEGO engineers and marketing. I reviewed the LEGO Ideas Treehouse a while back, focusing on its toy photography features, and had fun with a six-image narrative about it, too. I also enjoy their decor sets, and have reviewed a number of flower bouquets and Brickheadz pet sets. These have made adorable additions to my home, and get comments from my guests.
The Build
The build was simple but huge. Over 2,000 bricks come together to create this masterpiece of art and engineering. As I put things together, I experienced the art in a fundamentally visceral way — through my fingers. My brain interacted with the individual bricks, creating the visual patterns of the painting, and then the "ah-ha!" moment would strike as I finished assembling a portion of the painting and fit it into place in surprising ways. This intimacy with the art truly made me feel like I was participating in creating something magical, putting together puzzle pieces that formed something far greater than the sum of its parts.
The Best Part: van Gogh Himself
While I would have been quite happy to have a LEGO Starry Night on my desk or wall, once again, LEGO took it one step further. They included a minifigure of Vincent van Gogh along with his art tools and a miniature painting of Starry Night at minifigure scale. These parts are a fantastic addition to my toy photography collection. Now I can have a Starry Night on the wall of a minifigure's home.
Even more exciting: I can hardly wait to recreate the scenes from Doctor Who's episode about van Gogh, "Vincent and the Doctor" (Season 5, Episode 10, per IMDB). It was one of the most touching Doctor Who episodes ever (one of the best episodes from any TV show, IMHO), and commemorating it in LEGO form will be incredibly satisfying. I'll just have to wait until my 11th Doctor minifigure comes in the mail from FireStar Toys.
Meanwhile, I have been trying out this work of art in various places in my home, seeking the perfect display option. It would be a great addition to any art lover's apartment, office, or place of business.
Is the LEGO Starry Night really sturdy enough to hang on a wall?
I admit, I had my doubts. How could they engineer it strong enough to stand on its own and strong enough to hold its own weight on a wall? During the build, I was really impressed by the layers and how they obviously intend the set to be solid and easy to move around as needed. But that made it really heavy. Here's the hanging mechanism on the back:
I was pretty cautious when I first hung it on the wall, testing to see if it would really hold. It was steady! Seemed just fine.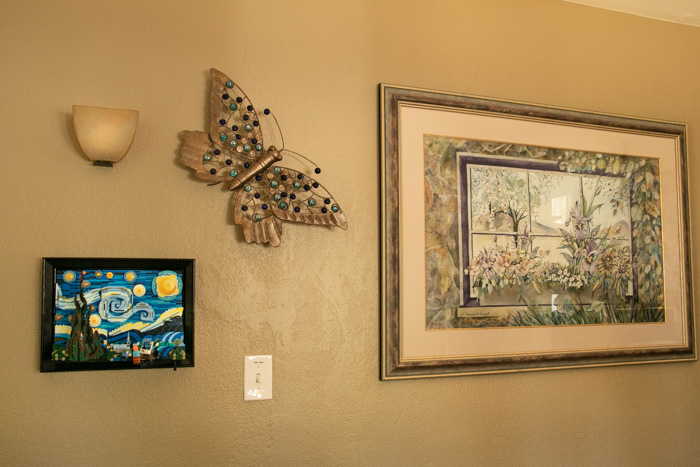 That said, if you're going to keep it on the wall, I might recommend doing something to reinforce it. Gluing bricks together seems a bit blasphemous to me, though I'm sure some folks do it for display purposes. If I were going to display it on the wall, I'd probably mount a plate display rack as a backup to catch it if an earthquake or something knocks it from the nail/hook. Or maybe something like these plate display hooks as a backup (spray paint them black). You'd still want the weight of the piece to hang where the LEGO designers intended, but the stand or hooks could provide a backup. I remember living in a house where paintings would fall off the wall when someone closed the front door, due to the way the walls reverberated.
I'll be displaying this beautiful piece on a table or desk… or, even more likely, as part of a bookshelf. It pairs quite nicely with books!