Our family has enjoyed building LEGO toys for decades, and I've done LEGO toy photography for about three years. During this time, I've collected a bunch of minifigures, and I take these figures all over the United States with me on family road trips. Outdoor LEGO photography is my favorite. But now that I have all these LEGO characters, I want some indoor toy photography settings for them. My little people need a place to live when they aren't traveling!
Looking at BrickLink's 'Eight Studs' House and the LEGO Ideas Treehouse
When I saw the Eight Studs set in the BrickLink-hosted AFOL (Adult Fan of LEGO) Designer Program, it seemed like the perfect modern home for a LEGO minifigure. It has an easy-to-open top for accessing the two rooms and, best of all, it beautifully represents the LEGO brick. The house can be configured either as two rooms side by side, or one stacked upon the other. What a visual metaphor for the LEGO life!
It took a couple of months before the AFOL Designer Program sets were funded and then built and sent out. During that time, I also took the opportunity to check out the LEGO Ideas Treehouse set. That set sparked my imagination, because it brought together my love of the outdoors with the concept of a place for LEGO people to live—the perfect toy photography setting for me!
Context for This Article
I'm not trying to compare two sets of equal value or an equal number of parts. The Treehouse is more than 3,000 pieces and costs around $200 USD while the Eight Studs house is about 1,400 pieces and cost me only $100 USD (although it may cost more now because of its limited edition nature).
I'm comparing these two sets as settings for toy photography. If you were looking to buy a home for your LEGO people that you could photograph over and over again, this would give you my perspective about the strengths and weaknesses of the two sets.
A Home in the Trees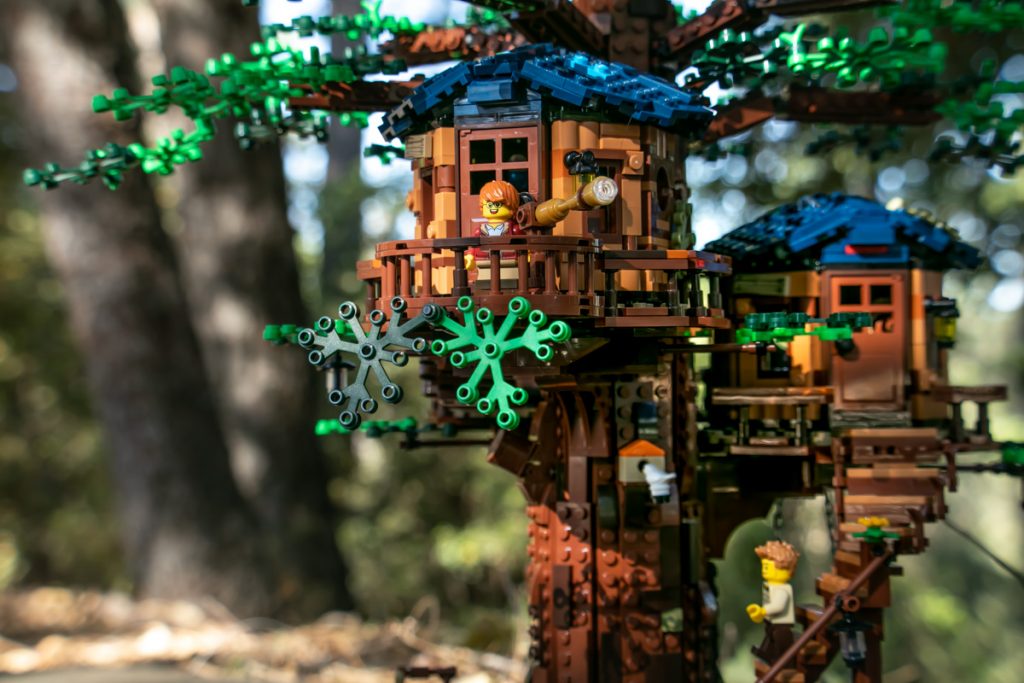 The Treehouse and the Eight Studs sets arrived within a week of each other. I built the Treehouse first, with help from my son, Lewis (@actionstuff_lego). It's a big set, with more than 3,000 pieces, so it took an afternoon and half the night to assemble. But the build itself is a pleasure, as the design is everything we've come to expect from LEGO: well thought out, cleverly made for structural stability, with a few spare parts just in case, and some funny little surprises.
The Photogenic Features
There are three huts, or rooms, built into the treehouse: the parents' room, the kids' room and the bathroom or toilet room. LEGO packed each one full of items and features that create an interesting background for a minifigure inside. Each detail is a delight, and the following list includes only a few of them (see my Instagram @mightysmallstories for more pics):
There is a spot in the top bunk of the kids' room for a book to rest.
The master bedroom has a mirror and hairbrush, a cuckoo clock, and a hat rack for the dad's hat.
The master bedroom also has a pair of scissors under the bed. (Is that some sort of joke? Can anybody enlighten us about that?)
The bathroom has a toilet and a roll of forest green toilet paper. (Another joke? Why not white paper?)
The bathroom also has a wooden barrel mounted on the outside, to provide water pressure for the shower.
Kids' room

Master bedroom

Why scissors?

Bathroom
As Brett has already covered in his review of the Treehouse set, it is very sturdy, and I think the set's most compelling feature is the ability to pick it up by the trunk and carry it around. I built it on a flat, wooden base, knowing that I would want to take it outside and not have it fall apart when I did. But I quickly left the base behind and just carried the thing around. As long as you connect the minifigures where they stand (or put them inside one of the rooms), you're not likely to lose anything while carrying this set. The numerous leaves, which seem so delicate, are very firmly attached and do not easily fall off the tree. The loose fruit on the picnic table even stays on the plate.
I have not yet packed the treehouse for transport in a vehicle, which may be slightly trickier than carrying by hand (because of the potential for it to topple over). But I am planning to create a sort of brace out of cardboard and rubber bands that will keep it steady inside a box.
The Downsides
I'm extremely pleased with the Treehouse set, so my "downsides" are few. In some ways, they are simply ideas for customizing the set to better serve my own purposes as a setting for toy photography.
Although the roof on each room lifts off for easy access, the rooms are cramped. There isn't room for both parents to sleep (or even sit) on their bed. There's barely room for a minifigure to stand and use their mirror because the bed takes up so much room. At some point, I may try expanding the parents' room.
To take photos at the minifigures' level (instead of from above), you must remove the walls. This isn't terribly difficult, but you do have to take some care and extra time. Because I want to take photos of minifigures "living life" inside their home, it's a downside from that perspective.
The swing's design works best with a full-sized minifigure sitting down. The minifigure balances vertically and doesn't tilt to one side or another. At first, I thought the children could not use the swing unless they were holding the book to balance them. But after I took a photo of an "unbalanced" child on the swing, I wondered: Did LEGO design this specifically for the purpose of making it look as if the child is tilted back and swinging?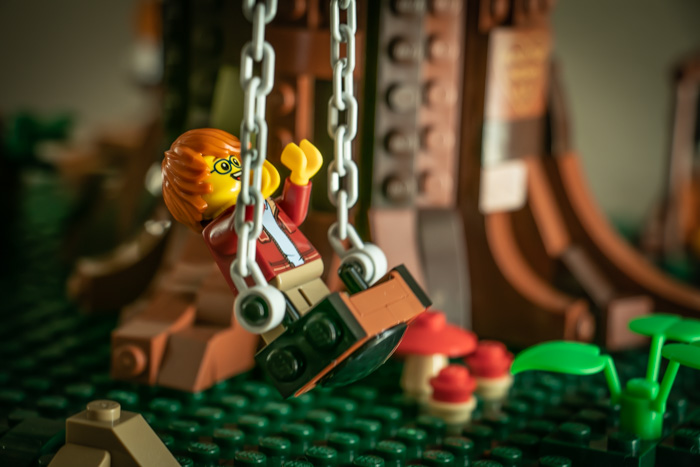 If you don't like the unbalanced look of the child, one solution is to give the children full-sized minifigure legs. Another solution is mid-sized legs that bend, like the legs included with the Chip and Dale minifigures. But it would have been nice if the swing balanced better with the children by default. I intend to experiment with changing the build of the swing to make it work for both children and adults.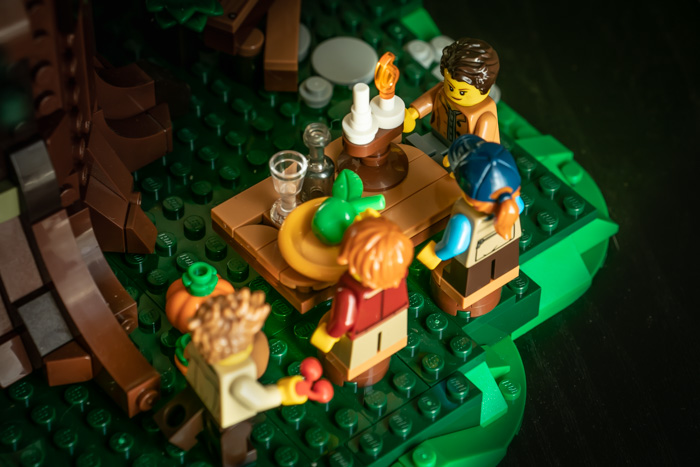 Another strange decision was having only three seats around the picnic table. Why would they do that? I plan to build a fourth seat to make room for the entire family to eat together. Dad needs to be able to sit down after making dinner!
LEGO Ideas Treehouse as a Setting for Toy Photography
Overall, I'd say this set is well worth the money, especially if you like taking photos in nature. Set it on the sand near the ocean, or on a wide, mossy log in the forest. It looks great in a lot of different places. And when you're at home, it's a beautiful addition to any room as a piece of decor. I'm looking forward to using this as a setting for many, many pictures in the future!
Eight Studs – A Modern Apartment
BrickLink has done a fabulous job with their packaging of the AFOL Designer Program sets. The box holding the parts is sturdy and reusable. I laughed a little when I found a box within a box within another box. But the extra packaging layers keep the actual product box beautifully intact. Why does this matter to photographers?
Because on the INSIDE of that cardstock is a full color photograph of a landscape that works perfectly as a free-standing backdrop behind the set! TA-DA!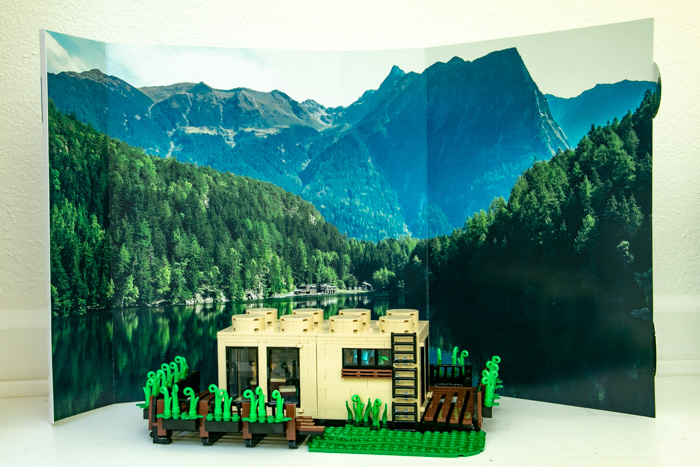 I really love this feature of the BrickLink AFOL Designer sets. I also purchased the Wild West Saloon, and it has a desert hills backdrop that suits it perfectly. I've found it difficult to find landscape posters large enough to use as toy photography backgrounds behind a larger set. It's a huge bonus that BrickLink includes one.
The Photogenic Features
The Eight Studs house is beautiful in its simplicity. The colors are light and minifigures stand out well from the rooms. The rooms give plenty of space for the minifigures to move around and go about their lives.
The little details reflect a LEGO person who uses their creativity in a variety of ways:
paintbrush and palette
model train
small statues (maybe awards they have won for their creations?)
bookshelf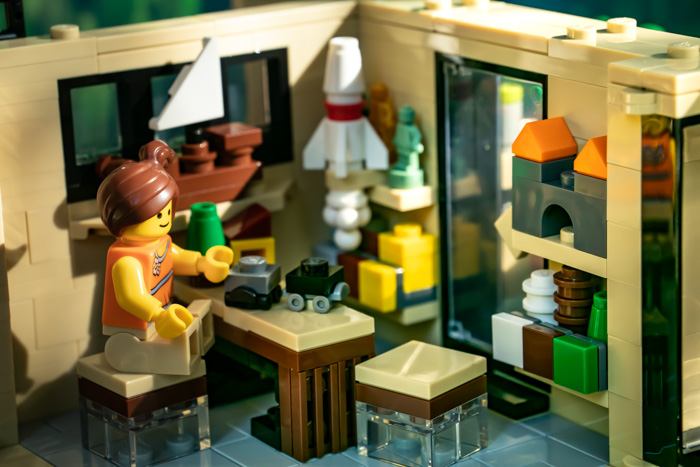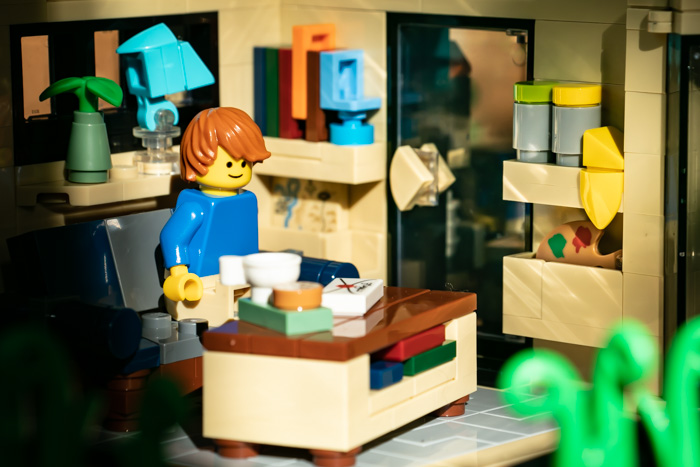 The most compelling feature of both rooms is the ability to remove the roof AND to swing open two of the four walls. This makes it a breeze to play, customize and photograph the areas inside.
Customizing My Toy Photography Settings
The two rooms don't create the idea of a "real house" in terms of living spaces (kitchen, bedroom, bathroom, etc.). But the designer purposely created them as rooms that you can easily customize with your own furniture. This provides the opportunity for endless toy photography settings. I plan to swap out the furniture as needed to create a kitchen and bedroom.
The building instructions for this limited edition set are only available with the set. But I imagine that someone will scan the instructions and make them available somewhere online. Building your own rooms with a removable roof and slide-away (or lift-away) walls is ideal for photography purposes.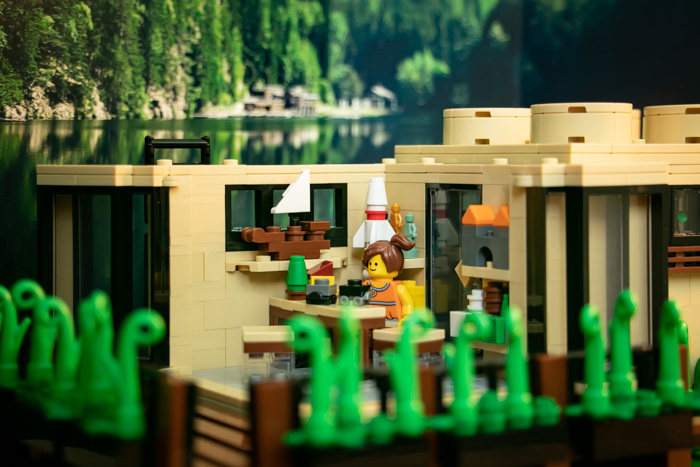 The Downsides
A LEGO fan designed the Eight Studs house without assistance or improvement from LEGO HQ designers. So the build itself is not the level of stability or design philosophy I've come to expect from LEGO. I admire the designer, Christian Bechinie, and applaud his efforts in creating this set. But some of the build was frustrating because, while trying to put pieces on, I would break other pieces. This is especially true of the fencing with the plants growing along it, and of the outside decking.
The green area around the house attaches to the main structure, but not very strongly. So whenever I moved it, it tended to disconnect. Maybe this was designed for ease of re-configuring the set, since you can use it in a variety of ways. But I will probably reinforce the connections for the configurations that I want to use more often so they don't fall apart so easily.
I recommend building this set on a flat board to make it easier to move to different locations
Eight Studs as Setting for Toy Photography
Overall, I am very pleased that I purchased this set. It will require more customization to accommodate the photos I want to take with it, true. But it does provide a high quality structural shell that I can use to create the scenes I want. From what he has said online, that is exactly what the designer intended: for people to use the set in creative play.
Conclusion About Both as Settings for Toy Photography
If I had to choose between the Treehouse and Eight Studs, I would choose the Treehouse. It is the sturdiest set, the most playable "out of the box," and most closely reflects my love for nature and tendency to photograph LEGO people in that environment. But I'm really glad I don't have to choose, because having both offers such beautiful variety. I'm also looking forward to sharing about the BrickLink AFOL Designer Program Wild West Saloon in a future post. What a fabulous set with many photographic opportunities!
Having a few bigger sets around is something I would recommend to any toy photographer. You can reuse them for many photographs, regardless of the weather. Some you can transport with you for photography in other locations. It is worth the effort and investment to save up for this sort of set, and worth the time to customize it to fit your vision.
Check out these other Toy Photographers reviews and photography ideas for larger sets:
Choosing a Big LEGO Set of Your Own
To choose a big set to invest in, I looked at the photos I usually take and the characters I use most often. I thought about the types of settings that I enjoy looking at and photographing. I enjoy the storytelling aspect of photography, and these homes will lend themselves well to portraying the lives of my characters. The perfect toy photography settings for you might be something completely different.
As a photographer, I definitely recommend checking the details of the set before you buy. Read the reviews to make sure it will fit your expectations and needs. (But sometimes you just don't know until you get it!)
Happy hunting!
What's Your Favorite Big LEGO Set?
Share in the comments your favorite bigger LEGO set, your favorite settings for toy photography, or one that you think might be fun to try.