Clocking in at 3,036 pieces, and 19 bags (not including the two sets of leaves bags), the LEGO Ideas Tree House a beast. But how does the LEGO Ideas Tree House work for us toy photographers?
Let's get the non-toy photography stuff out of the way first…
The set includes 4 minifigures: mum, dad and 2 children. The tree has interchangeable sets of green (summer) leaves and yellow and brown (autumn) leaves. The Tree House comprises if 3 cabins, a main bedroom, bathroom and a kids' room. The tree foliage features over 180 botanical elements made from plant-based polyethylene plastic using sustainably sourced sugarcane. It measures in at over 14" (37cm) high, 10" (27cm) wide and 9" (24cm) deep. The treetop and cabin roofs are removable for easy access and play.
OK, it's big, it's impressive, and it's a heck of a build. But how does the LEGO Ideas Tree House stack up (pun intended) for toy photography?
Ominous
It cuts an ominous figure when against the skyline. Sure, it's a bugger lugging a huge set around, like Apocalypseburg and Voltron, but this set somehow feels less like it's gonna crumble in transport.
Plus, the top of the tree comes out as one piece, so that helps. I lugged this beast from my front door to three different locations for the shoot I did for LEGO, and not once did I panic that it was gonna fall to pieces!
Let there be light
The treetop and cabin roofs might be removable for the intention of pay, but this is also a handy feature for us toy photographers.
Taking off a rooftop allows light to fill the rooms.
Angles
The way the three cabins sit around the tree trunk creates endless angles to take toy photos from.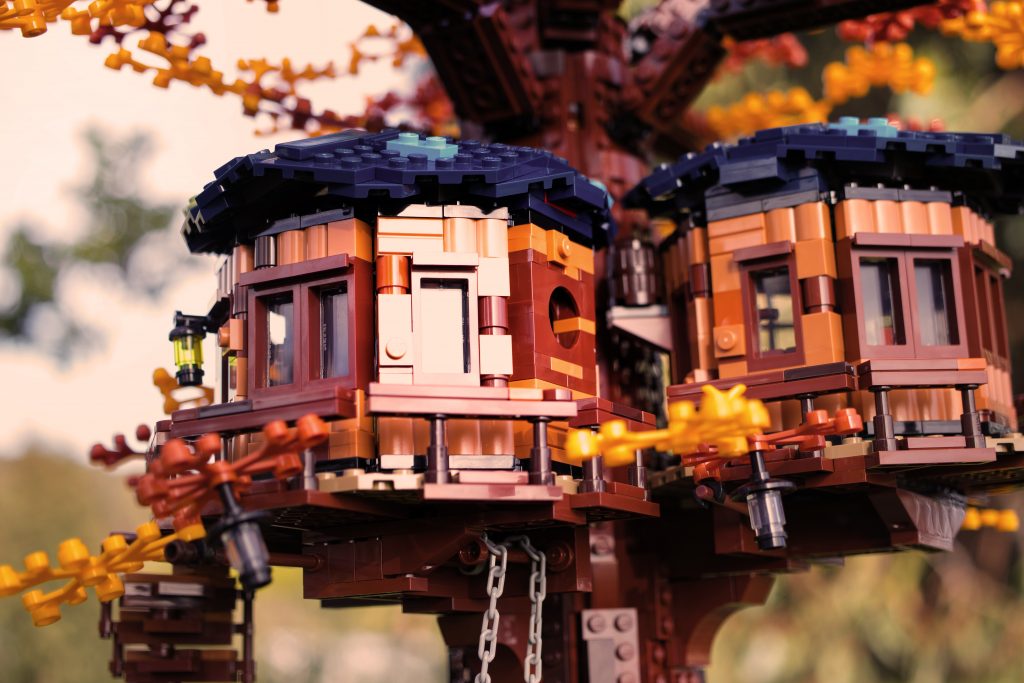 Compared to other "big" LEGO sets, this one feels like it's created to take photos of.
Every turn of the base reveals a new aspect to explore as a toy photographer!
Built in bokeh
The foliage creates its own wonderful bokeh!
This is one toy photography feature I didn't expect, but it was welcomed!
So, would I have looked at this LEGO set and thought it would be great for toy photography? Probably not. Was I surprised by this set's toy photography potential? Yes. Will I use this set to photograph toys again. Yes!
– Brett
Want to stay update with everything that happens on Toy Photographers? Subscribe to our weekly email round up so that you never miss a post. While you're subscribing, do the same for the podcast! And be sure to check in on our communities on MeWe and Flickr