On my last post, a review of the LEGO Creator Harley-Davidson Fat Boy, I got an interesting comment. I love getting comments on my posts, and I try to respond to as many as I can. However some comments inspire a more in -depth answer. This post is one of those.
The comment was Oliver Peterson asking if the LEGO Boba Fett Buildable Figure fits on the Fat Boy as it does on the LEGO Technic BMW bike.
I decided to find out.
Does Boba Fit?
To try this out I tossed the Boba Fett figure and the Fat Boy into my studio light box. This is the result.
So. No. No, it doesn't fit. It is way too small. Sitting in the seat, his legs don't come close to the foot rests, and his arms are too short to reach the handlebars.
The Boba Fett Buildable Figure is about 10″ tall. So I started to wonder if a 12″ Hot Toys would fit. I grabbed my Hot Toys Iron Man and gave it a go.
Does Iron Man Fit?
Short answer. Also no.
The figure is actually the correct size, which is a promising start. However, he is not flexible enough to both reach the pedals and grab the handlebars. He can do one or the other, but not both.

The problem is that his hips are not wide enough for the seat on the Fat Boy. But I also noticed that Iron Man's armour makes his thighs fatter, which made me think that a more slender 12″ figure would work better.

So…
Does Deadpool Fit?
My Hot Toys Deadpool figure is also 12″, but he's a lot more slender and more flexible than Iron Man. So I tossed him on the bike, with mixed results.
Initially things looked promising. His foot fits on the foot rest, and he can reach the handlebars at the same time. He also is the right size.

So far so good.

However, he still can't straddle the seat properly, so while one side looks correct, the other side looks like this: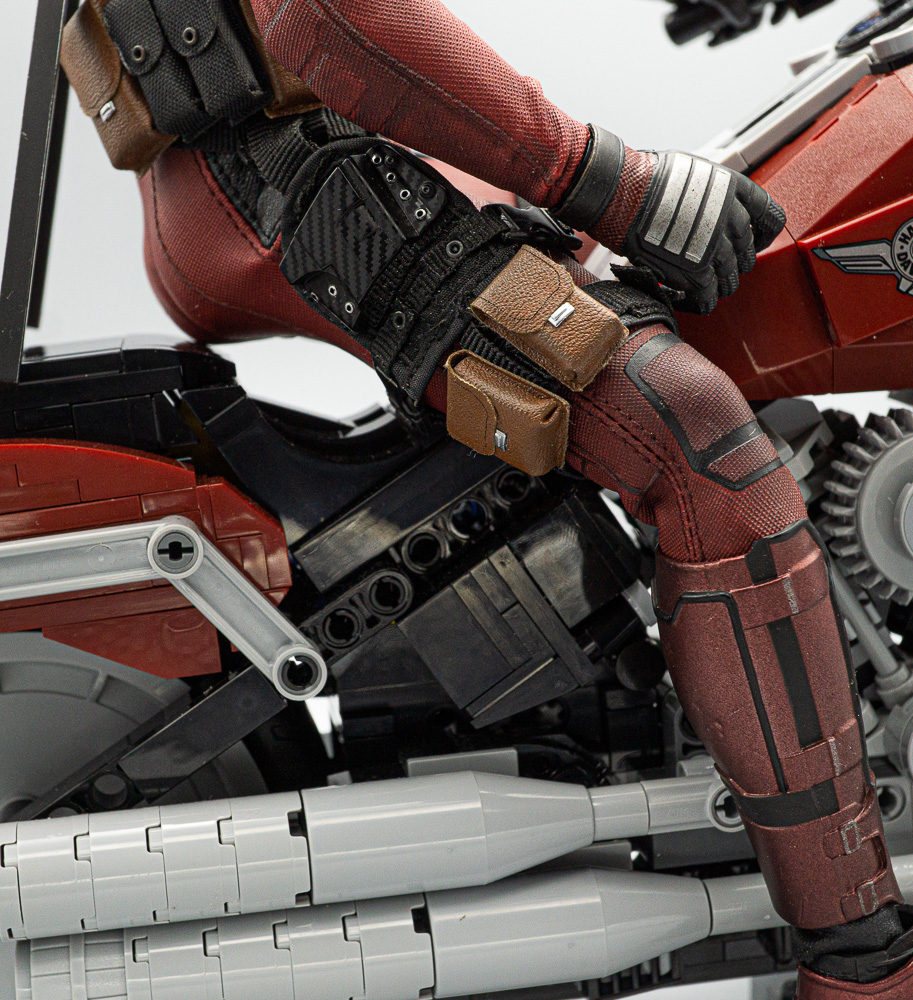 As you can see, he doesn't fit properly into the seat, and he can't reach the handlebars on both sides at the same time.
Fiddlesticks.
Conclusion
The Fat Boy, while being a fantastic model, isn't a good fit for action figures (at least the ones I own—if you find one that does, please toss it in the comments). The seat is simply too wide. I suspect this could be fixed by making some after-market modifications, but out of the box, the combination doesn't seem to work.

It would work well as a background element in an image, but as a vehicle action figures can ride, it is a bust.

Deadpool still looks half-good, so I decided to polish off the one shot I could think of that would work.
Next Question Please
Do you have any questions you want me to try to answer? Ask away! I'll tackle anything I can from posing, figures, Photoshop, lighting, you name it. Drop your question in the comments and I'll do my best to answer it.
[dave]
Want more toy photography goodness? Subscribe to our weekly email round up so that you never miss a post. You can also listen to episodes of the podcast!