The profile of the Harley-Davidson motorcycle is a classic sight on American highways.
Despite not being a huge motorcycle aficionado, I get the urge to go for a long drive whenever I see a Harley. So when I got the chance to get my hands on a LEGO Expert Creator version of the classic Harley-Davidson Fat Boy, I jumped at the chance.

I, of course, ran it through the paces in front of my lens. This is my review of the model both in terms of the build, and its value to toy photographers.
The Model
As I have come to expect from the Expert Creator line from LEGO, this model is jaw-droppingly gorgeous. The bike looks very realistic, with only a few giveaways that it is made from LEGO. There is little doubt, looking at this model, that it is the classic Harley-Davidson, especially with its striking red paint job.
The details are incredible. The pistons and chain turn when the back wheel spins. The handlebars have adjustable mirrors, and levers that move. The speedometer sticker looks gorgeous as well.
The engine compartment looks awesome. The icon on the gas tank, thankfully not a sticker, looks really good. It even has a Wisconsin (the home state of Harley-Davidson) license plate on the back.
With both a working kick-stand, and a separate display block (made from LEGO) that holds the bike up from underneath, this bike displays really well, and is shelf stable.
Build Quality
Normally LEGO models in my possession don't get much of a workout, but this one was put thru its paces. It travelled from North Carolina to Ontario and back in a tupperware container in the back of my minivan, then it travelled in checked baggage (in a spare camera bag I use for a portable toy box) from Toronto to Calgary and back.

(Now that I think about it, there is very little America in the background of this classic American bike. This is the Alanis Morrissette definition of irony in a nutshell.)

With all of that travel, this bike really held up. To fit into the baggage I had to remove the handlebars. A few bits tended to get knocked off each time – mainly the rear turn signal lights, and the front fender – but generally the bike held up like a trooper.

This is one rugged piece of kit
Photography
This bike is actually fun to shoot. It seems to fit into whatever scene I put it in, and it looked good doing it. I have been looking for a good LEGO model to practice vehicle photography for quite some time, and this model fit the bill quite well. Light falls off this bike the same way it would off of a real bike, making the reflections and highlights work well for that style of photography.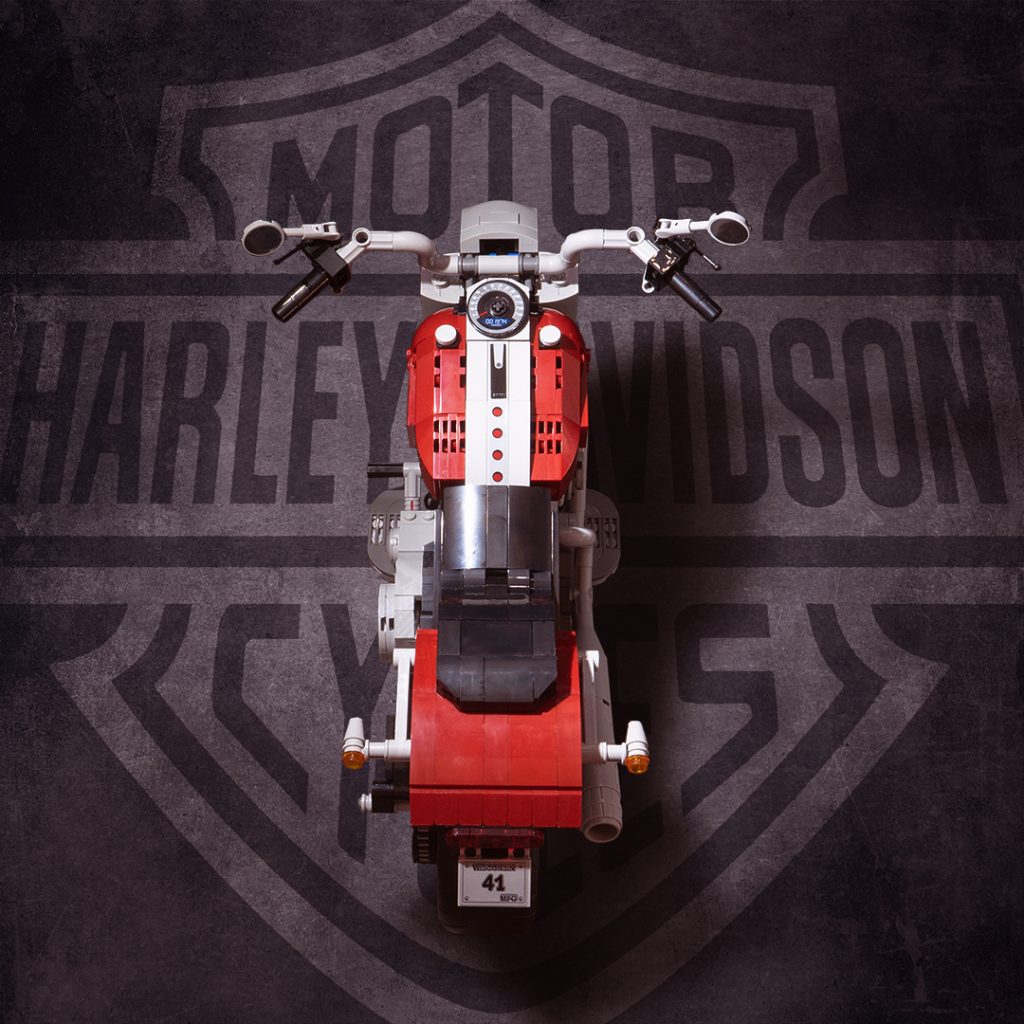 I also had a lot of fun being more creative with my photography, both putting it in a mural I found in Alberta, and composting it into a lake scene.
It also looks good in both urban settings (Toronto skyline) and in rural settings (grain elevator in Alberta)
Conclusion
If you have any affection for vehicle models, especially motorcycle models, this is an easy recommendation. You will not regret having this model on your shelf, or in front of your lens.

If you are not a motorcycle fan you should still go check this model out simply for being a master class in how to make a realistic LEGO model.

This is a classic LEGO model doing justice to a classic American motorcycle. The symmetry is almost breathtaking.
[dave]
Want more toy photography goodness? Subscribe to our weekly email round up so that you never miss a post. You can also listen to episodes of the podcast!