Please excuse the break on the Harry Potter set reviews! I thought I would go for something a little different this week!
Whilst I was on toy safari in Denmark this year, I did the typical toy safari thing and borrowed a few toys.
The most memorable toy I borrowed was this wonderful Thompson figure from Tintin. I borrowed him off Herrsm and fell completely in love with it.
It might have been the heat, it might have been the water, but I had to get myself one! Those red stripes, and that bowler hat, made for the perfect summer photo!
The figure even worked in black and white, with those stripes really becoming something!
I discovered a small Tintin shop in London's Covent Garden and managed to find my own (cheaper) version of the figure. Whilst I didn't have anything as lovely as a pool in Denmark, I did have a small paddling pool for Thompson to play with.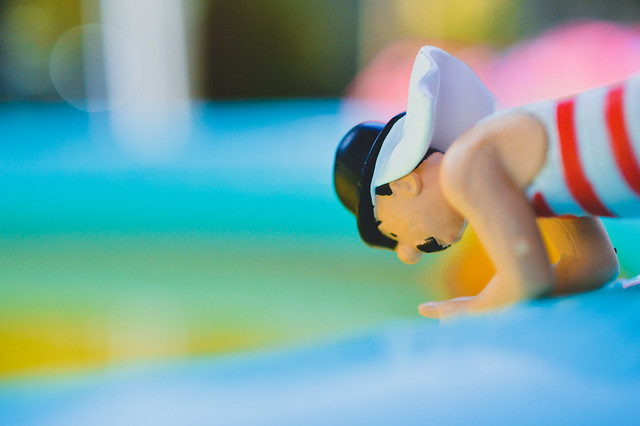 Of course, I couldn't resist several other small figures, such as this amazing little rocket, whilst I was in the shop. Imagine the Apollo crew's surprise when they found it on the moon!
I also picked up a slightly more traditionally dressed Thompson. He looked pretty cool in the streets of London. Now just to get his twin!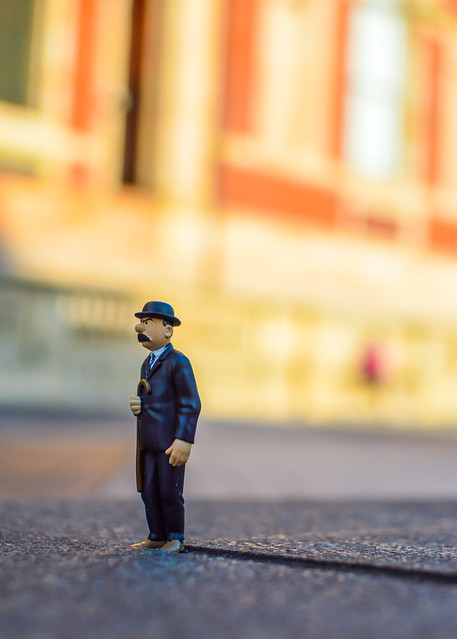 Whilst these figures are not posable and are fairly cheaply made, they come up pretty nicely in pictures. I'd definitely recommend these to any Tintin fans or anyone looking for something else to photograph.
What was the last toy you borrowed? Did you end up buying one? Let me know in the comments!
~ Lizzi
P.S. Do you want to receive Toy Photography updates direct to your inbox? Then sign up now so you don't miss another edition!