As a toy photographer, I mostly enjoy action figures and LEGO minifigures as subjects. However, after purchasing a few Funko Pop statues and reviewing a couple of the LEGO Brickheadz Pets sets (goldfish and budgie), I'm finding these less-articulated toys a fun challenge. Today we're looking at the Dalmatians set (#40479) that is coming out on June 1, 2021. This time around I found that the dogs actually pair well (in scale) with a Barbie doll companion.
The build
The build was easy, and didn't take long. A couple elements of the puppy are less sturdy than I'd like (see build pics below). The collar on the older dog is adorable. And, as usual, I didn't care for the stickers, so I left them off the base provided for the dogs. An articulated tail for both dog and puppy is a nice touch, and the dog's legs are somewhat posable, which was a nice surprise.
I'll probably find a way to add rotation to the heads if I continue to use them for toy photos, just to have a bit more articulation.
The Brickheadz Pets Dalmatians pair well with Barbie dolls
Unlike the goldfish or budgie pets, these actually scale nicely with a 12-inch doll or action figure. I don't have them available anymore to shoot with, but I think the Minecraft BigFigs would be a great companion to these brick dogs, as well.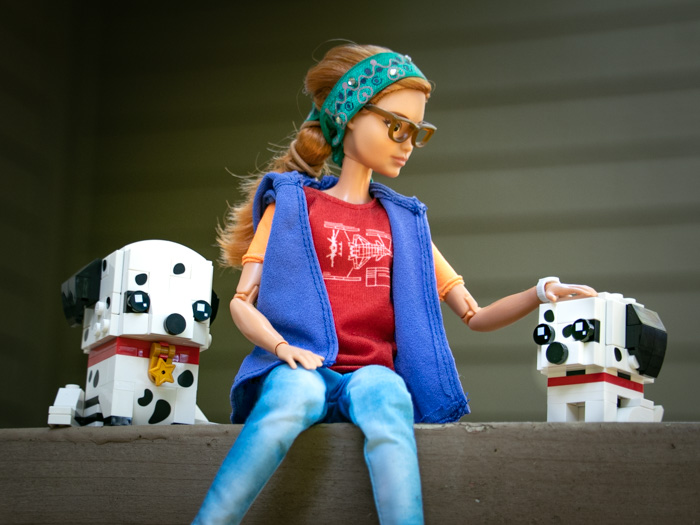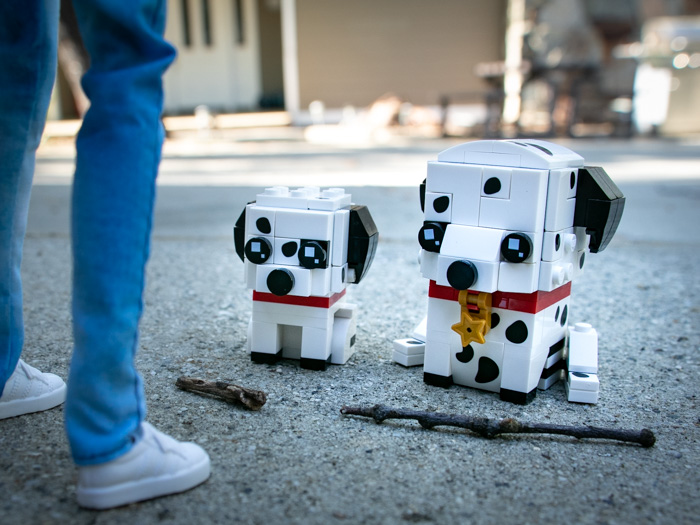 They also look good with other animal figures like those by Safari Ltd and Schleich.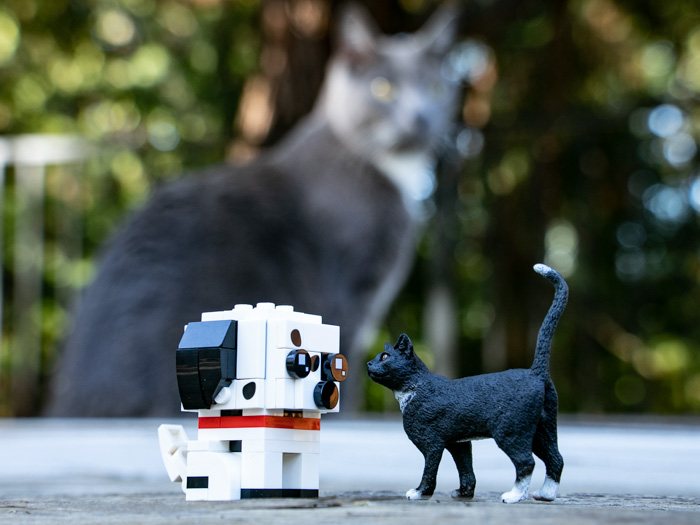 Conclusion: Plenty of photo potential
Sure, they're blocky and static, but if you like LEGO and like pets, these sets can be a fun addition to your toy photography collection. And obviously, apart from taking pictures of them, these LEGO doggies make a great gift for a dog lover or child who wishes they had a dog. Drop a comment if you have more ideas for photo shoots with these cuties!