This month's post comes courtesy of my girlfriend's vacuum cleaner or, to be more accurate, the packing material that came with her vacuum cleaner.
One thing I've noticed over my years of toy photography is how I tend to look at everyday things a little differently. Whether I am out walking or we've got new kitchenware at home, I seem to have developed this second way of looking at things, keeping my eye out for ways I can use seemingly random objects for toy photography. And that, along with the arrival of said vacuum, is what inspired this post.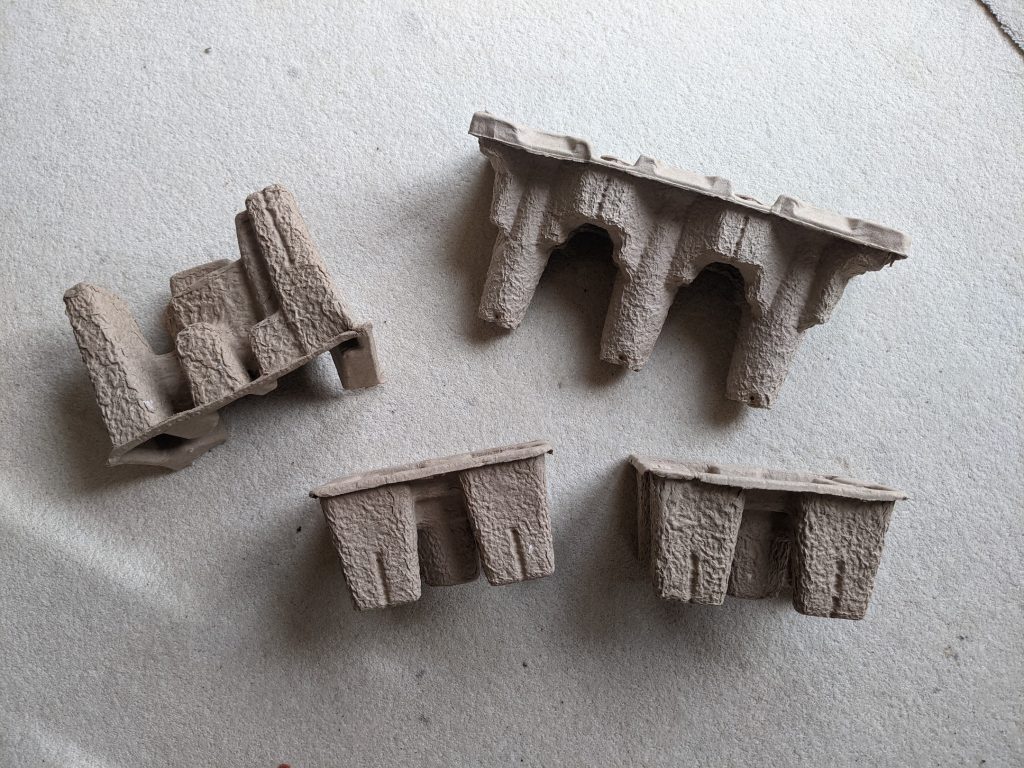 I was doing the recycling after we received the vacuum and ended up with a little less recycling as I should have had, due to opening the box and discovering a world of possibilities. I suddenly had components for a dungeon, a temple or the hut of a crazy old wizard on a far away desert planet from a long time ago.
I've used this kind of packing material in my photography before, but I was especially excited with all the bits that came in this box. It's amazing what you can do with some childlike wonder and moulded cardboard.
A clan of two

With this photo, I wanted to replicate something similar to the early promo shot from the first season of The Mandalorian (see below). Originally I just set up Mando, but I just couldn't help myself and had to add Baby Yoda aka Grogu peeking around the corner of Mando peeking around the corner. I just had to do it.
I started by making a little town with some of the upside-down packing materials. I then added some ground golden sugar as a desert floor and backlit the scene with some Atmosphere Aerosol to create a little drama and a few examples of God Light.
If adventure has a name…

My next shot was another situation of trying to replicate a scene from a movie. In this case it's somewhere between the below moment and the poster for Indiana Jones and the Temple of Doom. I have to be honest, I really don't take enough photos of Indy. It's something I intend to fix.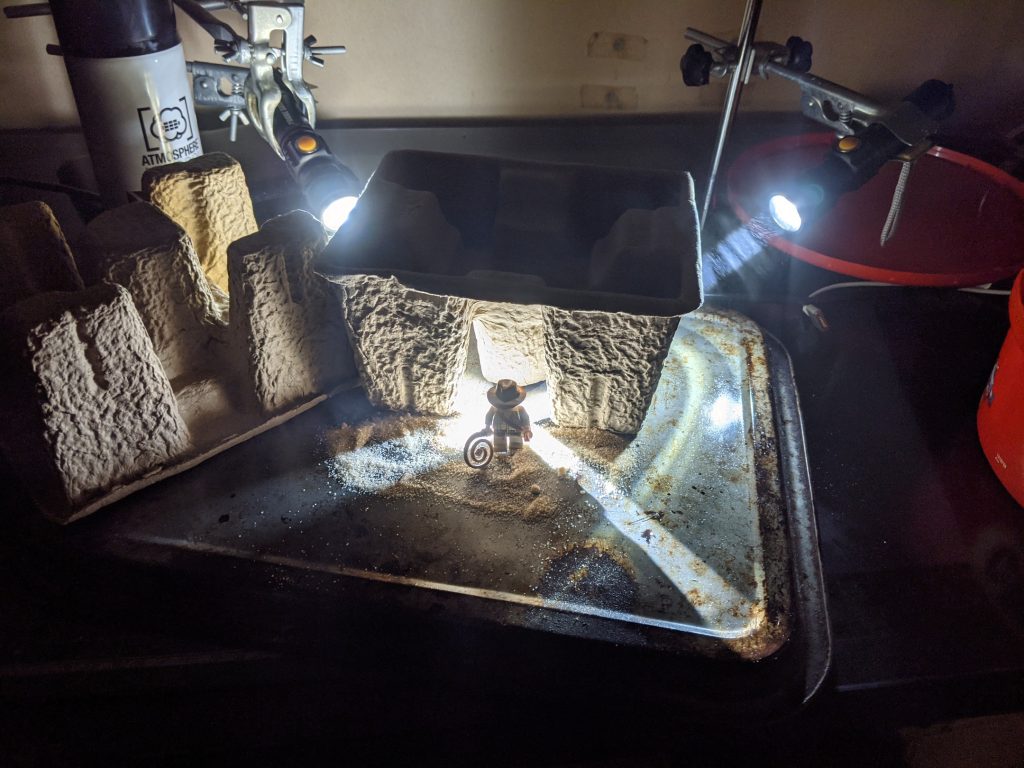 For this setup, I used two LED torches to light the area behind Indy, which created the glow in the "temple" when filled with more aerosol. Again, I used some sugar as well as an old baking tray for the floor. The red tones were added in post via an adjustment layer in Photoshop.
The depths of Exegol

With this photo, the packing material gave me vibes of tall pillars that could stand above a LEGO minifigure. I almost went in a Lord of the Rings direction, but I didn't have enough "pillars" to recreate Moria. Besides, I was really keen to use the pillars along with some blue lighting to recreate the beginning of The Rise of Skywalker as Kylo searches the Sith temple on Exegol. I really enjoyed the contrast of his red lightsaber against the blue atmosphere.
As you can see, there's more backlighting to again combine with aerosol, but this time I added a blue filter for the right colour in-camera. In this setup I'm using a BIT Light-wired lightsaber so it actually glows. As a result, I did need to use a very long exposure with a heavy ND filter. But I always try to get as much of that saber glow for real as possible.
Troll in the dungeon
My final example using this packing materials takes us to the dungeons of Hogwarts. I know, it's not the right troll—I had to do a bit of borrowing from Lord of the Rings, so I guess I kind of made it to Moria after all, in a roundabout way. And for this shot I just had to put a troll in the dungeon!
For this setup I used a tiny bit of white tack to stick the BIT Light to the tip of Professor Quirrell's wand. I really like how the power of the light is just enough to create the tiniest of flares in my anamorphic lens while also lighting the minifigure and the troll. Also, like in the Kylo Ren photo, I wanted to use the pillars to create frames within the image and add some depth.
It's great what you can use for toy photography scenery or props. When possibly anything could be a new influence, you always need to keep that second lookout.