Since he first captured the world's collective heart in The Mandalorian Season 1, Episode 1 back in November of 2019, Grogu, aka Baby Yoda, aka The Child, has been Star Wars' most visible and beloved character. The adorable, little green alien with expressive ears, soulful eyes and a penchant for mischief—and eating anything in his path—has enough universal appeal to bring in new fans without ever upsetting the diehard base. Case in point: Without Grogu, my wife (who'd never seen a Star Wars film before she watched The Force Awakens) would not be sitting down with me to watch episodes of The Mandalorian. She also might be less forgiving about my preordering the very expensive, life-size Grogu action figure from Hot Toys!
Though very few hit Hot Toys-level prices, action figures were an inevitable part of the merch deluge following Grogu's arrival to the Star Wars universe. And we all know that toys of a popular character bring great toy photography! To celebrate Star Wars Day 2021 today, Tuesday, May 4 (as in May the Fourth be with you), we've gathered a selection of images from an excellent international group of toy photographers using various toy styles and scales.
While Grogu was introduced—and instantly achieved Star Wars super stardom—back in late 2019, he has remained the galaxy's defining personality during the 12 months since last year's Star Wars Day. After all, his proper name was only recently introduced, and his story is really just beginning. This is why Grogu had to be the subject of today's post, even if The Mandalorian tv show was our subject for 2020. Don't pretend you're not loving every minute of it.
Happy Star Wars Day, and May the Fourth be with you all.
– Oliver Peterson (@oliversees)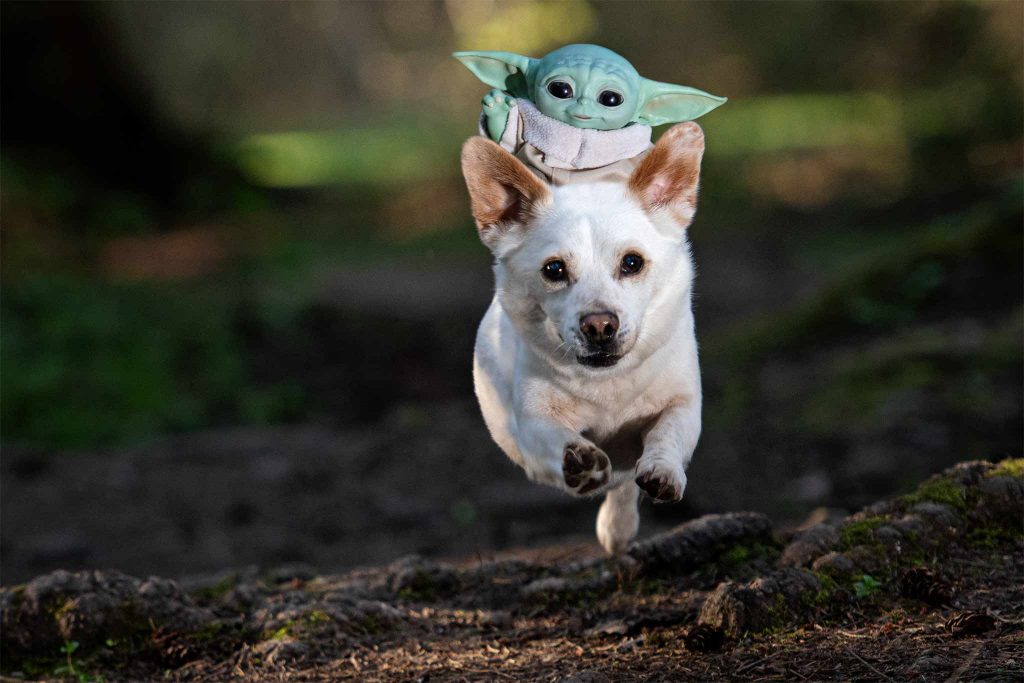 @equalmotion
Matt McDonald – Seattle, WA
Yoda has been my all-time favorite character since I was a kid, and when Grogu first appeared in The Mandalorian, so many things popped into my head. Who is this? Will we see a teenage Yoda one day? How much money is Disney going to make from this character? Like most people, Grogu became one of my favorite characters, just like his elder, Yoda. I have captured quite a lot of Grogu toy photos in the past two years. For this one, I wanted to try something different, so I ventured into the woods to see if I could create something where it looks like Grogu is riding my dog Charlie. A couple remote flashes, light stands, a bunch of treats and a little bit of Photoshop magic, and this is what I created.
@chezpics66
Chris Lynch – Boston (and Brewster), MA
"Be at peace little one." I was just out in the woods the other day, and the way the light hit the moss and grass just struck me as a serene spot for Luke to be taking Grogu out for training or meditation. As always with new and ongoing Star Wars media, it's a lot of fun as a photographer to imagine future scenes that could take place, or events that might transpire on screen or on printed pages in the future.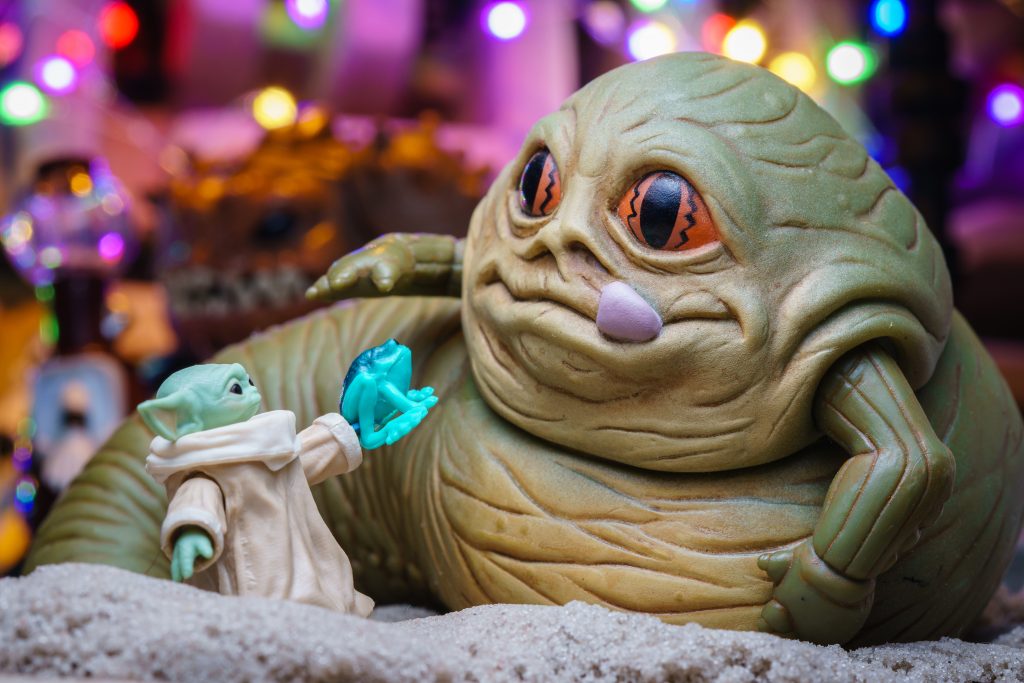 @alanrappa
Alan Rappaport – Lincoln Park, NJ
After Grogu, then-Baby Yoda/The Child, hit the scene in The Mandalorian, my brain just couldn't help think about how other 'baby' versions of Star Wars characters would look. From there, I started imagining scenes from a Star Wars nursery, where all manner of baby-creatures would come together to play. That was the inspiration for my photo. Grogu and Baby Jabba, just hanging out and playing together. Who knows if that would have kept Jabba out of his vile, gangster life. The two could have remained lifelong friends and gone on countless adventures together. Maybe I should pitch this idea to Lucasfilm? Happy, May the 4th, everyone. It's such an awesome time to be a Star Wars fan.
@wampa_patrol
Paul Dye – Near London, UK
Instagram was flooded with a million shots of Grogu and his little frog last year, so I thought it might be fun if he met a slightly bigger frog. Who will eat whom?
@lordofthane
Andreas "Angus" Bornstein – Munich, Germany
What strikes me most about The Child is how he brought back the best of Star Wars—regardless of age, nationality or gender, people across the world can unite behind both his cuteness and the way he just feels "natural" to the Star Wars universe. Being a macro nature photographer for years, I like taking outdoor pics with the 3.75 scale Grogu because it allows me to showcase some of the natural beauty of the small scale in a toy photo.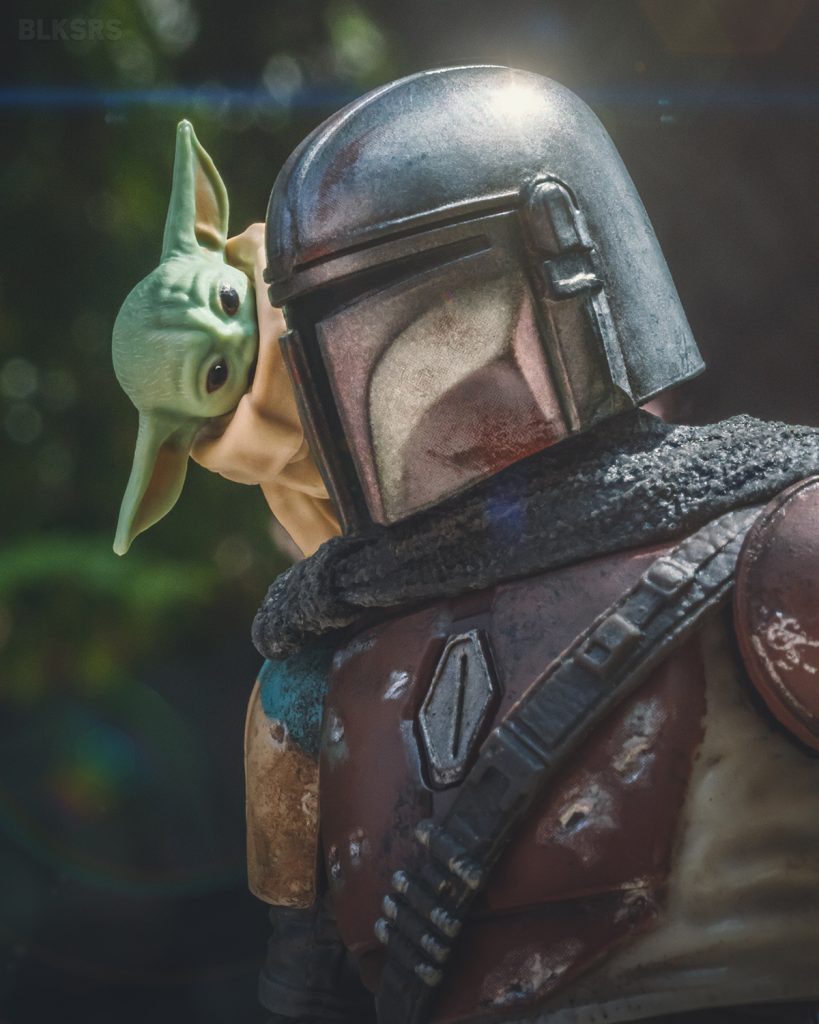 @blksrs
Isaiah Takahashi – Orange County, CA
Grogu is the latest lovable character from Star Wars, and like everyone else, I can never get enough! I'm looking forward to hopefully seeing more of his journey in the future.
Have you taken any shots of your Grogu toys? Which scale or brand is your favorite? Tell us about your experiences shooting this character in the comments below!