If you're not familiar with LEGO BrickHeadz, let me introduce you to mine! I built her a few years ago during a toy photo safari activity. We each had a chance to create our own "mini-me" using BrickHeadz sets (I think it may have been the old "Go Brick Me" ones).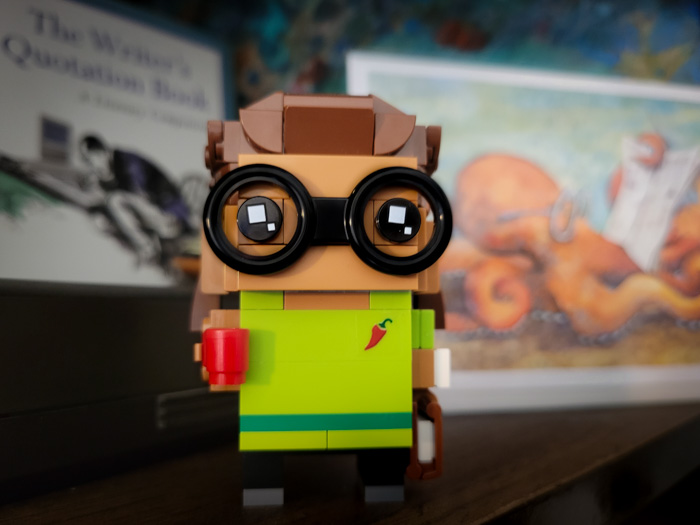 In my mind, Brickheadz are to the LEGO photography community what Funko Pop is to the action figure photography community. They are static statues with little or no articulation. They have exaggerated proportions (the "chibi" look, to borrow from Japanese comic art). With this comparison in mind, and after seeing some really great Funko Pop photography by some of my friends, I decided that Brickheadz should be given fair consideration as toys to shoot.
But I admit, I was very skeptical.
The build(s)
I won't bore you with pictures of both builds, as they're pretty straightforward. Brickheadz are built on a core of bricks with studs on three sides. This creates a figure with no studs showing on the outside. The design approach itself is pretty inspiring. Once you understand how to construct the core, the type of figures you could create on the outside are endless (with use of bricks beyond what's provided in the box, that is).
One thing that didn't make much sense to me was the inclusion of two stickers for each set.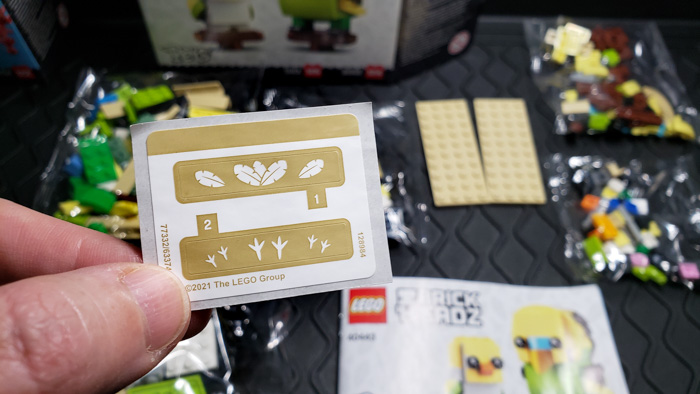 They give you two bricks as well, so you can put the stickers on each and—what? Change the design on the front of the square "cage?" As far as customizations go, it's pretty lame. And since I didn't care for the designs on the stickers anyway, I didn't use them on the sets.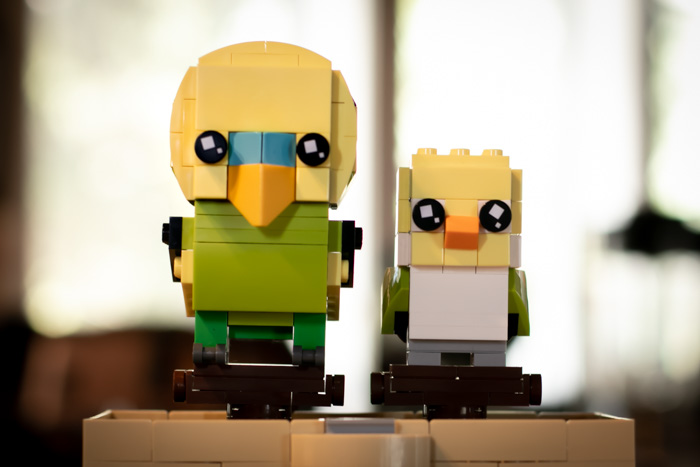 In a sad and random plot twist, the goldfish set was missing one orange 2×4 flat part that was supposed to go on the large fish. Fortunately, I found a replacement piece in my son's LEGO collection. It's rare to have a missing piece in a LEGO set, but it does happen.
LEGO pets around the home
These sets are very cute, and priced at $14.99 USD. They would make a great gift for a child's birthday or for a friend or loved one who likes birds or fish. It's also a fun way to have a pet at the office—one that won't make a mess or cause any allergic reactions. Ha! The form factor once built is very nice. The little display fits well on a desk, shelf or table.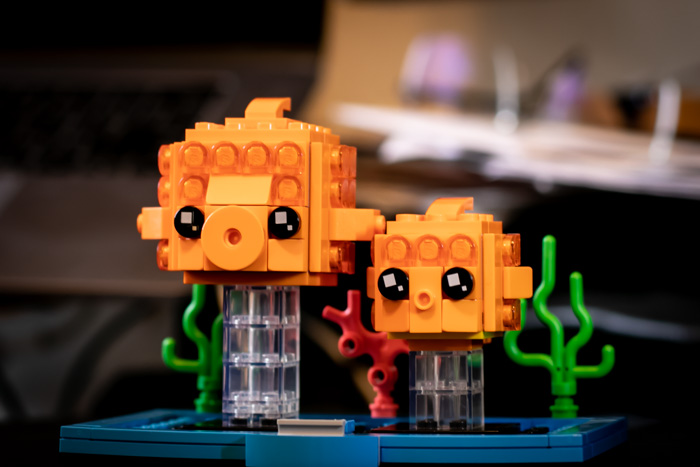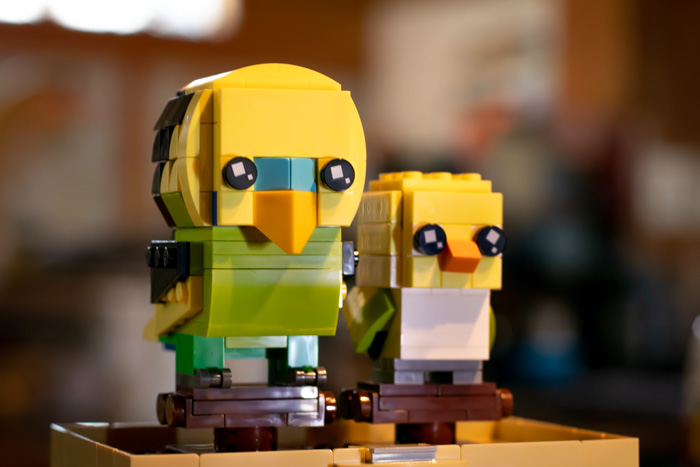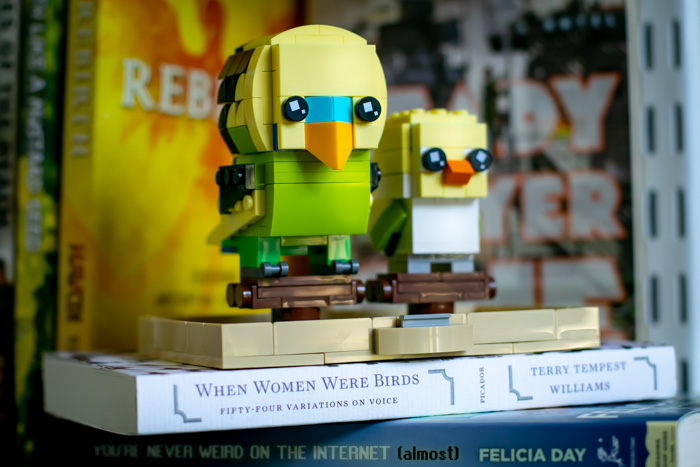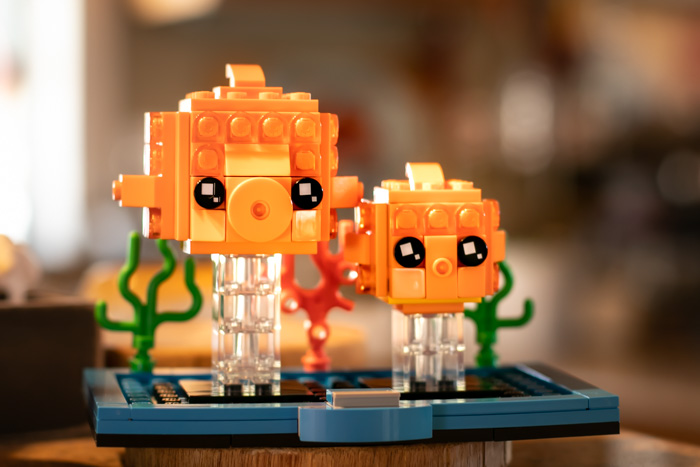 Suggestions for improvement
Although these sets are cute enough as they are, the two pets staring straight ahead really emphasizes the scene's unnatural, static nature. A small difference that goes a long way is to place the support column for each pet on a 2×2 turntable brick. Note: The little goldfish already has the ability to swivel.
I would also get rid of the flat tiles at the base of each pet and allow for freedom of placement anywhere on the base plate. This would break up the stiff symmetry of their placement in the context of the display. With fish, especially, part of the joy is watching them swim around their tank. So the freedom to create the illusion of movement, or to allow for "play" via changing their positions whenever you feel like it, really enhances the desktop display.
LEGO pets for toy photography
Here's the part I really wasn't sure about. Would these brick statues make for fun toy photography? I was surprised by the results!
The only item in my house close to a fishbowl was the vase above. Even a quick setup brought some fun pictures, and I have several ideas now for creating a more permanent display. But the real fun was taking my budgies outside!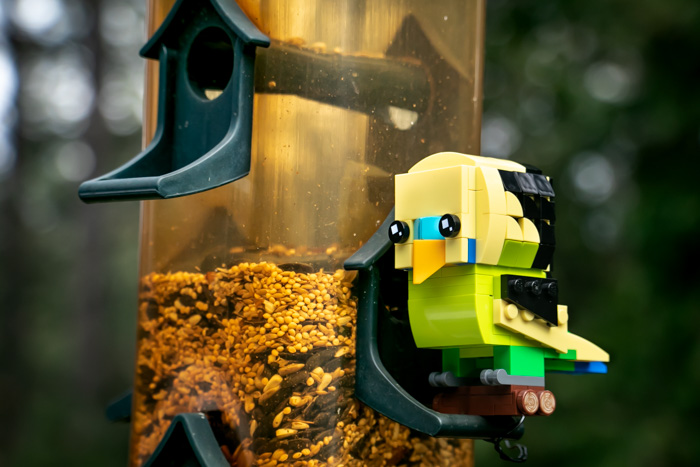 Conclusion
In the end, I found these sets to be great for display around the home and fun for toy photography. With a few customizations, they even make for cute desktop play. I don't think they would be great for younger children to play with, as some of the parts fall off easily with handling (the fish's top fins, for example). Anyone who likes LEGO and enjoys their pets (or wishes they had a pet) may find some joy with one of these sets. If you look through the LEGO catalog, you'll find cats and dogs, too!