Collecting toys often goes hand-in-hand with toy photography. We can find a new toy line, combine all the colors and emotions and unite all the characters from one story. And the Funko Pop! line is perfect for thematic collecting.
I chose a Harry Potter theme and enjoyed discovering something absolutely special. So, let me introduce some of these nice guys as we explore the fun of Funko Pop! in toy photography.
Style and appearance
Like LEGO BrickHeadz, Funko Pop! figures have minimalist features, but they have enough recognizable details to easily represent each character's appearance and capture their personality—such a brilliant artistic trick!
Ways of photographing
These figures fit comfortably in the collector's hand. If you're used to shooting LEGO minifigures, Funko Pop! figures are rather big and don't look clear enough against a detailed background until you use a very low F-stop to set the figure apart. Even if we prepare a diorama for them, it should look as "sketchy" as Funko themselves.
These figures lend themselves to both indoor and outdoor shots, but shooting indoors helps provide more control over the environment. Many Funko Pop! photographers like to shoot them on the pages of the illustrated books and magazines, and often add some colorful thematic pins. It works!
I chose to use Harry Potter movie merchandise and one-color backgrounds for my wizards, as well as thematically appropriate props: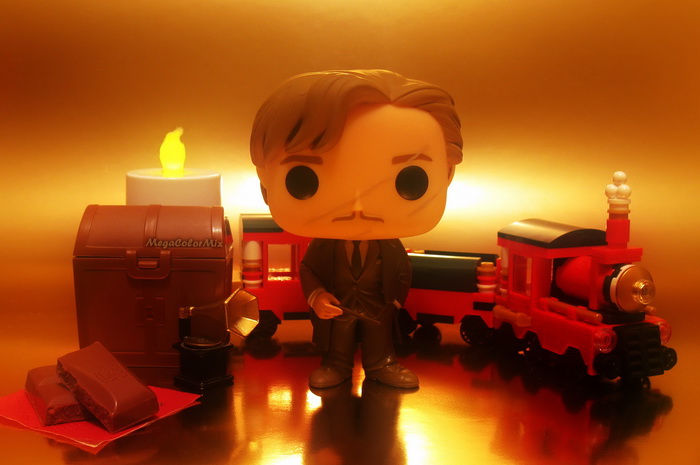 Palette of the toys
What a wonderful use of color and expression of each character's emotions! It's evident that these figures are made with much love for the films. The simplicity of the palette highlights the key colors for each character, and it really delights the eyes.
Let's hear from you!
Do you like to create Funko Pop! figures? Do you take pictures of all the toys you collect? Are you considering adding a new toy line to your collections? Please share some examples with us. I enjoyed many beautiful examples of Funko Pop! photography here in the Toy Photographers blog. It would be interesting to read your impressions and your experiences shooting these figures.
– Ann @megacolormix
Do you enjoy exploring the Toy Photographers' creative world? Subscribe to our weekly email round up so you never miss a post. You can continue the conversation in our communities on MeWe and Flickr.