Disney+ series The Book of Boba Fett has been fairly divisive among Star Wars fans since it first aired back in December of last year, but few could deny the allure of a LEGO set featuring Jabba the Hutt's former palace on Tatooine and some of its recent denizens. That's why I was very keen to ask LEGO if they could send me the Boba Fett's Throne Room set 75326 for review, and was thrilled when they happily obliged. This 732-piece build, including seven minifigures and lots of fun little accessories and objects, is a welcome addition to my growing LEGO Star Wars collection, which is mostly focused on the scum and villainy on planet Tatooine.
So after some bumps in the road and some serious delays (thanks for your patience and understanding, LEGO), I'm pleased to finally share my thoughts about this set and, of course, some toy photography.
As you can see from the box art, the set beautifully captures the silhouette and overall look of Jabba's palace, which we first saw in Star Wars Episode VI: Return of the Jedi. The palace then reemerged in the Clone Wars animated film and television series, along with a handful of video games. But it was truly brought back to center stage with the advent of Disney+, first on The Mandalorian — when Boba Fett returns to his late boss's home and takes it from an older, more bloated version of Jabba's Twi'lek majordomo Bib Fortuna — and then as a main location in The Book of Boba Fett.
This set invites us to play in the new, Disney+ era of Jabba's Palace, telling Boba Fett's story as he dispatches Bib Fortuna and claims the palace for himself. The throne, which Bib Fortuna built over the spot where his Hutt master once lay, is a central piece in this set, and it has built-in action to launch the included Bib Fortuna minifig out of the seat of power. This new Bib Fortuna minifigure is really nicely done with appropriately wormy head tails, and detailed paint on his upper and lower halves. He comes with a nice staff accessory as well, and given that this iteration of Bib was only in one scene before Boba executed him, it doesn't seem likely that we'll find this minifig in any other sets any time soon.
While the build does indeed capture the feeling of the palace, it's obviously much smaller, which is unfortunate, but the already $99 would be insane if it were a whole lot larger. And what you get provides several areas for play and photography.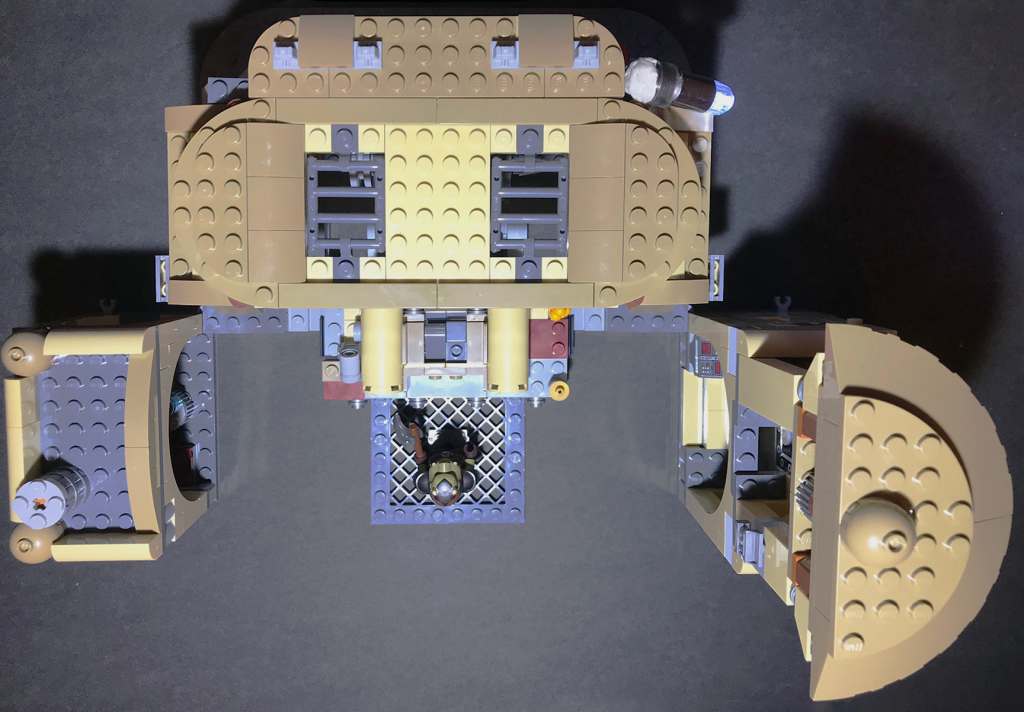 Like the huge Mos Eisley set from last year, Boba Fett's Throne Room is made from several modular sections which move on hinges, allowing a photographer to open up the space and even pull away the main rear wall without having to completely separate it or break it away from the model.
The main center section also includes a rotating barbecue spit, more easily accessible if you slide the movable throne forward or remove it completely — it offers two drumsticks (perhaps they're roasted monkey lizard legs?) and a box of bones.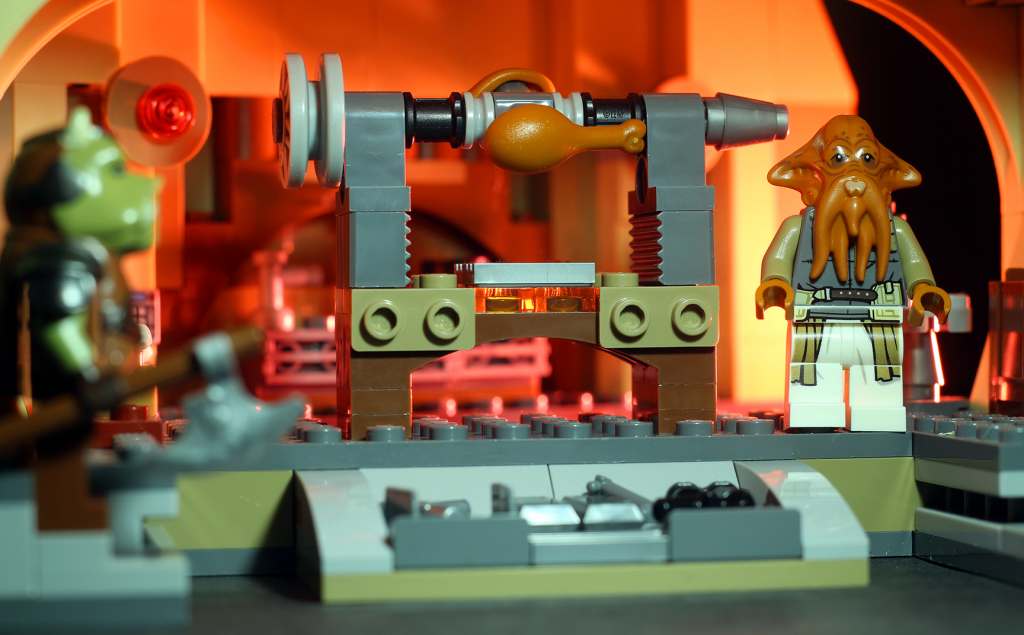 Boba's movable throne is part of the design, and works well for photos, plus, sliding it forward reveals a secret stash underneath with various weapons and a number of beskar bars.
This hinged back wall behind the throne offers photographers an easy way to light it from the back — as I did in order to cast a red glow behind Boba or Bib, depending on who was seated at the time.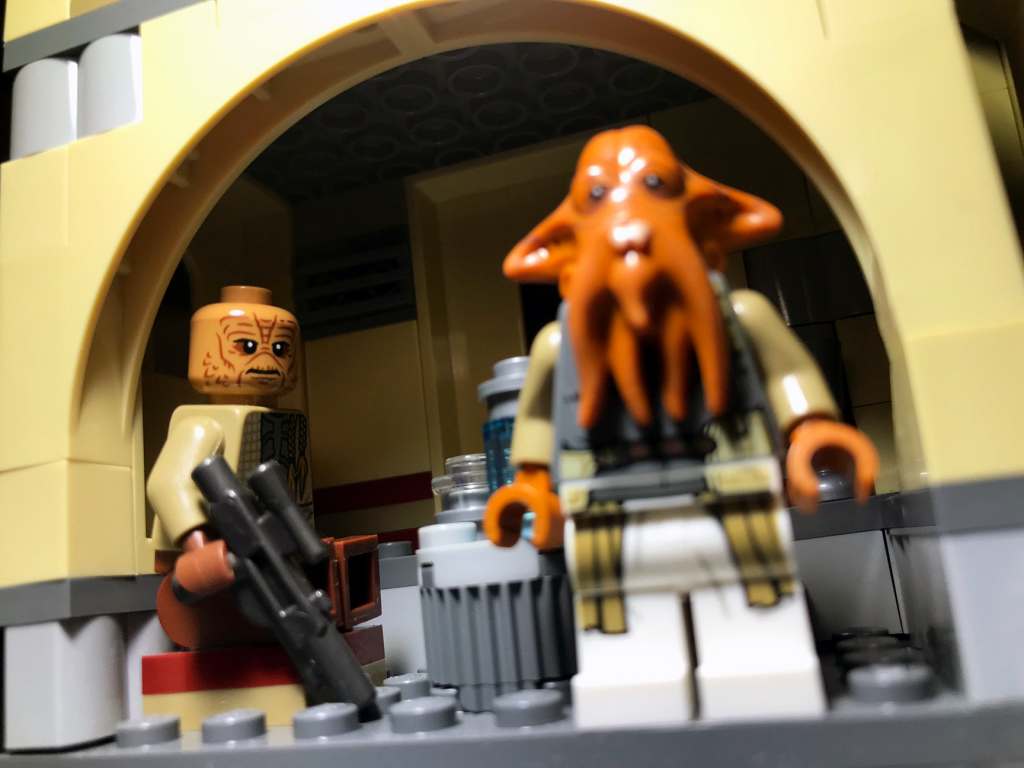 The set also includes a booth for sitting, similar to Han and Greedo's spot in Mos Eisley's cantina (complete with various cups, mugs and glasses spread around the palace), and a tower with movable front gate that rises and falls, and an articulated eye and turret — one for looking at potential visitors, and the other for sending them away.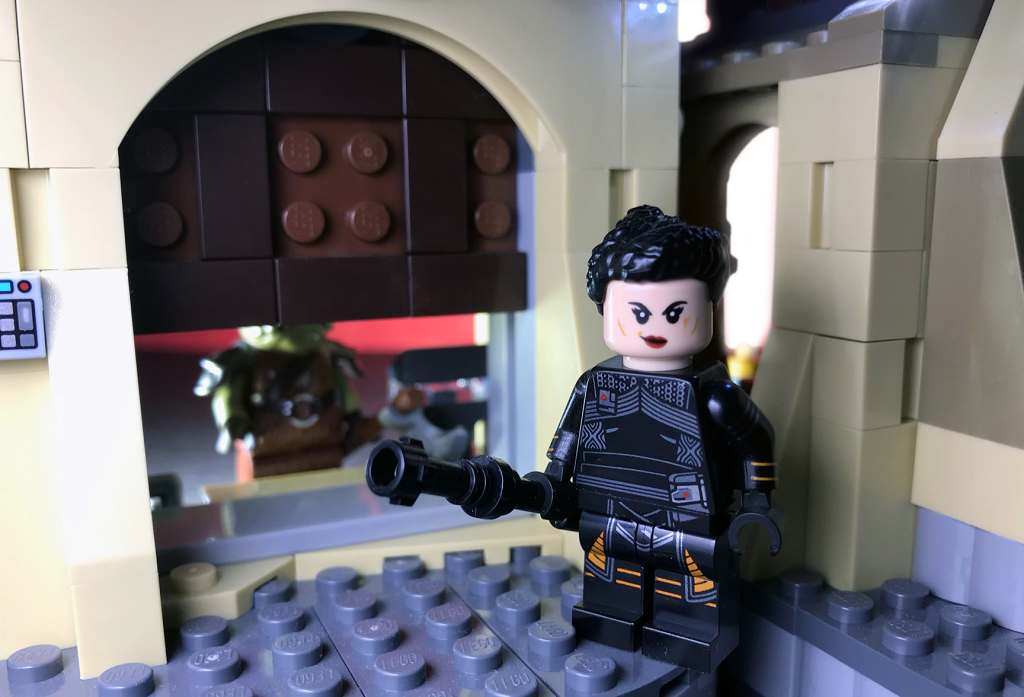 Along with the fun scenery and accessories, and Bib Fortuna, Boba Fett's Throne Room comes with several minifigure denizens. Of course, Boba Fett himself has the starring role: The minifigure comes with a removable helmet with posable rangefinder and jet pack, and one face on his head.
His top lieutenant, Fennec Shand, includes two facial expressions, a removable hairpiece and long rifle — though as a mostly action figure collector, I have a hard time with the way minifigs hold longer weapons. Unfortunately, the box art advertises that Fennec comes with her iconic helmet, which does is not part of this set. Otherwise she's a lovely minifigure.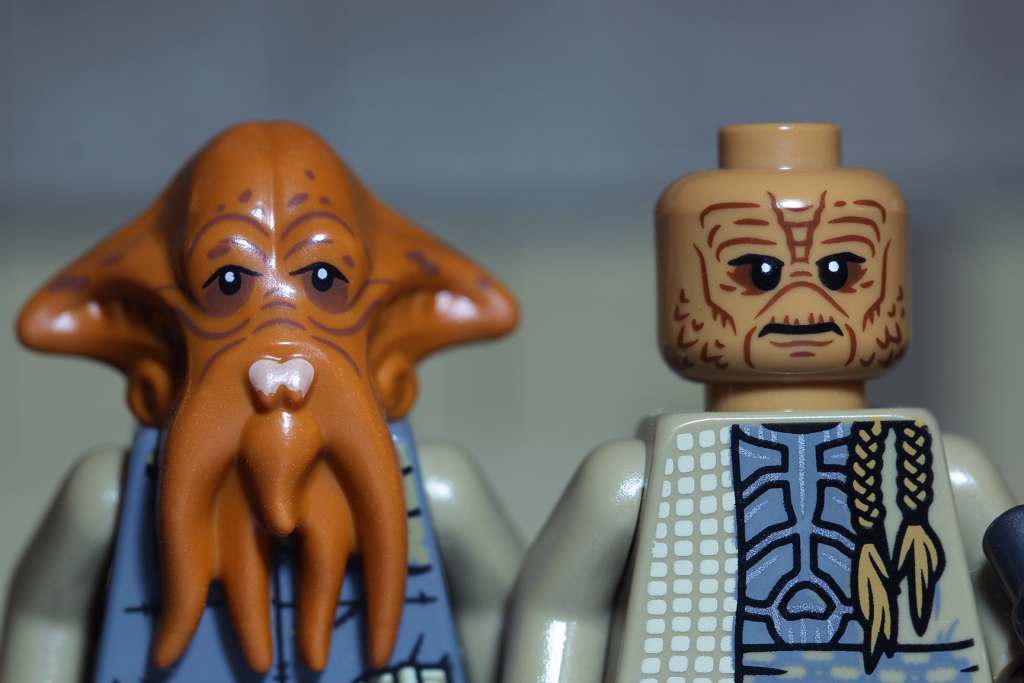 The set also offers two alien guards, a Quarren and a Weequay, both of whom have excellent paint deco, and the Weequay has a more well-proportioned sidearm. This pair is a welcome addition to any Star Wars minifigure collection, and would certainly add to scenes in Mos Eisley, among other locales.
Additional minifigures include a classic Gamorrean guard with axe, and a Theelin dancer, like Rystáll Sant who performed in Jabba's palace with the Max Rebo Band.
She has a large pink hairpiece, two facial expressions, and great paint apps.
All in all, Boba Fett's Throne Room is a nice set that I'm glad to have as part of my growing LEGO Star Wars galaxy. A big thanks to LEGO for providing this set for review. Come visit our Toy Photographers MeWe community or social media sites to tell us your opinions about this set!