Some key information
What I like the most about Toy Photography is its unpredictability. Photographing people doesn't allow much room to maneuver. With actual humans, once you have the theme set—studio/outdoor appointment, model, costumes—you can't change much. Toy photography is much more flexible. You're just shooting inanimate matter, after all.
Why am I talking about this? Well, a few weeks ago I had the honor to host the participants of our Monthly Toy Photographers Virtual Meet-Up in my so-called "studio," which, depending on the situation, is a kitchen table or a desk in our bedroom. Considering that the kitchen table, like Batman, turns into a studio after dusk, and the meeting was set on a beautiful Sunday afternoon [at least in my time zone] in July, I invited the guests to the desk. Also because our bedroom has these nice blackout blinds, very handy in terms of shooting in low key, which seems to be my speciality.
That's it for backstory, so let's get down to business.
Loki business!
In the two weeks preceding the meet-up, I didn't have much time to think about what and how I wanted to show the participants. Two days before the meeting, I started to plan my speech, but unfortunately the inspiration gave me a wide berth, and nothing went as I wanted. I thought about bringing my guests/viewers to the garden, but there is nothing special about taking pictures outside, and I was supposed to show my craft, studio, etc.
I also wanted to reach for my LEGO MOC [my own creation] of choice—a bunch of black bricks roughly resembling the interior of a spaceship/base/old factory/secret corridor. In this interior, I would photograph one of my go-to minifigures—an astronaut, an alien or some robots. But I found it too easy. Yes, I like to complicate my life, and besides, I couldn't decide who to choose. My idea for this session didn't work out in any way.
Lucky Loki
As usual, a happy coincidence came to the rescue. The Disney+ Loki show hit the internet and our favorite god of mischief did me a favor and jumped on this missing spot. I hadn't seen the show yet and was solely relying on promotional photos and stills. I noticed that some of the scenes take place in spaces that have a beautiful retro flair. So that would be it for black bricks as a background. Now that the brick-built setup idea was set aside, I had to find a new one! If it were a movie, this moment would be a scene in when enlightenment rushes down on me—imagine my dreamy, smiling face as I look at the finished work in my mind. Then a series of short scenes follow in quick edit: I take out a small briefcase from the wardrobe, a grille from the dishwasher, brown wrapping paper and cardboard pieces from the box with gadgets and gizmos. And my faithful laptop cooling pad, which plays the role of floor. Cut!
Building the minifigure itself turned out to be easier than expected. And it was indeed a variant! The head with a gloomy look was provided by Legolas, hair by Florean Fortescue, a beige jacket by Neville Longbottom, and the legs by a random minifigure. Et voilà, Variant Loki pretty as a picture!
I also wanted it to be a photo à clef. Sunday is word play day in the Toy Photographers community after all, with an appropriate hashtag: #toydayispunday. So I put the key in Loki's hand hastily. It was a reckless step, only Hel knew what Loki would open with this key!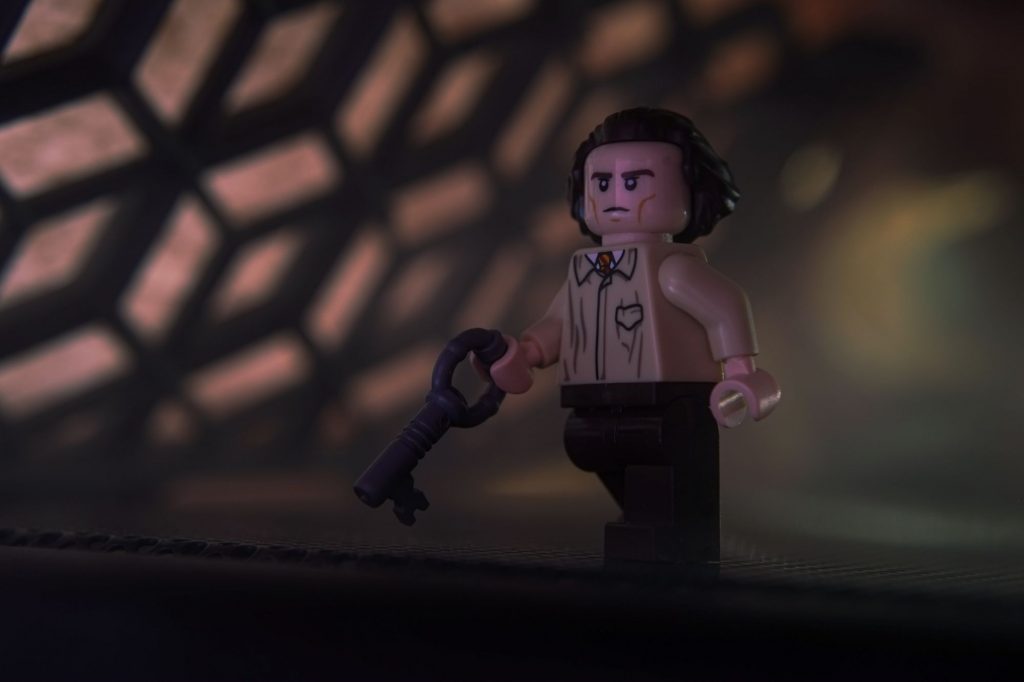 Loki locuta, causa finita
Is Loki with low key in low key punny or just puny? Decide for yourself! I know I had a great time both preparing for the meeting and during the presentation. Thank you to all participants for kind words, questions and a great atmosphere! You are awesome!

Toy photography can be very hermetic. You sit alone, locked in a "studio" and brew something out of nothing, like an alchemist. So this session with an audience was very refreshing! It allowed me to look at the things I do in the "studio" almost instinctively, and I didn't think too much about them. The questions asked during this session made me think more about the steps, because I had to explain them to the group. I highly recommend attending a session like this during our meet-ups!
My take-home message: It's worth letting go sometimes and just letting things happen. After all, I'm only one of the variants…
Hello Variant!, while you're here, we invite you to sign up to our weekly Toy Photographers email roundup where you'll get a recap of all the week's babbling. And while you're at it, you should definitely join our MeWe community! We hold monthly contests with prizes and lots of other cool stuff.