A little backstory
In 2018 I attended Bricks LA for my first LEGO convention. I didn't know what to expect but ventured up to Pomona, CA for the day and dove in. It was a full day of people watching, visiting a fun range of vendors and taking in a wide array of exhibits. I left the event with the bug in my head to do an MOC (My Own Creation) for the 2019 event, so I started gathering ideas.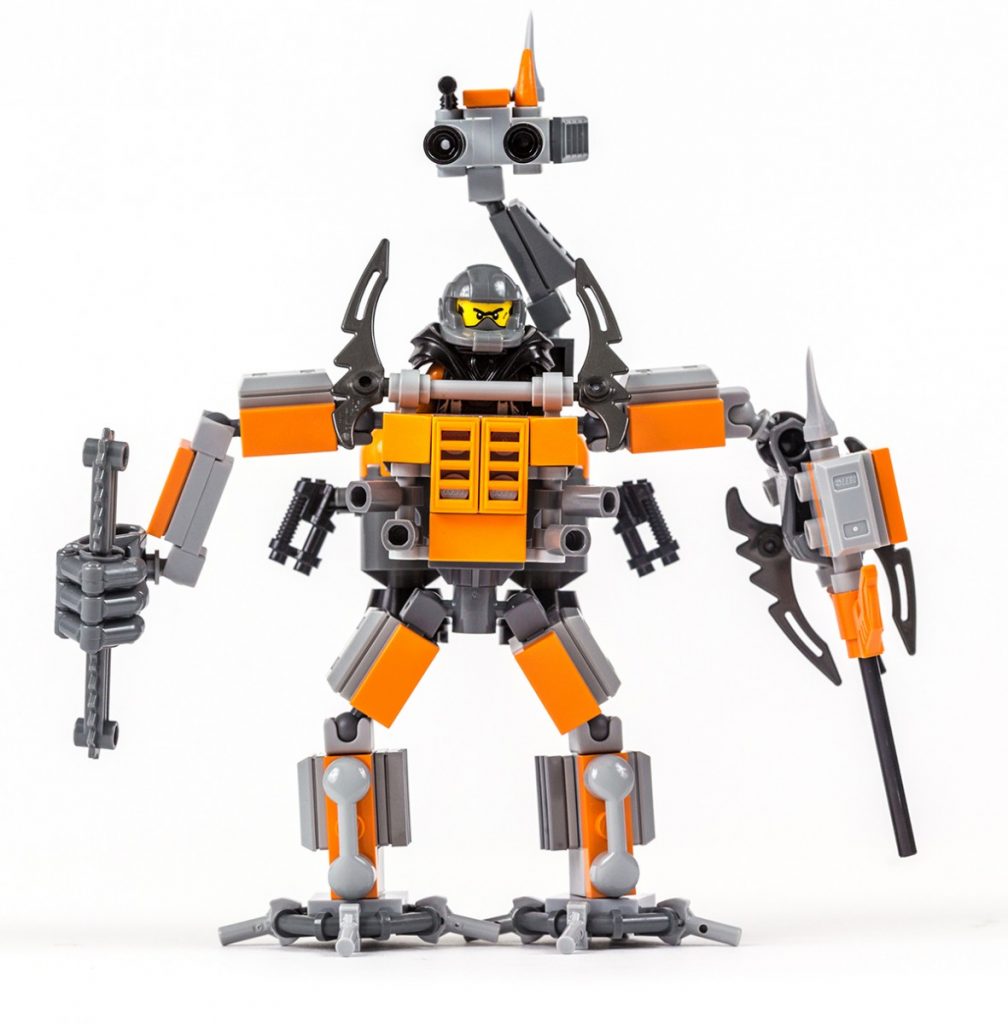 I first built an exosuit MOC that would be the main subject and then began imagining the story and environment around it. Bricklink orders came in over the next couple of months and I was off and building. This first real MOC included four base plates and featured two views from a single story. It was fun to capture these environments. The 2019 Bricks LA event was a good time and a new experience. I'm glad to have been part of it. Sooner or later the time came to disassemble and put it away for another day.
---
Flash-forward, let's LEGO!
I've recently had the itch to do some new building, and rather than create a new kit, it was prime time for a redo. I pulled out the storage tub and got to work on updating the exosuit and environment. This project would include one base plate (three sided) and loaded with details. One thing I didn't focus on so heavily in that first build was the greebles, and this new one would have GREEBLES!
Starting with some basic SNOT (studs not on top) building, I had just enough larger bricks for the three sidewalls. Once I had the scale worked out, it was a natural process to free build and create the environment.
The central computer would be an additional focal point, so it was time to build those greebles.
Next up was lighting to really make the build sing in photos. I had built a few access points into the wall to run tiny LEDs, which add nice visual details to a build.
Once it was the exosuit and its bay environment were built, I took a break for a night and got ready to shoot it the next evening. (I'm pretty sure I had LEGO dreams that night.)
---
Let's shoot!
---
MOARR GREEBLE!
After shooting the whole bay, I gingerly took each wall apart and shot them separately.
Then I rebuilt the three walls into one big hunk of greeble goodness.
---
Working details
I put the minifig crew to work tending to the exosuit, and I think there's a Six-Image Narrative in these detail shots. Time will tell.
---
Back to storage
Take it all apart, re-sort it and return to storage. In the garage it goes!
These tubs are from IKEA and so far the best I've found for sorting and organizing. They stack/nest well and are translucent enough that you can look up through the bottom to see if a brick is hiding from you in plain sight. The small ones are 1 L / 34 fl.oz capacity, part number 19720, and the larger ones are 5.2 L / 5 Qt capacity, part number 22190.
After sorting, the bricks and bits go into Ziploc bags and then back into a storage tub in the garage until next time.
---
Thanks for reading and "play well!"