While the toys-to-life video game craze may have come and gone, the figures that accompanied the games are still standing strong. It may be game over for their virtual worlds, but these toys still have plenty of life left, thanks to toy photography.
Toys to life
If you're unfamiliar with toys-to-life games, they were a genre of popular of video games from 2011-2017 that used physical figures to bring new content and characters "to life" in virtual game worlds. This was typically done by placing the figures on a portal that plugged into a game console. The portal would read data from the figures using near field communication (NFC) or radio frequency identification (RFID) and, like magic, unlock new content in their games.
During the heyday of toys-to-life games, hundreds of figures were released with toy stores dedicating entire aisles to the games, figures and accessories.
To Infinity
One popular franchise in the toys-to-life genre was Disney Infinity, which released figures of Disney characters along with characters from Marvel and Star Wars. Disney Infinity figures had a colorful, cartoonish style to them to match their virtual counterparts. While they may have lacked articulation in the real world, they weren't short on style.
As a Star Wars fan, I thought it would be fun to track down and photograph the 19 Star Wars characters that were released alongside Disney Infinity 3.0 in 2015.
In this post, I've collected all the images I've shot along with some details and behind-the-scenes information.
A long time ago…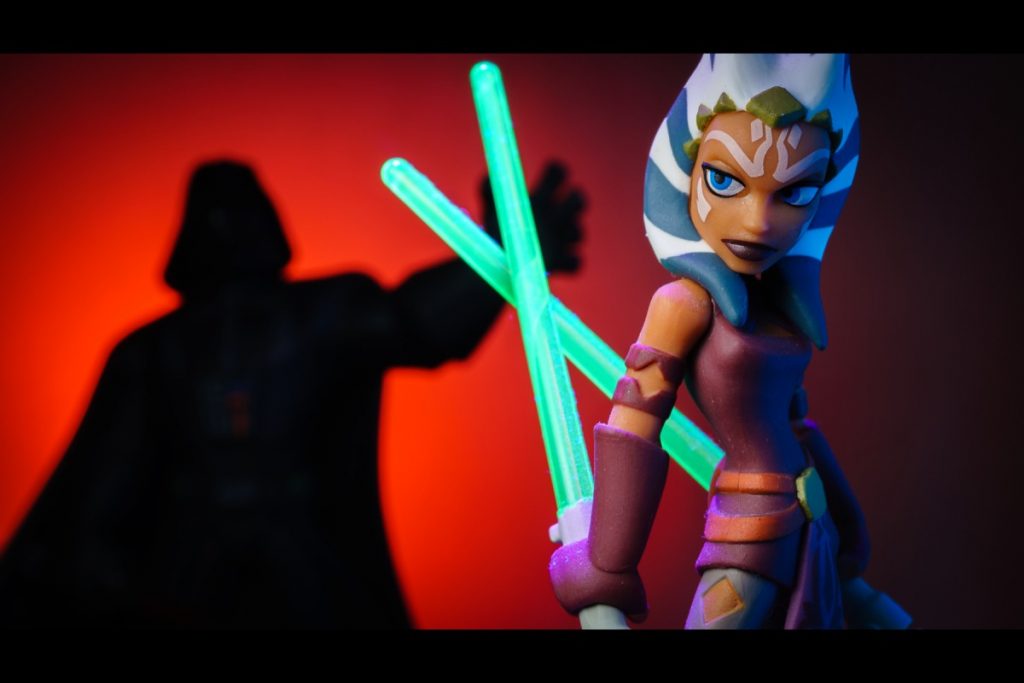 The first Disney Infinity figure I shot was Ahsoka Tano. Well, technically this was the first and second, as that is Darth Vader's silhouette behind Ahsoka. Back in July of 2020, I was making my way through the Clone Wars and was really taken with Ahsoka's character. She was one of a handful of Disney Infinity figures I already owned, and the character that kickstarted this project.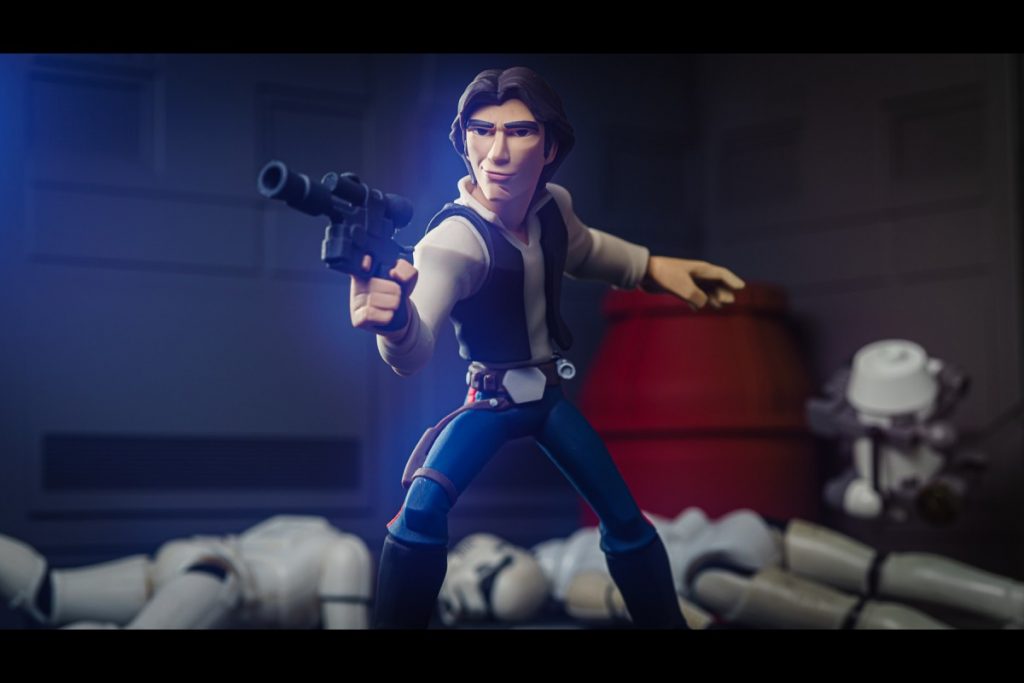 After shooting Ahsoka, I decided to give everyone's favorite smuggler a shot. Han Solo is my favorite of the Disney Infinity figures with his wonderful smirk, pose and signature blaster. He made for an excellent subject as he towered over some vintage stormtroopers in the background.
For a lot of these images, I used the lens gelling technique I wrote about here. This allowed me to give the characters a bit of a cartoon-like glow, and add some dynamic lighting to lightsabers and blasters.
For the Star Wars Galaxy's most notorious bounty hunter, Boba Fett, I pulled in several different elements to compelte the shot. That's a 6-inch scale Black Series Han in carbonite, and a Hot Wheels-sized Slave 1 in the background.
After shooting the few Star Wars Disney Infinity figures I had, it was off to eBay to search for the rest. The figures were easily available however, like most toys, Disney Infinity figures were played with, and the conditions of the items for sale were less than stellar.
Luckily, I was able to find most of the remaining Star Wars figures still sealed for semi-reasonable prices. When the series was discontinued, toy stores held fire sales, selling the figures for $2-3 each. Had I grabbed them back then, I could have saved myself some cash, versus going the secondary market route, but that ship sailed back in 2017.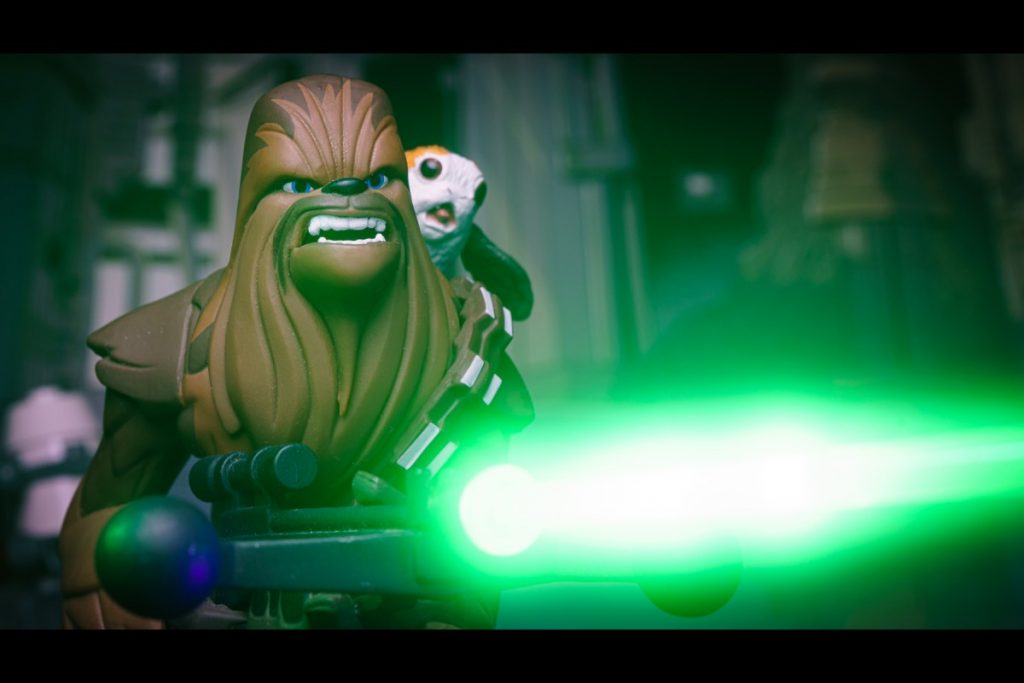 For Chewie, I used a LEGO blaster bolt (not sure of the official name) to create his bowcaster blast. The translucent green color glows wonderfully when under a blacklight, and really shines when combined with the lens gelling technique.
This shot of Luke is probably my favorite of the bunch. It's one of the rare instances where I ventured into Photoshop, though it wasn't to add something to the image, it was to take something away. Can you guess what it was? Check the video below to see.
Beyond Infinity
While Disney Infinity was discontinued in 2016, Disney is keeping the essence of these figures going in their Toybox line of toys available at Disney Stores. Toybox toys feature a very similar style and design to Disney Infinity, but replace their digital content with real life accessories, and articulation.
Shall We Play a Game?
Though I still have yet to play Disney Infinity, I enjoyed the time I spent with these figures. I still have a handful of characters to track down and shoot, and then perhaps I'll venture out to explore some of the non-Star Wars characters Infinity brought to life.