OK, it's time for The Batman Movie Series 2 CMF Review!

Disco Harley Quinn
Roller Disco Harley anyone? She's disco'd up on the torso, and plain white below the white tutu. Trust Harley to be wearing non-matching gold and silver roller skates!

Two faces, one a cheeky wink and the other with her tongue poking out (I'd guess I'd need more concentration that just a tongue poking out to stay upright on roller skates!) are a welcome addition.

Disco Alfred
Dressed in a whit tux with a golden waistcoat and tie, Alfred is ready to let his hair dow… um, party! The silver sparkled coattails are a nice little addition to his outfit.

I don't want to sound like a broken record (pun intended), but I'd love to see a Bat-guitar!

Clock King
Clock King is a master planner and sometimes uses clock-themed gadgetry. He wears a clock mask, a cape, and a blue suit with clock drawings on it. He is an accomplished swordsman, with spears? OK, I get it! The spears look like the hands of a clock!

The inclusion of the clock gears, printed where the Series 11 Gingerbread Man's eyes were is a pretty clever solution to using an existing mold.

Hugo Strange
Professor Hugo Strange is an evil psychologist and chemical genius who knows Batman's secret identity.
I love this guy! I didn't think I would, but I do. With nothing to lock the Minifigure into being only Hugo Strange, there's so much potential to re-purpose him into other stories. I can't wait to add some "crazy scientist" hair and see where he takes me!
Mermaid Batman
Really? Yeah, I've learned that this was a thing in the comics thanks to my friend Rambling Brick. But really?

I'm sure I'm on the other here, but this one confused me on so many levels. This might be the only photo I ever take of Mermaid Batman.

Beach Batman
A beaming grin from under the goggled cowl is probably due to checking his chiselled torso in the mirror before hitting the beach. Maybe he didn't realize he was wearing his Bat-Speedos? But those black Speedos with the gold trim and Batman symbol, and chiselled torso are bound to make their way into my regular "off to the beach" box of LEGO!

The inclusion of a dolphin is cool, if you want a dolphin. But I didn't. I wish with was another Bat-inspired beach gadget instead.

Beach Joker
Hawaiian shirt with palm trees on it? Check. Purple shorts? Check. Green flip flops? Check. Green Joker rubber duck ring? Check!

Add an icy pole, a camera, and double sided head (one side with a toothy grin, the other with a slightly different toothy grin?) with some cool pink, gold-framed sunglasses, and Joker is not only ready for a fun day at the beach, but I'm sure he's bound for some fun days in front of cameras.

Beach Robin
We see the return of the duck motif on Robin's attire. This time he wears them on his Hawaiian shirt. Green shorts with an "R" emblazoned in them are a nice match for Batman's in the series 1. Again we see the goggled hair piece that sits over a shocked facial expression. Perhaps he's caught sight of Batman in his 'budgie smugglers'?

Beach Batgirl
In her purple Bat-wetsuit and a yellow surfboard with a Bat symbol emblazoned upon it, Beach Batgirl is ready to hit the waves. I just hope there's some shark repellent spray in her utility belt!

The addition of a separate ponytail to the cowl opens up a lot of possibilities by either changing the direction the ponytail faces, or removing it entirely. Or in my case, probably losing it!

Beach Alfred
Neck-to-knee swimming costume? Bow-tie? Fancy drink with cherries for garnish? Oh Alfred. Always dapper, even on the beach! The torso and legs from Beach Alfred will also be making their way into my regular used "outfits" for beach photos.

Batfan Batgirl
Batfan Batgirl? She sure is! With her "Batman Fan Club" top, "Batman" pants, Bat symbol emblazoned hood, Bat cape and Bat dollars, she's so Batfan!

Her double sided expressions shift from smiling to angry. Maybe Batman didn't stop to sign a autograph?

Killer Moth
Drury Walker. Killer Moth originally wore a garish costume of purple and green striped fabric, with an orange cape and a moth-like mask. His abilities include an incapacitating cocoon gun, flight, sharp claws and sticky cocoon mucus.
This colourful guy is one of my favourites from this series. His DayGlo-coloured outfit is so cool. And a golden retro raygun? Tops!

Jayna (of the Wonder Twins) and Zan (of the Wonder Twins)
"Shape of an octopus!" "Form of an ice unicycle?"
Jayna and Zan are Exorian metahumans, genetic throwbacks to an ancient race of Exorian shapeshifters. The Wonder Twins powers are activated when they touch each other and speak the phrase, "Wonder Twin powers activate!"  Zan can transform into any form of water, or any atmospheric disturbances involving water, such as a blizzard, a monsoon, waterspout or a typhoon. Jayna can transform into any animal, whether real, mythological, indigenous to Earth or to some other planet. If she can imagine it, she can become it!
Their outfits are spot on and very true to the original cartoon series.
I get the bucket of water that Zan can transform into, but the record and the album cover of 'Top 24 Party Songs"? Maybe Jayna was planning on transforming into a disco duck? I really wish Gleek, their blue alien monkey pet was included as an accessory instead of the album and its cover.
Apache Chief
Apache Chief has the ability to grow in size and speak and understand the language of animals.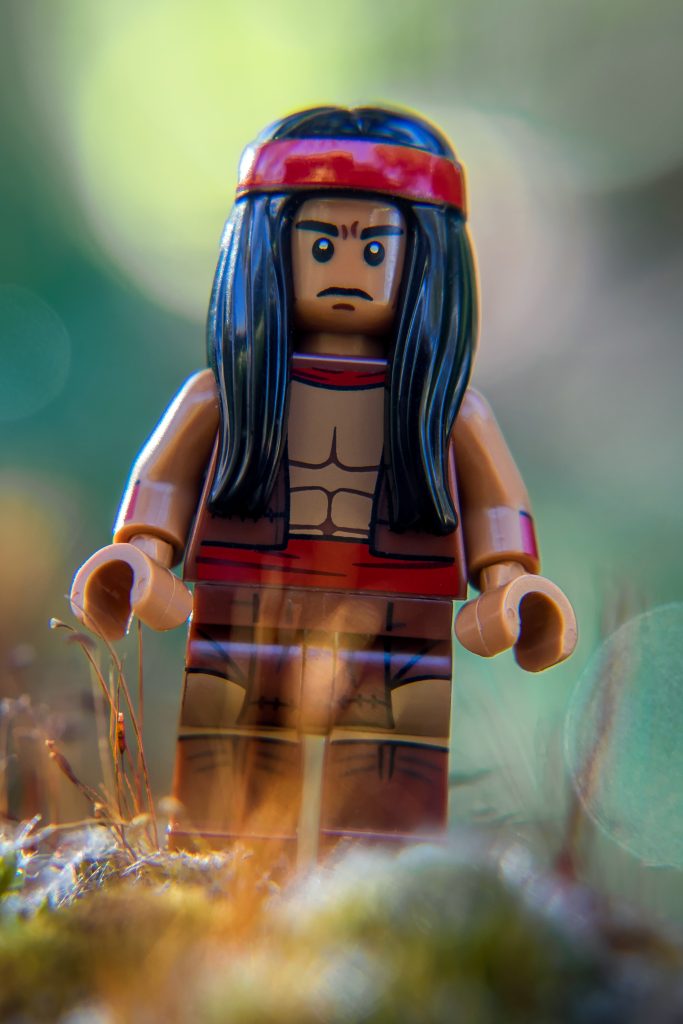 When I first saw photos of Apache Chief online, I thought he'd be one of my least favorites from this series. Wrong! Sure, we've seen iterations of this type of Minifigure before, but as far as usability beyond his Batman Movie world go, I'm sure I'll be shooting this one more than most of the others in this series.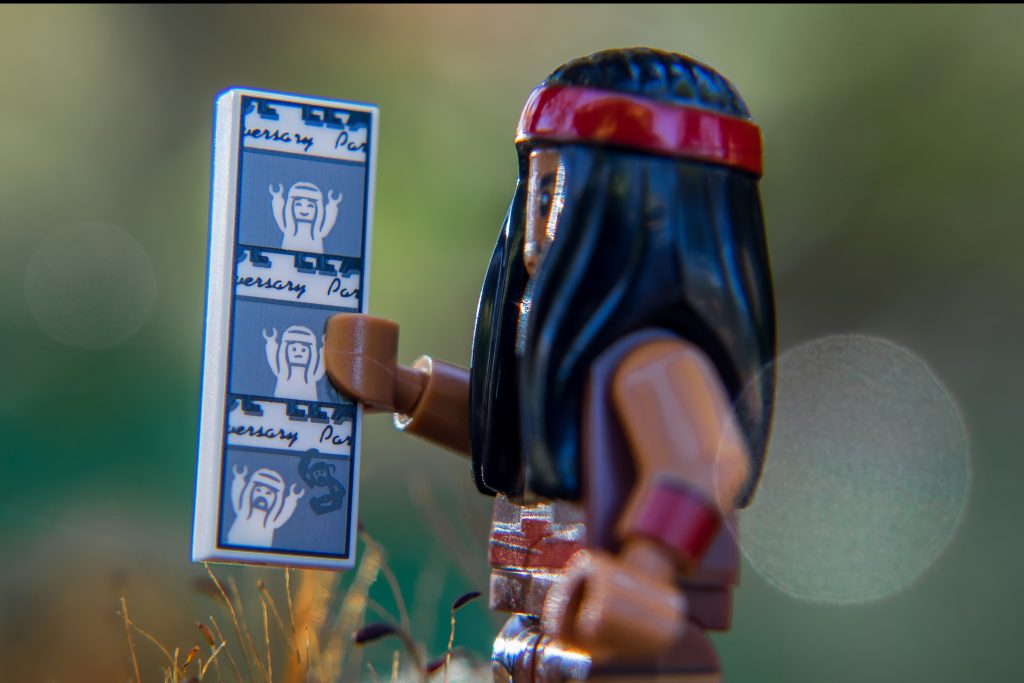 And maybe that's the Gleek I was wishing for 3×1 tile of photo booth snaps?!
Jor-El
Jor-El was a scientist and member of the Kryptonian Council before the planet's destruction. He is also the father of Kal-El, the boy who would become Superman on Earth.
It was the Series 17 Elf Maiden that changed my opinion of the Minifigures with the 2x2x2 slope brick instead of legs. Jor-El continues that newly found liking for them!
There is something majestic about this one. Or maybe it was just a relief to shoot a light (white) coloured Minifigure without having to clean and edit all the dust off dark coloured LEGO?!
The printing on the head, torso and sloped brick is spot on! And I'm sure the white Superman "S" tile and the white Superman hair with make their way into many photos.
General Zod
A general in the Kryptonian Army, Zod was banished to the Phantom Zone, surviving Krypton's destruction. Now he wants to destroy Superman, and take over Earth.
OK, here's one that disappointed me. Maybe I was unlucky with which one of the three I opened from our box? But the printing on the red-eyed angry side of the head was poor and smudged. The open-chested costume printing of flesh colour over the black torso was also a let down.
I did however get a huge giggle from the printed (better than the head) newspaper tile. Very clever!
Doctor Phosphorus
Dr. Alexander James Sartorius. A crack in a reactor core causes Dr. Alex Sartorius to get "five million slivers of (radioactive) red-hot sand" into his body. Nuclear reactions caused the silicon in the sand to be booted up by one proton each, to phosphorus. Burning forever, he starts a quest for revenge against the people he blames for his terrible fate.
I'm still unable to form an opinion on the doctor. I can't decide if I love him or if I think just a blotchy green version of other skeletons we've seen before? I do like the colour chosen for his phosphorous body and head, but I also wish he glowed. 
Black Canary
Dinah Drake's alter ego, Black Canary has an ultrasonic scream; the "Canary Cry", a high-powered sonic scream that can shatter objects and incapacitate enemies.
Dressed in blues with fishnet stockings, the highlight is undoubtedly the double-sided head, particularly the "Canary Cry" expression! so many photo ideas jumped out at me as soon as this expression was in front on my camera. I can't wait to see some of the creative uses people come up with using Dinah's screeching face.

Black Vulcan
His powers include the ability to emit electricity from his hands. He can also fly by charging his lower body with energy.
Cool electric bolts Mr. Vulcan! The torso and leg printing, albeit rather simple are great. I really like the orange over the yellow to add definition through the costume design. The yellow printing on the black version of the Flash's headpiece appeared to struggle to do a decent coverup on the one I opened.
---
Thanks to our good friends at LEGO, in particular Kim, for sending us a box of Batman Movie Series 2 CMFs to review and give away.
– Brett
Who's you favourite in this series? And don't forget you can still enter our giveaway to win an entire set of the Batman Movie Series 2 Collectable Minifigures!
If you've made through all my blathering and ended up here, you should sign up to our weekly email round up where you'll get a recap of all the babbling from the week.
And while you're doing things, you should definitely join our G+ Community where we hold monthly contests with prizes and lots of other cool stuff too.