Recently I was selected from a pool of over 200 applicants to be one of 14 Lensbaby Trailblazers. I couldn't be more honored and terrified. What does this mean? I have no idea! But for now I'm super stoked that my passion for this amazing line of lenses is mutual.
The application
Back in February, before all this pandemic madness began, I received an email from Lensbabay asking, "Are you a trailblazer?".
Do you see things that others don't? Take risks? Challenge the status quo? Lensbaby Trailblazers are people who aren't afraid to bring their creative vision to life! Even if it's considered a little "different," "wacky" or "out there" by some. They're leaders in their artistic vision, creativity, and expertise. 
There were not many more details or explanation beyond this and a big, yellow "Apply Now" button. I thought, why not? What do I have to lose?
Since it's been several years since I updated my artist statement, now seemed like a good time for a serious rewrite. Oliver, our blog editor, was kind enough to edit it for me so I didn't sound like an idiot. (I love talented friends!) Once I had all the pieces in place, I sent in my application. Then Ana (@Fourbricks tall) sent me an article on what not to do when asking to be an influencer for a company. Oh boy, did my doubts start to bubble up. Then I made the mistake of looking at the Lensbaby website and the quality of the images they feature. I was now in full-fledged panic mode! How can I possibly think I belong here? My work clearly does not fit in with all these amazingly talented photographers.
I'm a completely unapologetic toy photographer. Not a cutting-edge brand influencer.
Meeting Keri
Oh well, there was no backing out so I might as well make the best of the situation. Because Lensbaby has graciously allowed me to borrow loaner lenses for the past two Photo Meet-ups I had a contact at Lensbaby. I figured my chances of making the cut as a Lensbaby Trailblazer would improve if I could make a personal connection. This inspired me to invite Keri (who turns out to be the Lensbaby marketing director!) to Bricks Cascade in Portland, Oregon. I've invited her before, but this year she accepted!
Some of you know that Instagram isn't only one way I show my work to the public. I also combine multiple layers of one photo to create a 3D image and then cover it with encaustic medium. This gives my work a painterly feel that draws the viewer in. Ive tried to capture this in photos, but the effect is best seen in person.
Keri and I had a great chat. The kind of conversation where you're tripping over each other's sentences because you're on the same wavelength. I was straightforward and told her I had applied to be a Lensbaby Trailblazer—and, of course, she knew this already. (I'm so clueless to how the world works!) She informed me that she wasn't making the final decision. That didn't really matter in the end, I was simply glad to be able to connect in person. Whatever happened, I will always love these lenses and the creativity they inspire in me. 
We left the conversation with a commitment that I would be available to lead photo walks on behalf of Lensbaby in Seattle through our biggest independent camera store. Because I've done this twice at toy photography meet-ups I kind of know what I'm getting myself into. Do you think a group of street photographers will be ok being led by the crazy lady who lays on the ground to get her photos? We shall see!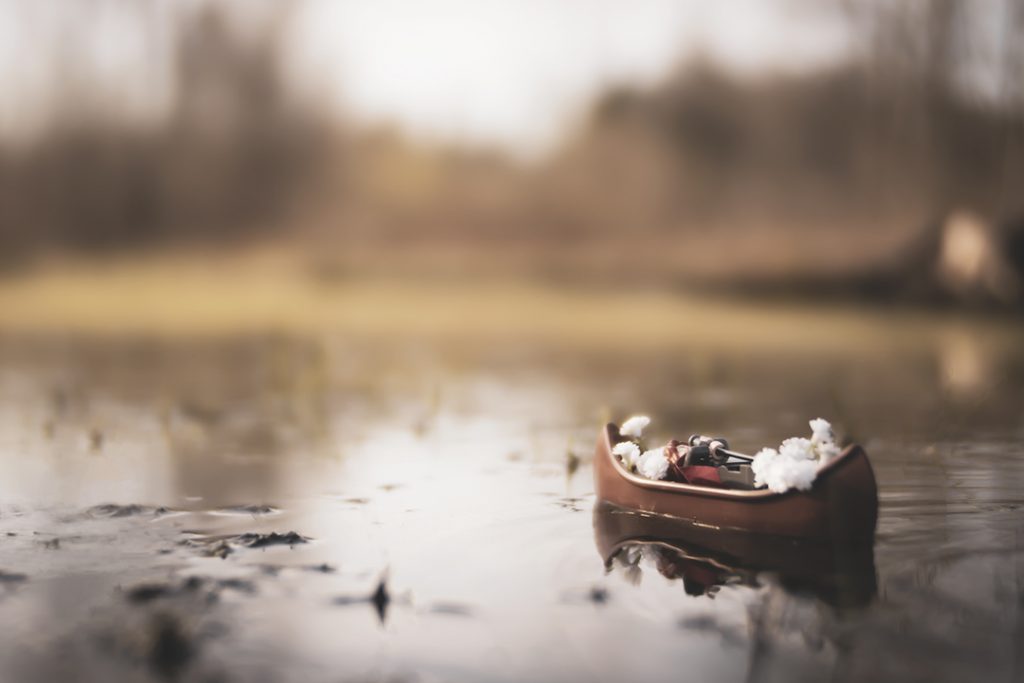 What does this mean for you?
While this news doesn't have any impact on you directly, I think it has tremendous ramifications for our community at large. Because of the visible efforts of a handful of toy photographers across the globe, we're getting recognition as part of a clever and whimsical photography genre. Obviously those photographers getting the attention are only the tip of the creative iceberg that is toy photography.
Companies like Atmosphere Aerosol, Lume Cube, Manfrotto and, of course, all the toy manufactures have already tapped influencers in the community to expand their audience. Adding an established lens manufacturer to this list means that we're clearly on the road to respectability. Who knows what company will discover us next? Canon, Nikon, Fuji, Sony? We can dream, can't we?
Reaching this level of acknowledgement has been one of my personal goals since the very first toy photography gallery show with Avanaut and Me2 at the Bryan Ohno Gallery back in 2015. Getting this nod from a well-known lens manufacturer gives our community yet another stamp of approval from the photography establishment.
I'm here to tell you that you shouldn't give up on your dreams…whatever they are. It's taken me five years of doing my best work to get to the point where I can say with pride (and trepidation) that I'm a Lensbaby Trailblazer. During that time I've grown so much, learned about myself and my craft, and I've had the privilege of being a part of this community.
Of course now that I'm a Lensbaby Trailblazer there will be another level of pressure. I will need to keep exploring my art in new ways. But for now I'm going to relax and simply appreciate this moment before I begin the next push.
Thank you for your support, encouragement and friendship.
Shelly
If you would like to play with one of the Lensbaby line of lenses, I will have a few demos at this September's toy photographers meet up! We already have a nice group of folks attending….won't you consider going us?