Just like most of the world, the ToyPhotographers.com team is hunkered down while the COVID-19 pandemic unfolds. In an effort to bring some much needed levity during this difficult time, I asked to the team to chime in on how they have been handling their "social distancing."
Alan Rappa
Schools are closed for the next couple weeks, my job has shifted us to WFH, cut paychecks by 20% until further notice, and I've cancelled our spring break trip to Disney World. Needless to say, things are a bit stressful at the moment as we watch the news and wait for a light at the end of the tunnel.
Thankfully, the family is doing well, and we are keeping busy while self-isolating. We've been using Animal Crossing as our means of escape, and it's been a tremendous distraction from the nightmare outside.
My photo (at top of page) was inspired by the fact that I can't separate my association of Corona Beer from coronavirus. I decided to play with that idea, imagining the beer as a toxic experiment that accidentally escaped, consuming everything in its path.
I 'borrowed' the beer from a buddy to avoid having to go out to the store, and used my kids' Planet Putty for the slime. Now that I'm done with this shot, I'm going to crack open the beer and do my best to relax. Hang in there, everyone.
Shelly
I will freely admit that my day-to-day life goes along unchanged. I've become more of a recluse in the last few years. Since I only left the house for errands and walking the dog in my old life, self-quarantining isn't much of a sacrifice. Unfortunately our family income crashed from comfortable to nonexistent in a matter of hours. This has left me whipsawing between this will all be ok in a few months, to the end of the world is here!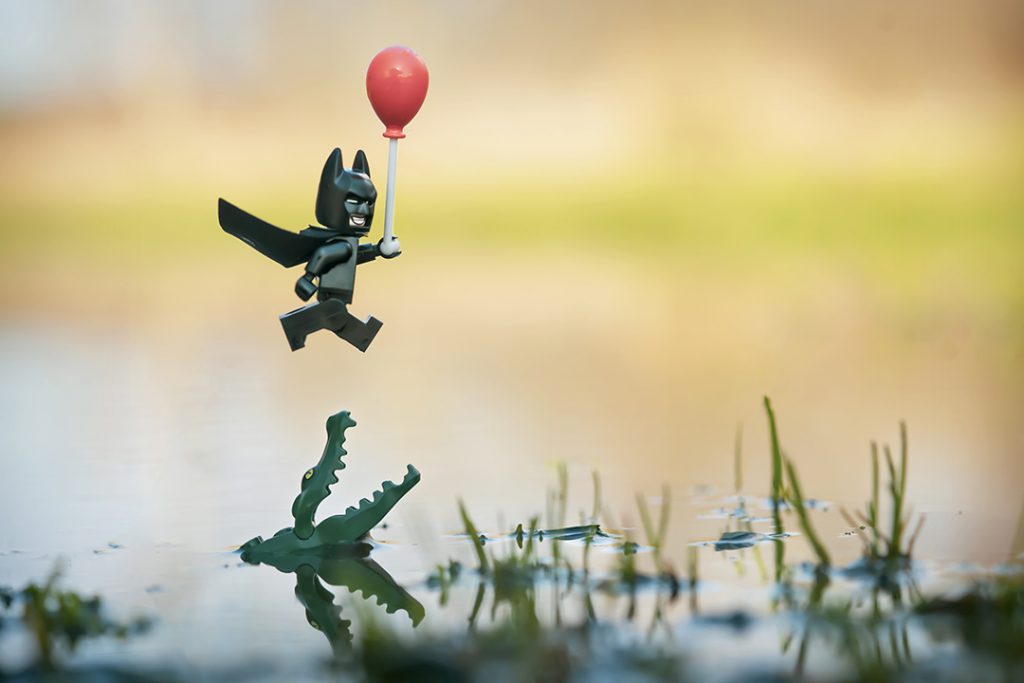 My first instinct is to crawl into bed and never get out, but I refuse to give in to the panic. There is always a silver lining in every situation, even this one. The weather has been gorgeous recently, which adds a bittersweet twist to the situation. While surreal, the beautiful light led to a wonderful few hours in my favorite puddle creating a handful of lovely images. It's not easy to be creative in this stressful environment, but pushing through the anxiety is rewarding.
There is always room for hope.
I still must have some hope for the future because I started hunting for a job last week. This move has been a long time in the making. For the past year I've been adding to my skill set and taking online classes in preparation for entering the workforce. There is never a good time, so why not now? Other (more fun) quarantine activities I'm enjoying:
Lots of self-care: walking the dog, sampling lots of chocolate and re-watching my favorite movies
Doing puzzles with the husband
More time in MeWe chat
Supporting my older relatives
Reaching out to friends to see how everyone is doing
We're living history. The entire world is battling the same foe. While this is a mind-bending thought, it brings me some solace. But it also makes me feel very small.
So if your like me and struggling with this situation, know you're not alone. Reach out to a friend, perform a random act of kindness, move out of your own anxiety and lend a helping hand. It's these acts of compassion that will help us maintain both our sanity and our humanity in these unprecedented times.
Matt
I live in Seattle and work in the entertainment industry, so this crisis has hit my day job at Do206.com very hard. We laid off quite a few employees and all of our pay has been reduced to the same amount. We have until about May and then the business will close down. I have been helping event promoters move their events to online streams, which has helped a bit, but it won't save the industry or replace income for artists and musicians. Luckily, I am an overly-prepared person and have some things lined up to get me through if something doesn't change soon.
Since Seattle has been due for a big earthquake for quite some time I am pretty prepared with extra toilet paper and food. So when I go to the grocery store and see people hoarding toilet paper I was a little disturbed by the panic, but I understand everyone needs TP. That situation made me imagine a battle for the last roll of toilet paper on Earth. What would that be like?
I figure something like this: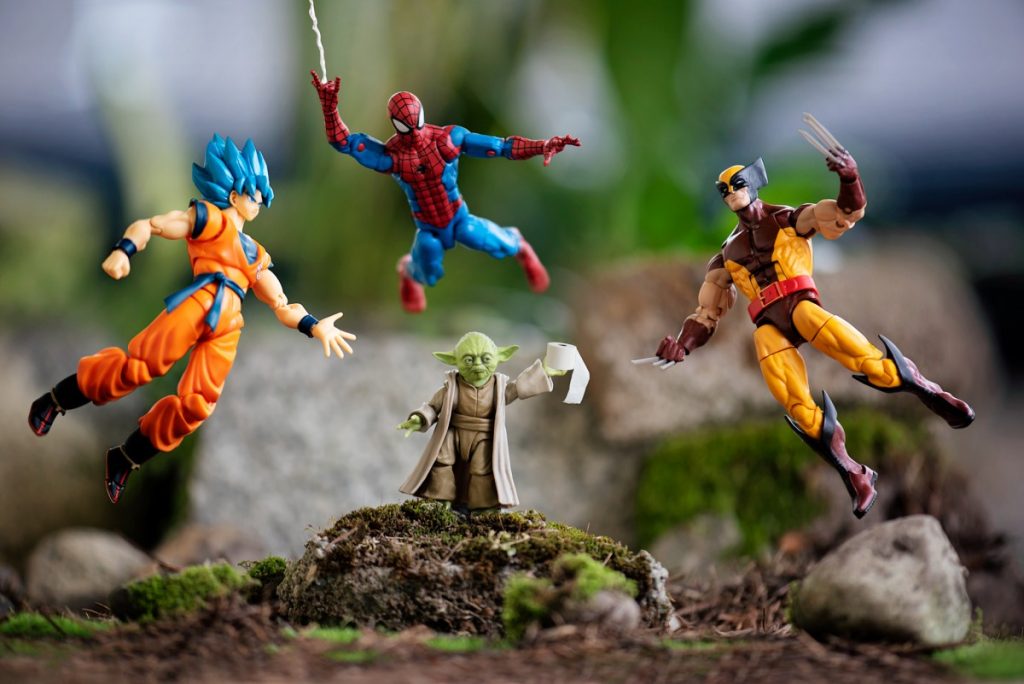 I also tend to use comedy to deal with stress if you haven't noticed. Hang in there, everyone!
James
My wife and I both already work from home, so besides a few hellish trips to the grocery store and an increase in job stress (the company I work for operates largely in airports), our day-to-day life hasn't been dramatically upended like it has for so many others. My anxiety and depression, on the other hand, are back in full swing. Oh joy!
With the season turning to spring, it's been hard not to feel cooped up inside. I now cherish the two walks I take with my dog every day; fresh air and exercise do wonders for the psyche.
In these troubling times, I've found toy photography to be therapeutic, but also overwhelming. It can be a wonderful way to unplug from the rest of the world, but since I'm emotionally drained, I've lost a bit of my creative drive. When I do have the emotional energy, it's been a helpful way to process my feelings about the toilet paper-pocalypse and social distancing.
Oliver
As of now, I still have my job as editor of a local newspaper, DansPapers.com, and I'm working from home. I feel very lucky and grateful for this, given how bad things have become for so many people.
I'm hoping things are going to get better sooner than later, but all of this craziness has me thinking a lot about how quickly things can change—and how much we all take for granted. Three weeks ago, I would never have thought it possible that my country, the United States, would essentially be shut down.
Within about 10 days, I'm seeing this disease spread exponentially. Positive cases and deaths are on the rise. Friends and neighbors are losing their jobs. Shortages are happening and more are expected. There's panic at the supermarkets. People are buying guns in massive numbers. Hospitals are readying for overcrowded conditions and lack of resources. The economy is taking a nosedive. Yeah, it's an ugly business, this virus.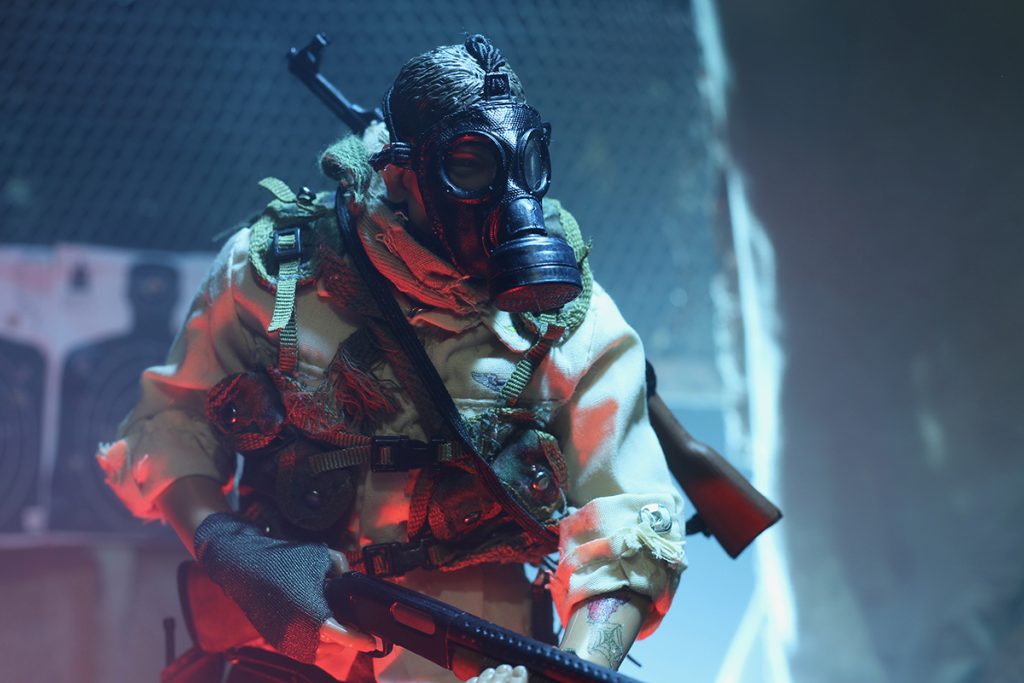 Yet, despite all the doom and gloom, I still have great faith that we will not devolve into some kind of apocalyptic, post-pandemic war zone straight out of The Division video games or BBC's Survivors—but I've also found myself expressing those fears through my toy photography.
To be clear, with all the bad, I've also seen so much good. People are taking care of each other. They're making sure the elderly and those at risk are looked after and safe. Most are observing social distancing and trying not to be part of spreading this illness. Doctors, nurses and other medical workers are putting their health on the line to care for the sick. Communication is strong and everyone is proactive and in this together (hand sanitizer price gougers and TP and mask hoarders excluded).
I can be a cynical man, but in my heart I believe in our overall propensity for kindness and our desire to help others. Perhaps, as I spend more time working from home, and as I take more toy photos, I will stop expressing fears of a dark future, and instead deliver a more powerful vision we so desperately need: a vision of hope.
Dave
Like most folks, everything in my world is being cancelled. The kids are out of school for a least two weeks, my office is closed, my church is closed. Other plans further out in May are now in jeopardy. Even the NHL is paused. No hockey! Yikes!

My world has been pretty small since the new year. For the first two months I was nursing several broken toes back to health. I was basically confined to my couch and working from home as best I could. Just as I got healed enough to resume my normal life (literally getting back on my feet), COVID-19 shut down that normal life. Once again I am confined.

This time is a little different, though. I am still working from home, but I can work from a proper desk. I can also get easy access to my home studio whenever I want. Heck, with the kids out of school, I can even sleep in for an hour every day. So it's still a small world, but it is rife with opportunity.

While it feels like a massive hardship, I am trying to see the upsides for my creative life. Not having to wake up early to get the kids to school means I can go to bed a little later in the evening, extending my creative zone. Working from home means I can putter around in my studio on work breaks. Not a bad tradeoff, all things considered.

In the meantime, as we all hunker down, gather supplies and practice social distancing, let me remind you, mummies are basically walking stockpiles of toilet paper.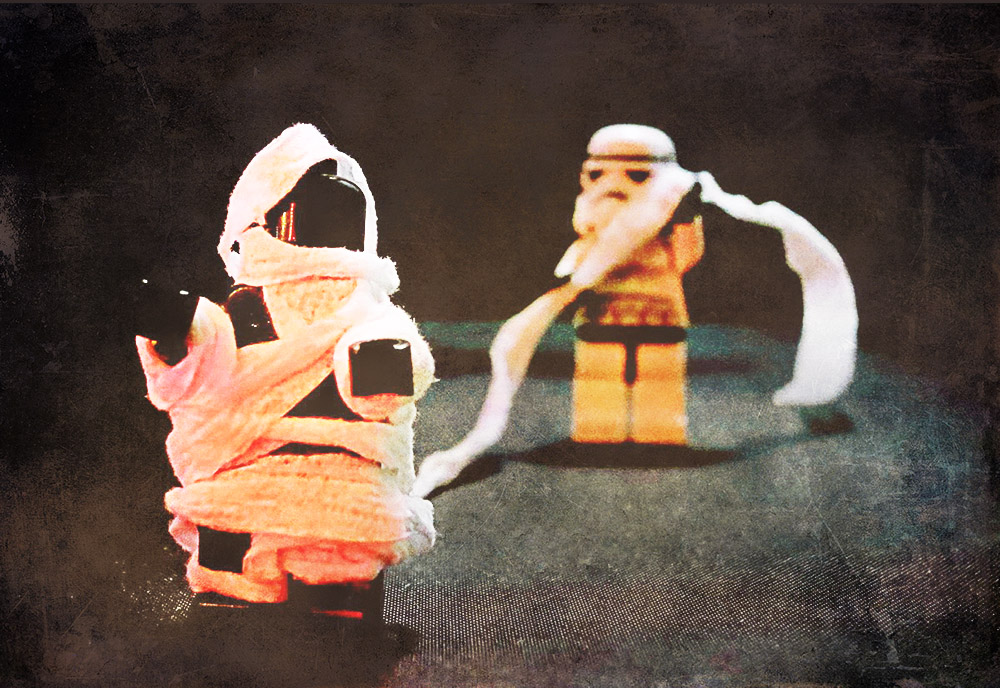 Tomek
Like many of us, my family and I are also fighting the virus from behind the walls of our home, just by trying to not become its victim. We keep contacts and going outside to a minimum. The most troublesome, however, is the elusive feeling of suspension and disturbing uncertainty. This feeling is hanging like a cloud overhead.
To think less about this cloud, we focus on [strained] everyday life, most of all on our children. Although our daughters are aware of the unique situation, we're trying not to these circumstances impact them.
And much has changed. Schools are closed, we work from home [but we work!] and no one knows how long this will continue. But we're still in a good position. Many people are much more uncertain of their future, not to mention those who are sick, not only because of coronavirus. And we cannot forget the doctors and scientists who are fighting the virus on the front lines. Hence my picture—it combines the strength of several doctors into one really strange doctor who's looking for a cure.
Can you name them?*