Due to recent global events I have been thinking a fair bit about dystopian worlds. That thought process has me wanting to create images with a plague doctor. Unfortunately they don't make any good plague doctor action figures. Last week I wrote about making my own backgrounds, so I figured I'd try to make my own character.

This is how I created the Plague Doctor.
Plague doctors were actual medical doctors from the bubonic plague era. Some of them wore bird-like masks, and walked around being historic, mysteriously healing and awesome.
The foundation
My plan was to grab an existing character, and then craft some accessories to create as close to a plague doctor as I could manage. I started by spelunking through my toy box for a figure to use as a base and decided to use Eric Draven from The Crow. The Eric Draven figure is already dressed in black with a nice black trench coat, and looks rough all around. He does have a clown face, but I was planning on covering that with a mask anyway.
Once I found the right figure, I hit my crafting desk and started creating the things I would need to turn Eric Draven into a plague doctor.
Plague doctor accessories
I ended up creating the following accessories:
The staff was a piece of dowel with a skull leftover from Halloween two years ago. I added some rings from the craft store. The cloth on the handle is muslin wrapped around the dowel and glued in place. I then finished it with some paint.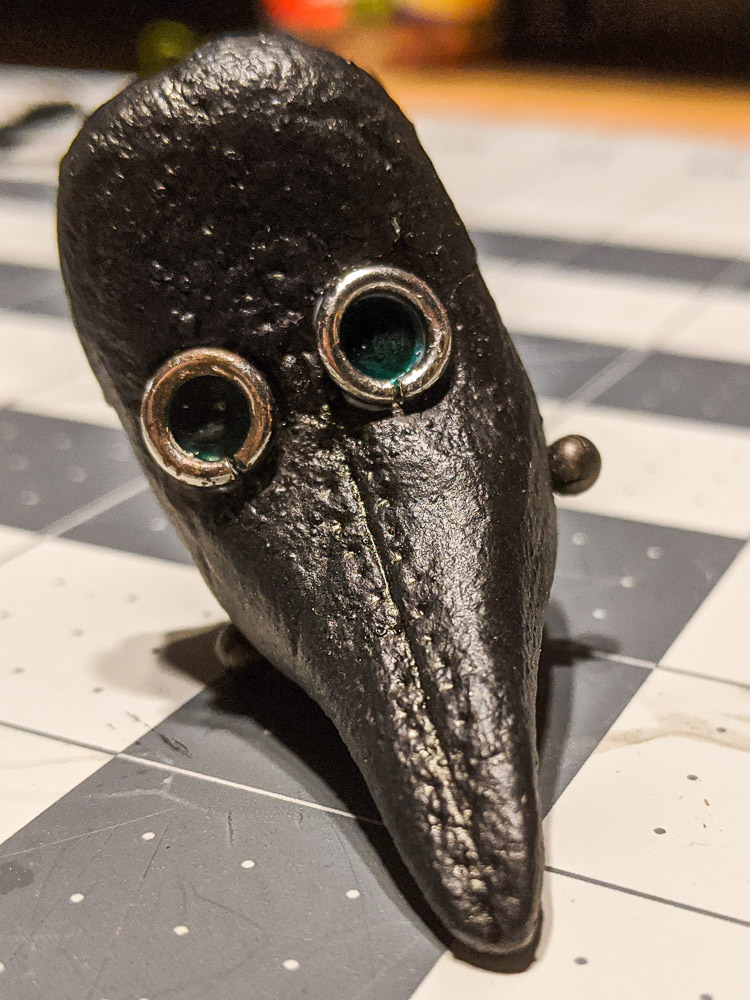 I carved the mask out of foam, with some goggles made out of rings (the same ones I used on the staff) and some green gel for lenses.
The figure required several bits of rope and cloth. I used crafting string for the rope belt and necklace, and muslin for the scarf. In each case I dyed the material with black and burnt umber ink and left it to dry. The skull for the necklace is from a charm pack I picked up at the local crafting store.
A doctor needs medicine, and I figured a medieval one would hang that medicine from his belt. The vials are from another charm pack. I filled them with water and food colouring, then wrapped the flask in dyed rope. I also added a metal hook made out of a paper clip to attach the vials to the belt.
The lantern was the hardest thing to make. I used cereal box cardboard (Shreddies, if you're curious) following a template I made in Photoshop. I folded it up and painted it with metallic paints to give it an aged look. The glass is some plastic I grabbed a few years ago from some old packaging in hopes it would be useful someday. Today is that day.
The results
It took a few days to get the doctor together properly. Just as I finished, my state governor set a shelter-in-place order to help fight the COVID-19 pandemic. The order didn't start until the next day, so in a last ditch moment of freedom, I rushed to the mountains and took a few shots of my new action figure at one of my favourite locations (don't worry, I was still socially distanced).

This is the result.
[dave]
Want more toy photography goodness? Subscribe to our weekly email round up so that you never miss a post. You can also listen to episodes of the podcast!