The holidays are fast approaching, and gift-giving is one of my favorite parts of the celebration—but it can also be stressful. Have you considered giving the gift of toy photography this year?
We've talked on the blog about printing our photos for art shows and arts and crafts festivals, collecting works by toy photographers we admire, participating in World Art Drop Day, and even collecting our toy photos into printed books. There are a lot of ways we can take our hobby off the digital screen and into the world.
Today we're talking about giving our photos as personal gifts to friends and family. We'll start with the printing options and then offer some tips for making a photo that touches the heart of the one receiving it.
The simplest toy photography gift
The most obvious way to give your photography is as a framed photo. Who doesn't love a pretty picture in a frame? In the United States, there are many local pharmacies (Walgreens, CVS, etc) that include photo-printing services. You can order online and then pick up your prints at a store near you.
I have printed photos with CVS many times, so please understand that I'm not trying to promote them, but just sharing what I have direct experience with. The prices are decent and the quality is good enough for simple gifts (I honestly haven't researched whether they would be archival quality, but I'm guessing not). As I draft this blog post, they are having a 70% off 4″ x 6″ photo sales on their website, and I have seen similar sales quite often, so if you want to print some bigger gifts, plan ahead and watch for a good sale!
Once you have your printed photo, simply buy a frame for that size and put the two together. I've found basic 8″ x 10″ frames for as little as $5 at places like Wal-Mart and Ross Dress for Less.
Voila! A personalized gift for $10 or less.
Mounted photo panels
A classy way to present your photos is the "mounted photo panel." It doesn't require a frame, and it can stand by itself on a desk or shelf, or be hung on a wall. These look great and feel like a special gift even in a small size. I'm finding it hard to resist printing up a LOT of these cuties.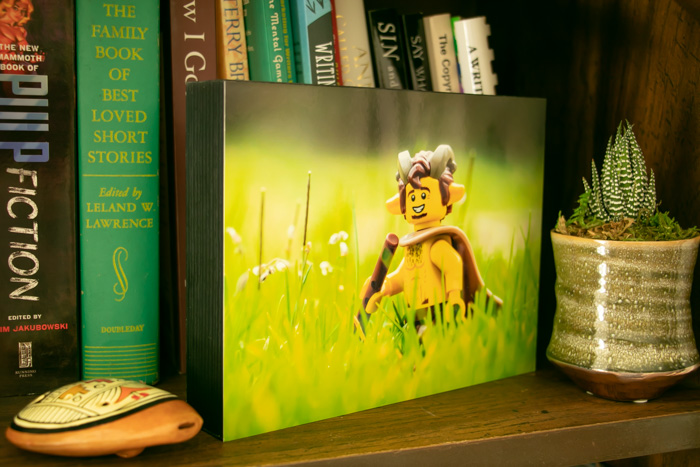 Canvas prints
One of my favorite new photo printing options is the canvas print. Your photo will be printed directly onto canvas and wrapped around a frame. Talk about feeling like your photography is "real art." Wait until you see your work on canvas!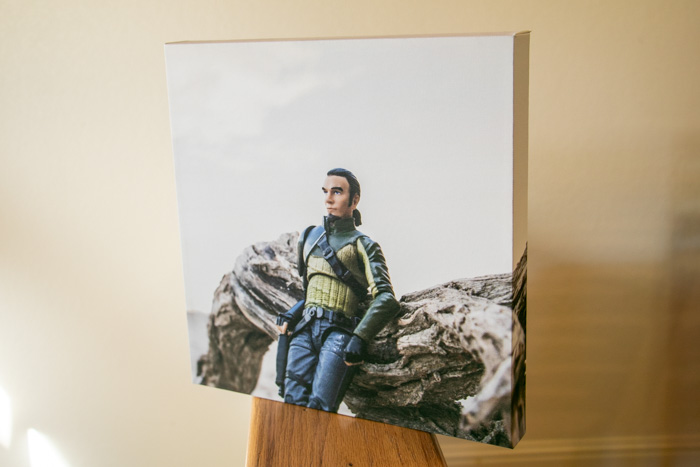 I have to say, as an aside, that taking product photos (like the image above) is way harder than taking toy photos. I wanted to show you what these options might look like in a home, but it's amazing how un-photogenic one's home (and its default indoor lighting) can be! A picture hanging on a wall is really boring and doesn't actually show the thickness of the mounted photo or the canvas print very well. Anyway, moving on…
A variety of gift options
It's amazing what a variety of options are now available for putting photos onto merchandise. If you browse the CVS website, for example, you'll see mugs, magnets, mousepads, calendars, keychains, ornaments and so much more.
You'll need to decide how much you want to spend and what makes the best gift item for your intended recipient. Do they love their morning coffee? Maybe a mug is the right choice. Do you want distant family members to see your photos throughout the year and think of you often? Try a calendar.
For those of you outside the United States, I'm curious what options are easily available. Drop a comment and give us a tip on where photographers in your area might best have their photos printed, and whether printing on merchandise is available.
Choosing (or taking) the right gift photo
Now that you've seen some of the gift options, it's time to talk about how to turn something that's your hobby into something that makes a good gift. Don't just grab your "most liked" photo from Instagram, then print it, frame it, and give it to your grandmother. (Can you imagine her face?) In fact, you might look at your photography and draw a complete blank on why you'd give any of those photos as a gift to anyone you know (except other toy photographers). Let me help.
Decide who the gift is for.
Consider the purpose of the gift. What are you hoping to achieve?
Choose or create the photo that best fits the answers to 1 and 2.
Let's dig a little deeper into the second question. What do you imagine the recipient could do with your gift? Are you hoping they will keep it on their desk at work to cheer them up during the daily grind? Do you want them to display it on their living room wall for all to see? Are you trying to make them smile? Maybe you just want them to feel loved?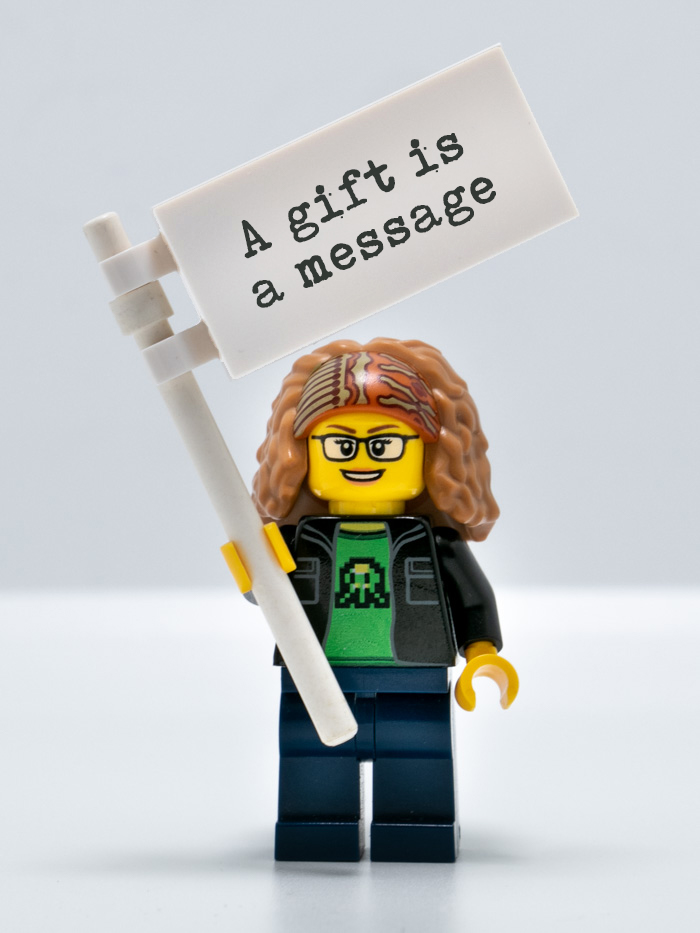 It helps to realize that in a very practical way, a gift is a message.
What does your toy photo gift say?
"I see you." You could create a LEGO minifigure version of your gift recipient and take a photo of them doing an activity they enjoy. A photo of your grandfather fishing. Your teacher with her life-saving coffee cup, sitting at her desk or standing in front of a classroom. Your girlfriend dancing, or playing her violin. A photo of your best friend hiking with his camera in hand. Are the creative juices flowing yet?
"I know you." Think about your gift recipient's favorite things. Do they love cooking? Video games? Reading? Martial arts? What are their favorite fandoms? Match up your toys with something they enjoy. Have two action figures playing a video game battle. Get out your Bruce Lee figure and put him in an epic, inspirational pose. Recreate your friend's favorite scene from a favorite movie.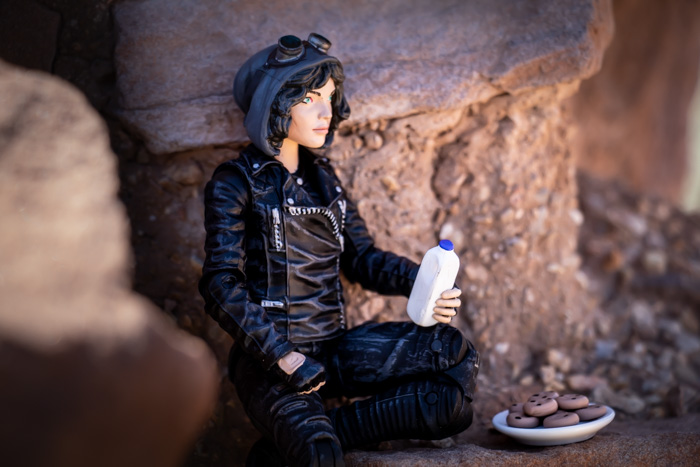 "I believe in you." Maybe your gift recipient has a goal. They want to finish writing their novel, to graduate with their degree, to earn their black belt. Use a toy photo to represent this, and they will be inspired and motivated every time they look at it.
"Remember this moment." Put a photo of toy Santa on a holiday ornament. Gather your toys in a birthday party scene. Show two figures sitting together watching a sunset and caption it "Friends Forever" or "Will You Be Mine?" Celebrate the purchase of their first house, the birth of their child, or a job promotion.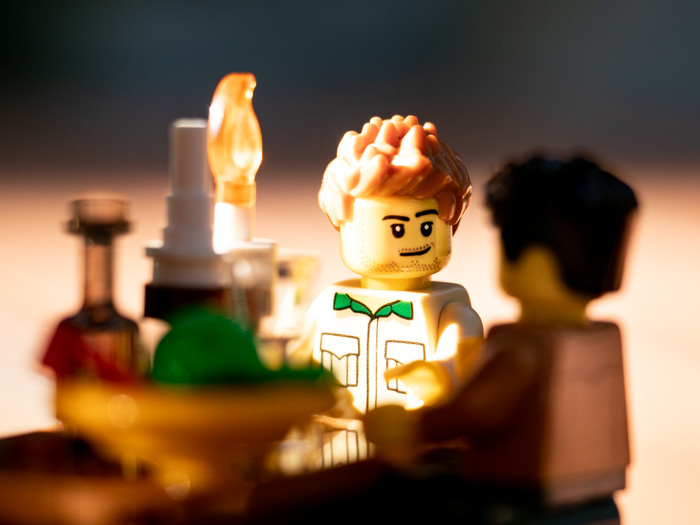 You can use any kind of toy that you have available, but when it comes to personalized toys I really believe LEGO minifigures have cornered the market. I've written more in depth about using minifigures as gifts over at Minifigures.com. A lot of what I wrote there applies to using photos of minifigures as a gift, too.
My own toy photo gift giving
This year I started getting bolder about sharing my toy photography with family and friends. I brought some mounted photo panels to a writing conference and gave them to a few friends as gifts.
I also created a LEGO version of a friend's family. This family has six adorable blond children, and let me tell you it was tough finding enough blond LEGO hair in different styles to go around! I got the photo made as a canvas print and presented it to my friends. They loved it.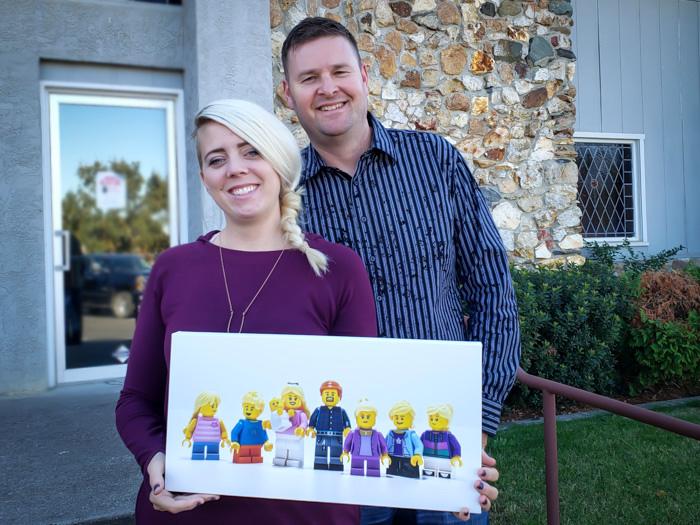 Have you given the gift of toy photography?
I'd love to hear your stories of giving toy photos as gifts. If you haven't used it as a gift, what's stopping you? Leave a comment and share what you think!