I started writing about toy photography four years ago to share both my knowledge and my own artistic journey. Part of that journey has involved attempting to sell my work. I've participated in several gallery exhibitions, more than a few coffee shop shows and a couple of geek meet-ups. Recently I participated in the Bellevue Arts and Crafts Festival sponsored by the Bellevue Arts Museum.  Today's post is another chapter in sharing these experiences…another step in the journey.
The Background
Outdoor arts and craft festivals are nothing new to me. In fact, they are the backbone of our family business. So while I haven't personally participated in one in 13 years, I have all the equipment to drop right back into the circuit. After exhibiting my work in galleries, coffee shops, and small cons, I thought it was time to see how toy photography would be received at a larger venue.
The Bellevue Arts and Crafts Festival is reported to bring 300,000 people into the area. While I knew they wouldn't all stop by my booth, I knew I would reach my biggest audience yet. Would this fine art, non geek community, embrace toy photography? Would this presumably more refined audience like my encaustic mixed media pieces?  Or more importantly, would I be able to cover the high cost of participation?
Whatever the answers where going to be, I knew I wanted to find out.
Getting Ready
If you haven't seen me around on social media lately, it's been because I've been getting ready for this show. Over the last year I've been slowly building up an inventory of mixed media pieces. But even so, I ended up having to create eight to ten new images over the last few weeks. By the time the show started I had nearly 30 completed works in a variety of sizes.
One of the mantras of selling work is: cover both your high and low ends. You always want to have something for the occasional big spender as well as a low priced item that anyone can buy. For my low end offering I chose blank greeting cards. Who can't use a fun card to send to friend or to use as an alternative to traditional birthday cards?
By the time I was ready to load into the festival I had printed over 300 cards of nearly 60 different images. My plan was to use the cards to judge peoples interest in images as well as showcase a broad range of my work. It took some time, but it was well worth the extra effort.
What I Learned
I was amazed how supportive the general public was of my toy art. My booth was rarely empty. There always seemed to be people stopping by and checking out the work, asking questions and most importantly…smiling. My neighbor, Scott Rivers, told me that when people noticed my booth their faces immediately lit up. I was grateful for this feedback because I was often busy telling people about my process and talking toys and LEGO with other customers.
I think one of the reasons the audience was so receptive is that you rarely see art that is so immediately accessible.  Who doesn't know what LEGO is, or more importantly recognize the subject matter as toys. The Bellevue Arts Festival attracts a lot of amazing artists; there is no shortage of beautiful photography, amazing jewelry, impressive paintings and a variety of beautiful crafts to be purchased. Bright, happy LEGO photographs needed no explanation. Everyone from toddlers to grandparents, and everyone in between can appreciate my work. Rarely do you find art that pleases such a wide range of ages.
In fact my booth was a magnet for parents dragging their kids to the fair for a hot afternoon of art viewing. They loved the respite from the boring adult art. In fact many parents purchased a card for their child as a reward for surviving the art festival. I was happy to provide this service.
So much fun!
I'm so glad I took the chance and applied to participate in the Bellevue Arts and Crafts Festival. In fact I made my friend JacQueline Sanchez apply too! Since we both got in, we asked to be placed near each other. If you don't know JacQueline's work, she creates amazing jewelry using LEGO bricks; think LEGO meets diamonds. I've done enough small metal work in my life to know that anyone who can create work with plastic, metal and a torch has talent to burn. But beyond her impressive craftsmanship, JacQueline is an incredibly kind person. She would send people to my booth and I would send people to hers. There was a steady stream of folks crossing between our booths all weekend. Honestly I think having two plastic artists so close to each other reinforced our normalcy and made our work even more approachable for people.
Besides hanging out with one of my favorite artists all weekend, I had a wonderful time sharing my love of LEGO and toy photography with anyone who would stop and talk. I talked about my work, about toys, about telling stories, I pointing people to the blog (I even gave out stickers!) and I encouraged people to pick up their cameras and have fun! Who knows, maybe I made a convert or two.
Lessons to share
While I know sharing and selling work isn't for everyone, I get enough questions to know that there are people in our community thinking about it. If this is you, here are a few suggestions to get you started:
Start small. Try exhibiting in a coffee shop, a small festival, a smaller geek convention; anything that will limit your costs and help you judge the market.
Sell your work in person, not online. (Why? Its more fun!)
Buy a printer so you can be as flexible as possible. While the upfront costs will be expensive, its better than always running to the printer and ordering prints you don't need to keep costs down. Not to mention, with your own printer, you can experiment with papers and create your own unique look.
Experiment with presentation until you find out what you like as well as what your market will support.
Be open to creating work specifically for your audience.
You will never be able to cover all sizes and images – take special orders and deliver them after the show. Don't forget to charge a little shipping to help cover costs. Or adjust your over all pricing knowing that you will have to cover shipping for special orders.
Cover your high and low end. You never know who will buy or how much they are comfortable spending.
This is a very incomplete list. If you have any specific questions feel free to leave them in the comments and I will do my best to answer them.
Final thoughts
Did I make any money? Yes I did. I sold a significant amount of my inventory of both prints and cards. But even though I did rather well at this show, it will never be enough to live on. Shows that are this large and well attended as the Bellevue Arts Festival are few and far between. While I wont realize my goal of being a self sustaining artist, I have reached my goal of selling work at a rate that allows me to keep creating it. For me, this is the real win. I love creating my encaustic mixed media pieces and ever piece I sell means I can make another one!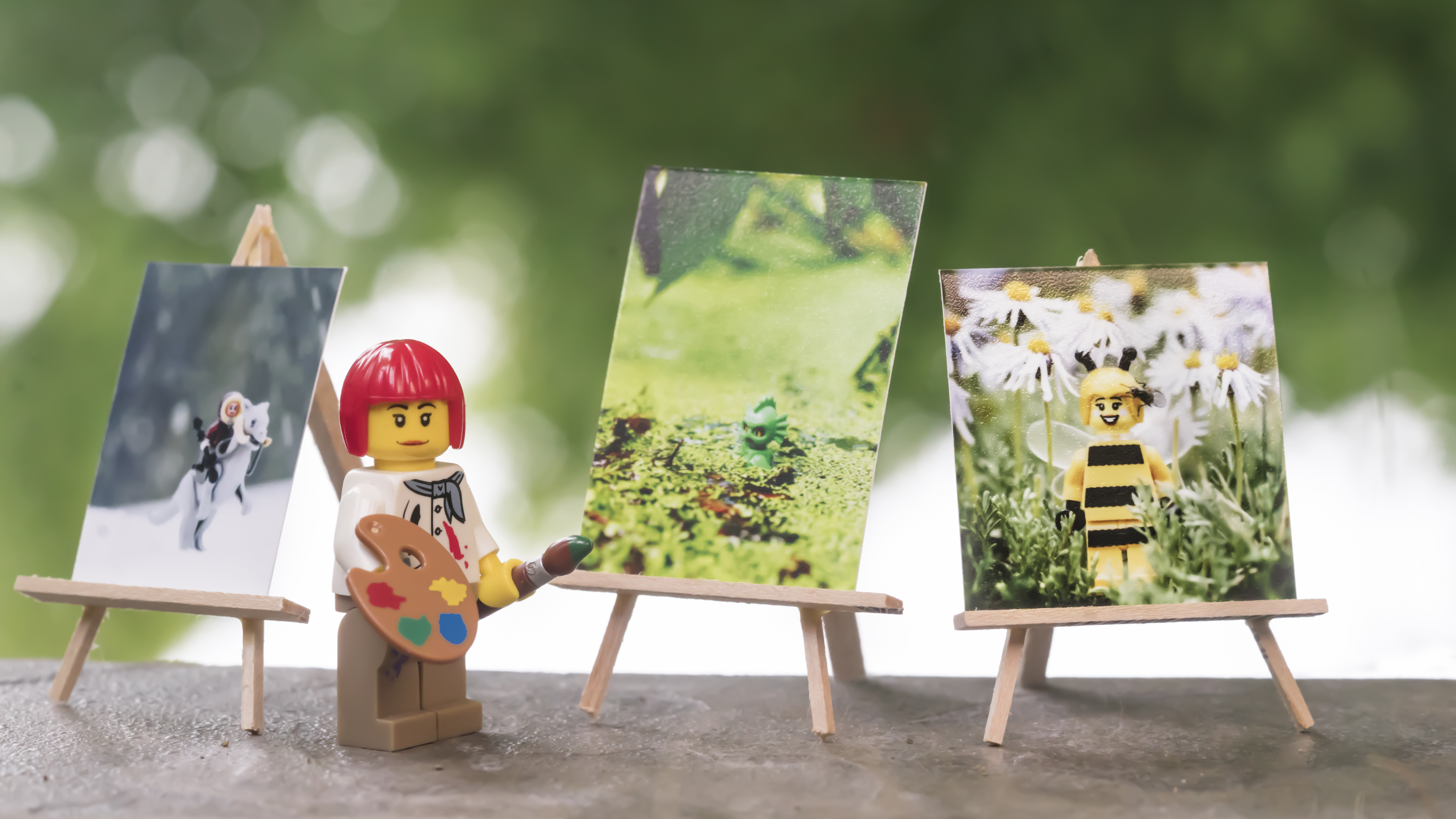 Next up I will be participating in the Seattle Mini Maker Faire with JacQueline and our friend Alice Finch as the Women's Brick Initiative. I will be demonstrating to attendees how to take toy photos as well as selling a few cards and showing my encaustic pieces. JacQ will be demonstrating how to make jewelry out of plastic bricks as well as selling her amazing jewelry. And Alice will have a couple of building projects for participants to make as well as selling her small models and books. After that I will be preparing for BrickCon and another local arts festival.
I have no idea what the future will bring, but at least I know I get to make a few more pieces or art. I'm looking forward to selling my work and talking toys as long as people will listen and occasionally buy my work. Whatever happens it will simply be another step in the journey.
~ Shelly
A huge thank you to Eric, Eva, Law, Gwen and Alex for stopping by and offering there much needed support. It's wonderful to know I have the friendship and support of this amazing community as I push the boundaries of toy photography.