Hello again, toy photographers. My name is @bevvypix and I am today's guest writer. A few of you may remember not so long ago I wrote a blog referencing the photographer Cindy Sherman. This time I have been asked by Shelly to write about seeing toy photography through the macro lens.
Toy photography started for me in 2016, I have a little selfie character that some of you may already know named @bevvypix. In 2018 I was asked to join the @StuckinPlastic creative team and began writing blogs, and on occasion photographing for the LEGO group.
As a working photographer, I am also involved in delivering the John Muir Award. For the past six years I have worked freelance as part of my Local Authority Educational Community Learning Program. The project is called Springboard. We have a dedicated team and deliver unforgettable learning experience sessions to children aged between 6–11 years old along with their parents/guardians. Springboard was set up 10 years ago and aimed at helping learners grow and learn different experiences that perhaps were out of reach for some families. I teach the photography sessions and incorporate creative toy photography into the current John Muir Award.
What is the John Muir Award?
Springboard has teamed up with the John Muir Trust to deliver and promote the importance of preservation, knowledge and understanding of our world. Through action with schools and the dedication of set hours to the project, learners can work towards the family discovery award. Together we aim to achieve four elements: Discover, Explore, Conserve and Share.
Discover a wild place. Explore it and do things to raise awareness, increase understanding. Conserve it and take personal responsibility, and Share your experiences
My journey started many decades ago, when I was fortunate to visit the wilderness of Alaska as a photographer. Little did I know then how that experience would become part of my John Muir story.
Having already completed the Discovery Award, my thoughts are directed to climate change, biodiversity and sustainability. Inspired by John Muir, I too want to help raise awareness of this beautiful world we call home.
Since covering different elements of the John Muir Award, I've discovered that I love nature and the little things in life. What better subject to choose than LEGO and the world of macro photography! 
Why John Muir?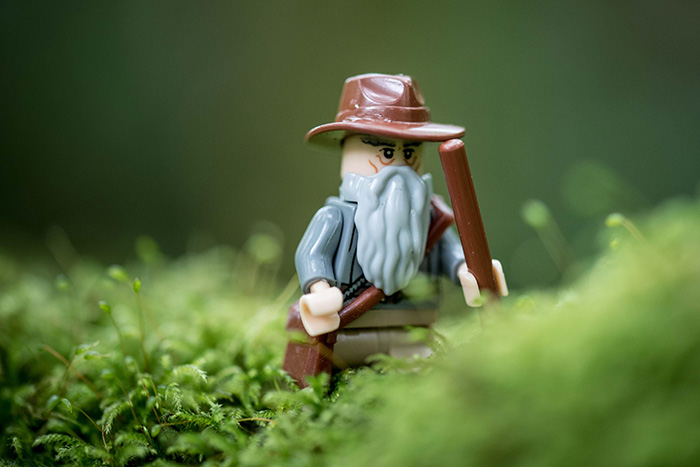 Known as 'the father of national parks' in America, John Muir was instrumental in saving Yosemite Valley, founded the Sierra Club and is now recognised as one of the most influential figures in the conservation movement
John Muir was born in Dunbar, Scotland and moved to America at the age of 11. He was a writer, a lecturer, a geologist, a botanist, a glaciologist, an explorer, a school teacher, an inventor, a fruit rancher, a husband and a father.
John Muir co-founded the Sierra Club in 1892 and was its first president until his death in 1914. Ansel Adams also joined that club and became a member. Adams walked in John Muir's footsteps and his images, especially of the Sierra Nevada, are unforgettable and led him to become one of the most famous inspirational landscape photographers of all time.
John Muir was perhaps this country's most famous and influential naturalists. If it weren't for John Muir and his writings, we probably would not have Yosemite National Park as we know it today.
He was also involved in the creation of the Grand Canyon, Kings Canyon, Petrified Forest and Mt. Rainier national parks. Additionally, his writings about Alaska led to further preservation of the landscape over time.
Along with being a working photographer, I'm also the Springboard photography tutor. In order to engage children's learning and understanding of what John Muir achieved, I use a LEGO character. As children learn through play, I asked LEGO if it were possible they could accommodate him as a minifigure. They kindly obliged and sent me what I needed. We are now able to include a John Muir character into our learning program
In the adventures of John Muir, he discovers the little things in life and takes us on a journey of adventure discovering wild places, exploring the big world around him, conserving what he sees and sharing his findings with the viewer.
John Muir was famous for his writing about the wilderness and, to quote, "The power of imagination makes us infinite," there couldn't be any better words to stand side by side with toy photography.
I purchased a macro lens about two years ago. Primarily I use it to get detailed images for my other work, however as I shoot toy photography, I can use it for both.
I simply love the advantage of getting up close and personal whilst becoming excited at the prospects of achieving incredible depth of field. Although saying that, it can become rather difficult at times. For example, when I open the shutter to say f2.8, I need to be extra vigilant as to not lose the important details in the character, whilst still allowing you to see the whole picture. It certainly feels like a different world of photography. Yes, I could just use new, state-of-the-art mobile devices as that, too, can achieve bokeh relatively easy, but in-camera it is a different story. The detail is incredible, especially when you get it right. Mundane images just simply won't do.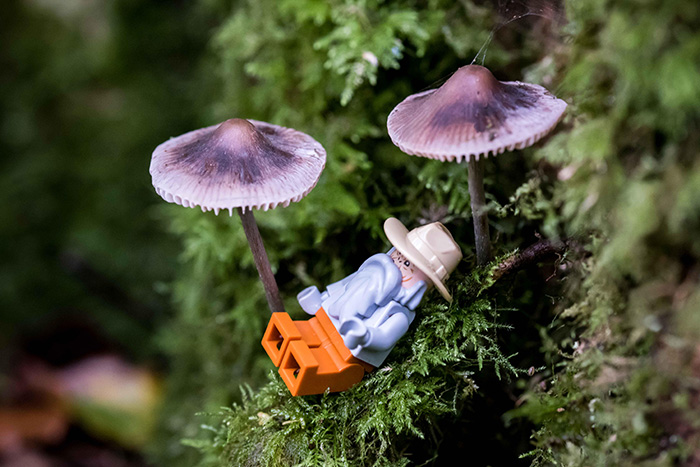 Can photography help climate change?
Images are powerful when words are not enough. By using LEGO as a means to help educate people about the future, we can communicate the importance of recognizing and battling climate change.        
Since using the macro lens to capture nature, I now look at the world around me in a completely different way. I have learned to appreciate the little things in life. I see details that I normally would not notice, such as those little spikes on nettles, the individuality of a mushroom and the mass of moss with its tiny little leaves, plus so much more. I expect that John Muir experienced similar feelings for such details when he decided to live in the wilderness for many years.
As I begin to draw an audience and make memorable images, their authenticity is powerful in shaping persuasive messages. The right use of images will affect people's perception of climate change and what they want to do to help. Images that depict "the everyday" make the issue more personal. We incorporate our own values, beliefs, attitudes, local environment and experiences in order to create meaningful engagement. A good photograph and story can tap into our emotions and memory, and speak through visual language. Using toy photography is something most people can relate to on many levels and this can help them begin to understand the reasons behind the images.
The challenge on how we communicate climate change through images remains part of my John Muir experience. The power of play and storytelling are an important part of development. I refer back to those words written by John Muir—they are embedded inside my head. The power of imagination really speaks volumes and makes us infinite when it comes to macro and toy photography. As Shelly suggested, "They do go hand in hand."
With children being affected by climate change, the LEGO Group is contributing to this issue by inspiring youths through play. Children across the world can join LEGO Planet Crew to learn about important environmental and social issues. The LEGO Group has joined the World Wildlife Fund's (WWF) Climate Savers program where they have committed to reduce the environmental impact of operations, within energy, waste and water consumption. They have also launched a sustainability mission, which is to make all bricks sustainable by 2030. The bricks will be made out of things that we can grow again or are recycled. As the John Muir mission is influencing my work, these words resonate, "When we try to pick out anything by itself, we find it hitched to everything else in the universe." – John Muir.
By raising awareness, whether it be through toy photography or taking part in activities, we can all make small changes that will help build a greener planet.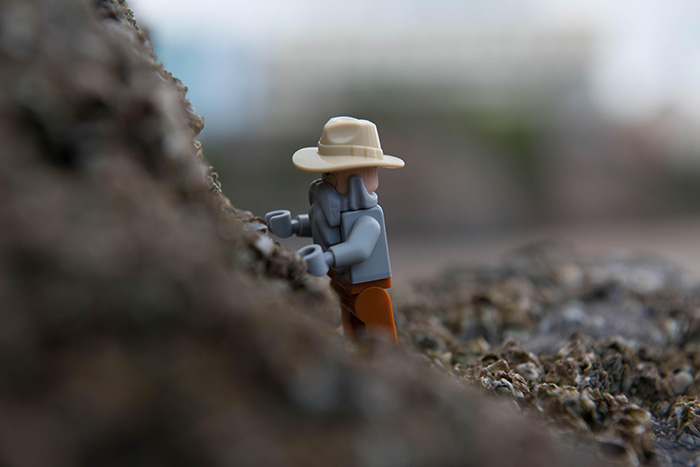 For more images, please visit me on Instagram @bevvypix or my website beverleythomasphotography.uk