Hello Toy Photography Group. My name is @bevvypix I have been asked to take over your blog today by Shelly.
You normally see me over at StuckinPlastic.com writing blogs and on occasion photographing as part of their creative team for The LEGO Group. I am honored to be asked to share six images that pay homage to Cindy Sherman.
But just who is Cindy Sherman, you ask? Well she happens to be one of the most influential, important contemporary artists of our time. Her body of work consists of photographs from the mid-1970s to present day. Sherman is famous for her use of makeup, costumes, props and prosthetics to create complex and ambiguous photographic self-portraits. She invents fictitious characters and photographs herself in imaginary situations.
In 2016, I produced a series of images using a LEGO minifigure version of myself as a way to pay homage to Sherman's work. I recreated her original images using the minifigure as a stand-in for the artist. Not an easy task, as I was limited to certain positions, but I think I did a good job, and this week, Sherman herself said, "love the LEGO images" which is incredible and a real compliment. Recently, I was fortunate to visit the Cindy Sherman exhibition at the National Portrait Gallery in London. It was incredible and inspiring to see her collection together. Her work will continue to inspire artists around the world for many years to come.
So why does she inspire me? When I returned to University, I was directed to research the works of Cindy Sherman. To my astonishment, and a major flashback, I had already come into contact with her earlier photos. As a teenager I visited the Tate Gallery at the Liverpool Dock and saw her images hanging right there in front of me at the gallery. At the time I was unaware of how influential she was. I looked at those images, titled "Bus Riders," but I never really took note of the artist. They were a series of black and white studies of different people that weren't particularly eye-catching. In fact, you could almost view them as imperfect. You can see cables on the floor and the plain background projecting harsh shadow. Nevertheless, they made me stop, look and ask myself, why is that art?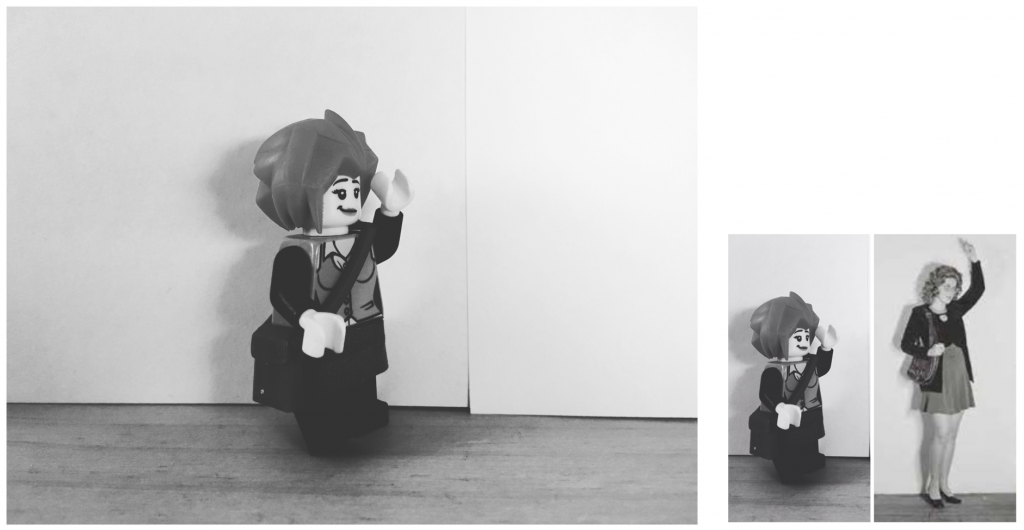 I left the gallery and never thought about them again, until returning to my photographic studies. My question began to be answered—an image should make an impact on you, just as the "Bus Riders" made an impression on me. I do not look at images just because I know where or who the place or person is, no! The image should inspire you and make you understand and admire the art, and in turn perhaps form your own opinion and connections. I now understand Sherman's work. She is a contemporary master of socially critical photography. She is a key figure in the selfie generation as her work exclusively explores self-portraits that focus on social role playing and stereotypes. Sherman depicts herself in many contexts and as various imagined characters.
We now live in a time characterized by an insatiable desire to photograph the self. Sherman's practice of using herself as subject began in the 1970s. Her breakthrough work is often considered to be "The Complete Untitled Film Stills," a series of 70 black and white photographs inspired by arthouse films and popular movies. The film stills announced her as an art world sensation.
Sherman's photographs conceal and mask rather than reveal and illuminate. They often look like portraits, but as invented characters they begin to complicate even the most basic assumptions of identity and representation. She plays with the visual and cultural codes of art and improvises on themes. As she did in her "Centerfolds" series, in which she intended to mimic the typical seductive and alluring poses of models placed at the centre of adult magazines. But she turned this concept on its head and depicted herself in these poses as women who had endured abuse. This proves to me that the viewer will often see what they want to see within an image and perhaps not the photographer's intent.
While she sometimes portrays glamorous characters, Sherman has always been more interested in the grotesque. She created the series "Disasters and Fairy Tales" along with "Masks," "Sex Pictures" and "Clowns." She explored these darker themes, and although this series is not my favorite set of her images, I understand why she captured them. I begin to admire her metamorphosis of guises, from the Hollywood starlet to clown to the influential high society woman and her theatrical references.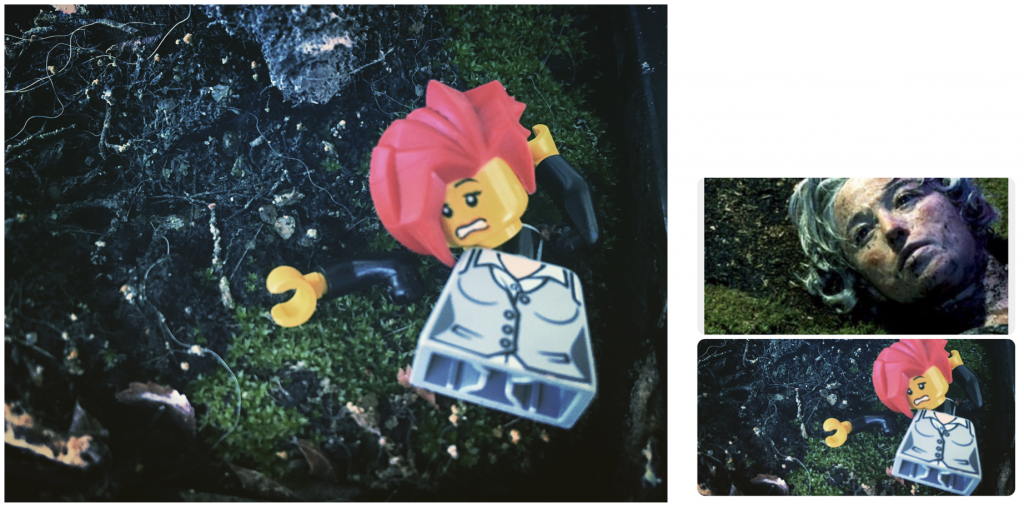 Many people will not understand Cindy Sherman or LEGO building, and that's ok. That being said, what they do not realise is that toy photography can be challenging at times, pushing your creativity to the limits, whilst also being fun, engaging and rewarding. So I hope you enjoyed my introduction to Cindy Sherman. I believe LEGO photography bares a similarity to her contextual and aesthetic approach. As we to learn to invent characters, we manipulate body parts, we set the theme, we search for props, we recreate and develop our social role playing whilst creating imaginary situations. I suggest you take a look at Cindy Sherman's incredible body of work and take away some inspiration from one of the most influential contemporary artists of our time.
Beverley Thomas (@bevvypix)