This is a personal story. My views don't represent the views of the Toy Photographers blog, but as the founder and a longtime toy photographer in this community, I'm sharing my experience. It's up to readers to take away what resonates for you and glean what wisdom you find useful.
I've been photographing LEGO since 2012. In late 2017 I had my first opportunity to help The LEGO Group with a social media campaign. Now, two years later, I won't photograph for LEGO anymore. When I balance the workload against the benefits, I find the experience unfulfilling.
Here at Toy Photographers we have multiple opportunities to photograph LEGO sets for The LEGO Group. Some of these opportunities are reviews and others are for specific social media campaigns. I've participated in these in the past, but now I feel that I'm being taken advantage of by the largest toy company in the world.
I didn't always feel this way
Back in 2017 when my relationship with The LEGO Group began, I was honored and frankly giddy at the idea of my photography representing this world famous brand. LEGO is one of the most recognizable toy brands on the globe and beloved by millions. Feeling honored is only natural in a situation like this.
Initially I had fun photographing for different themes like Ideas, City, and Ninjago and their various social media campaigns. I learned a lot about myself and the craft of photography. But the overall experience of working with The LEGO Group was always uneven. Long distance, cross-cultural communication was often incomplete, expectations vague, and the only "compensation" was a free set and a photo credit. And even the simple act of crediting me was often missing. All of these experiences slowly soured me on the experience and I became wary of even the simplest offers.
Technic Porsche 911
Then along came an opportunity that I couldn't resist: Create images for the social media campaign surrounding Technic Porsche 911 RSR (set 42096). I have a soft spot for Technic sets so I jumped on this. I knew, at the very least, I would enjoy building the set.
When the Porsche arrived and the build was complete, I set aside some time to photograph the car. I pushed myself creatively because I really wanted to deliver images that The LEGO Group would use. My goal was to create semi-realistic photos akin to what you find in an auto magazine. I plotted my locations, even created an overarching theme: urban Seattle landmarks.

Hell, I even got up before dawn to catch the sunrise! 🙂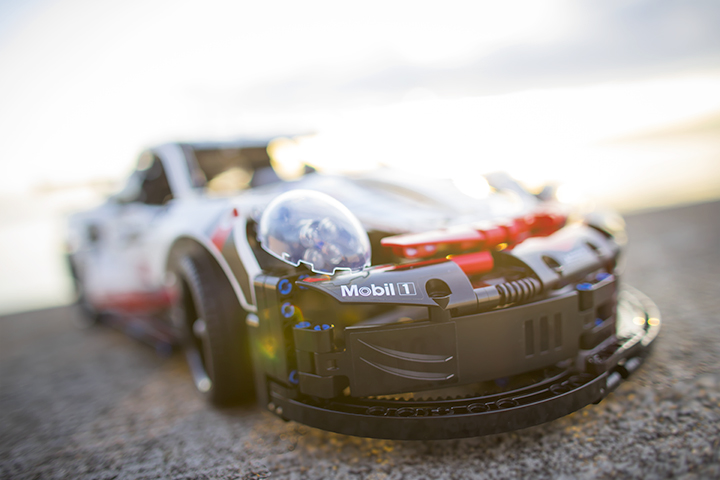 I took the set with me to the Utah Toy Photographers meet up in hopes of some iconic Red Rocks photos. My fellow Toy Photographers blog contributor and friend Dave was also smitten with the set. We both found it to be super fun to photograph! In all, I spent more than three days photographing the set in various locations, and another day editing all the photos to the specifications of The LEGO Group's social media team. A professional would charge upwards of $2,000 for this amount of time and effort.
The results
After all my efforts: Not one image was used by LEGO. In the year-plus since I turned in my Porsche photos I've not seen or heard about any of my images being used or received even a word about why this might be. What a disappointment! No wonder I won't photograph for LEGO anymore.
Of course the LEGO representatives are very clear that there is no guarantee when or if your images will be used. So really I have no one to blame but myself for my unmet hopes and expectations. They are super clear that they don't care what you photograph, only what format you submit. Their only direction is "have fun." And by offering such vague direction they undoubtedly receive images that are inappropriate and unusable. Through trial and error we've learned about the unwritten rules of no water, no sand, no alcohol and no violence.
Moving forward
Moving forward, I won't take any more opportunities to photograph for The LEGO Group. I'm not judging anyone who takes on a set review or a social media campaign offer. There is a particularly giddy feeling when you receive a set directly from Billund. I know how cool it is to see your work in LEGO's Instagram feed or in one of their social media campaigns.
Thank you LEGO for all the opportunities in the past. I've appreciated and learned from these experiences. I wish you well, and I hope you will continue to discover talented photographers who still find these opportunities rewarding—photographers who are happy to work for free and who understand there is no guarantee of return for their time and effort.
So while I won't photograph for LEGO anymore, I will continue to work with Guy Himber of CrazyBricks. While this situation also doesn't pay money, I find I'm able to freely explore the idea of product photography from my own unique perspective. AND he actually uses my photos!
I've learned so much from our back and forth process about what he needs to promote his work. I think my product photography has improved through the process. In hindsight, I think feedback and ideas for improvement is one of the areas in my relationship with LEGO that I missed. If I'm going to work for free, I want to be learning. Of course it doesn't hurt that Guy is always super generous with his in-kind payments of his creative products.
When opportunities come your way, make sure you balance your needs with those of your client. If you agree to work for free, be sure you're getting something out of it other than free plastic. Because from my experience, these opportunities are always more work than you think.
Cheers and best of luck!
~ Shelly
Would you photograph on behalf of a large corporation in exchange for a toy? What do you think is fair compensation for working for free as a toy photographer?