I'm a long-time fan of science fiction in general and mecha storylines from anime and comics. As soon as I saw the highly articulated Age of Mecha figures with detailed sculpts in such a perfect scale for toy photography, I jumped on Kickstarter to make my pledge. The next thing I did was email the creator requesting a brief interview for this blog so we could share more details with all of you!
The basics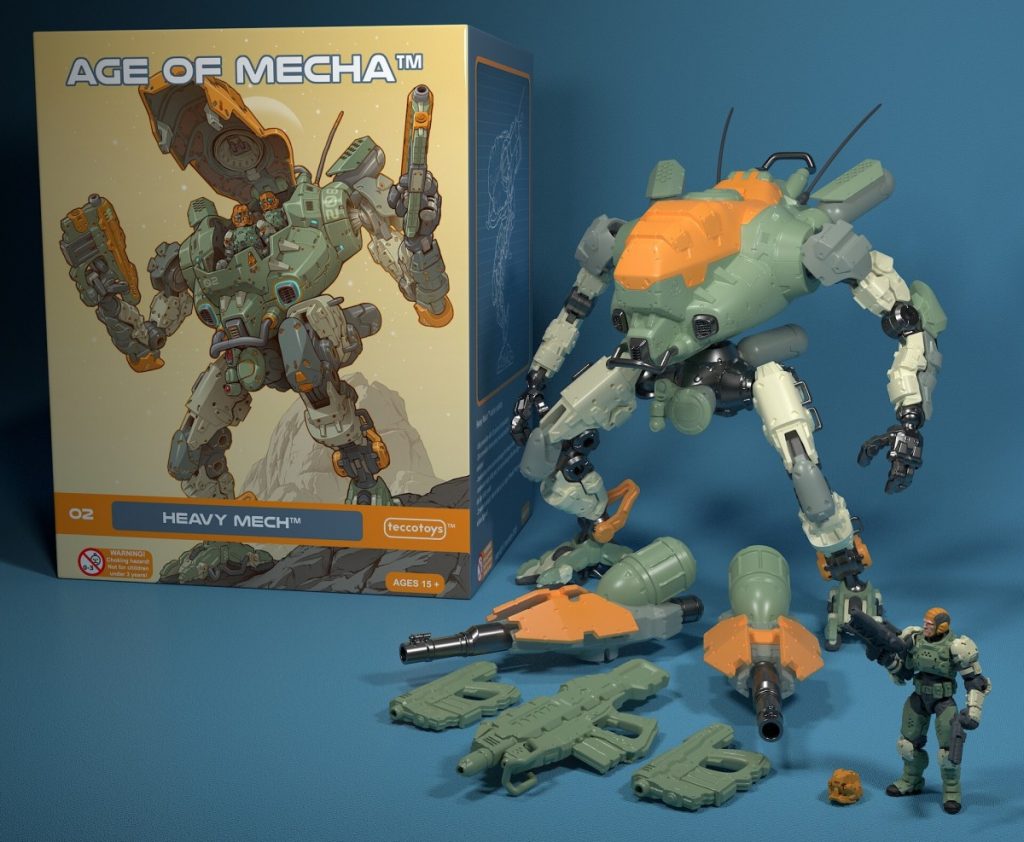 To quote the Age of Mecha Kickstarter description:
---
Age of Mecha is a 1/35 scale, highly detailed sci-fi action figure collectible toy line, set in the year 2150 and focused on powerful mech walkers and their respective hero pilot action figures. 
Age of Mecha is combining classical action figure toys with the detail and fidelity of 1/35 scale model kits and collectibles, thus bridging the gap between grown up collectors and their kids for a shared hobby experience. The simple idea of having a toy collectible that has an outstanding playability and is sturdy enough to be played with by your kid, but can at the same time stand next to your most priced collectible on the shelf! 
---
Check out the Kickstarter campaign for a video walkthrough of the figures' range of motion and articulation, as well as lots of other details. The campaign ends on October 29, so check it out sooner than later!
From the videos they have posted, the Age of Mecha figures and mechs appear sturdy and well-balanced on their feet, which will make for great toy photography. The small, 2″ pilot figures are impressively articulated, and the strategic placement of ball joints allows for dramatic, realistic posing. This smaller scale makes the mechs themselves a convenient size to pack along (or display).
Storytelling freedom
One of the things I love about this indie toy line is that the characters aren't already part of some well-known and established comic book, TV series, or movie franchise. Although I am free to make up my own stories with Marvel or Star Wars characters, I often feel strange telling photo stories that don't line up with official canon of trademarked characters.
While the Age of Mecha characters will have names and bios and a background story world already attached, there is a feeling of freedom to create whatever kind of storyline I want with them. People who see my toy photos won't automatically bring as much backstory mental baggage to the viewing of my work, and I love that idea.
I asked the Kickstarter creator, Michael Herm of Berlin, Germany, about the story he created for the toy line, and he shared this:
I came up with the Age of Mecha storyline a short while after I started to conceive the designs for the toy line. I initially had the plan to fund these toys with Kickstarter, but in the beginning I thought about just one or two mechs. After it took off on social media, and I wanted to keep the momentum going, I decided to add more mech designs and characters.
At some point I felt it was necessary to have a solid background story and an explanation for how this future came about and why there is a need for such vehicles, to keep the supporters engaged. Also at that time, I realized that there might be chance to expand the franchise to comic books or even animated show, so that's basically the groundwork for that. I've been talking to our illustrator Robbie Trevino about the chance of a comic book, maybe just a small one to add to the Mechs, like Mattel did in the beginning with the MotU [Masters of the Universe] line. We haven't discussed it for a while, but there might be a chance to do that still, depending on the outcome of the campaign.
About the creator, Michael Herm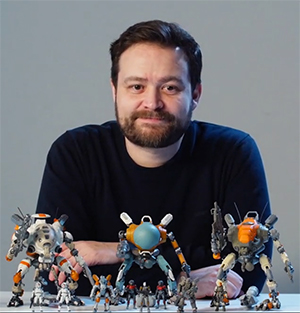 Michael was kind enough to share a bit more about his background with the Toy Photographers blog team:

I have my background in games and animation, studied animation at the Filmschool in Babelsberg, Germany and founded Talking Animals Animation Studio in Berlin, back in 2009.
From there on I mostly focused on 3D modeling and sculpting (Maya/Zbrush). Talking Animals was more of a collective and I was mostly doing freelance work back then. Once I had a very long pause between jobs, I started working on a four-legged mech in my spare time. Around that time I came into contact with Michael Fichtenmayer, founder of resin kit company industria-mechanika.com, who was looking for collaborators, and we started working together to make a resin model kit of that mech, which became The Rook. It's still available in his shop.
In the following years, we collaborated on a series of several other mech designs for resin kits in 1/35 scale. Up until then I was working only digitally, I never held a physical model of anything I built in my hands before. This sparked the interest in me to do more of this kind of work.
However, I noticed that I was even more fascinated with poseable toys and action figures.
So after a while, when the Form 2 was available and affordable, I decided to get one and take a shot at designing and prototyping my own line of mecha action figures, which became Age of Mecha, and then I created teccotoys for that.
Which mech is your favorite?
If you scroll all the way down to "Base Campaign Rewards" on the Kickstarter page, you'll find a list of pilot characters and mechs with renderings or photos of each. I love the variety of mech styles and colors, and in some ways it's hard to choose which I like best.
But in supporting the Kickstarter, I will have to make a choice. Which one do I want as a reward? I very much hope that enough support is found to unlock the mech Ganymede and its pilot Janice Delacroix (shown below).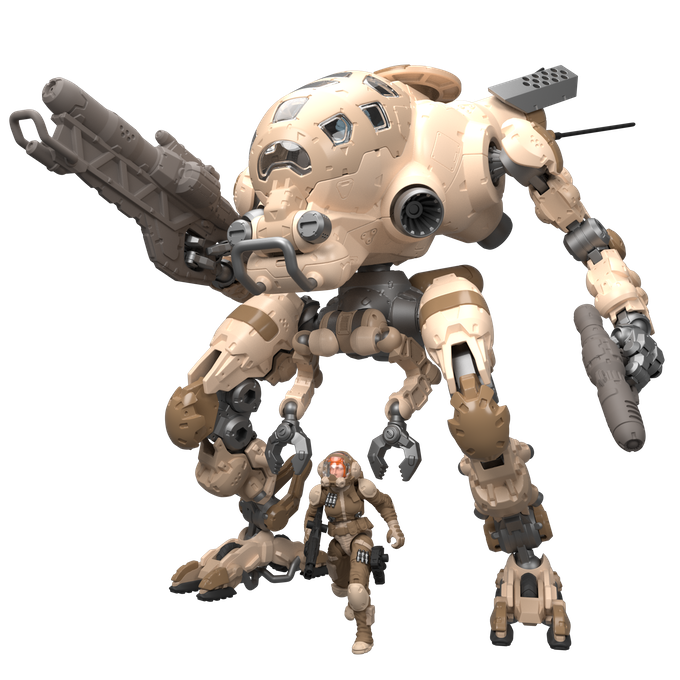 I couldn't resist asking Michael Herm which of his creations was his favorite:
If I had to choose, I would go for the Police Mech. It's a bit of a special case since the Police Mech was the first design in the whole development phase which instantly worked.
I started out initially with the bike that's stored in the back compartment and that one went through some look development iterations, but when I had the final design, the parts instantly fit. The very first 3D print was perfect, the assembly, the windshield, the retractable wheels.
Same goes for the mech itself: All the parts fit perfectly with the first print. The bike clicked perfectly into the compartment in the back. With the other designs before, there was usually a lot of trial and error involved, adjustments to the joints, the casings, the hinges.
For example: It took about 42 printed iterations before I had the first action figure prototype working exactly the way I wanted it. With the Police Mech I felt for the very first time that I've gotten the hang of it all.
As for the Exo Suits, I think I prefer the Heavy Type because it has a nice tough and bulky feel to it. I think it would be really intimidating on the battlefield.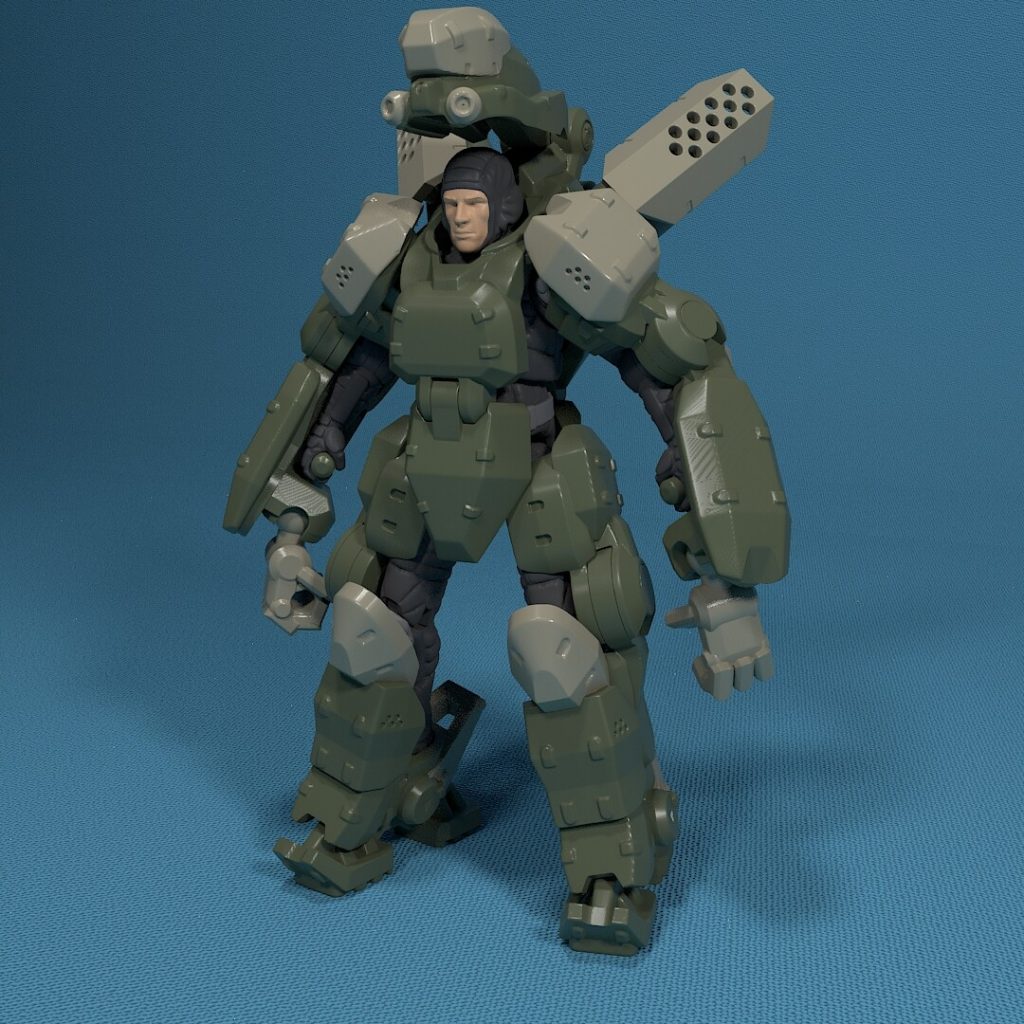 Fresh and original
The longer I take toy photos the more delighted I am when I see something new, unique or rare. This toy line is a chance to jump on a brand new train and see where it takes us.
The campaign will use Backerkit to allow supporters to select which unlocked characters and mechs they want as rewards. I love that you can mix and match to get exactly the combination of characters you want (if they're unlocked, of course).
I hope a bunch of other photographers will join in, support the campaign, and inspire me with their interpretations of these characters once they are delivered!
Follow the hashtags #ageofmecha and #teccotoys to keep an eye on the progress and spread the word.
Relevant links