LEGO just released two new installments of their Botanical Collection, and they are fabulous. Today I'm looking at the Bonsai Tree set (10281). Where has this been all of my life? For years, indoor plants died under my dubious care. I was convinced I had a "black thumb." I even managed to kill air plants—how is that even possible? (Hint: They actually do need more than air to survive.)
Although I have learned, with great effort and diligence, to keep some plants alive (primarily succulents, air plants and a vegetable garden), a LEGO-brick houseplant is still right up my alley. As LEGO expands their offerings into the realm of products targeting adults, I'm curious how these sets might (or might not) add to my toy photography assets.
Building the Bonsai Tree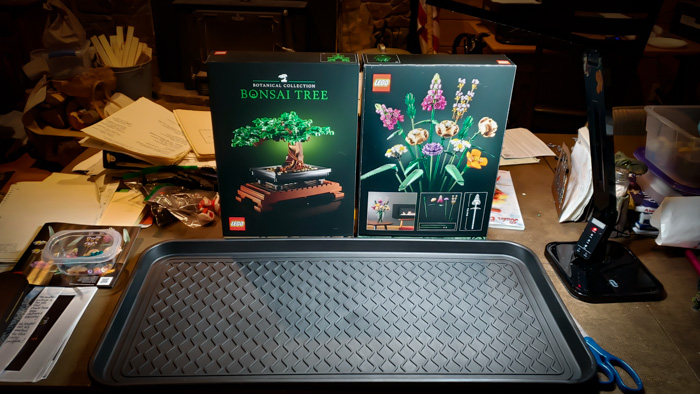 Before I get started, I have to mention a great LEGO-building resource a fellow toy photographer introduced to me (thanks, @lizzybelle9). A simple boot tray is sturdy enough to pick up your half-built project and move to another room or put it away until later. The raised edges keep even the smallest parts from getting lost, and the ridges aren't necessary (there are a variety of boot tray designs out there), but they help keep bricks from sliding around. If you do any kind of tabletop projects (diorama building, figure customizing, etc), it's a great tool. I picked up this one on Amazon for less than $10.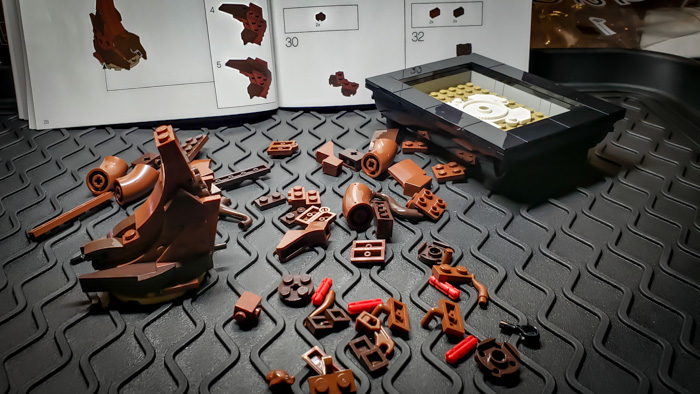 The Bonsai Tree build was relatively easy. One does not have to be a LEGO expert to follow along, and it went quickly. I didn't time it, but I believe it took 30–40 minutes, even with stopping to take photographs. There was a very calming, therapeutic feel to the repeated patterns of assembly. The symmetrical shape of the base and the "pot" holding the tree make that part simple, and it allowed for listening to music or even watching a TV show while building. Its leaf patterns were more complex, but honestly it's a set that offers creative freedom to make a facsimile of natural growth, so diverging from the exact guide is fine, or even desirable. I enjoyed listening to some of Greenlights on Audible, an autobiography from actor Matthew McConaughey. The guy has a fascinating background and has a whimsical, earthy perspective on life.
Loosey-goosey design choices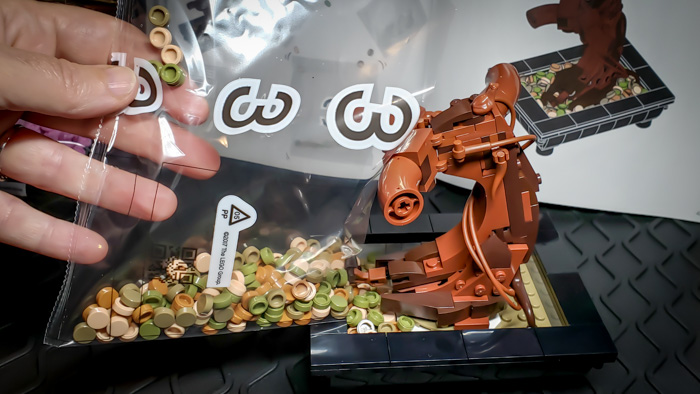 The choice to fill the base with these round, flat tiles is interesting. While visually pleasing, leaving them loose in the base opens the possibility of scattering them across the floor if you tilt it the wrong way while carrying your tree, or if it gets knocked from its final resting place. Despite my misgivings, I've concluded that a more secure approach (a pattern of cobblestone at the base—attaching round tiles to a flat piece, for example) simply would not have provided the same aesthetic.
Another choice LEGO made was to rest the black tree container atop the "wooden" base without any connector pieces. Sometimes I pick it up forgetting they aren't attached and it slides a little before I catch it. Not a big deal, given that they expect people to put the tree on display and leave it there. But if you want to move it around, it's important to remember they are separate—or engineer a permanent connection. That said, it is nice to have the option to put the smaller black container on a desk when there isn't enough space for the larger base.
Pink amphibians as blossoms!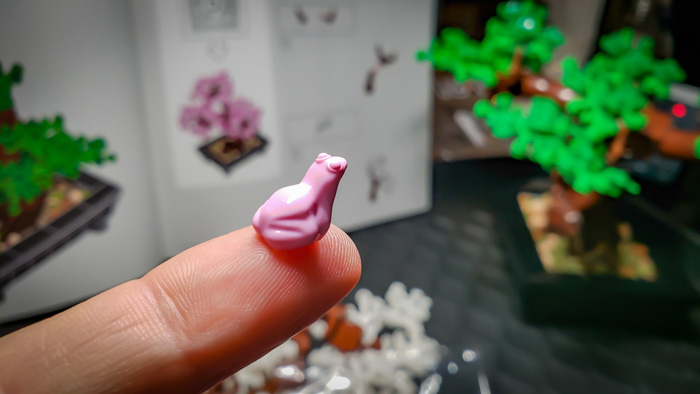 The use of pink frogs as part of the flowering branches was another surprise. At first I found the scores of frogs very distracting, because I kept seeing them as frogs. But eventually they become mere blossoms on a tree, especially from a distance or at a casual glance.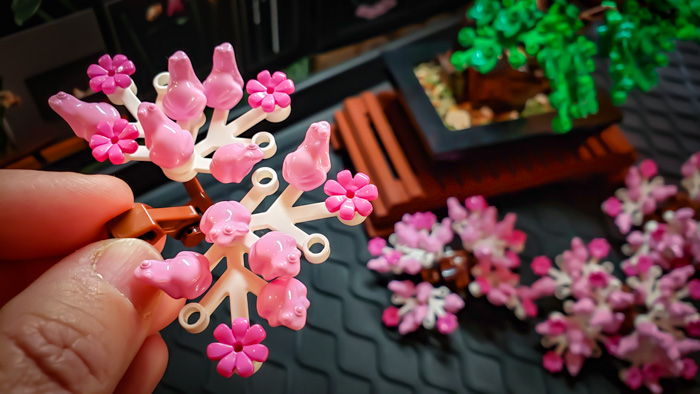 A fun fact about this set: With 101 frogs, it has the most frogs of any set LEGO has ever released!
Best point of engineering
Of all the things I like about the LEGO Bonsai Tree, the best part is the ease of changing out the two styles of tree (green leaves and blossoms). You can pre-construct the alternate and swap it out quickly whenever you feel like a change. There are only four branch sections, and each slides securely on and off without disrupting the overall section. This also allows for freedom in creating MOC branches and leaves of your own style (weeping willow, swamp cypress, autumn foliage, fruit tree, etc).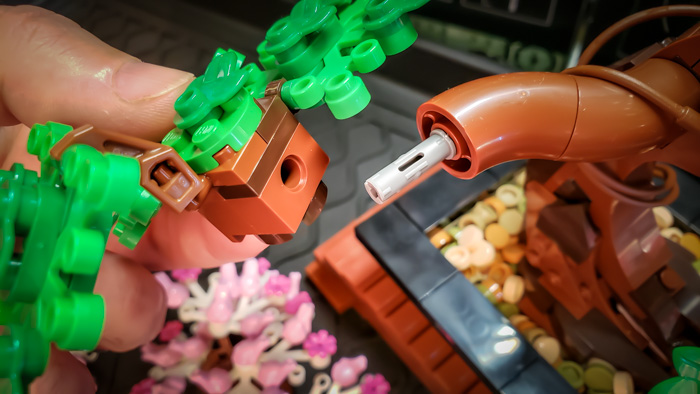 But is the Bonsai Tree good for toy photos?
Yes and no. When built per the instructions, I see two issues with using the Bonsai Tree set as a toy photo diorama. First, there's the "unnatural" element of a tree growing out of a box. Those straight edges and flat lines stand in harsh contrast with the organic shape of the tree. It looks beautiful as decor, but highly distracting in a toy photo (scroll down to the photo of the faun for an example).
My second problem is a bit more subtle. The arch of the tree is a little too high to make for a comfortable size over a LEGO minifigure. The leaves end up too far away, even when I tried to bend them as low as they would go. The result is that if you zoom in on the figure (below), you lose a sense of the tree dimensions. It becomes vague brown or green elements in the corners or sides of the picture without much context.
One solution could be re-engineering the branches to hang lower or have more foliage hanging closer to the minifigure. Alternatively, you could build up the "ground" around the tree to be higher.
Another issue, the area beneath the tree is uneven (above) and awkward for posing. It especially doesn't work well for grouping several characters together. They would need to stand on the edge of the container or carefully balance in the loose "rocks." None of these issues are insurmountable, but they require creative adjustments to make them work.
Taking a photo at just the right angle (above) shortens the gap between the height of the first branch and the head of a minifigure. But this angle reveals the container box, disrupting the virtual reality of the toy photo. To use this bonsai tree as a part of a toy photo scene, it would help to transfer the tree onto a more natural green or brown LEGO base plate.
Working around the toy photography issues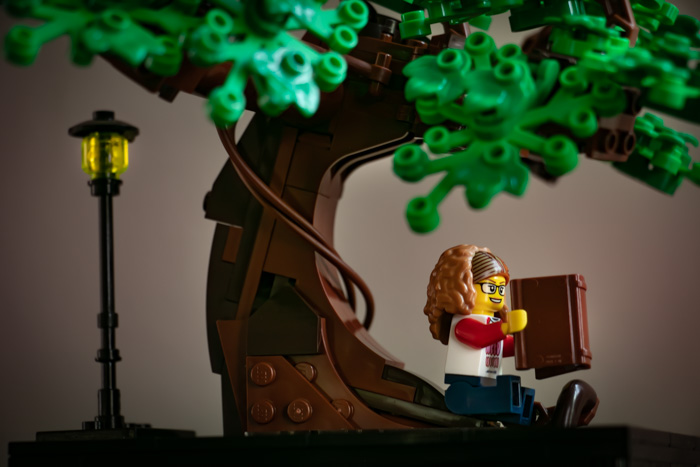 Conclusion
I am very pleased for the opportunity from LEGO and ToyPhotographers.com to review this set. It's a beautiful addition to any home, whether you're a LEGO fan or not. And for an Adult Fan of LEGO (AFOL) like myself, it's very exciting to have a LEGO set designed for home decor. I would never have worked on a MOC piece of home decor, no matter how cool they look when others do it. I'm just not that motivated. But having it pre-designed like this is perfect, and the built-in options to change the blossom or leaf appearance is amazing. I also liked that about the LEGO Ideas Treehouse set (green leaves or autumn leaves).
While the Bonsai Tree may come in handy in some future LEGO toy photo diorama, it's more likely that I will keep it as a piece of decor in my home. I may even set it on my computer desk so I can rearrange the leaves while thinking up the next twist in a story plot or turn of phrase for my marketing copy. I like to think I'll add a few blossoms here or there during the spring.
This set would make a perfect gift for any adult who enjoys building puzzles or adult coloring books and such. The peacefulness of building a LEGO set acts as a soothing break from a world of unpleasant things outside of our control. I give this set 5/5 stars!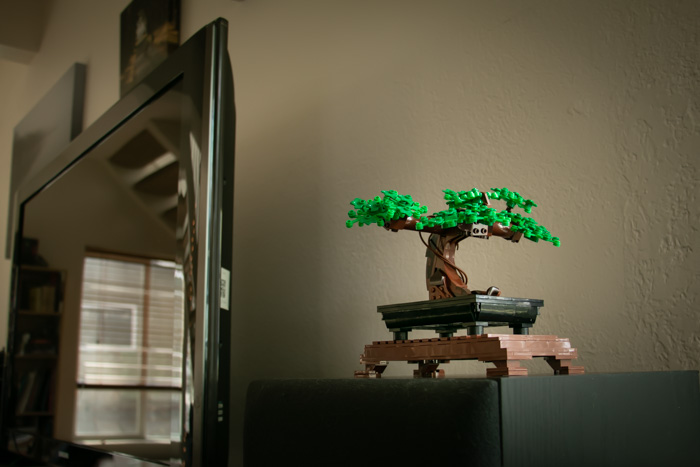 What about you?
Does having LEGO decor in your home appeal to you? Would you take the tree out of its container and place it into a LEGO diorama scene? Chime in below!