Each October, Instagram is rife with horror and Halloween-themed images from a wide range of toy photographers. Granted, the toy photo world is never short of pics featuring Jason Voorhees, Freddy Krueger, Leatherface and the rest of their slasher brethren, but never with the frequency we see in October. And it's always fun to see.
In this spirit, we've collected some of our favorite Halloween/horror shots along with thoughts and insights from, or about, the photographers who created them. Happy Halloween!
@cmariscal
Carlos Mariscal – Stockton, CA
I chose the first pic because I've always thought clowns can be terrifying, and the Violator is easily one of the scariest clowns around. My goal for this shot was to capture his sinister nature and his back-alley environment. The colors and haze all came together nicely and truly complemented the entire scene. I'm excited that Todd McFarlane is revisiting the Spawn universe.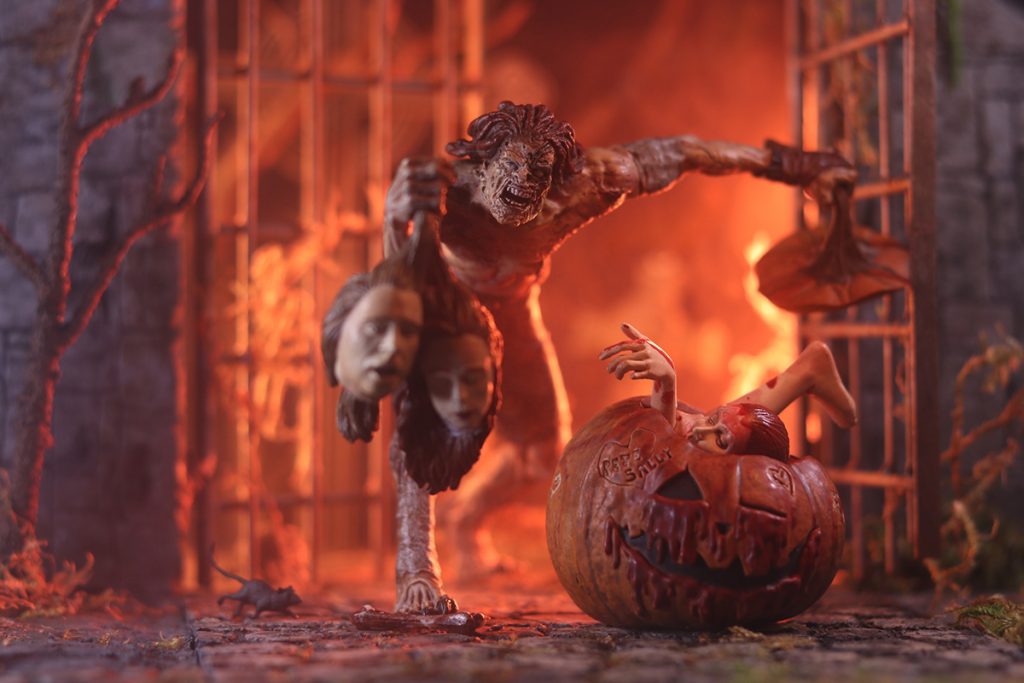 I'm really fond of the old McFarlane sculpts and it's a fun challenge to make them look as cool as possible. I love all the gory details with this Peter Peter Pumpkin Eater figure [from McFarlane Toys' 2006 Twisted Fairy Tales line]. I was fortunate enough to have the cemetery diorama completed just in time for the Halloween season.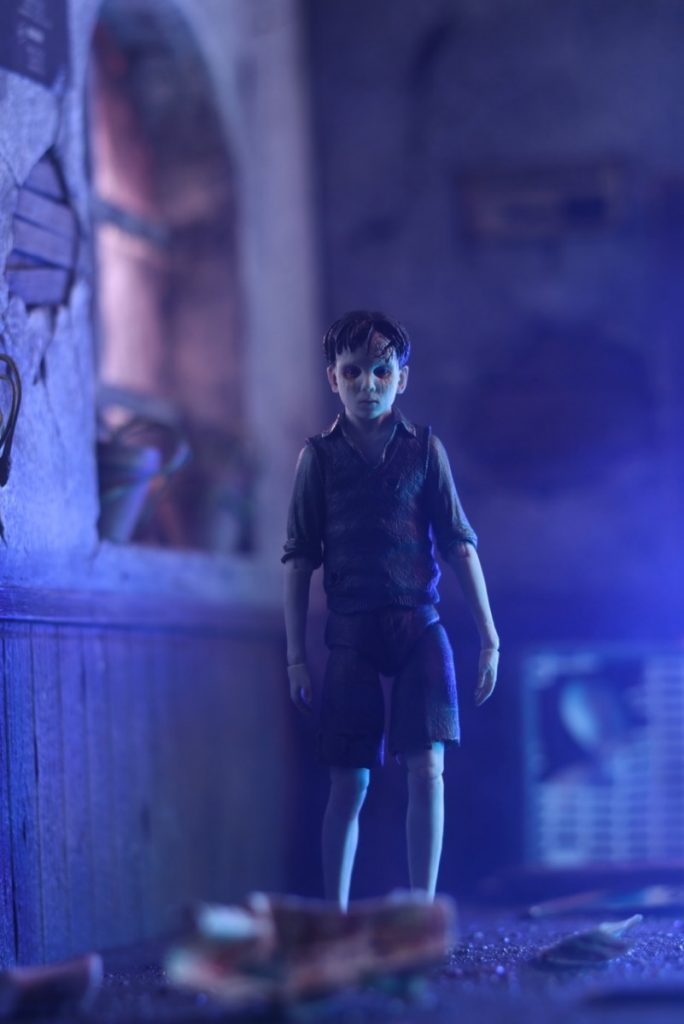 I'm a huge Guillermo del Toro fan and The Devil's Backbone is one of my favorite films. NECA did a wonderful job with this Santi figure. His image is so haunting and the figure just shoots so well. I strived to make a run-down, desolate environment for the figure to create a haunting scene.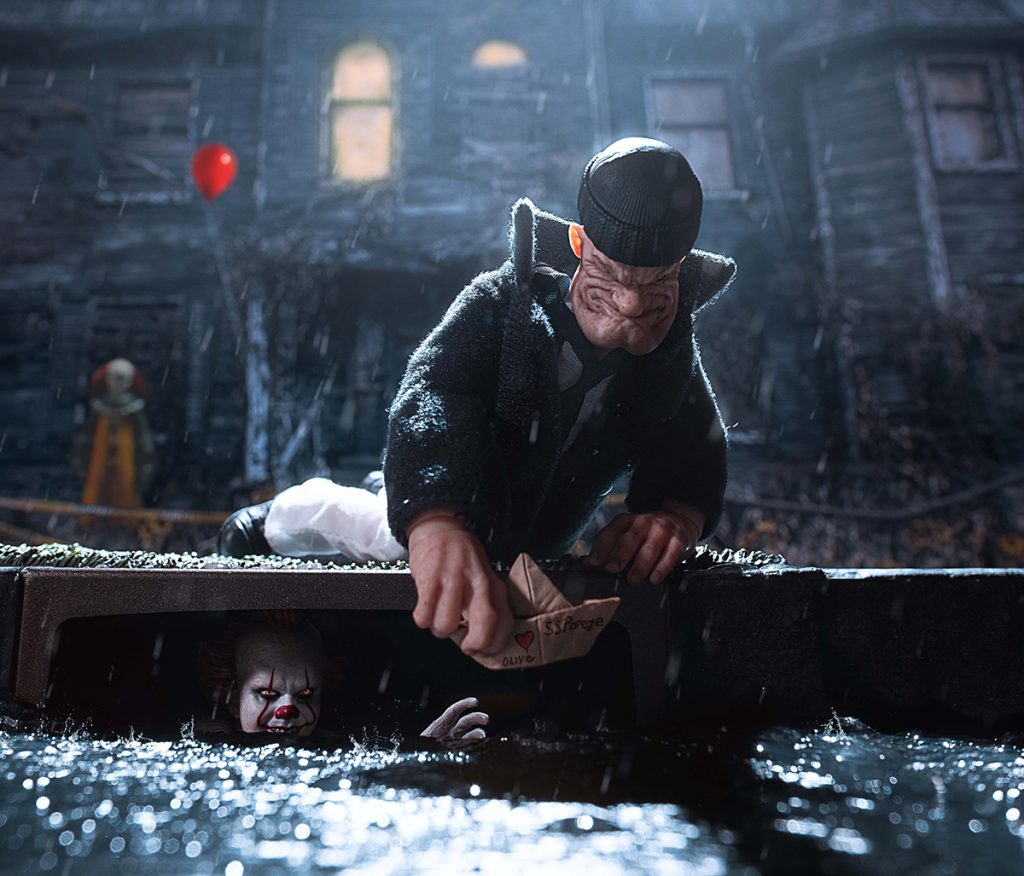 @plasticaction
Jax Navarro – Los Angeles, CA
Jax Navarro aka @plasticaction is well known for his character mashups, and this one with Mezco One:12 Collective Popeye and a Mezco Pennywise head—along with goodies from the NECA Pennywise Accessory Set—brings a bit of dark humor with his caption: "That's a nice arm." Fans of 2017's IT might remember when Derry's favorite killer clown devours young Georgie's arm from a very similar sewer drain. Imagine how tasty Popeye's forearm-heavy pythons would be!
Continuing his humorous take on horror film icons, Jax populated this mind-boggling city street diorama (bodega by @flashworksart) with NECA's Annabelle (The Conjuring) and Chucky and his bride Tiffany Valentine (Child's Play 3), along with Mezco One:12 Collective Freddy Krueger chillin' on his stoop (made by @oilers_workshop). Keen-eyed photo fans should recognize this setup from one of the web's most popular memes: "Distracted Boyfriend" aka "Guy Looking Back" aka "Guy Checking Out Girl" by stock photographer Antonio Guillem. Let's face it, Tiffany is not happy and Chucky is in for a long, tough night.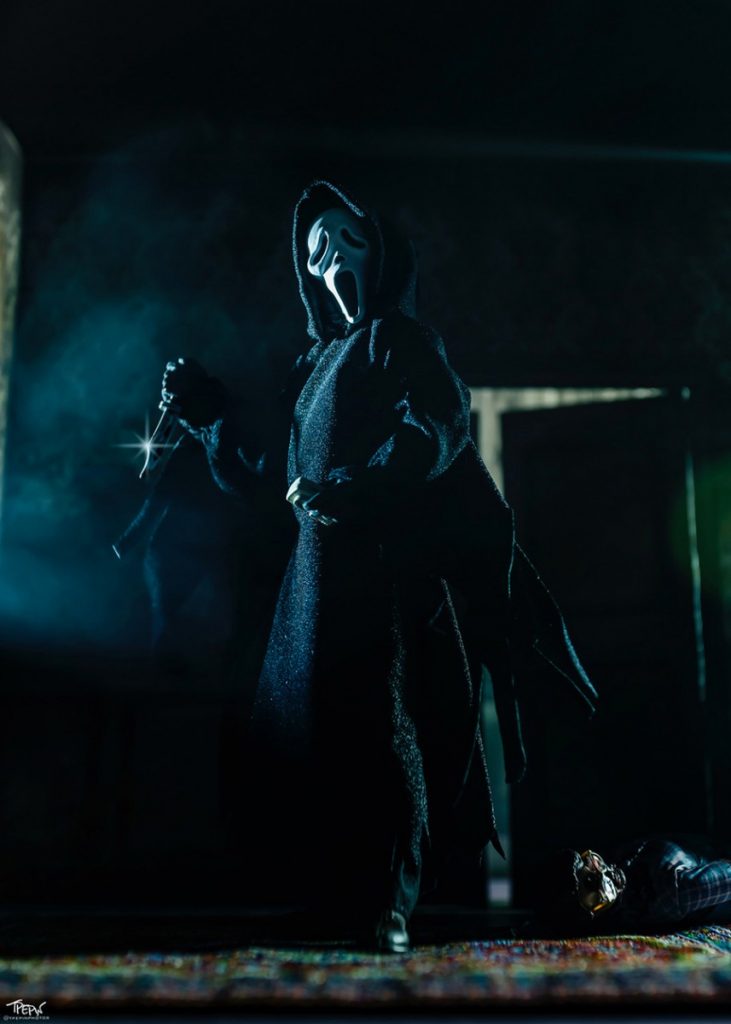 @nerdysubjects
Tyler Pepin – Washington, D.C.
For the ghost pumpkin shot at the very top of this post (scroll to top of page), I really wanted to shoot a picture that oozed Halloween spirit. It combines folklore with a style influenced by the artwork of illustrator Stephen Gammell (Scary Stories to Tell in the Dark).
NECA did an outstanding job with this Scream figure in the photo above—I was so happy to finally own a "Ghostface" and really wanted to do the figure justice. I was also fortunate enough to have NECA feature this shot on their @necaofficial Instagram account.
I love the griminess of this NECA Leatherface figure. I wanted to show him lost in his "work," not realizing he was at it all through the night.
@tuskenmilkbar
Thomas – Sweden
I wanted to do something special for Halloween last year and this Jabba idea came to me. I really love horror movies, Star Wars and doing mashups, so I had a lot of fun with this—both shooting it and creating the Jabb-a-lantern. [Thomas used the Jabb-a-lantern in a new shot this year, too!]
The Freddy vs. Han Solo shot is another mashup. I imagined what Han dreamed about while carbon-freezed. Of course Freddy would show up!
I love working with Extreme-Sets dioramas, which are perfect for horror figs. I was trying out different poses and lighting positions with it, and by chance the shadow of the axe appeared on the wall. I usually start shooting with some idea, but the result is often something different.
@jcmilone
Joe Milone – Clearwater, FL
When I think of Halloween, the first things that come to mind are the Universal Classic Monsters. Every October as I was growing up, my family would watch all the classic monster movies on AMC (remember when they actually showed classic movies?). So I wanted to share my photos featuring two of the best Universal Monsters: Dracula and Frankenstein's Monster. Both photos were lit by Lume Cube lights and enhanced with Atmosphere Aerosol.
Dracula is a 1:6 scale figure by Sideshow from 2001, which in my opinion has a tremendous likeness to the best Dracula, Bela Lugosi, especially considering it's almost 20 years old.
Frankenstein's Monster (or Frankenstein, if you prefer) is the more recent Mezco One:12 Collective version featuring the likeness of iconic actor Boris Karloff from James Whale's classic 1931 film, Frankenstein.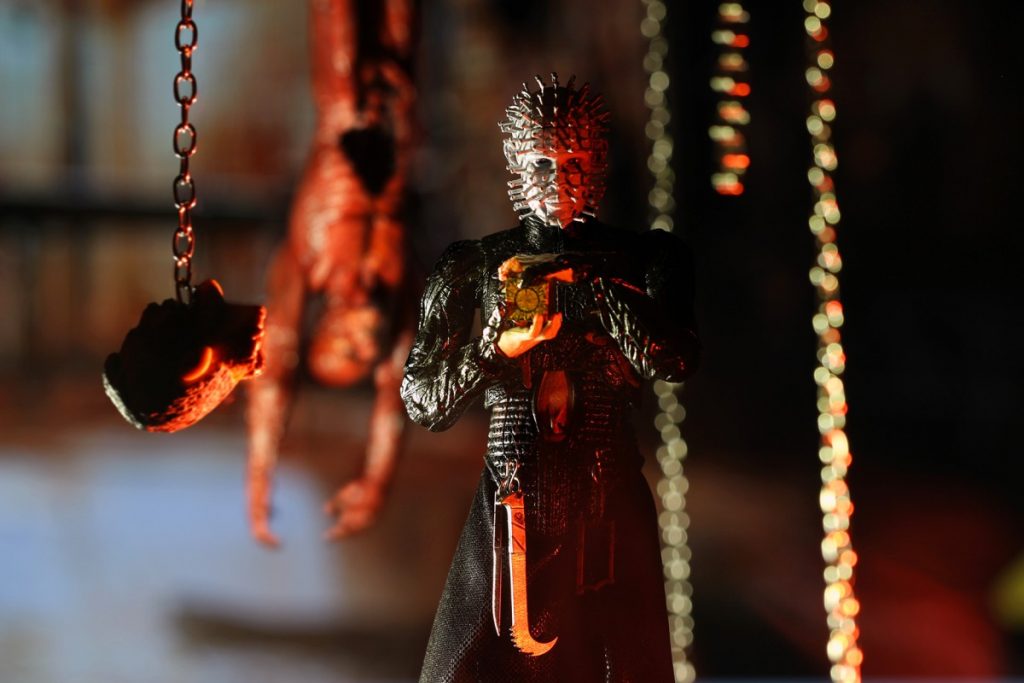 @oliversees
Oliver Peterson – Center Moriches, NY
While the Hellraiser films aren't exactly synonymous with Halloween, they are certainly emblematic of the horror genre, which has everything to do with our creepiest holiday. Pinhead is, of course, the most recognizable and popular character among Clive Barker's gruesome Cenobites—the mutilated, extra-dimensional beings from the author's version of Hell, a labyrinth ruled by Leviathan and brimming with pleasure and pain. This shot features a NECA action figure and NECA accessories, including Ultimate Pinhead, a severed head that came with Ultimate Michael Myers, and a flayed man from the Predator Deluxe Accessory Pack. The chains are jewelry findings from Michaels craft store.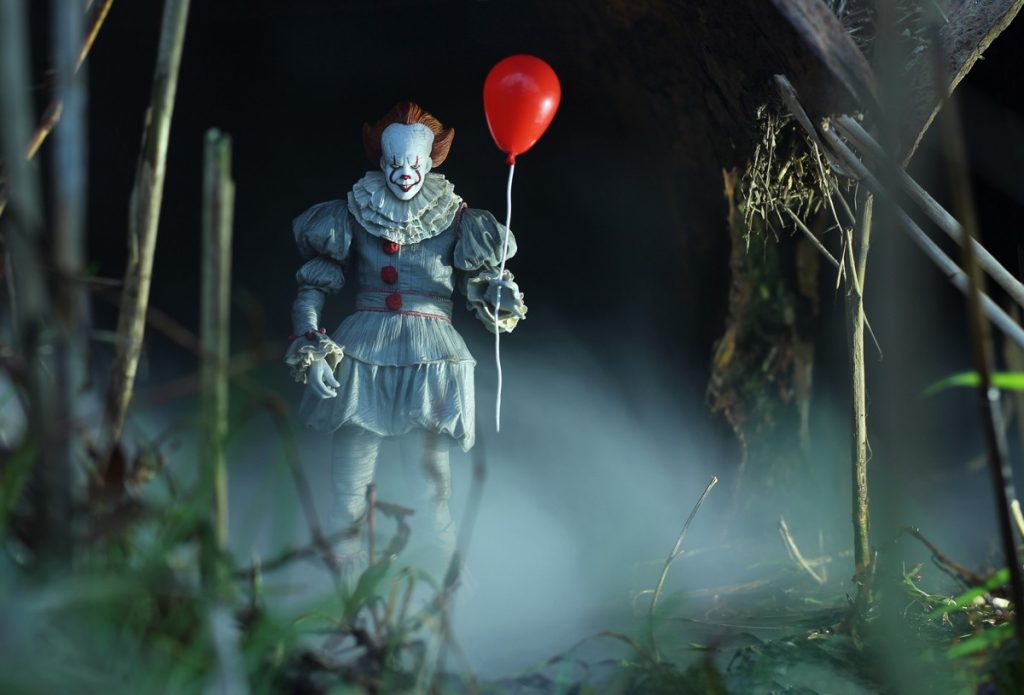 Another brilliant NECA horror figure, Pennywise is a big favorite among toy photographers (see Jax above). As Carlos pointed out, clowns are super creepy, and the folks behind 2017's IT did an unbelievable job reinventing this character for the film (NECA also makes a more classically clownish version from the 1990 tv miniseries). I took this picture in a drain pipe on a farm where I helped out this fall. Watching for the muskrat who lives inside the pipe, I placed a waterproof Lume Cube Air behind Pennywise, sprayed some Atmosphere Aerosol and got the shot by balancing my camera on a tipped-over traffic cone—teetering precariously over a deep, muddy puddle. (It's never good to forget a tripod on the dark, wet and cloudy days.) Thankfully I managed to snap a few photos without ruining my gear.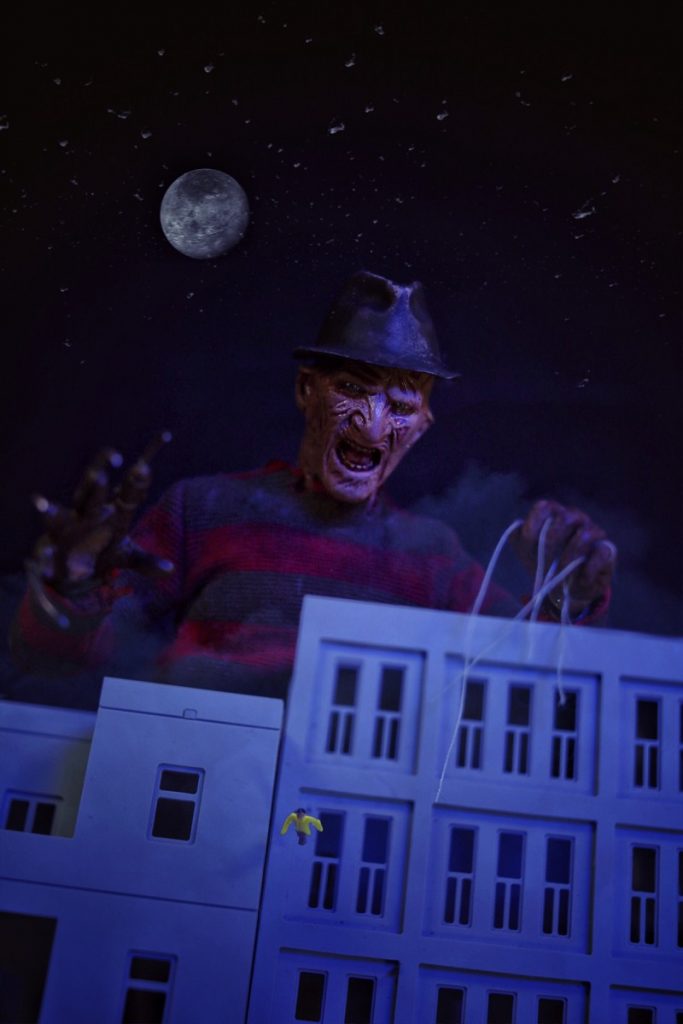 @tromatic_exposure
Jarod Oertel – Saginaw, MI
I imagined doing this Freddy Krueger shot for a long time before I finally went for it. I already had the buildings, which are 1:64 scale, and the figure is 1:6, so it was a perfect combination. The biggest challenges were the angle and making the super tiny figure look like he's falling. It was a fun setup.
I just got this super dope Hellboy with rubber skin and this 1:6 skeleton, and I enjoyed creating the cemetery diorama for them. I used my tv for the background of the scene and had a good time getting all the colors to all blend together.
@burkeheadtoys
Adam Burke – St. Louis, IL
The Wring Door: This shot was an extension of a previous photo I did, and wrote about, with '80s horror icons and Monsters Inc. I put a lot of time into printing and painting the door from Monsters Inc., so it seemed a waste to only use it for one shot. This time I imagined a darker scene where Mike and Sulley just happened to go through the wrong door on Halloween. Sam from 2007's Trick 'r Treat was waiting for them on the other side.
Trick or Treat: This photo was one of my first forays into using Photoshop on a PC. I found these The Nightmare Before Christmas guys at a Walgreens a week before Halloween and knew exactly what I wanted to do, I just wasn't sure how. One thing that keeps this hobby fresh and interesting is trying new things. After the initial learning curve, I was happy with how it turned out. And even happier they didn't actually show up on Halloween!
***
What did you shoot in honor of Halloween this year? Do you enjoy horrific images or do you prefer lighter holiday fare? Is this day about blood and guts and the occult or candy corn, trick-or-treating and jack-o'-lanterns? Tell us your thoughts in the comments below.
– Oliver (@oliversees)