Toy photographers spend a great deal of time and energy lovingly recreating scenes from our favorite films or inventing new stories for our favorite characters. Many delve into the world of horror toy photos all year long—it's a popular sub-genre of the art form—but most, unsurprisingly, shoot a lot more murderous imagery in the days and weeks leading up to Halloween. And who could be a better subject for this spooky season than Mr. Halloween himself, Michael Myers?
Appearing in all but one of the 12 Halloween films, Michael Myers' pale mask and dead eyes have been scaring fans since 1978, so he's definitely earned his legion of action figure iterations. Haddonfield's leading boogyman has taken shape in multiple scales and styles, including NECA's numerous 1:10 (or 7-inch) versions, their 8-inch clothed incarnation and several supporting characters—Jamie Lee Curtis as old and young Laurie Strode, Dr. Loomis and the Halloween III kids; along with Sideshow's 1:6 (12-inch) figure; Mezco's 6-inch, One:12 Collective release; and a 3.75-inch, retro-style ReAction figure; to name a few. There's a Michael Myers for every figure fan!
With that in mind, we decided to celebrate the holiday with a deep dive into this legendary slasher and the Halloween films. Below you'll find some brilliant shots and astounding dioramas by some of the most talented toy photographers in the game. They're horrifically impressive.
FUN FACT: Did you know Michael Myers' original mask, in Halloween and Halloween II, is a cast of William "Captain Kirk" Shatner's face painted white? The cast was first used in Shatner's 1975 film Devil's Rain, and while that film may have been forgettable, it gave us one of the most famous faces in horror!
@galaxy_of_figures
Matt Parker – Issaquah, WA
For this shot, I wanted to really show off the 1:12 Myers House diorama I recently completed, and I included the Mezco One:12 Collective Michael Myers action figure wearing the ghost sheet and glasses to add a little context and creepiness. I'm really happy with how it came out.
@russ_berrie
Lawrence Cheung – Burlingame, CA
A year ago, I recreated this iconic moment from John Carpenter's Halloween, where Michael Myers is stalking Laurie Strode from behind a clothesline. This year I decided to reshoot the scene from a different angle since I couldn't find a way to blend in the ground of my diorama with my backyard.
What I liked about shooting this particular image is that the diorama offers many possibilities and I could use it over and over again. The scene where Michael Myers disappears from behind the bush is another I hope to recreate one day, and I happen to live in a neighborhood that resembles Haddonfield from the original 1978 film.
I have been a huge fan of Halloween since I was a kid. I remember thinking how cool it would be if they came out with a Michael Myers action figure or doll. Today, Halloween fans and collectors are rejoicing with the 1:10, 1:12 and 1:6 scale figures of this horror icon from NECA to Mezco to Sideshow Collectibles.
@tromatic_exposure
Jarod Oertel – Saginaw, MI
I wanted to do a photo of Michael Myers just relaxing and carving some pumpkins before Halloween night. This shot was executed with a real house diorama I made, along with using my tv screen for the background to get the look of him being isolated in the woods.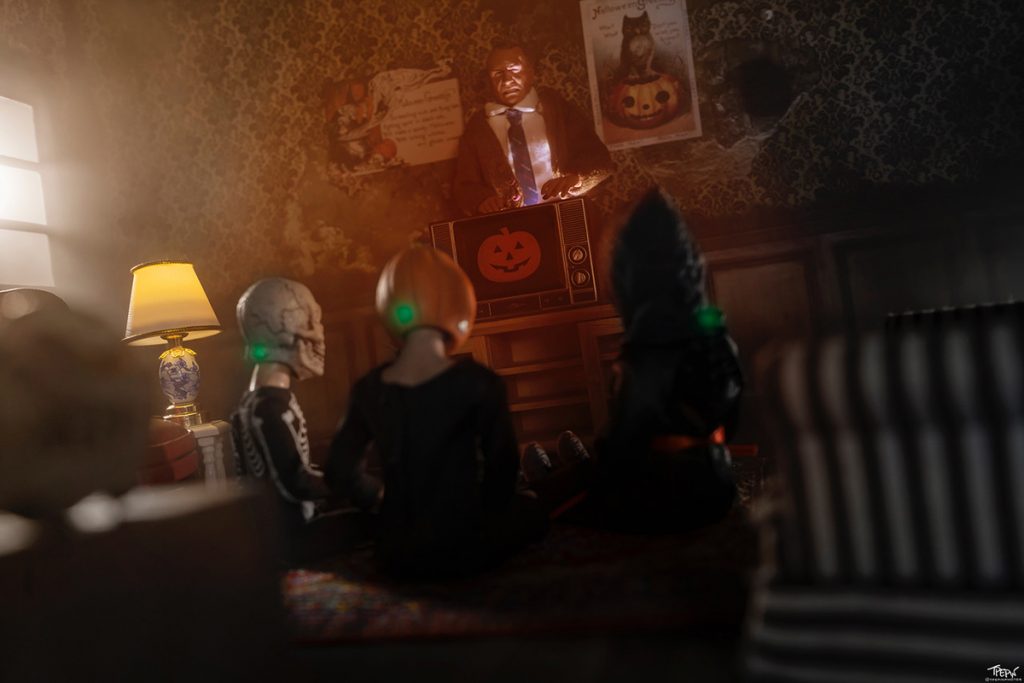 @nerdysubjects
Tyler Pepin – Washington, D.C.
[Written by the editor] This is the only photo in our collection to focus on the red-headed stepchild of the Halloween series. Instead of telling another tale reviving Michael Myers, 1982's Halloween III: Season of the Witch took a slightly sci-fi turn with a story about deadly masks and the television broadcast that triggers them. Taking on producer roles, Halloween creators John Carpenter and Deborah Hill hoped to turn the franchise into an anthology series, like Tales from the Darkside or Black Mirror (which of course did not exist yet). Unfortunately, the movie, which eventually became a cult classic, failed to capture audiences like the previous installments and it floundered at the box office. Carpenter and Hill got back on track six years later with 1988's Halloween IV: The Return of Michael Myers.
But who could forget the famous Silver Shamrock jingle?
Happy, Happy Halloween,
Halloween, Halloween
Happy, Happy Halloween,
Silver Shamrock.
In the above shot, Tyler Pepin did a remarkable job setting his scene in an Extreme-Sets pop-up diorama with NECA's Halloween III figures—depicting the film's famous trick-or-treaters wearing their Silver Shamrock masks and watching the tv commercial that, for many viewers, defines the film.
@slaystoys
Andrew Viveiros – Ontario, Canada
[Written by the editor] I and other fans of the series were blown away when NECA debuted images of their figure of Jamie Lee Curtis as Laurie Strode from the 2018 Halloween film. This post would not be complete without at least one great shot of her, and mine just weren't up to snuff. After a quick search, with my deadline looming, I found Andrew's great @slaystoys account full of fun horror pics, including the above image of Laurie Strode welcoming a trick-or-treater in her own, special way.
Scroll down to read Andrew's thoughts about his Laurie Strode image and Michael Myers photo below.
"For the Strode shot, I figured would be fun to throw in Sam from Trick 'r Treat because he's about keeping the traditions of Halloween sacred, while Laurie wants nothing to do with it," Andrew explains.
"The Myers shot with the spindles in it was my attempt to recreate that iconic scene in the 1978 movie, but I also wanted to add my own style to it."
@oliversees
Oliver Peterson – Center Moriches, NY
I've had a longtime fascination with Michael Myers, so I was pretty excited when the Mezco One:12 Collective figure shipped in 2018—the year director David Gordon Green's Halloween movie hit theaters. Since Michael Myers arrived at my door, I've put him in a few scenes, including a several pics around a creepy, old dollhouse given to me by a former coworker. If you look at the wide shot, you'll be amazed by the size of this thing. It's also a perfect fit for Haddonfield's suburban Illinois setting. Beyond that, I love how the jack-o'-lanterns (one is from the NECA Ultimate Michael Myers fig), interior lights, Atmosphere Aerosol and his soft goods outfit bring the image realistically to life.
This second shot is a much simpler setup, but that's also what I enjoy about it. A few well-placed props can be all one needs for a convincing toy photo. The key is placing them at different depths in the composition and giving the viewer enough visual cues to understand exactly what they are looking at. Sometimes less is more!
And, of course, what would a horror toy photo be without poor, ubiquitous victim Jessica Biel running in terror? This McFarlane Toys action figure depicting Biel as Erin from director Marcus Nispel's 2003 Texas Chainsaw Massacre reboot suffers poor articulation (a problem the company rectified in recent years), but she has a wonderfully terrified facial expression and fleeing pose. It's no wonder so many toy photographers use her in slasher pics! Erin also comes with a lovely meat locker mini diorama that looks fantastic in photos.
I chose the shot with Michael Myers out of focus, but I also posted one with the focus reversed on my Instagram. The above photos were taken in 2018 and 2019, but rest easy, folks, my Michael Myers figure has a lot of names left on his kill list.
***
Do you enjoy shooting Michael Myers action figures or other Halloween movie characters? Which is your favorite? How do you create the right mood and setup for horror photos? Tell us in the comments below.
Happy Halloween, everyone!
– Oliver (@oliversees)
Find more of my toy photography at @oliversees. And visit @118AF on Instagram if you like 1:18 scale action figures, photography and customs!