Having the right tools for a job can make the process smoother and easier. I've been fortunate to have acquired fantastic tools to help me in my photographic journey over the years. So I've opened up my camera bag to let you have a peek inside: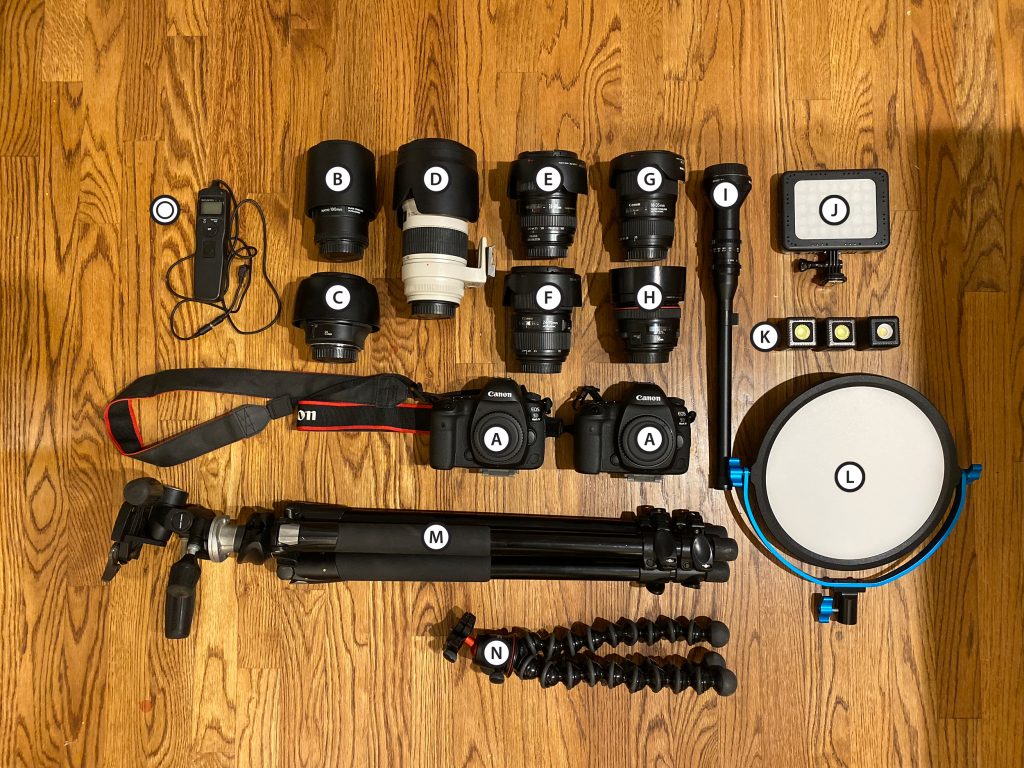 My kit
A: 2 x Canon 5D Mark IV bodies.
B: Canon 100mm Macro L F2.8 lens
C: Canon 85mm L F1.2
D: Canon 70-200mm L II F2.8
E: Canon 24-105mm L F4
F: Canon 24-70mm L II F2.8
G: Canon 16-35mm L II F4
H: Canon 50mm L II F1.2
I: Venus Optics Laowa 24mm f/14 Probe lens
J: Savage RGB VL LED light
K: 3 x LUME CUBES
L: Dracast DRSL-R-400B
M: Manfrotto tripod
N: Joby GorillaPod tripod
O: Camera trigger
Now you might be thinking that this is a bit over the top for toy photography. I am a portrait photographer and was a wedding photographer for many years, so I have acquired a lot over the years. I pretty much use all my equipment, but there are some things that I have that are specific for my toy photography.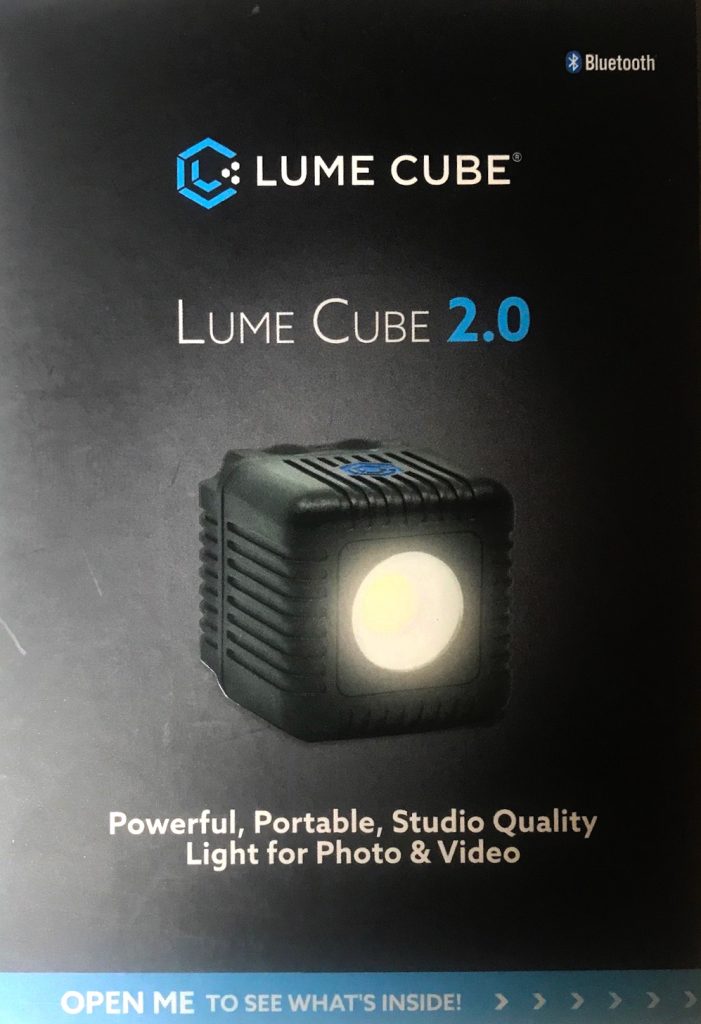 K: Lume Cubes
In my opinion, a must-have for toy photography. They are light, powerful, and very versatile. They have several light modifiers to give different light and effects. Here are links to previous articles that I have written about the Lume Cube:
toyphotographers.com/2019/10/08/the-lume-cube-2-0-video-review/
toyphotographers.com/2019/03/15/the-toying-with-bright-ideas-series-barn-doors-laptops-and-snoots/
L: Dracast DRSL
I use this as a primary light source for many of my shots. It creates an abundant, diffused light that is soft and even. What's impressive with this is the ability to change the temperature of light as well as the brightness.
J: Savage RGB LED panel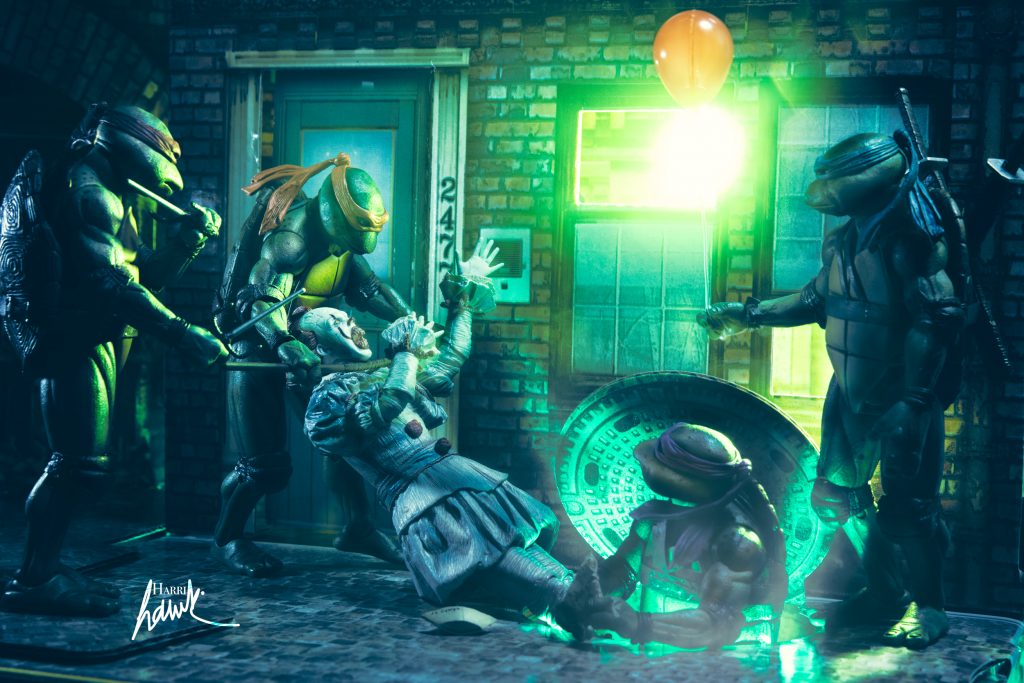 Having an LED light is fantastic for toy photography, but what makes this neat is the ability to have a 360-degree color range—all the hues you'll ever need to add a splash of color to your photo.
N: JOBY GorillaPod
This tripod can be spread low to the ground, and is durable enough to hold onto things with its nonslip leg grips that wrap around objects tightly. It's also useful to hold up the Lume Cubes or the Savage lights.
I: Probe lens
This lens is a super macro lens that can get close and personal with the subject. It's 24mm, so it can take a wide shot to get the whole scene in the frame.
I don't have tons of accessories in my bag like pliers and wire, etc. My toy accessories are pretty simple.
Atmosphere Aerosol
A great can of fog-creating effect!
OBITSU Assembly Action Figure Stands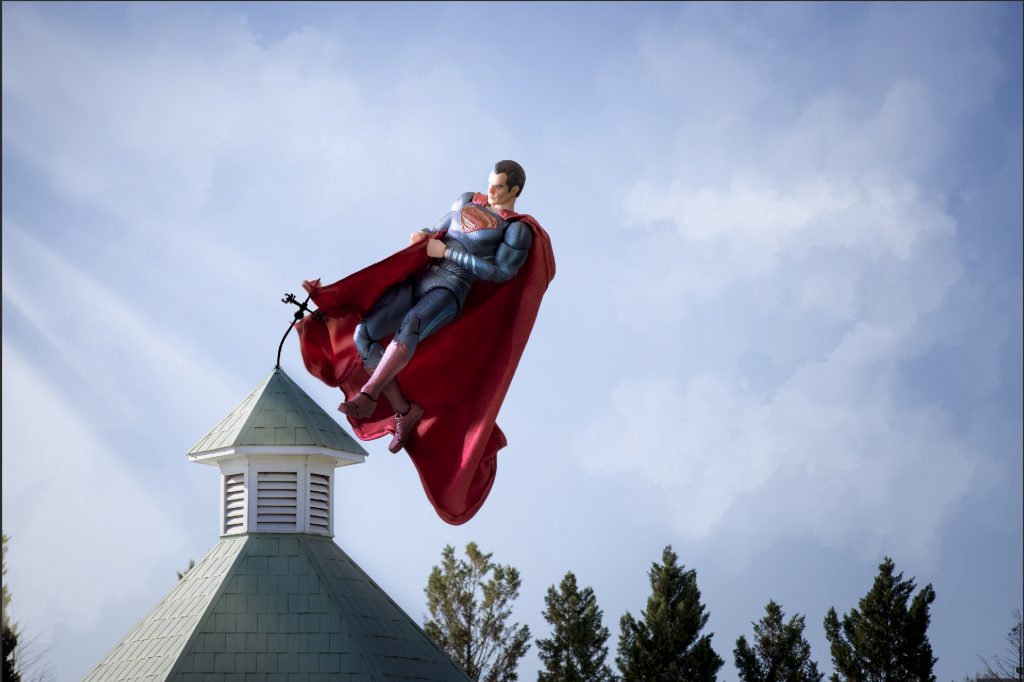 These are my go-to action figure holders. They can be manipulated into any position and are surprisingly stable at holding heavy figures.
My notebook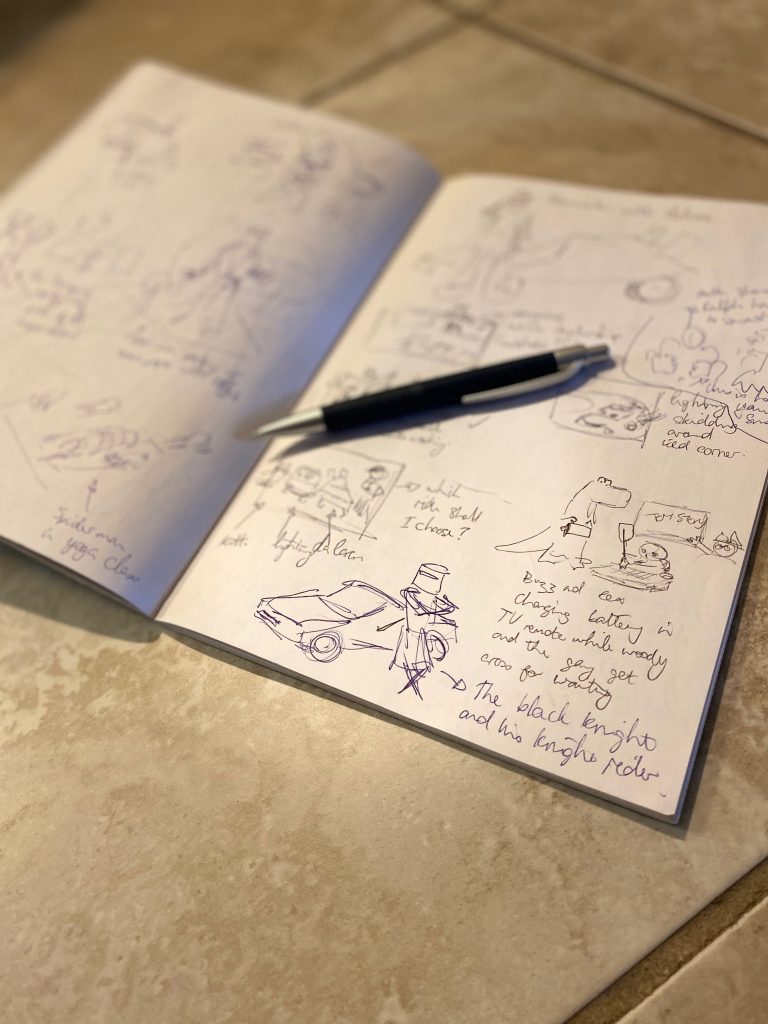 And last but not least, (probably the most crucial piece of equipment) is my notebook. I rarely take toy pictures on the fly—95% of my images are ideas that I have thought of and scribbled down in my notebook. It's a way for me to visualize the shot before setting up.
So that's it. Simple but it gets the job done.
Let me know what's in your bag of tricks!
Cheers,
Gibbo
AKA @harri.hawk