In this series, we'll look at four lighting sources that I've gathered for my own use. I'll touch on some available modifiers and show a few examples. As a professional creative I've produced product photography for years: Tabletop, mannequin and on-body photos; all lit with large softboxes and studio strobes. Sometimes I'm the primary shooter—I love to shoot tabletop—but often I'm heading up the shoot with a small, focused crew. I like to put that learning to work in my personal creative endeavors, so here we go…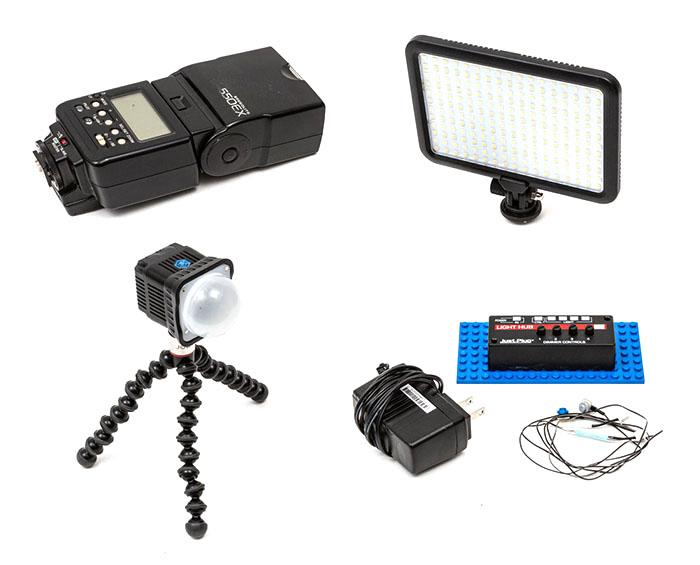 The options:
Speedlight (AKA flash) – A staple of consumer and professional photographers for years. Stops motion, can be used as a fill light for full sun. Typically AA battery powered.
LED panel – More common in video production, provides even and adjustable light. Typically common rechargeable and/or wall powered.
"New" LED lights – Newer technology and power. Individually controllable single-point lights. Typically proprietary rechargeable, built-in power.
"Diorama" LED lights – Coming from the model train world, these range from 180º LED lights to tiny pinpoint LEDs and more. Individually controllable, wall or battery (9V) powered.
---
Speedlight – AKA "flash"
Let's start with the one I've used the least for toy photography. Come to think of it, I should take it along with me more often for outdoor shoots. It would be a bit easier to place out of the frame than holding a reflector for fill.
This flash is pretty old. It's been through several full-size DSLRs and has a matching one that was part of my very first lighting kit some years ago. The wireless trigger can tell one light to strobe more than the other. It also has a translucent modifier that softens the light coming from the flash—that piece is essential.
We purchased our M4:3 camera (Panasonic Lumix DMC-GX85) for vacation last summer. It has become my go-to for quick photos as well as nearly all my toy photos. Minus low-light conditions, the performance is superb and the large touchscreen display makes composing and shooting really enjoyable. If you're curious about cameras and looking for really-realllly in-depth reviews, wander over to DPReview.com and prepare to read.

– Matt (Yes, I'm quoting myself…)
---
LED panel
I bought these panels when I first started shooting some general photos of Fredbricksburg, my LEGO town. They provide a relatively even light source with an adjustable color temperature from a cool 5600ºK to a warm 3200ºK. These are powered by a rechargeable battery pack that is common in the video world, and they also came with a plug-in wall adapter. There are four of them in my kit, and they often provide a more general light source.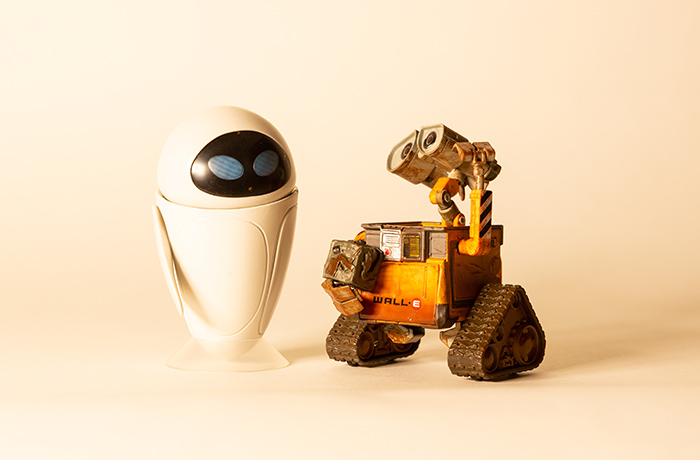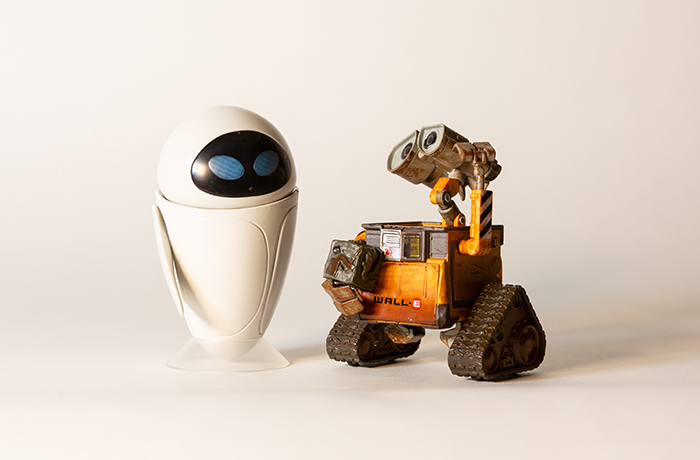 Behind the scenes shot on the left shows the overall position of light, camera and subject. (Again, the strobe power packs on the bottom are not firing for the sample shots of Wall-E and Eve.) On the right is an X-Rite Color Checker, which lets you manually balance your image color in Lightroom or your favorite RAW processing app.
---
The "NEW" LED lights – Lume Cube
A gateway drug, hands down. Accessories and add-ons, and now new versions are available. The mobile app adds a wonderful level of control and the modifiers give you a great range of options—hide your card.
I've overbuilt this kit, at a minimum I'd recommend two lights and the globe-like modifiers. The case was customized with some black foam core and gaffers tape to hold everything in one unit. The accessories add specific functionality and a nice level of control. On full output you should be aware that you're burning time while you're working. The app is essential when shooting with more than two lights as you can quickly turn them on/off. The Panasonic app for remote capture on the M4:3 camera is very handy, however but those two uses combined will drain your phone battery pretty quickly. In the near future I'll be upgrading my USB/phone charger to something more robust to keep all of these going.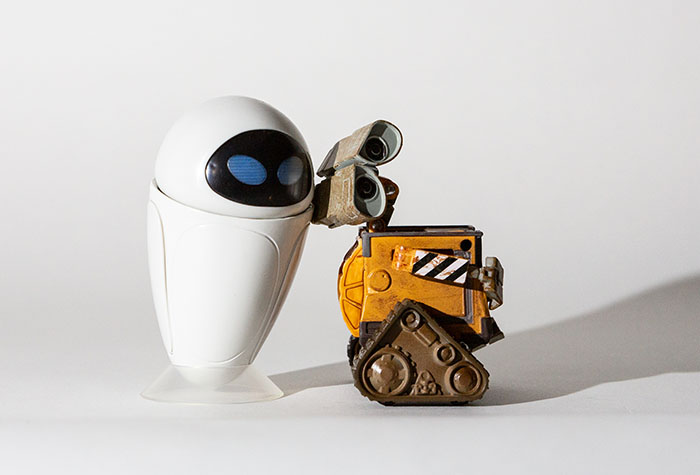 Note the range of light falloff in the above samples and variety of softness in the cast shadows. The Lume Cube system allows you to treat a small desktop subject with the lightcrafting you would apply to a human-sized subject. (If I just made up the word "lightcrafting," I'm claiming the I.P. rights…)
---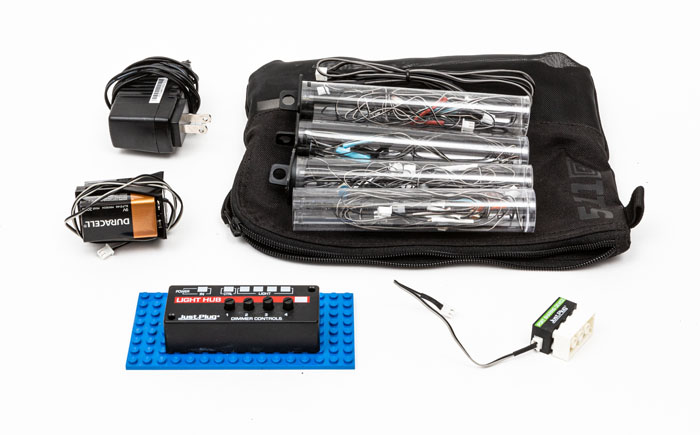 "Diorama" LED lights – Just Plug lights by Woodland Scenics
As mentioned in my intro article here on Toy Photographers, I saw some stills and related behind-the-scenes pics by @Lego nuts on Instagram and reached out to learn more. They were gracious enough to share a few BTS secrets, and the next thing I knew there was a growing assortment of Just Plug lights by Woodland Scenics in my kit. There is a large train hobby store not too far from me. It's just over 20 miles, so in Southern California that could be a LOOOOONG drive. Its about 40-plus minutes from home if you're traveling off-peak.
Just Plug has a wide range of options, from warm, cool and colored flood LEDs to the same range of pinpoint LEDs. Extensions, hubs, controllers, battery powered and 120V wall powered. They also offer flashing and other train/diorama oriented lights. For me they've enabled local and focused lighting control for smaller and smaller scenes as well as adding accent lights to larger Fredbricksburg images.
---
To Be Continued…. Next week, we'll look at some examples and a side-by-side compare and contrast.
More reading
Leave your comments for what you would like to see next in this theme, or chime in with the Toy Photographers community on MeWe.
Check out Teddi's lighting woes and tips here, read up on James' budget-friendly light diffuser solution here and Kenton's no-budget (but phone required) entry here.
Thanks for playing! – Matt