Through my own creative journey, I've learned the hard way that I'm not a product photographer either, I thought it would be fun to throw in my two cents.  There has been Kristina's aborted attempts at creating a set review, James's recent set review and Brett's most recent attempt at working with a marketing firm.
I'm not suited to be a product photographer because I approach photography not as a way to make money, but as a vehicle for self expression.
The important thing is, you have to have something important to say about the world.
But that doesn't mean that some part of me doesn't want more. I understand the allure of receiving acknowledgment for creativity and hard work. At some point the likes and comments from social media aren't enough. I see other photographers who are being recognized by toy manufacturers. They receive toys ahead of release dates and some even are creating books! A part of me wants this same recognition. Then I come to my senses.
Be careful what you wish for
All of the areas of recognition that I've mentioned come with strings. Some of those strings are rather weighty. When you start accepting work for pay or trade the equation changes. Suddenly you're no longer creating images based on personal whims, but images based on someone else's expectations. Sometimes its hard to know what those expectations are, and sometimes their expectations are unrealistic.
Let's face it, the client doesn't know the limitations of the toys, or how much work goes into photoshop effects. Often the work that is being requested is not commiserate with payment or expectations. It's the rare client who has low expectations and a large budget. Suddenly what is a fun hobby becomes work.
Creating relationships with art directors or marketing liaisons takes effort. Successful relationships need to be built on trust and experience. And unless you plan on becoming a professional photographer, its hard to justify the time and effort. Of course, if your goal is to be a professional photographer, you will need to put in that time and effort. But I think that for the majority of toy photographers, simply having fun is our main goal.
My own forays into toy photography for a client where not entirely successful. I didn't enjoy the process of creating a review for the collectible mini figures. I'm so grateful that Brett loves this part of our job! His reviews are always fun and informative! While I enjoyed reviewing Minecraft: The Village, my work was months late. No one wants a review to come out months after the release date! My most recent attempt at photography for LEGO was also a lot of fun. But I spent over 80 hours on the project in exchange for a handful of sets. Not the best use of my time.
Follow your passion.
The best advice I can give you is to follow your passion. Create work that makes you light up. Respect and follow your creative curiosity. Listen to the ideas that are trying to get your attention. Be responsive to those ideas and act on them. Don't get distracted by false promises of fame or fortune by creating work for someone else for next to nothing.
Create the work that is important to you. Create work that speaks to you and then share it with the world. If you're looking to move beyond social media there are lots of opportunities to share your work in the physical world. Here are a few that I've tried:
Coffee shops or Restaurants
Craft or art galleries
Toy stores
Comic conventions
Studio or home exhibition
Self published books
Arts and crafts shows
All great adventures start small and build with each success. Start with your family and friends. If you have their support, then consider widening your circle. Listen to what people say about your work: both the positive and negative. If you plan on selling your work to help fund your hobby, you need to be responsive to your potential customers without loosing your own creative vision.
I admire those who can be product photographers, but I know it isn't for everyone. If you want to share your work, you need to get creative and find other opportunities to share the work you are proud of. Being a successful creative is more than simply receiving paying gigs. Some rewards are more subtle and often more fulfilling than money.
Have you ever experienced the smile of someone who is reacting to your photograph in person? Have you ever had a conversation with a fan in person while they tell you how much they love your work? Or have you experienced sharing stories about toys with a fellow toy photography enthusiast? It's experiences like these that are more valuable than pay for a well done product photograph.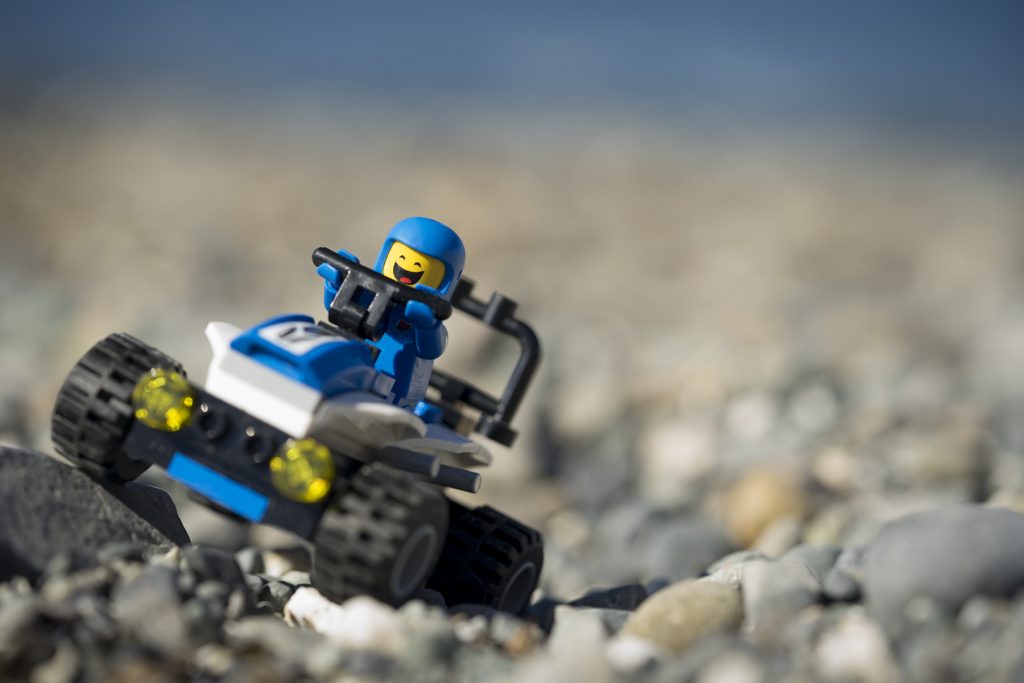 I will leave you with this quote by Elizabeth Gilbert from her most recent book Big Magic, Creative Living:
"What is creative living? Any life that is driven more strongly by curiosity than by fear." Elizabeth Gilbert
This is why I'm not a product photographer, I'm an artist dedicated to living a creative life. One driven by curiosity about my own journey and the journeys of my fellow creatives.
Shelly
Are you a product photographer, a creative or some combination of the two? 
And if you've made it this far I encourage you to sign up for our weekly email round-up. Or join our G+ Community were we hold monthly contests with prizes for the winner!