While Brett is always on hand to review the latest series of Collectible Minifigures, we felt that expanding our reviews to include full sets was in order. We're also looking forward to premiering some non-LEGO reviews as well for the action figure crowd.
These new reviews will come with a twist! Instead of centering the discussion on things like piece count or the build itself, we're taking a look at its overall photographic potential. We are toy photographers after all!
The first review out the gate is the LEGO Star Wars 75176 Resistance Transport Pod, which hit store shelves last week as part of the Star Wars: The Last Jedi Force Friday event. The transport pod is a new vehicle with a unique design, and comes with two minifigures (an updated version of Finn and a new character, Rose Tico) and the fan-favorite droid BB-8.
The Minifigures

The two minifigures alone offer a lot of photo potential. The Finn figure is slightly updated from those released in previous The Force Awakens sets. He comes with two new faces – one smiling and one panicked – which are a welcome change to his two previous stern looks. Both his jacket and pants have slightly updated designs as well and are an overall improvement to the original design.

Rose Tico is a maintenance worker in the Resistance who teams up with Finn during the film. She comes with two faces, and a fantastic new hair piece! It flares out on the sides, has detailed bangs, and a pony tail. From the little I've seen of Rose's character in the new movie, it's remarkably accurate. She comes wearing a brand new set of heavily detailed coveralls, complete with a shiny belt and plenty of pockets.
This is the sixth set to feature BB-8, and his design remains unchanged. At only $30.00 USD, the Resistance Pod is the cheapest kit featuring the cute little droid. If you still need to add him to your collection, this is your best bet. It's also the only set currently featuring Rose Tico, who I suspect will become a fan-favorite character come December.
The Vehicle
As I mentioned earlier, the Resistance Transport Pod is a new vehicle, with a design we have yet to see in the Star Wars universe.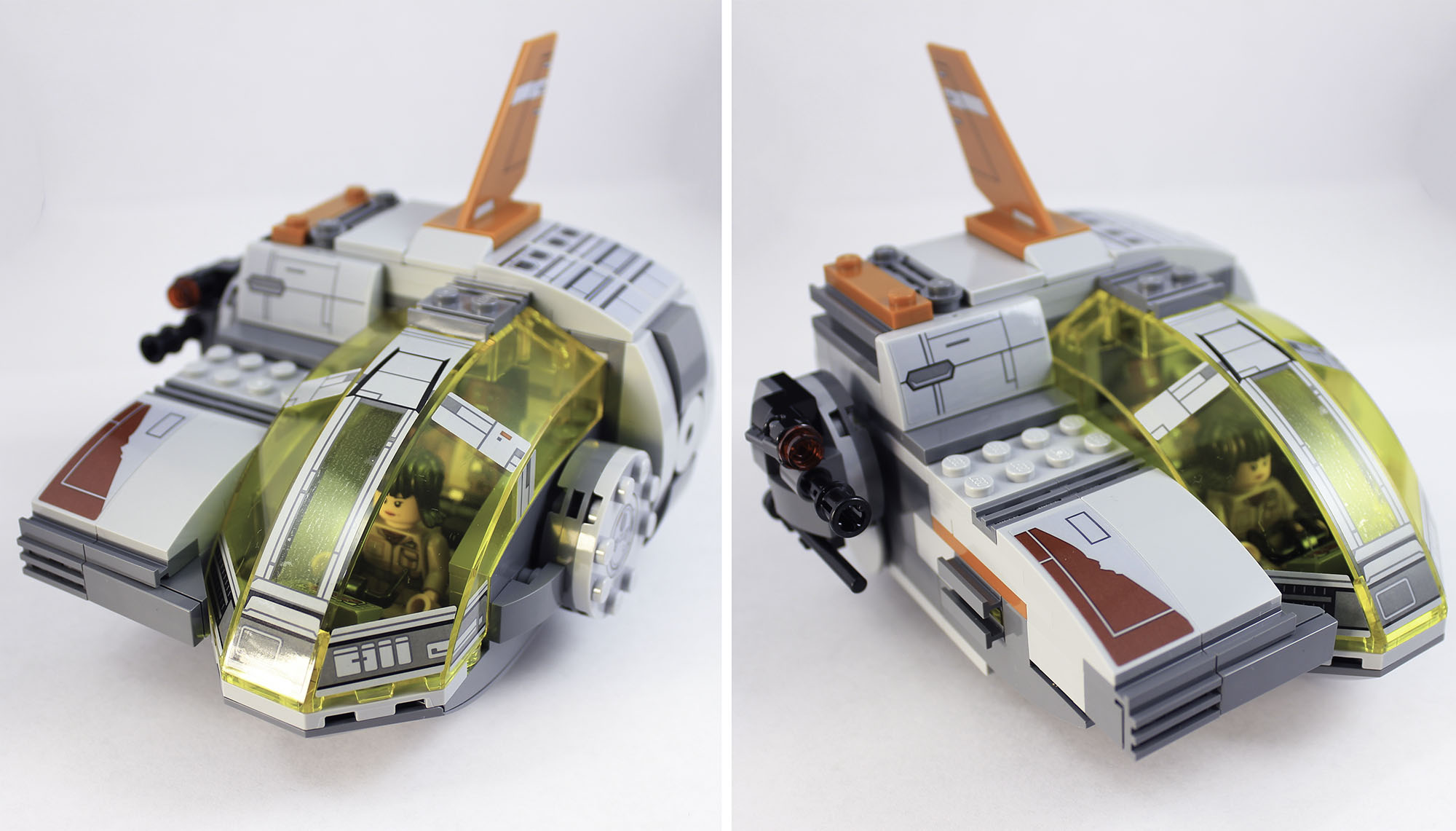 It's not as unique or flashy as some past ships, but has a stocky build and a few great details. The cockpit fits both minifigures, a side panel hides a weapons cache, and there's a cozy little spot for BB-8 in the back.
I found this a tad troublesome when taking photos, only because it meant I had to find clever ways of including him in my shots. It's not a dealbreaker by any means, but something to consider if you're hoping to feature him in your photos.
I additionally struggled shooting the pod itself. To be fair, this is mostly because I have no context for it yet. It looks like it's an ejected part of a larger vessel (which is alluded to in its name), though it could be some kind of short-range transport that Rose and Finn use on their mission for the Resistance. I think I'll revisit these photos once I actually see the film, since I'll know more about its purpose.
Unlike a lot of other Star Wars ships, the Resistance Transport Pod is asymmetrical. There are a handful of small details on each side, so finding one particular angle to shoot from was a bit tough. I fully expect this will be fun to experiment with on future shoots.
The Verdict
So, is the LEGO Star Wars 75176 Resistance Transport Pod worth the purchase? Absolutely!
This is currently the most affordable set in the Star Wars: The Last Jedi sub-theme, and is the only one to feature Rose Tico. So if you're at all curious about the upcoming film and want to start experimenting with new vehicles and characters, this is a great entry point. The build itself was fun (if you don't mind stickers, of which there are a lot), and while I don't have much context for it yet, I enjoyed playing around with the Pod in various photo scenarios.
Overall, this is a promising addition to the ever-expanding line of LEGO Star Wars vehicles. With a new ship, two minifigures, and a BB-8 droid, this set contains plenty of bang for your buck.
Have you picked up the LEGO Star Wars 75176 Resistance Transport Pod yet? What do you think of it? Sound off in the comments below! 
James
If you've made it this far I encourage you to sign up for our weekly email round-up. Or join our G+ Community where we hold monthly contests with prizes for the winner!