No borders, just horizons—only freedom.

–Amelia Earhart
The third set from the LEGO tributes series commemorates Amelia Earhart, an aviation pioneer who went missing in 1937 during the trip to circumnavigate the globe. It follows on two previous tribute sets, 40291 featuring Hans Christian Andersen, and 40410, the Charles Dickens Tribute.
The 40450 set will be available as Gift with Purchase with qualifying purchase: $99 / €99 / £99 threshold, since March 6.
The Pilot
There's more to life than being a passenger.

–Amelia Earhart
The life of Amelia Earhart—a journalist, writer and aviator—is perfectly described by the metaphor of Icarus: She looked far beyond the horizon, flew high and, unfortunately, was thrown out of the sky prematurely. She indeed was like Icarus: brave, visionary and beautiful. However, unlike the mythical winged young man, Amelia was not characterized by recklessness and an excess of ambition. She built her wings, on which she flew up high, not with wax, but with hard work and sacrifice.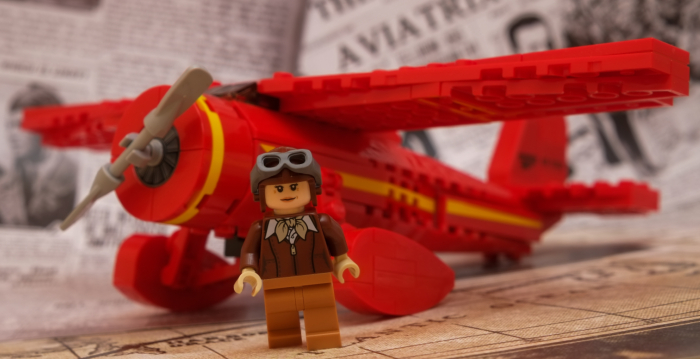 Amelia didn't have a love for aviation since childhood. As a kid, she preferred games that didn't quite fit the girl role at that time. She climbed trees, caught insects and frogs. She was educated to become a nurse, but everything changed when she saw a plane doing nose-dives during a show at the Toronto Aviation Fair.
And the spark caught fire.
If it were a movie, we would now see a sequence of brief shots featuring Amelia undertaking various activities and working hard to pay for the pilot's course, and then to buy her first plane, nicknamed "The Canary," which she later had to sell due to the Great Depression. However, before this happened, she soared in The Canary, a yellow Kinner Airster biplane, to 4,300 meters, breaking her first aviation record.
Over the proceeding years, despite various problems, including health obstacles, Amelia increased the ceiling of her influence on aviation, becoming a kind of aviation celebrity. She was called "Queen of the Air" by the press, and she used that status to promote aviation—female aviation in particular. Amelia was also an activist, she was member of the National Woman's Party and an early supporter of the Equal Rights Amendment. On June 18, 1928, she became the first woman to fly across the Atlantic as a passenger aboard a Fokker trimotor aircraft piloted by Wilmer Stultz and Louis Gordon.
But she didn't want to be a passenger anymore.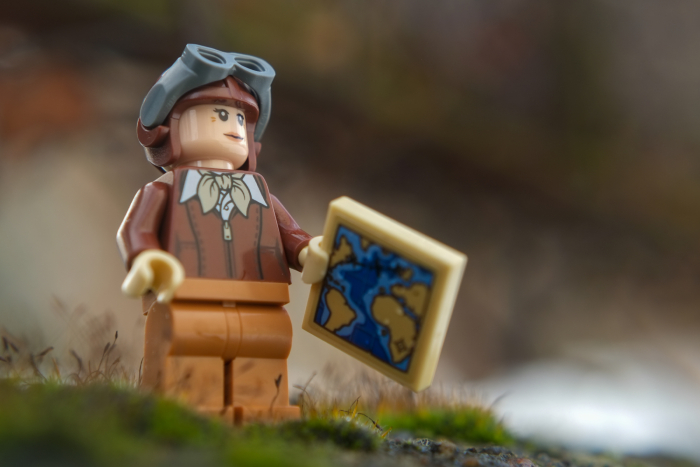 On May 20, 1932, Earhart took off from Newfoundland, to arrive in Ireland less than 15 hours later, breaking a new world record—she became the first woman, and second person in the world, to fly alone over the Atlantic.
The minifigure we received in the 40450 set seems to refer to this period of Earhart's life: a tough aviator in a pilot cap and goggles, with a scarf around her neck, wearing a leather jacket and khaki pants. She holds a map of Atlantic Ocean with flight route.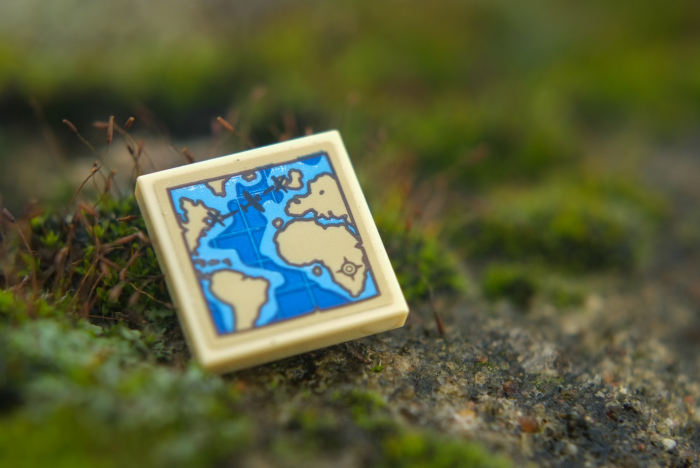 The plane
As soon as we left the ground, I knew I had to fly.

–Amelia Earhart
This is where the plane enters the runway—a Lockheed Vega 5B, which Amelia Earhart flew alone over the Atlantic. The elegant red machine with yellow details is quite impressive. The designers did a pretty good job of rendering the oval shapes of the plane using angular bricks.
The early phase of building this plane is kind of funny—due to the fuselage symmetry and the lack of distinctive details at this stage of building, we don't know where the top and bottom are, so we build in the dark. It's an interesting and amusing experience. Mounting the chassis dispels these doubts. Fun fact: The raindrop-shaped fairings are closed and have no wheels.
While the model does not have many elements, it reflects quite well the shape and character of the plane. These serrated places on the sides of the hull could be covered better though. On the other hand, the silhouette would become bulky. All plane markings and decorations are added with stickers. The silver information plaque and Amelia's map with route are also made with stickers. But the round tile on the front has WASP SC-1 radial engine cylinders printed. I don't know the reasons behind these choices.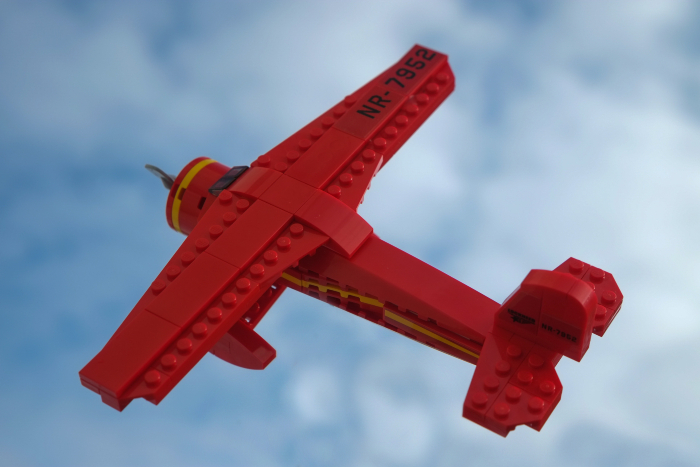 The plane is put on a solid, black display stand with a stylized information plate, decorated with small plane silhouette. The choice of plane is obvious—Lockheed Vega is a symbol of Earhart's first independent success and another record.
Taxiing to runway
Building this set is fast and pleasant, and the effect is pretty satisfying. I would prefer it was placed on a slender, more vertical stand, which would give it more lightness. On the other hand, the solid black base gives the set a noble character, making it similar to stylish decorations, matching heavy wooden desks and dignified interiors.
Fortunately, the plane is not permanently attached to its display stand and can quickly take to the skies. And then, of course, it looks even better.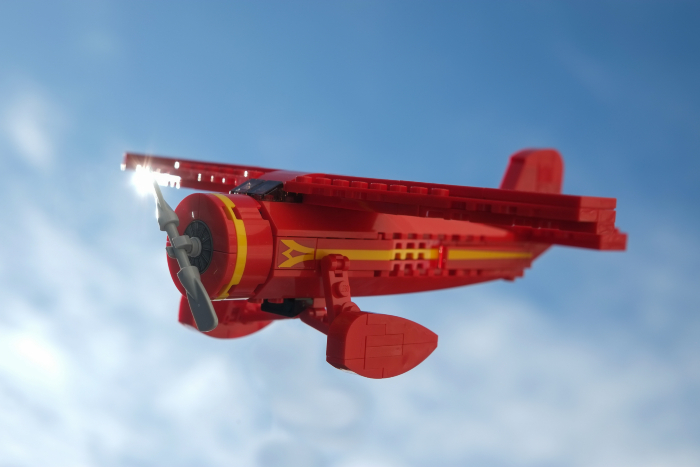 I'm pretty sure that the Airplane Girl minifigure—which can be found in the blind bags of LEGO's Collectible Minifigures Series 21—refers to this set. The choice of this little girl in pilot cap in a red airplane couldn't be a coincidence.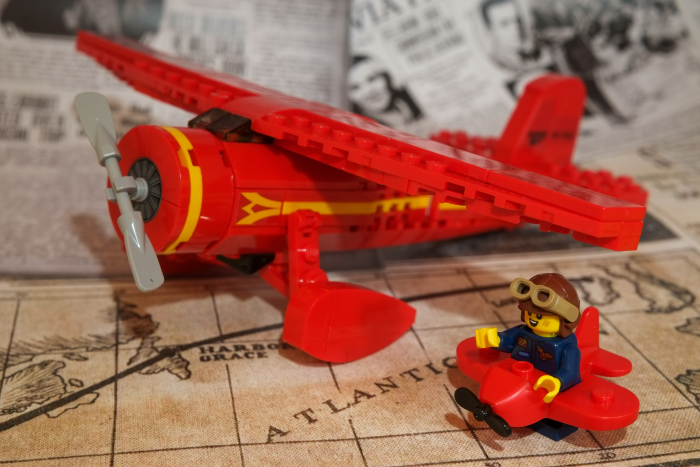 I'm glad that LEGO has decided to release this set. My four-year-old daughter Melania, who in our family is responsible for assembling each figure in new sets, thanks to set 40450, already knows Amelia Earhart and knows she was an aviation pioneer. For now, however, she doesn't know that Earhart's radio died in 1937, and that her fate, and that of her navigator, Fred Noonan, is still unknown.
In Melania's imagination Earhart continues to fly towards the sun.
Thanks to LEGO for providing this set for review.
Hotel Echo Lima Lima Oscar!! While you're here, we invite you to sign up to our weekly Toy Photographers email roundup where you'll get a recap of all the week's babbling. And while you're at it, you should definitely join our MeWe community! We hold monthly contests with prizes and lots of other cool stuff. Roger!