Despite owning a nice little collection of minifigures and a few random sets that caught my eye over the years, I'll be the first to admit I'm not a hardcore LEGO guy. But I was immediately enchanted by the paranormal-centric Hidden Side series. I was especially keen on the Wrecked Shrimp Boat (70419) and the salty seafarers who come with it, so I jumped at the chance to review it.
The playset's nautical theme—which reflects the Long Island, NY fishing community where I live—and the fact that I've spent more than a decade studying and investigating ghosts and haunted places in real life, definitely drew me to it. For those who don't know, LEGO's Hidden Side world has a fairly detailed story line focusing on the town of Newbury and a young team of ghost hunters/livestream vloggers: Jack Davids, his best friend Parker L. Jackson and Jack's adorable, dead ghost dog Spencer.
What's inside
The Wrecked Shrimp Boat's box includes bricks, stickers and instructions to make the rickety old trawler and a rocky set piece, as well as minifgures of the boat's crew—Captain Jones and his first mate, Jones Jr.—an albino alligator, yellow kayak with paddle and, of course, minifigs of Jack, Parker and Spencer. Like all Hidden Side playsets, the Wrecked Shrimp Boat interacts with an augmented reality app that kids will enjoy, because (surprise!) they play with LEGO, too. But more on that later.
In the real world, outside our phone screens, each Hidden Side set features a "normal" daytime version and a haunted, ghostly version. With a quick head swap and the addition of two glowing accessories, for example, the Captain Jones minifigure changes from a grizzled fisherman in yellow slicker and hat, to a Lovecraftian, Cthulhu-inspired ghost with glowing face, tentacles and pirate's cutlass (see close-up at top of page).
At the same time, the rocky set piece opens to reveal a spooky face with glow-in-the-dark eyes and teeth, and the boat can be split in two and mounted like it's scuttled on those rocks. Both the ghostly and regular versions look great and expand options for play, display and, best of all, toy photography!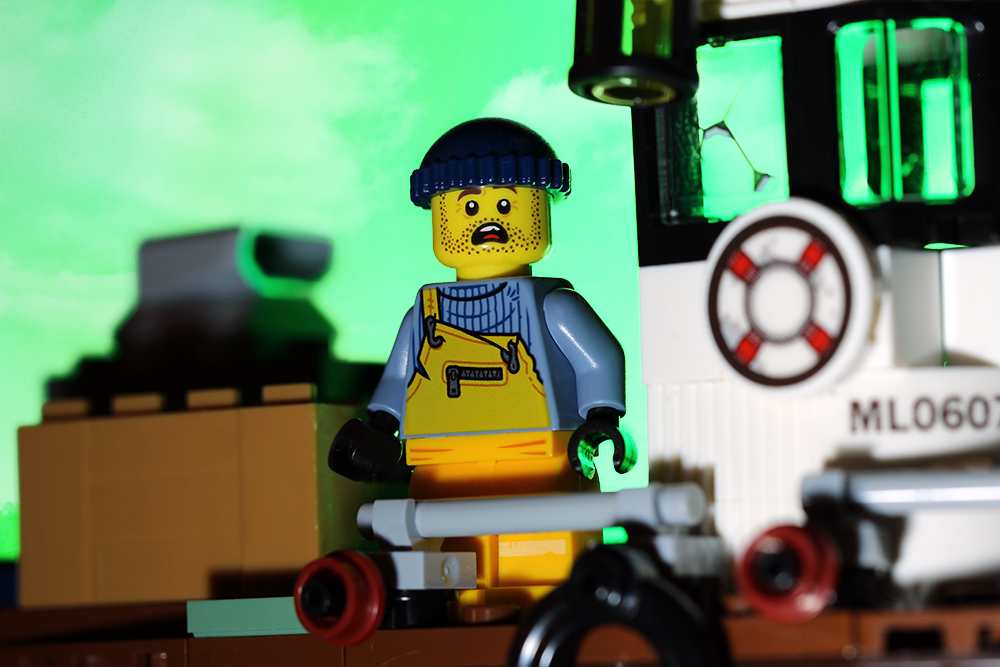 Shooting the set
I happen to love the paranormal stuff, but fans of LEGO City or even Juniors will definitely find plenty to enjoy without adding the spookier elements. This playset presents a wide narrative range and plenty of subject matter for your pictures. Everything in the Wrecked Shrimp Boat set is rich with character and personality—from the fishermen and boat to the ghost hunters, the alligator and, my favorite, Spencer the ghost dog.
According to his bio on LEGO.com, Spencer died in a traffic accident shortly before Jack moved to Newbury, but the haunted town brought him back in ghost form. I've always been a fan of LEGO's dogs, and Spencer is a welcome addition to my growing pack. His bright white color and simple shape, however, can make him a bit more difficult to photograph, especially with other, darker subjects.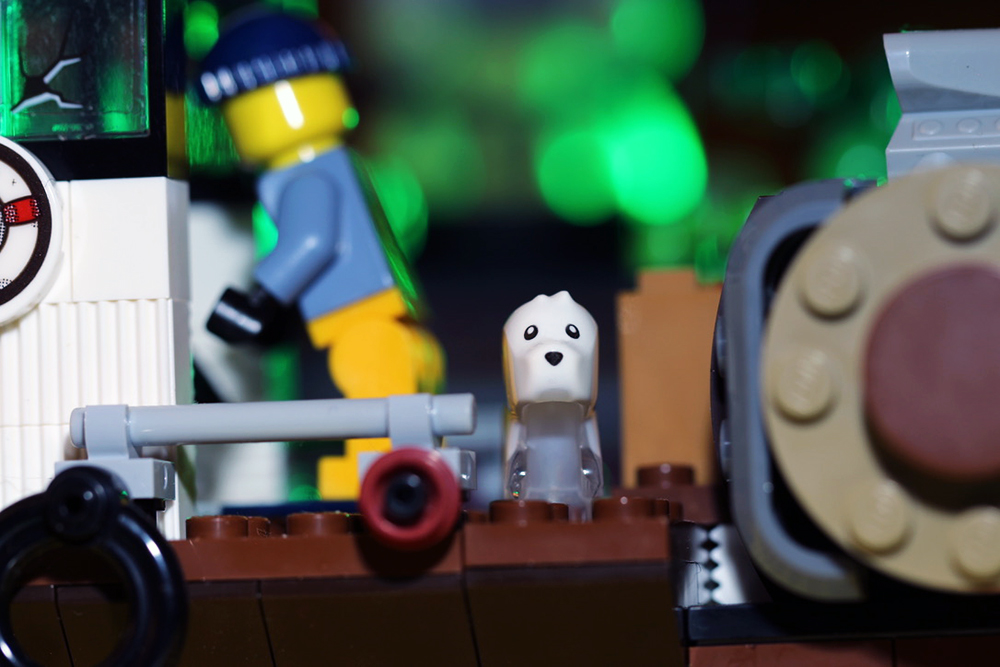 The albino alligator adds some non-paranormal danger to your scenes. With red eyes, hinged jaw and a notch designed to fit the paddle between its teeth, the gator appears made to attack Jack, Parker and Spencer on the kayak. I tried to capture this with some action shots using forced air and a tray of water.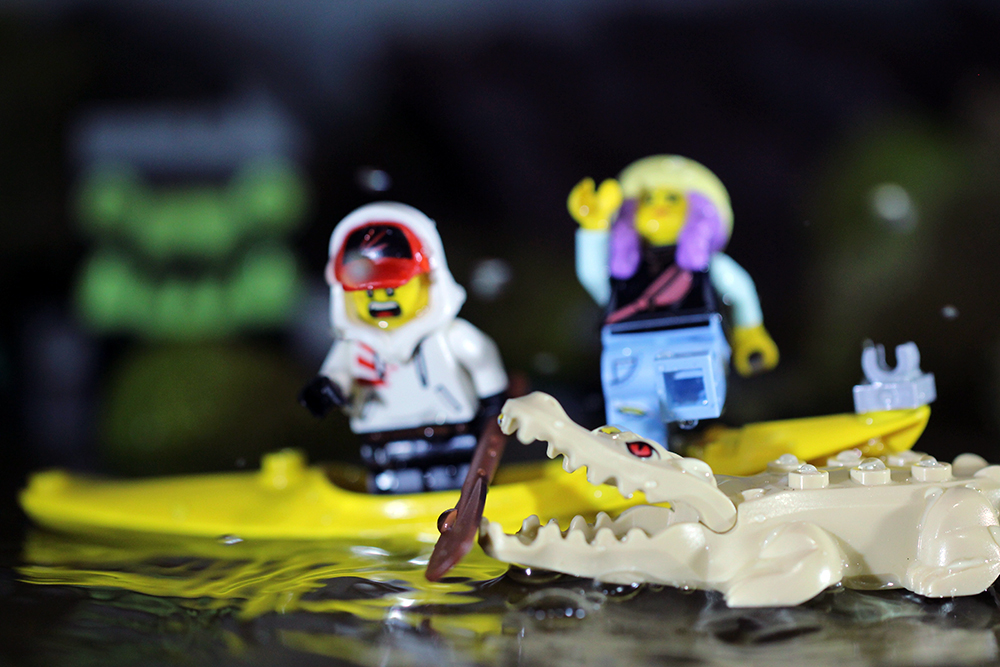 Jack and Parker each have two faces, including scared expressions, which really add drama to photos. Here's the alligator biting down on Jack's paddle, sending Parker reeling back into the drink.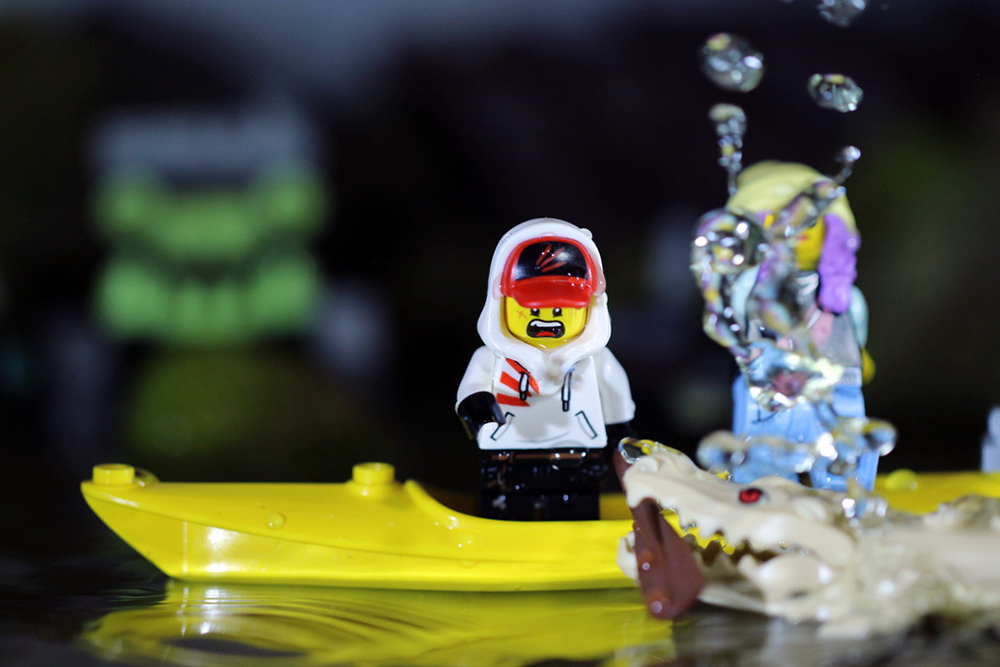 I also took a few shots of Parker by herself, using some spare LEGO trees and foliage that didn't come with this set. She's holding one of two mobile phones the ghost hunters use to livestream their adventures. All of the minifigs have detailed paint applications, and their phones, made with 1 x 2 tiles, even have little pictures of ghosts on the screens.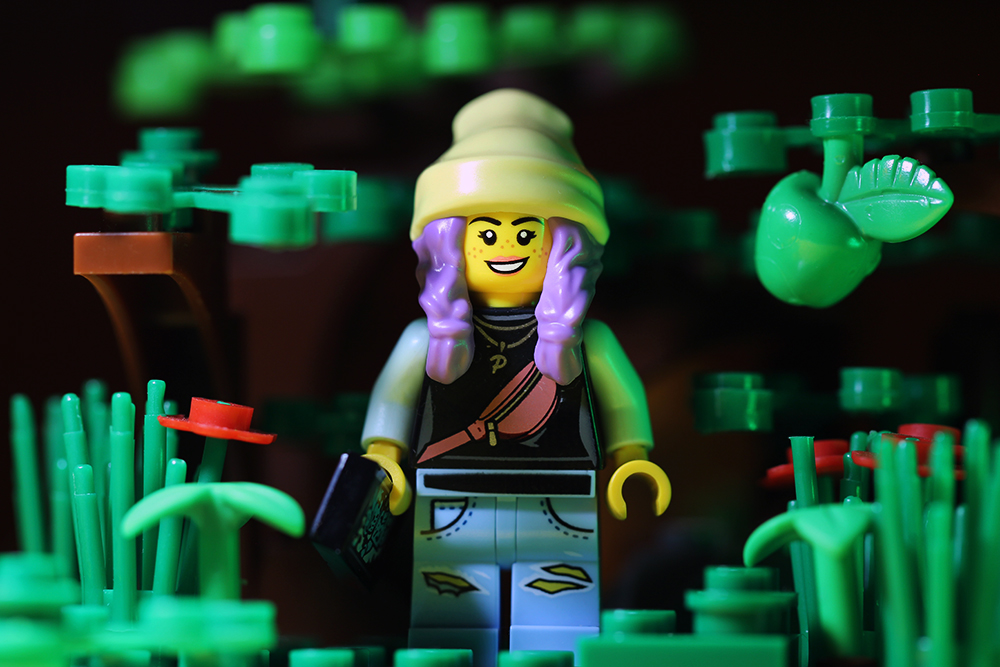 The Hidden Side app
The tiny LEGO phones connect kids to Jack and Parker as they step into the role of ghost hunter and use real phones with the Hidden Side app. Free to download for iOS or Android, the app asks users to view their builds through the screen and zap ghosts as they appear in real time. The game is pretty simple and fun as a brief distraction.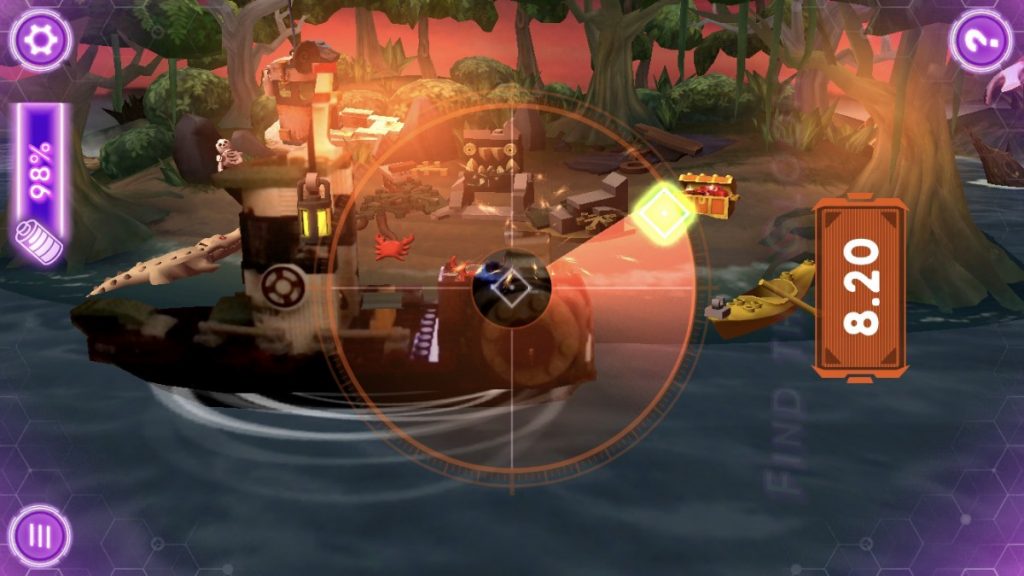 It also has an absolutely chaotic and baffling multiplayer mode with various rewards as players progress. I found this game pretty overwhelming and confusing, but it's not really made for 43-year-old AFOLs. I expect kids will like it. Because let's face it, kids and chaos often go hand-in-hand. You can judge for yourself.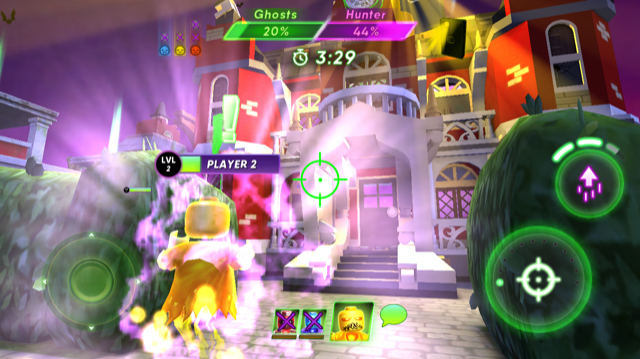 Final thoughts
Like all LEGO Hidden Side sets, the Wrecked Shrimp Boat is beautifully made, not overly complicated to build and great for toy photography. I will definitely get use out of the boat, and even more from the minifigures—especially the fishermen and cute little Spencer, who steals the show.
Let us know what you think of this set and LEGO's Hidden Side world. You can find more of my toy photography on Instagram @oliversees.
– Oliver Peterson