Back in 2010 LEGO blew the arms off the minifigure landscape when they debuted their blind bagged, Collectible Minifigure Series. Now, 10 years and more than 300 minifigures later* the CMF theme is still going strong as a favorite for toy photography fans everywhere.
In this post I take a look at the 16 minifigures that make up the colorful cast of characters in Series 20—from vikings to vegetables. I'll also be sharing some feel tips** to help you find the minifigures you're after.
*Over 500 if you count all the different CMF series.
**I get that feel tips may not be helpful while most of us are sheltering in place, but they are there if/when you need them. Stay safe, everyone!
Piñata Boy
First up is Piñata Boy with his colorful piñata, poncho and sombrero. As adorable as this minifigure is, the piñata accessory takes the cake. I can see this minifigure being super popular as people try to build their own LEGO piñata armies.
Piñata boy also includes a stick to swing. However, I wish there was an alternate, blindfolded expression for when it's time to actually whack at the piñata.
Feel Tips: Piñata Boy's sombrero is a dead giveaway. Feel for the round brim and point in the center. It's hard to miss. If want to be doubly sure, you can also feel for the piñata itself.
Hip Hop Girl
I wasn't sure what to make of Hip Hop Girl at first, but this photo ended up being one of my favorites from this series. She has a wonderful, hat/hair piece combo, great leg printing, a colorful boombox and one of the posing stands that was first introduced in the DC Minifigures series.
Feel Tips: The boom box is fairly easy to identify in the bag, as it is the only 1×3 brick in the series. Feel for the handle on the top in-between two studs. You can also search for the unique hat/hair combo piece. Check for the hat's round brim and the hard plastic hair.
Pea Costume Girl
Whether you eat your peas or not, this Pea Costume Girl minifigure is a great vegetable for your collection. I love the green lips this figure has on both of its facial expressions, along with a fun torso print with a bowl of salad on it (for whatever reason). Pea Costume Girl comes with an apple, though I'm not sure I understand why.
Feel Tips: This is one of the easier minifigures to feel for as the pea costume is quite large. Feel for for the rounded peas on the front of the costume piece as well as the point on top.
Knight
The design of this Knight's shield reminded me of Brave Sir Robin from Monty Python and the Holy Grail. Instead of running away (Brave Sir Robin joke), this Knight is truly brave and ready to deal with any foe, thanks to his trusty helm, sword and shield.
Feel Tips: Hunt for the Knight's triangular shield and sword. The shield has a post in the middle to help identify it.
Pirate
Like Hip Hop Girl, the female Pirate is another surprise love for me in this series. Her tricorn hat/hair piece is fantastic, as is her torso/leg printing and dual facial expressions with a chipped (missing?) tooth. This pirate is not to be trifled with.
Feel Tips: Feel for the triangular hat/hair piece along with cutlass sword. The hat has three points on top and flows into a ponytail.
Rocket Girl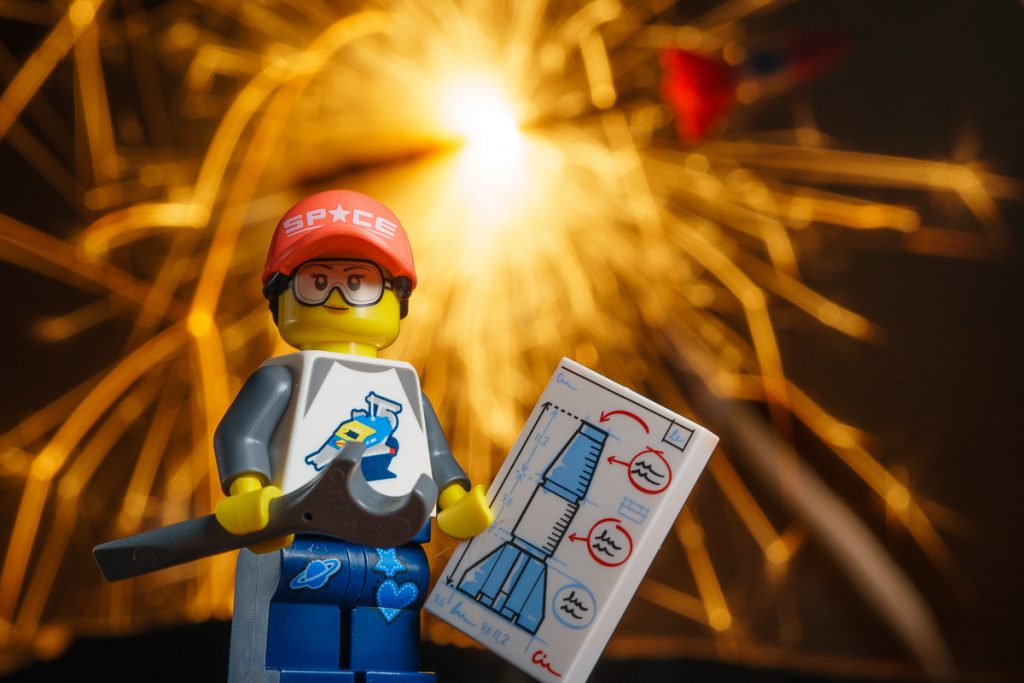 Rocket Girl might just be my favorite minifigure in Series 20. Her pink space hat, along with her classic space shirt, and printed legs look fantastic. Space Girl has two facial expressions, one with safety goggles for when she is working on her rocket, and one without.
Accessory-wise, Space Girl includes a wrench, rocket blueprint and a brick-built rocket with printed NASA piece. To infinity and beyond with this figure!
Feel Tips: You can look for the cap/ponytail combo, but it may be easier to locate the wrench and 2×3 tile peice. The rocket's base should be fairly easy to recognize as well.
Llama Costume Girl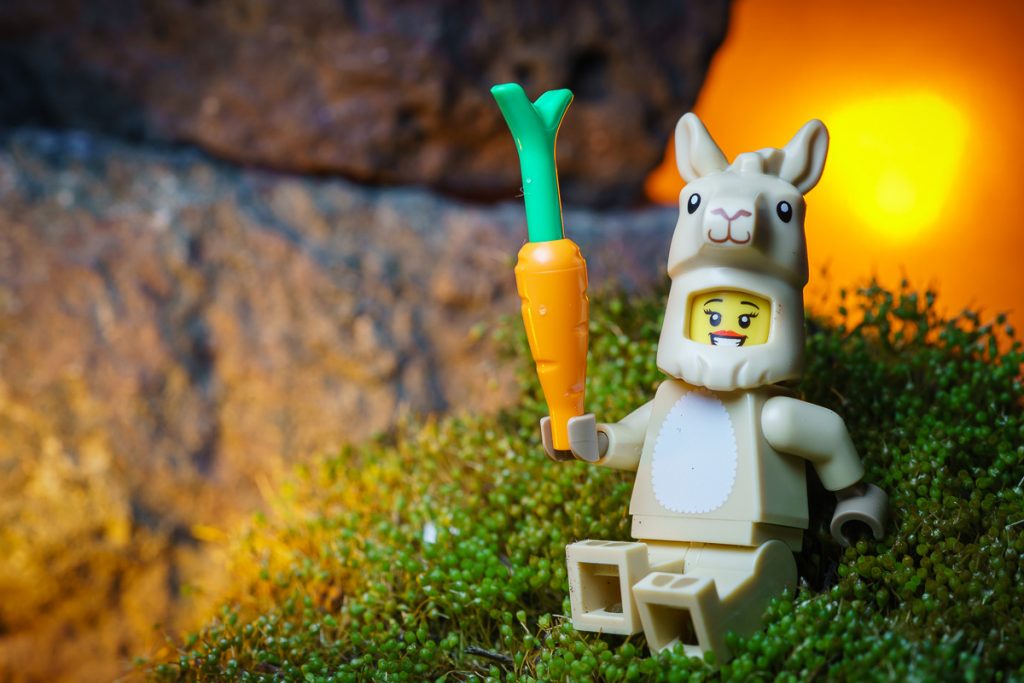 I'm always a sucker for costumed characters, and Llama Costume Girl is another great one for the collection. In addition to the wonderfully sculpted llama head, Llama Costume Girl has two facial expressions, toe prints on the feet, and a printed zipper on the back of her torso.
Feel Tips: Search for the llama head piece by checking for the snout and ears.
Viking
The Viking is a striking minifigure with his orange beard, shield, cape and helm. This is the first Viking minifigure I have in my collection, which is a surprise as LEGO vikings dates back to 2005.
Feel Tips: The contents of the Viking are double bagged, so it may require a little extra effort to find. The spear is a good indicator—just make sure it's not the javelin from the Field Athlete.
You can also feel for the round sheild with the handle on the back. Be careful here as well, as the Field Athete also has a round piece—though that one is a flat plate without a handle on the back.
Red Ranger
Ok, LEGO, now that you've started with the Red Ranger, we better see additional colorways of this minifigure in future CMF series so we can assemble a complete power team. This figure is pure fire, and will no doubt be a favorite from the series.
Feel Tips: Search for the Ranger's helmet, looking for the arrow shape's two points on the top. You can also look for the laser sword, which is very flexible toward the top.
Nunchaku Fighter
Nunchaku Guy is a respectable minifigure in his gi and dual expressions, but it's his nunchucks accessory that did it for me. These are going to be fun to work with, and I'm eager to see how toy photographers contort their figures to get some great fighting poses.
Feel Tips: Nunchaku Fighter may be one of the harder figures to feel for. The only identifiable pieces are his short hair and nunchucks. The nunchucks are assembled, but you'll have to feel carefully for the sticks and chain. There are no other accessories with this figure, so keep that in mind when looking for him.
Field Athlete
The Field Athlete comes ready to compete with her javelin, discus and gold medal (I guess that means she won?).
Her torso sports bib number 0937, which must have some LEGO significance. I couldn't find anthing significant LEGO-wise for those numbers though, so please clue me in if you know. I just hope it's not something so obvious that is going to make me slap myself in the head.
Feel Tips: Look for the flat head of the javelin, and the round discus tile. Be careful not to confuse the javelin & discus with the Viking's sword and spear. Athlete. Flat spear. Round tile. Like the Viking, the contents of the Field Athete are double bagged.
Diver
The Diver looks great in her printed wetsuit, but would you just look at that sea turtle accessory! I know we have seen LEGO turtles before, but this one is just awesome. Like the Piñata Boy, I can see people scooping up several of the Diver minifigure just for the turtle.
Like Hip Hop Girl, the Diver comes with a posing stand, with instructions on how to use it in an upside down manner.
Feel Tips: This one was difficult for me to find. I had trouble identifying the turtle in the bag. I had an easier time finding the leaf (there were two in the bag) and the flippers.
10th Anniversary Green Brick Suit Guy
Here we have the mascot of Series 20, Green Brick Suit Guy, proudly displaying his 10 years tile. We've seen the brick suit mold before in red and blue, and now we can add green to the list. He is ready to celebrate with a giant grin on his face.
Feel Tips: Green Brick Suit Guy's body is a 2×3 brick. You should be able to feel that in your sleep 🙂 He's also the only figure with a 2×2 tile in the series.
Electronic Musician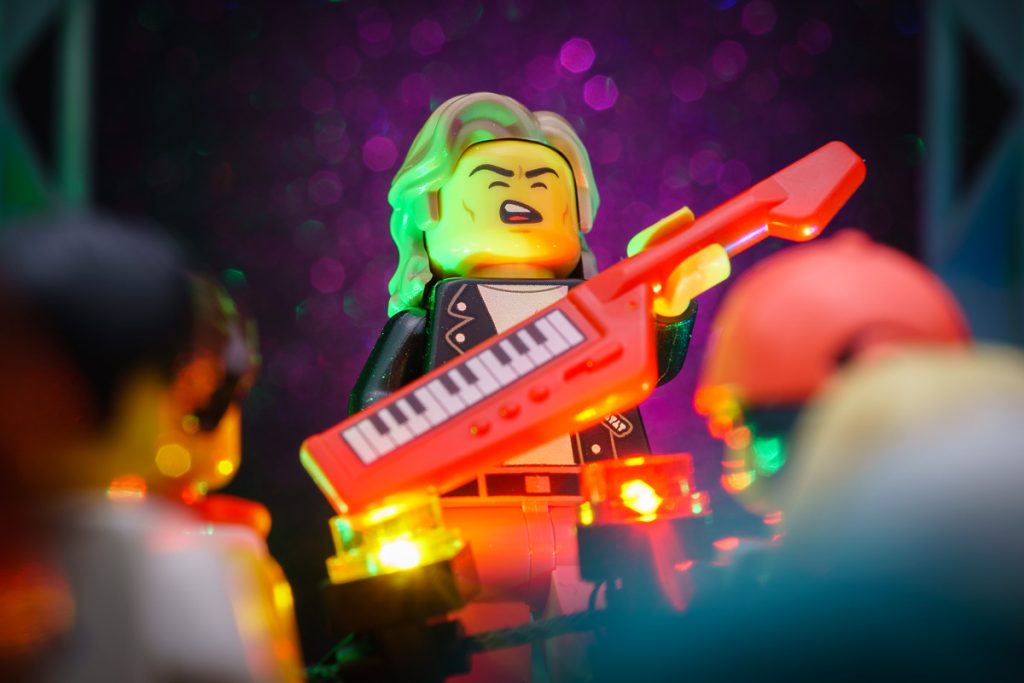 Straight out of '80s new wave is Keyboard Guy. This figure is totally tubular with his keytar accessory, tour jacket, pink pants and mullet. He's got two facial expressions for when he's rocking out on stage.
Feel Tips: The keytar has a unique shape with a post on the back for the minifigure to hold (like a guitar piece). It's fairly easy to recognize when you look for the small triangle at the top and the wider bottom.
Sleepy Girl
I had a tough time coming up with a photo for Slumber Party Girl. I went through a lot of 'twinkle twinkle' and 'lullaby' type ideas before having her jump into a spaceship and rocket off to a slumber party in the stars. Like my daughter, Slumber Party Girl is totally into bunnies with her bunny stuffed animal and bunny print pajamas.
Feel Tips: Look for the long ears on the bunny accessory, along with the short (non-movable) minifigure legs.
Drone Pilot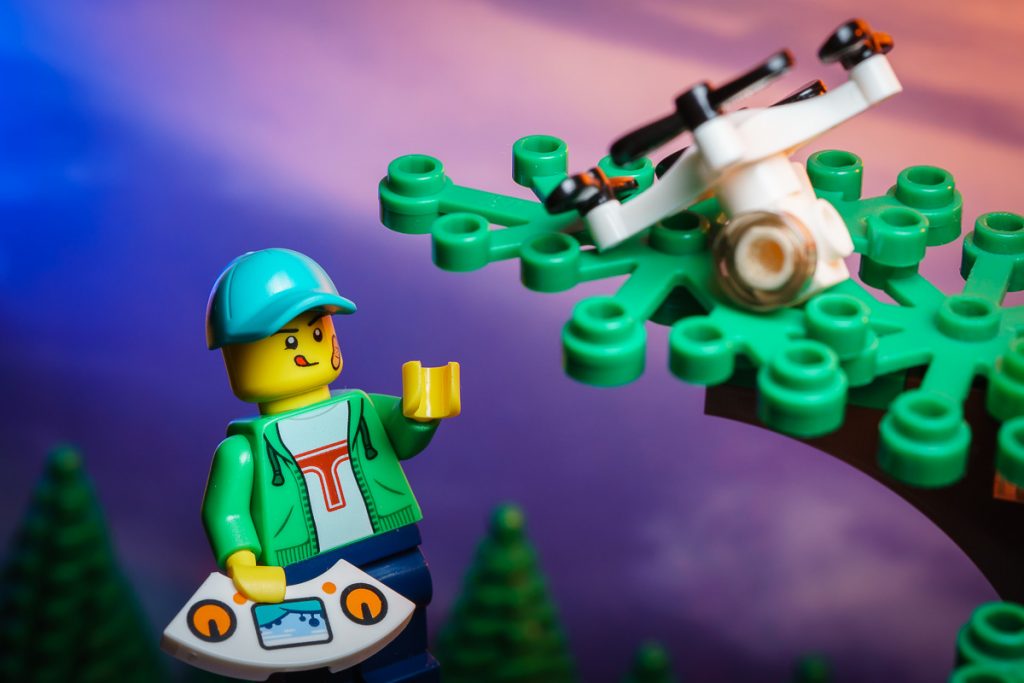 The band-aid on Drone Guy's face endears him to me, as I have suffered several drone mishaps myself (I'm much better now, thanks). The brick-built drone and controller are both fantastic, and I'm fairly sure I make this same face when I fly my current drone.
Feel Tips: The drone's body is easy to spot with it's four arms. You can also feel for the cap and curved controller tile.
Well, there you have it for Series 20. As always, this is another great CMF release from LEGO. Will you be hunting for a full set?