I have dabbled in toy photography over the years and, in some instances, I've been reasonably happy with how things turned out. At other times I feel like my photo just looks like a toy placed in front of something. I've discussed this topic with Alan Rappaport on several occasions. I have always been impressed with Alan's photos, but they also feel like something totally out of reach to achieve.  
I do not have a dedicated camera, opting instead to shoot with an iPhone 8 Plus. I often ask myself if gear limitations are holding my pictures back, or if I just need some lessons on the basics? That's the goal (hopefully) for this series of posts. I'll try to learn more techniques and make the best of the gear I have, while another photographer with more experience offers pointers and ideas.
Recently, I awoke to see an unexpected, light dusting of snow outside. The sun was just starting to come up in earnest and I thought I might have a chance to capture something interesting. Among the toy lines I collect is Star Wars the Black Series figures. I just picked up the Hoth snowtrooper specifically to attempt photographing it in the snow. I've always felt that snow offers an opportunity to turn my yard into a foreign landscape.
First takes
I grabbed my figure and my phone and went outside, then I started texting Alan some of the images I was capturing. We went back and forth about how I could improve the shots.

Took some pictures in the snow
They came out OK
Not sure which is the best or how I can improve
I think the one in the middle has the best angle
I don't know, they feel like they lack energy to me
Like he's posing for a poorly staged Empire propaganda poster

-Tim
Camera closer, background farther
Impressive. Most Impressive
You've got the makings of some solid compositions
and the snowy terrain makes a fantastic backdrop

Try getting a little lower and closer to the trooper with your camera

The closer you are to your subject the shallower your depth of field becomes

This will help separate your figure from the background as well as tighten up your composition

To increase this separation, try bringing the figure closer to you, and distancing yourself further away from the background

-Alan
Take two
The sunlight changed a bit, so I went back outside to try again
I got this

-Tim
I really like the effect of the sun glare
I'm just not sure the picture itself is strong enough
But I feel that I can only get so close before I lose the angle and you can't see the sun anymore

-Tim
Looking good

-Alan
Are my shots too wide?

-Tim
Try moving your figure closer to you, further from the background
Your phone has a very wide lens
It's just a matter of finding the right perspective

-Alan

Let me run back outside before I lose the sun
I'll try to get the figure closer to the camera

-Tim
Takes three
I'm balancing on that huge rock in my yard
In the snow
It's somewhat precarious

-Tim
That is photography in a nut shell
Balancing your subject, your background, your light and even your camera at times

-Alan
Getting in closer gave it more of the dynamics I was looking for
Which do you think is the best?
I'm partial to the last one

-Tim
These look great
That center shot looks stellar
That's the winner right there
The snow in the front adds a great foreground element
It catches the eye and draws me right to the figure

-Alan
Going back inside

-Tim
Post-processing
OK, let's focus on the center one:

-Tim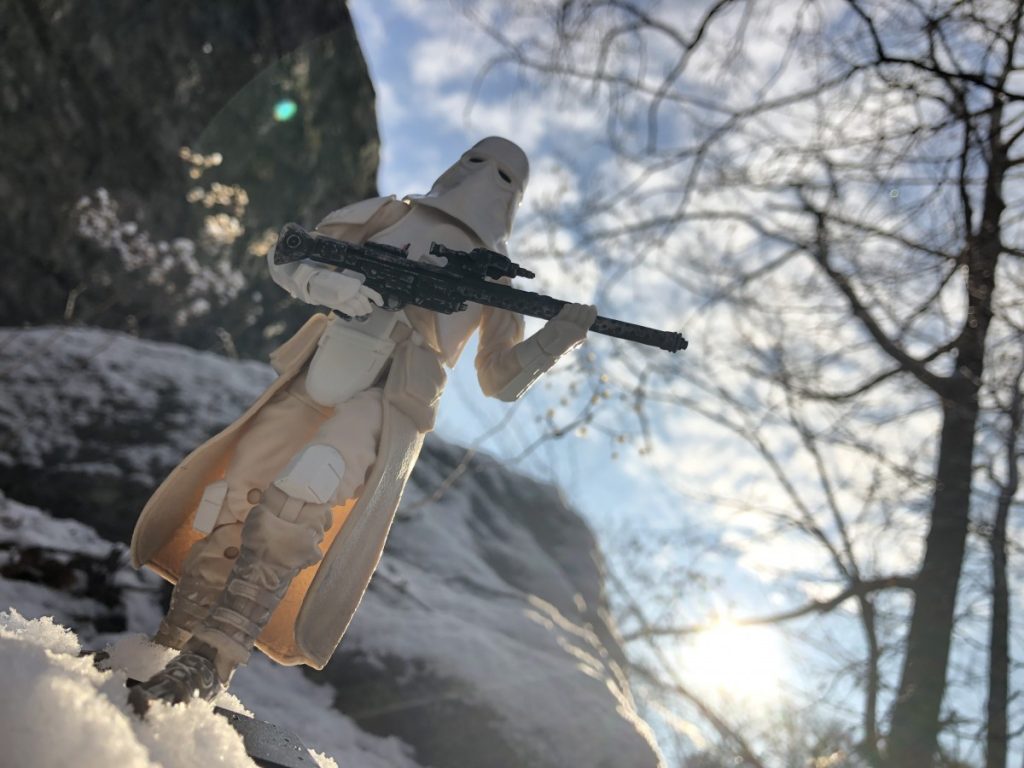 The only thing I have on my phone is Snapseed
So currently that's the extent of my manipulative capabilities

-Tim
My advice here is to go super easy with the editing
Typically, I start by cropping my image tighter before adjusting
You were shooting into the sun, so I'd try bringing up the contrast

-Alan
There isn't much room to crop
You lose his head or the sun if you go in too tight
Here's my first pass at it

-Tim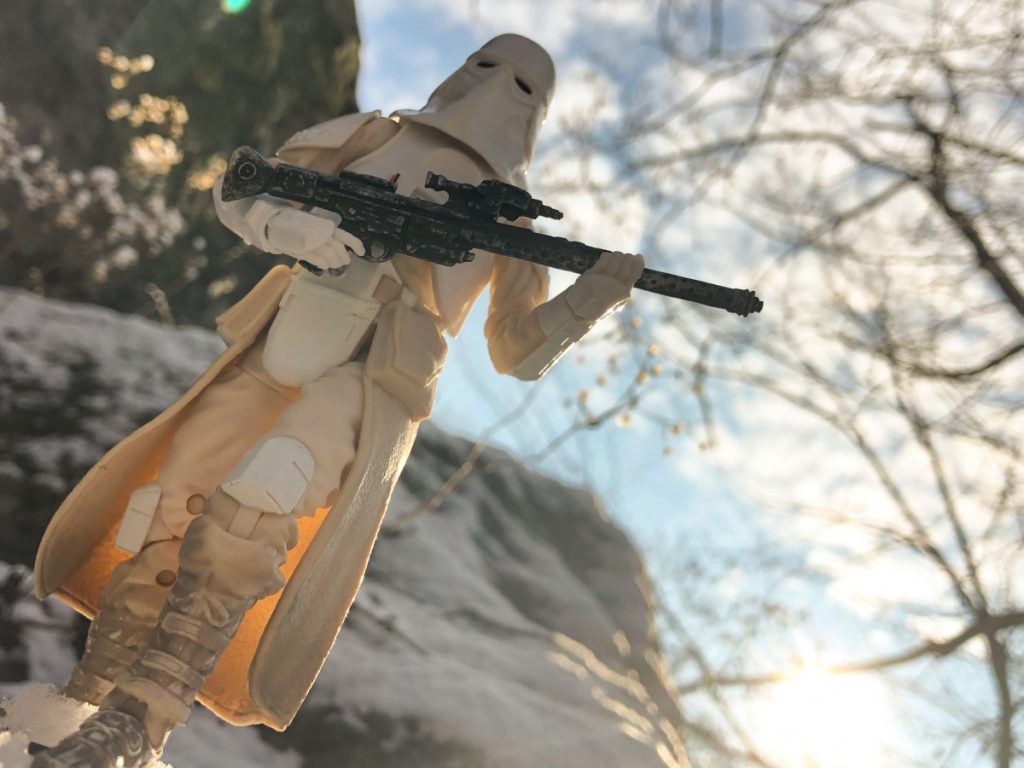 It's often a struggle to keep all the elements you want in your shot
Many times it takes trying different angles and compositions to find the right balance
Sometimes you need to sacrifice a little here or there
It's up to you to determine what is most important in the shot, and what you want to convey in your final image

-Alan
What do you use to edit your photos?
And is it free?

-Tim
I use Lightroom mobile.
I'm not sure if it's free
But I highly recommended if it is

-Alan
Let me try changing a few things

-Tim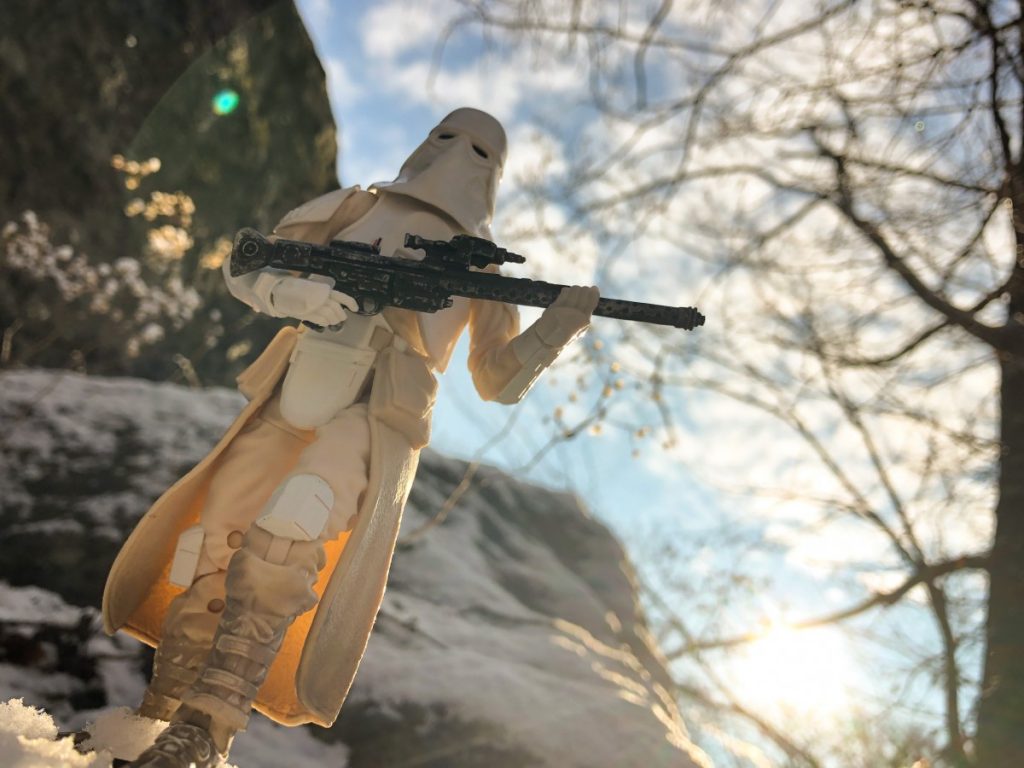 These look too yellow to me
I'm going to start over
Lightroom seems to be free
Downloading that

What other type of editing do you do to your photos?

-Tim
It depends on the shot, but after cropping, I typically adjust my exposure, contrast, vibrance and white balance

Sometimes I'll tweak the shadows and highlights as well
Often, I'll add a very slight vignette to finish things off

-Alan
Final take
How does this one look?

-Tim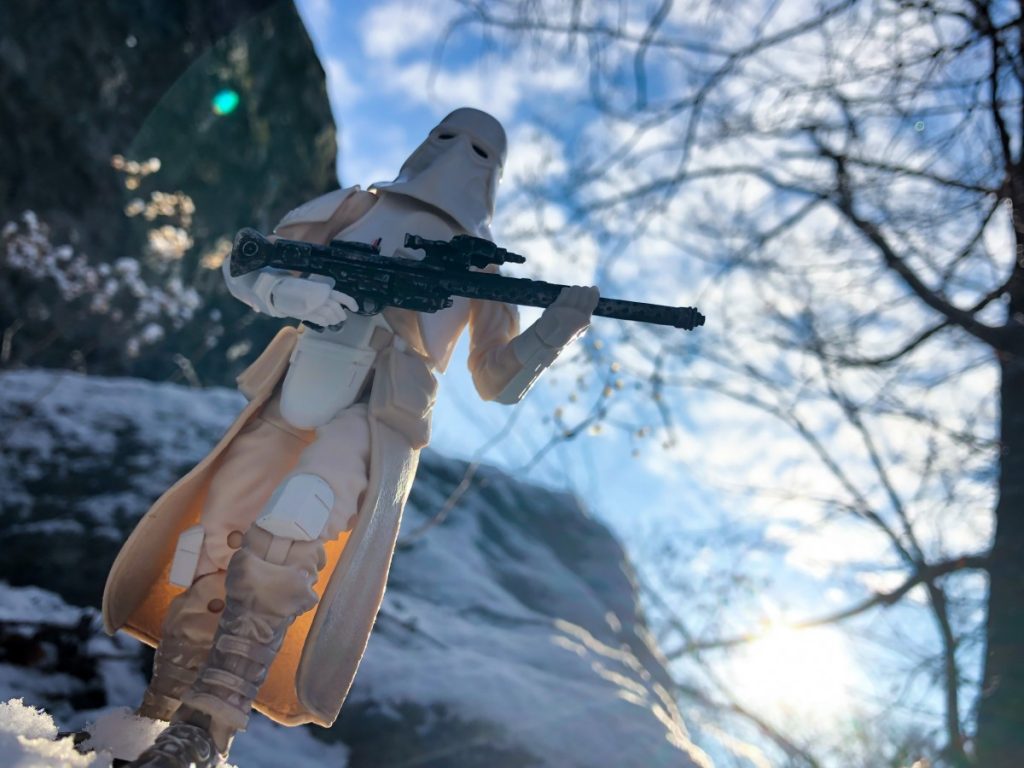 I ended up going into the color section of Lightroom and increasing the hue of the color blue specifically
I think I made it better, or at the very least toned down the yellow I was getting in all of the other attempts
To me, it's looking pretty good and seems to be the keeper of the bunch
It's likely the one that I would put on Instagram I think, unless you think others are better

-Tim
I think that is the keeper
Good balance
Excellent pose
I like the yellow of the cape against the blue sky
Lens flare is a nice bonus
Nicely done!
You've taken your first step into a larger world

-Alan
Closing thoughts
My biggest takeaway this time out is that I don't seem to be putting enough emphasis on the figure itself. I tend to get caught up with finding an interesting place to take the shot and then my focus inevitably shifts to the background and making sure everything fits in the photo.
By getting in a little closer to the figure itself, I feel like I was able to capture scenes that had a little more of the energy my pictures often lack. Playing around with the sun in the background also lead to some interesting ideas, even though the image I ended up liking the most had less lens flare than many of the others.
I also learned that Lightroom has a mobile app and it is free. For my first use, it seems a little more robust than the Snapseed app I have been using, but it also has a steeper learning curve. I'd like to tackle post-processing more in the future to help get the most out of my pictures, once I'm happy with the image itself. But for now, I have to work on improving my in-camera compositions before I worry too much about altering them.