My last post was all about my thoughts on which toys to pack for the Utah Toy Photo Safari.  Since then I have attended the safari, and am on my way home again.  So it is time to look back on my choices and see how well, or how poorly, I chose.
If you need a refresher on my selections, you can get my list of toys on my previous article: Packing For A Toy Safari.
All of the images in this post were taken during my Safari trip, and most of them actually at the Safari.
Additions To My Pack
As I hinted, I tossed some last minute selections into my pack, (all 1:12 scale action figures) Raphael from the Teenage Mutant Ninja Turtles, and the Weird Al Yankovic: White and Nerdy figure.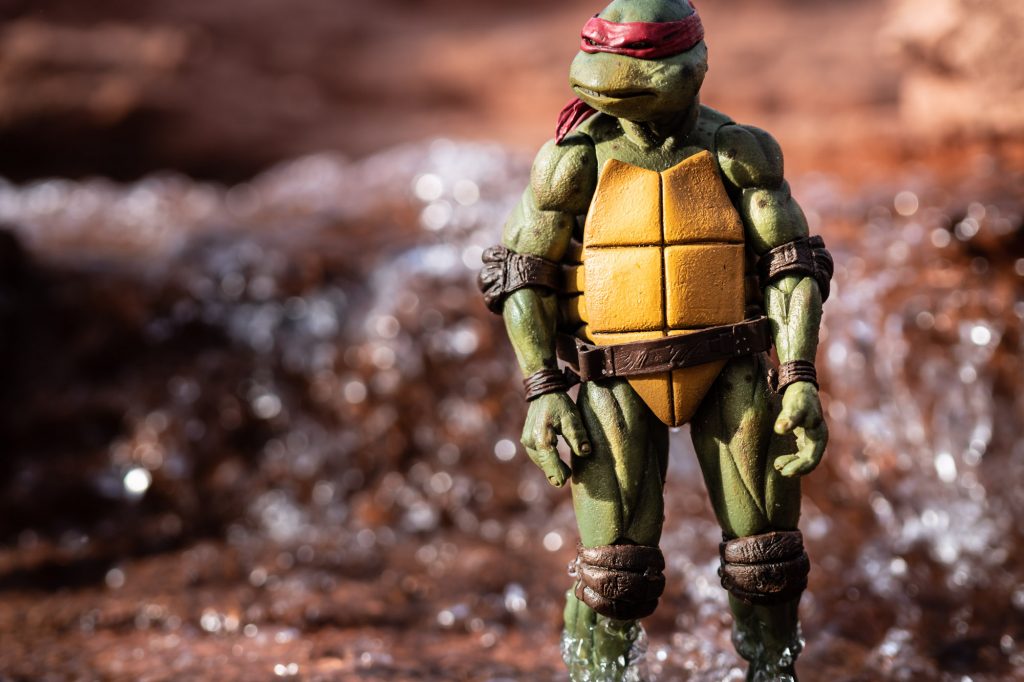 I also bought a some additional 1:12 scale action figures at some toy stores while passing thru Las Vegas before the Safari.  I added to my pack Wash from Firefly, Ace Ventura: Pet Detective, and a Star Wars Black Series Mimban Trooper.
How Did My Selections Work Out?
All told about half of the toys from my pack saw some time in front of my lens.  Additionally several more were borrowed by others to take their own photos with.
This is about what I expected.  The muse is a funny thing, and guessing what will inspire it based on locations one has never been to is really a crap shoot.  For example I never really would have guessed Boba Fett would work so well at a ghost town. (For that matter I was unaware I was even going to visit a ghost town when I packed.)
So using over half of my toy box is more than satisfactory.
Mind you, not all of my attempts worked out.  Some, like the ideas I had for my LEGO aliens, didn't work out at all. However I did learn some lessons from that shoot  that I can incorporate into a second attempt, so not all is lost there.  Not all value of being an artist is in the finished piece. Art is a journey, not a destination.
Borrowing From Other Toy Boxes
The things I am most pleased with in terms of my selections are how well they paired with toys that other attendees brought with them.  I spent many hours taking photos that included both the toys I packed, and toys I borrowed from others.
I borrowed a lot of Dinosaurs, like for the Wash image above, and Hulk vs a T-Rex I borrowed from @papajov:
Also this horse I borrowed from @doctornvrmore, paired with my favourite character to shoot: Deadpool.
The biggest thrill of the toys others brought is the Lego Porsche 911, from the toy box of this blogs very own Shelly.  I spent hours shooting that car, paired with a lot of toys from my pack.  The one that worked out best was my Weird Al: White and Nerdy figure.
Takeaways
So over all I think I did OK with my selections.  Not a home run, but it did keep the muse stoked for the entire trip.  I think from this that I have a couple lessons learned that I will apply to the next time I have to pack toys for a trip.
The first is that it really does pay to give some forethought to ones selections.  Thinking about locations I'd be in, and ideas I've had that required those locations really ensured I had enough toys to cover my bases.
At the same time it is wise to go with ones gut and toss in a few random toys that seem to want to jump out of your main toy box into your portable one. Weird Al was a last minute addition, and it led to one of my most favourite photos of the entire trip.  Raphael also spent a lot of time in front of my camera, and was also tossed in at the last minute.
Over half the shots I took had at least some elements I borrowed from others. So if you are lucky enough to be going out shooting with other toy photogs, be open to using their toy boxes as well (with permission of course!).  Mom was right, it is better to share with your friends.
[dave]
Want more toy photography goodness? Subscribe to our weekly email round up so that you never miss a post.  You can also listen to episodes of the podcast!