Whenever I plan a trip the question of which figures I should bring inevitably rears its ugly head.
It can be a tough question for me to answer as my muse speaks to me in different ways on different days. Right now I am deep in planning for this years Toy Safari in Utah.  This question is now on the forefront of my mind.  So I thought I'd write down what toys I plan to pack in my bag to bring to the Safari, then follow up afterwards to see if I made the right choices.
The Safari is in south west Utah, and I will be flying into Las Vegas Nevada.  If you are not familiar with that part of the world, it is rugged desert.  Very dry, very rocky.  A bit of vegetation, but lots of sand. If you put "barren wasteland" in your mind, you are likely thinking of the right landscape.
It should be a great backdrop for some toy photos.  So what toys shall I bring?
Lets consider the situation and break it down.
The Same Old Toys
I have  several figures that I tend to bring with me on any trip I go on, whether it be two weeks in Europe, or a day trip to a park near my house. As a result I know these figures very well. I feel there is value in bringing figures I am familiar with.  I know how to shoot them. That can be helpful when getting used to a new area.  I have not spent a lot of time in desert environments, and even less time shooting toys in them.  As a result everything will be new.   By having figures I am familiar with, it reduces the number of new things I have to deal with.  It may give me time to get used to the evirons, kind of like a gateway drug. So my regulars are coming with me:
Marvel Legends Deadpool
Marvel Legends Hulk
Black Series Stormtrooper with leather jacket.
Black Series K-2SO
The Locations
Since the vast majority of my toys comes from movies and comics, my mind tends to think of the environments those characters are placed in.  So lets break that down.
For Star Wars the dessert environments that come to mind are Tatooine and Jaaku.  Luckily I can cut that choice in half – I don't have any Force Awakens figures.  I do have some Tatooine figures, so they are making the list:
Black Series old Obi Wan Kenobi
Black Series Tusken Raider
Black Series Boba Fett
For Marvel the options are a lot more limited.  A lot of the Marvel stuff I am familiar with are set in cities, or woodland – not a lot of deserts.  However the Old Man Logan series is based in the dystopian west, so I have one figure that fits the bill.  So it is not a stretch to pack that solitary figure:
The last figure I am going to toss in, simply based on the environment I will be in, is Gandalf The Grey from Lord Of The Rings.  The reason is that he always reminds me of epic journeys.  The western US also reminds me of epic journeys. As a result, I am going to toss Gandalf into my pack of toys.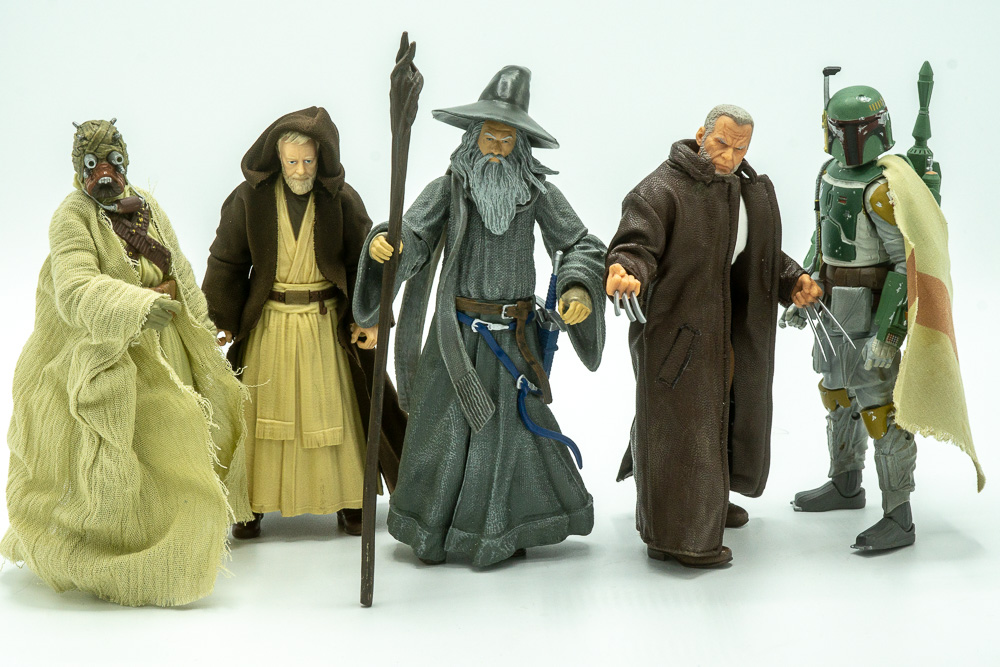 The Backlog Of Ideas
I often get ideas for shots that I can't really execute very well at the time.  Normally this is due to the ideas requiring a different location than I normally find myself.  I have a couple of those ideas kicking around that would benefit from a desert environment.  So I am adding the parts for these into my pack:
LEGO aliens
LEGO Gandalf
Custom LEGO TV-Head
LEGO Bike, and old-school astronaut
Black Series Speeder Bike and Scout Trooper
Hopefully all of these things will fit into my pack.  If there is space I may toss in some extra figures, because why not?  The more the merrier.   I also expect to be able to borrow some toys from fellow Safari attendees.  All told I think I should be covered enough to stoke my muse, and have some interesting selections to both shoot and share with my fellow Safarians.
Stay tuned to this blog as after the Safari is over, and I've had a chance to process some images, I'll update you all with how well my plans paid off during the trip.
[dave]
Want more toy photography goodness? Subscribe to our weekly email round up so that you never miss a post.  You can also listen to episodes of the podcast!