Now that we've tried taking Still Life photography with toys, Kristina and I have moved on to another classic photography style: Landscapes!
What constitutes a "good" landscape photo? I admit that before undertaking this challenge, I didn't really know. I've honestly never cared much for landscape photography. I'm not doubting that it takes some serious skill, and that there are some amazing landscape photographers out there. It's just never been my photography genre of choice. In fact I had to do some Googling to find a list of Landscape touchstones – the "rules" I wanted to know about before attempting my shots.
After our Still Life episode – in which we covered another photography style I'm not drawn to but came away appreciating – I had high hopes that my opinion would change. Kristina wasn't a fan of landscape photos either, so I was curious to see not only what she would capture, but how she would feel about the genre after our chat.
Our discussion is live now, on your go-to podcast app or embedded below. Make sure you keep scrolling to see our Landscape photos, some guest submissions, and find out next month's theme!
My Image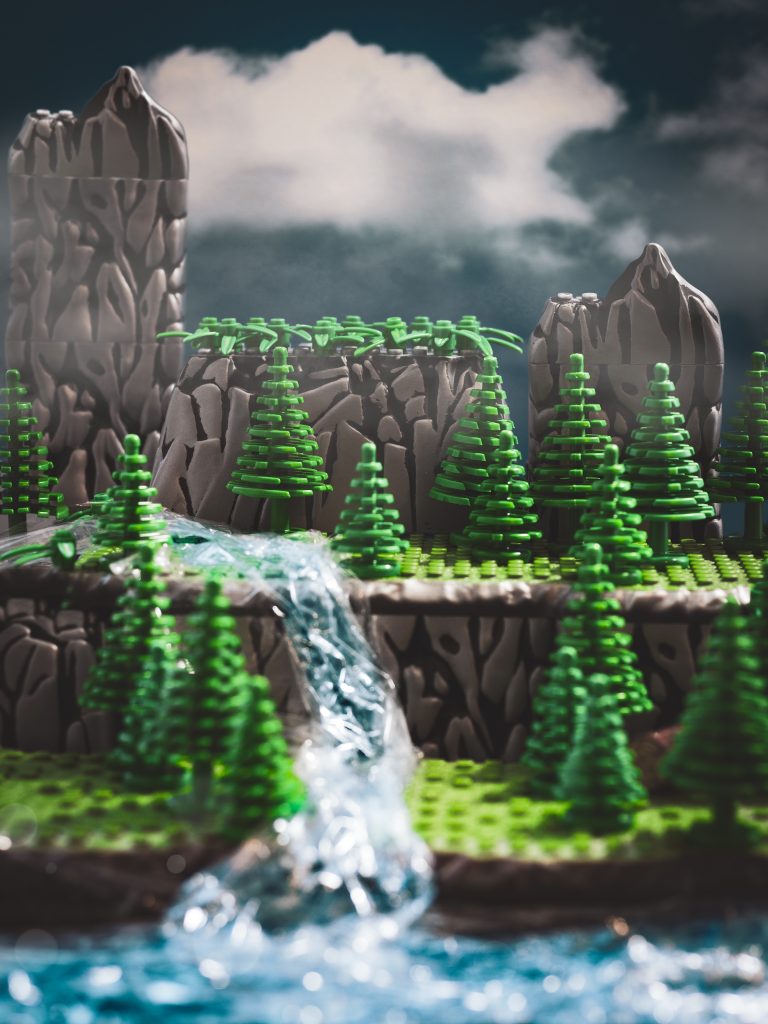 I was inspired by the work of the late Ansel Adams, one of the most famous landscape photographers. He's the one I'm most familiar with. I wanted to capture a landscape using nothing but toys. Not toys in and landscape, but toys that make up the landscape itself. As much as I love LEGO I'm not much of a LEGO builder, so I found the challenge a bit daunting.
I ended up using a mix of LEGO trees, landscape pieces from the Mega Bloks 9897 Dragons Challenge chess set from 2002, and Saran wrap for the waterfall and river. I shot it in black and white as well, in true Ansel Adams fashion, but opted for the color version as my "final" photo.
Kristina's Image
Kristina too chose to go the all-toy landscape route. Utilizing her sons' Minecraft sets, she took this Garden of Eden inspired shot of a pristine landscape from afar.
Guest Submissions
We got some great guest submissions this week! Thanks to LJToyPhotography, Janan Lee, @legofanpix and Demarcation Media for participating! Below I've embedded the four images we discussed on the podcast, and you can check out their other entries here on Instagram and on G+.
This Month's Theme
Thank you for listening! Kristina and I both went into this a little ambivalent about landscape photography, but I think we came out of the discussion with a new appreciation, and it was fun attempting to do this only with toys.
Our theme for this month is Magic! If you'd like to participate, tag your photos #tp_magic and tag both myself (@thereeljames23 on Instagram, +JamesGarica23 on G+) and Kristina (@kalexanderson on Instagram and here on G+).
What is your interpretation of the Landscape theme? Do you think we captured it in our photos? We'd love to hear your thoughts in the comments below!
-James
If you enjoyed this, make sure to subscribe to our weekly email round up so that you never miss a post, and subscribe to the podcast!