Having some time off from the podcast last week was nice, but I have to admit that I missed it! All week long I felt like I was forgetting something. I'm happy to be back in action, and am very proud of this month's themed episode with my good friend Kristina Alexanderson.
This month, Kristina and I tackled the theme "Together," and came up with two wildly different interpretations that led to a great discussion on important issues like gender norms in society, and how our relationships with one another are influenced by technology.
As always, the episode is live now on the various podcast apps around the internet, or you can listen right here on this post. Follow along with the episode by checking out our photos below. Happy listening!
Kristina's Image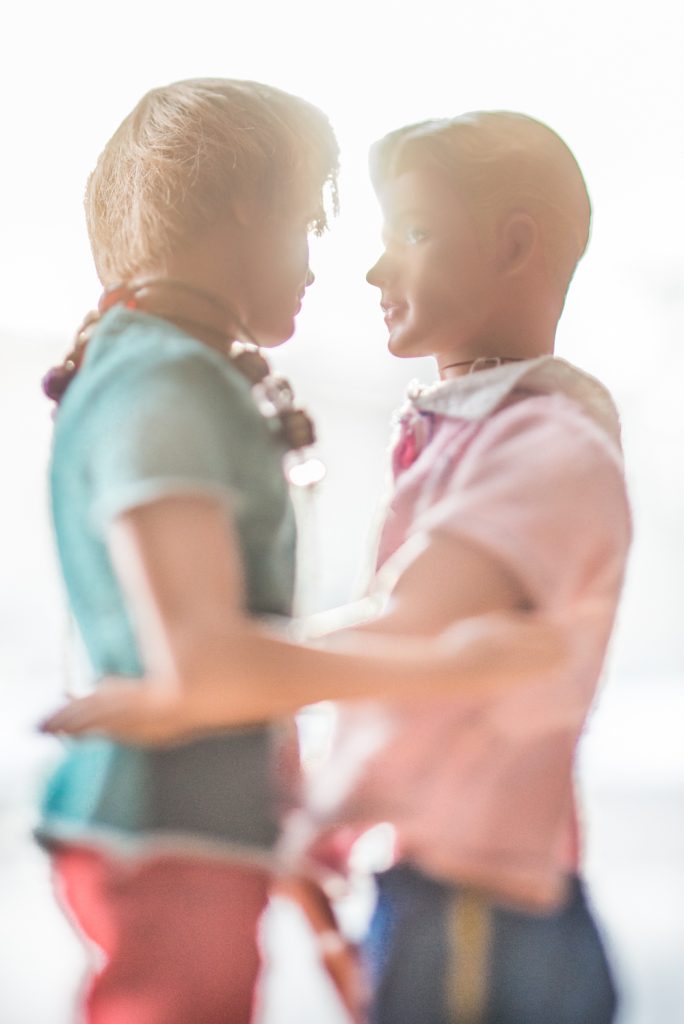 Kristina ventured outside her comfort zone for this month's image, choosing not to shoot LEGO or Stormtroopers and instead turning to what we think are two Ken dolls. She's working on a new project this year that will challenge societal norms, and this was her first image for it. I love it, and can't wait to see the rest of the series!
My Image(s)
Funnily enough, Kristina and I both resorted to portrait orientation for our photos, despite preferring landscape. Like with our episode on Feelings, I cheated a bit and technically took three images, despite them belonging together in a triptych. Like Kristina, I too wanted to shed light on a societal issue: Technology and how it affects our relationships. Are these figures together… or together but not together?
My image reminded Kristina of Sherry Turkle's TED Talk on "Alone Together," which I was unaware of. You can check that out here if you're interested!
Your Images
We didn't get any listener submissions this month (that we saw, I apologize if you took an image that we missed!), but the invitation is open for you to participate as well! If you have any photo ideas for the Together theme, or our next theme, Choices, post them to social media with the appropriate hashtags (#tp_together and #tp_chocies, as well as our #toy_photographers tag!) and tag both myself (@thereeljames23) and Kristina (@kalexanderson) so that we can discuss our them on our next episode! You can also email them to us directly at toyphotographypod@gmail.com
As always, thank you so much for listening. I look forward to your own interpretations of the Together theme – leave us your thoughts in the comments below!
-James
If you've made it this far, come continue the discussion over at our G+ community! While you're at it, subscribe to our weekly email round up so that you never miss a post, and of course, subscribe to the podcast!