As if Halloween toy photography inspiration and creepy goodness wasn't already enough to keep the community snapping pics throughout the month of October, the Articulated Comic Book Art (ACBA) Facebook group is rolling out 31 more reasons to love the coming month: OcToyber is back for its fourth year of daily toy photography prompts from day 1–31! And this year's themes are the most interesting and creative yet, while also possibly being the most challenging.
On top of the fun, competition and camaraderie involved in this monthlong event, ACBA is also giving out prizes to the best and brightest photographers taking part in the OcToyber action. Photographers are encouraged to submit for as many themes as possible, but you do not have to shoot every theme every day, or even every week, to be eligible for prizes.
For those who don't know, Articulated Comic Book Art is among the very first dedicated toy photography communities dating all the way back to 2009 when founder Kendel Gray, aka Boog Nice (@boog_acba) created the name and his place in toy photo history with comic-book inspired images focused on great poses, tangible effects — like paper cutouts for sound effects and word balloons — and forgoing a dependency on Photoshop or computers to make effective compositions.
The Articulated Comic Book Art Facebook group, where OcToyber is kicking off all month, has more than 14,400 members, and the @articulatedcomicbookart Instagram account, which will surely display the best images from the event, has well over 82,000 followers.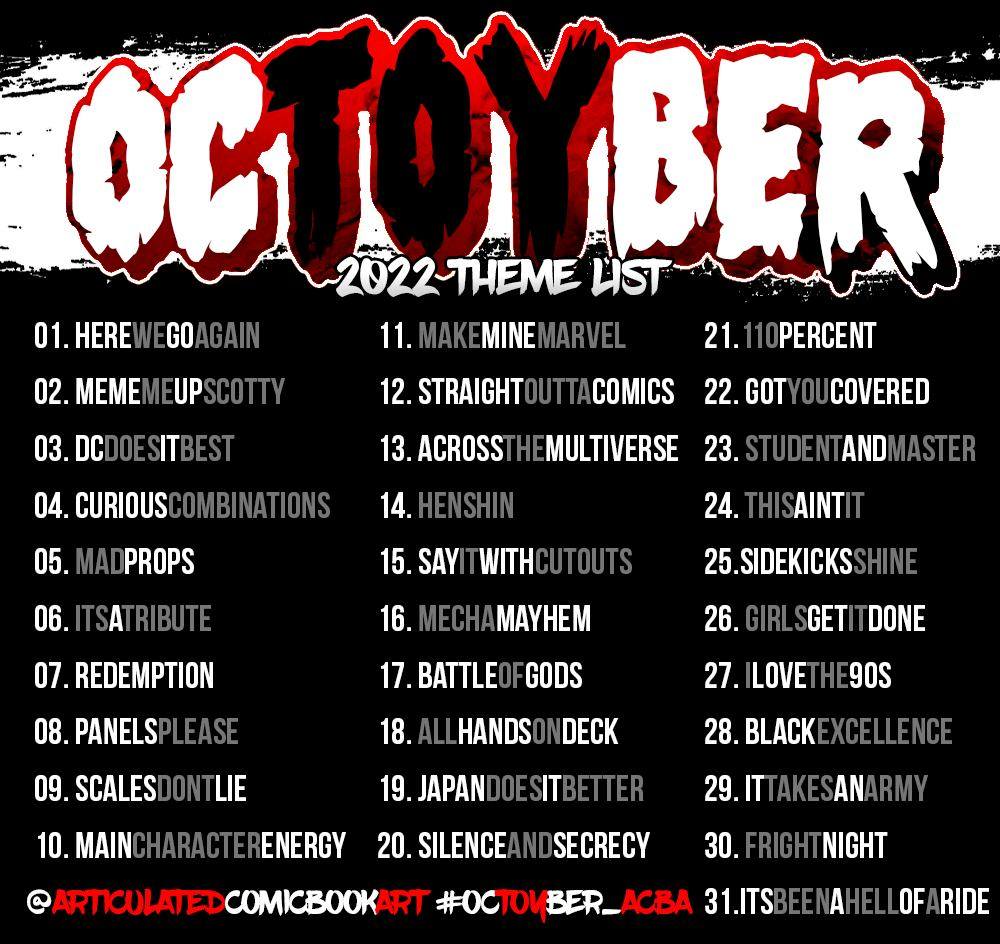 As explained on the ACBA Facebook page, each of the 31 OcToyber themes is "just a little vague and open ended" by design. With prompts like "Battle of Gods," "Curious Combinations," "Redemption," "Girls Get It Done" and "Black Excellence," to name just a few (find them all and their corresponding dates above), photographers can illustrate themes in a wide variety of creative ways, which will make for an exciting collection of shots.
"This is so you can really stretch your displaying muscles and interpret them how you see fit," the ACBA Facebook group moderators explain. "You can take them literally and shoot as on-brand as you'd like, or go the opposite route and think outside the box," they continue, pointing out that both literal and/or eccentric translations are accepted and encouraged.
OcToyber Rules
1. Shoot your shot! Full tangible displays are recommended, but not required.
2. Post it! (New photos only.)
3. Use the hashtag #OcToyber_ACBA
4. For prize consideration, email your submissions daily to octoyberacba@gmail.com, with the date and theme as the subject line, and your username in the body.
Once the event is completed, the ACBA team will choose one out of the 31 themes at random, and those who participated on that day will be entered into a free raffle. Three additional prizes are also up for grabs at the end of the event.
"At its core OcToyber is all about creativity, and using the medium of ACBA and toy photography to express yourself," the event announcement says. "It's a wonderful monthlong exercise that is meant to promote healthy and stimulating photography and display habits. So whether you're a veteran of the craft, or just starting out, everyone is invited and welcomed. Have fun, be creative, and keep it crispy!"
See the two winning shots from last year's OcToyber in this post to get an idea of the kind of A+ quality this event inspires and is regularly found in the ACBA group (featured image at top of page: 2021 first-place photo by Jesus Herrera, @0ctabrain). These folks are all about constructive criticism and working hard to improve from one epic shot to the next. Few communities will push you to become a better toy photographer like Articulated Comic Book Art.
Learn more about Articulated Comic Book Art at articulatedcomicbookart.com.
Check out the ACBA YouTube channel to watch the podcast, video reviews from Boog Nice and more at youtube.com/user/BoogNice10.