Sunny Day
Sweepin' the clouds away
On my way to where the air is sweet
Can you tell me how to get?
How to get to Sesame Street

Thanks to fan designer Ivan Guerrero's imagination, you no longer need to ask for directions to Sesame Street. Via their IDEAS program, LEGO have made available a brick built version of what is most likely the most well known street in the world.
123 Sesame Street is a 1,000-plus-brick tribute to the one place where everything is A-OK. From Big Bird's nest, to Mr Hooper's corner store, 123 Sesame Street is loaded with Mr. Snuffleupagus-sized nostalgia that is bound to immediately bring a smile to everyone who lays eyes on this model.
Friendly neighbors there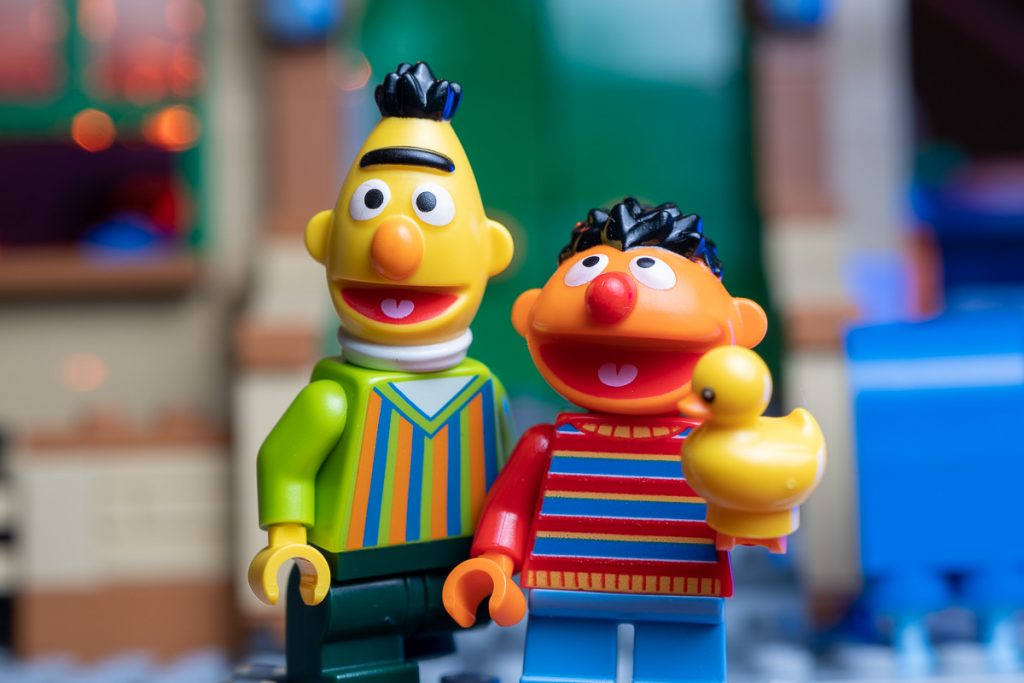 Six of your favorite Sesame Street characters await you at 123 Sesame Street, though only five are actually minifigures. Sorry, Oscar, while you are my favorite, you're sadly just a head in a can this time.
Aside from the grouch, you'll get minifigures of best buds Bert & Ernie, Elmo, Big Bird and Cookie Monster himself. Everyone aside from Big Bird uses short-legs, though oddly, only Bert and Cookie Monster feature the newer, articulated short legs. Bert & Ernie also feature great chest printing, while Cookie and Elmo are just their plain, respective furry colors.
The shape of Ernie, Elmo and Cookie Monster's heads and the position of their eyes posed a bit of a challenge when shooting them, as they often appeared to be staring off into space. To fix this, I ended up placing the minifigures on bricks that I could tilt towards the camera a bit to bring their gaze down a bit. When shooting these figures, you also need to be careful of light reflecting off the bottom of Elmo and Cookie Monster's mouths.
The real standout is Big Bird, who is a full head taller than a regular-sized minifigure. Bird has a custom head and body combo piece, as well as wings for arms.
And again, while he's not technically a minifigure, Oscar the Grouch looks great popping out of his garbage can with a printed tile of his pet worm, Slimey.
Every door will open wide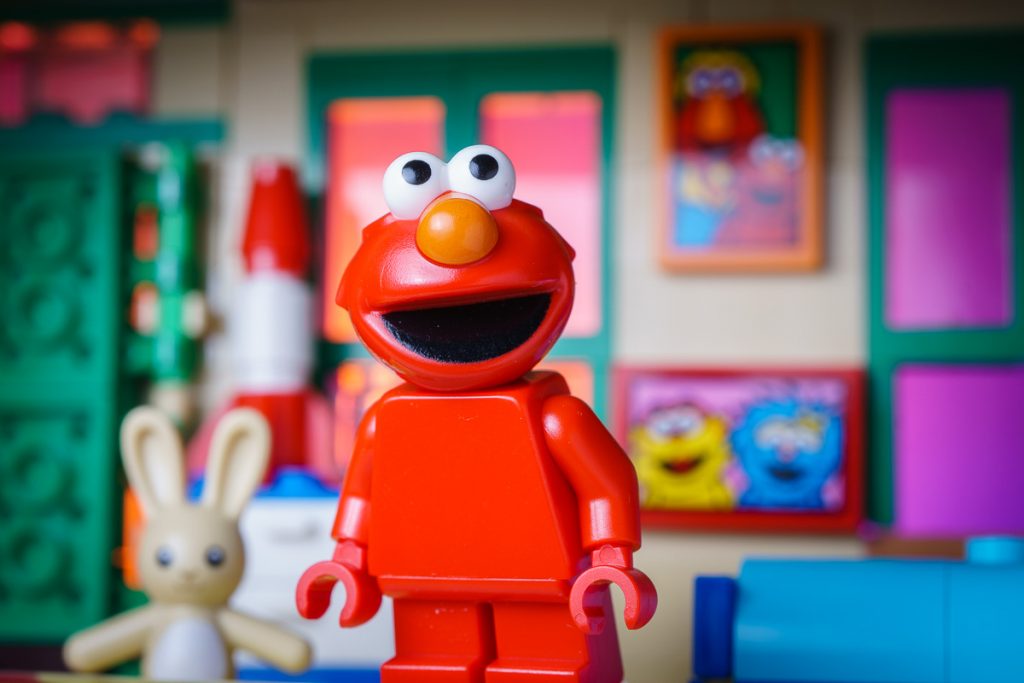 123 Sesame Street is more than just a facade of this famous street. Turning the model around reveals multiple indoor spaces, from Bert & Ernie's Room, to Elmo's World. Each space is just loaded with details. My favorite is the TV room with Guy Smiley on the screen and a portrait of The Count on the wall.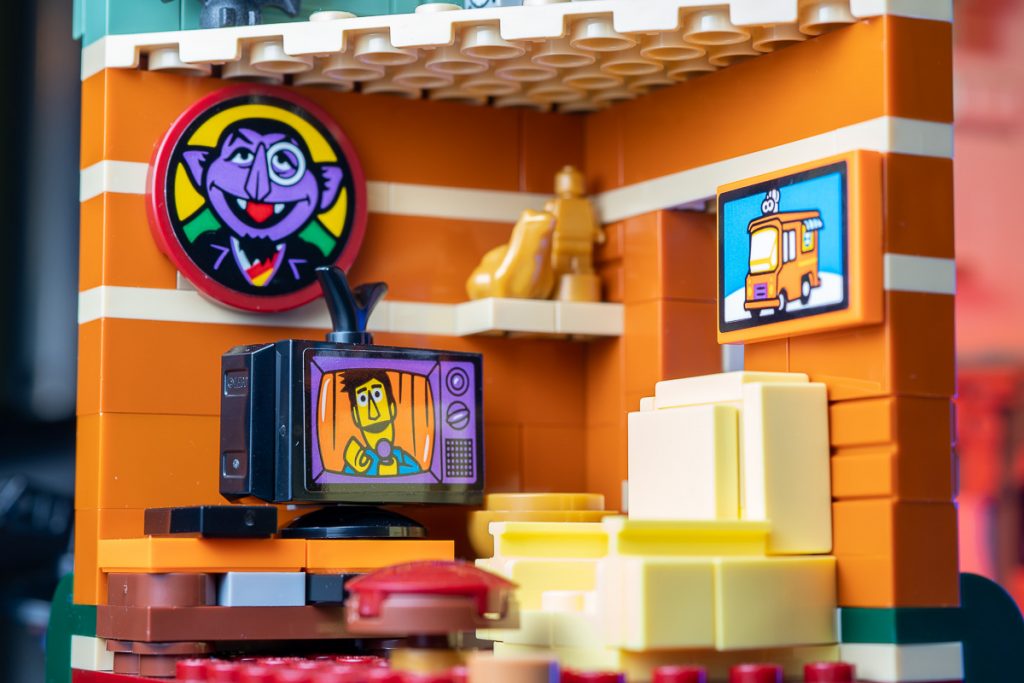 Come and Play
Happy people like you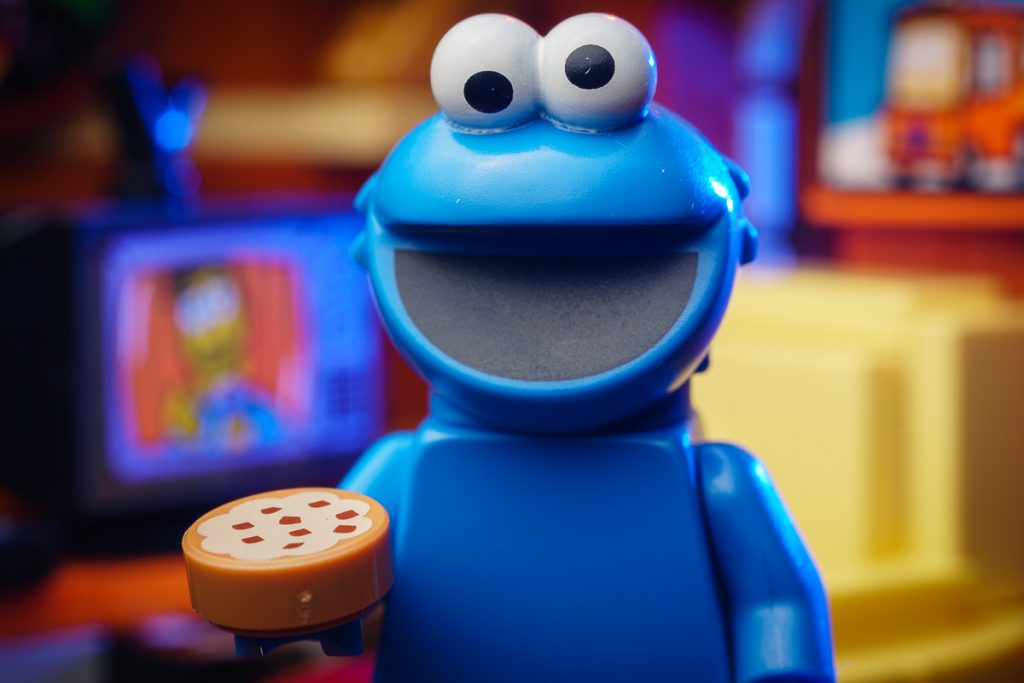 There is lots of toy photography fun to be found in 123 Sesame Street, especially for photographers who have a strong connection with the show and its characters. A few of the minifigures required a bit of extra effort to shoot, and I wish Ernie and Elmo had adjustable short legs like the rest of the crew. Aside from that, there is plenty of color and whimsy in 123 Sesame Street, and loads of wonderful details that would make great backdrops for your shots.
123 Sesame Street is available now for a MSRP of $119.99
Thanks to LEGO for providing this set to ToyPhotographers for review.