"On Queer Eye we're all about fresh starts, re-building, and making the best of what you've got- and what better toy is there to celebrate that then LEGO?" – Bobby Berk
YAAAS QUEEN! The world has never been more ready for this set based on The Fab 5 Loft from Season 1 of the Netflix Original Series Queer Eye (2018-). For those of you unfamiliar with Queer Eye, the show is a revamped version of it's 2003–2007 predecessor Queer Eye for the Straight Guy. The set arrives October 1.
More than a makeover
If you asked me a month ago what Queer Eye was about, I would have said its a show about gay guys, maybe there's five of them and they give people makeovers…I guess. If you asked me a month ago if I would buy a LEGO set based on that show, I would have said, no. But, I am here today to tell you, I have changed my mind about both the show and the idea of a LEGO set based on a show about five gay men giving extraordinary people makeovers.
Queer Eye is more than a makeover show. To quote the LEGO instruction manual for this set, "The Fab 5 use their own personal experiences—both positive and negative—to achieve a constructive and lasting impact for every single, person, or heroes as the team prefers to call them, that they meet." Sure, they are giving people a whole new wardrobe, changing their hairstyles, redesigning their homes and upgrading their culinary skills. Is that the definition of a makeover? Yes.
But, after binging all five seasons in order to fully immerse myself in the show before writing this post, I realize that is not the purpose of the show. It isn't about the makeover, it's about helping people be the best version of themselves. Like LEGO, they build people up. They want people to remember to take time for themselves, and to not be afraid of who they are.
But I am not here to talk about the show, I am here to talk about the new set.
Style, taste, class
To be honest, I love love love this set. Not only does the set have STYLE, TASTE, CLASS, the instruction manual is straight FIRE. Before I gush about the actual build, minifigures and accessories, let me first talk about the instruction manual. This might sound weird, but honestly, this is the most stylish LEGO instruction manual I have ever seen. It is also the most colorful instruction guide, contrary to most of the LEGO sets geared towards adults. It is, dare I say it, simply fabulous! They trade-in the sleek, black style, for the bold colors of the rainbow. I mean, come on. What I love most about it is the little quotes and mini interviews from the Fab 5 scattered throughout the pages. It feels like the Fab 5 are building, and encouraging you throughout the build.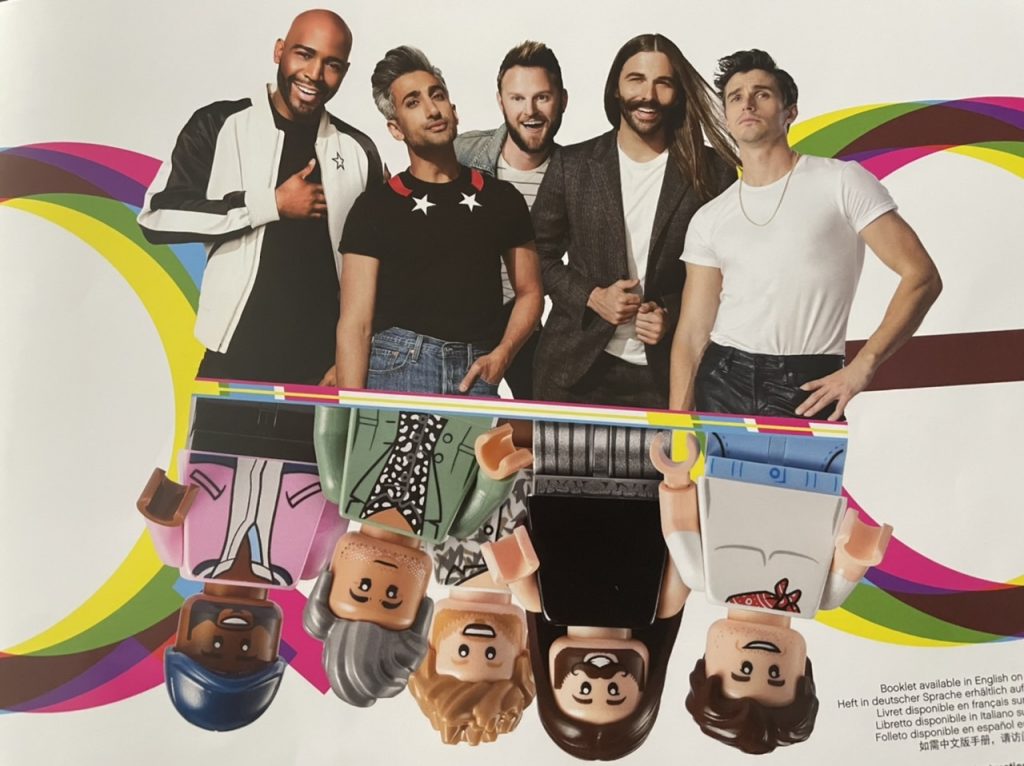 Meet the FAB 5
Bobby Berk, Karamo Brown, Jonathan Van Ness, Tan France and Antoni Porowski together make the Fab 5.
The minifigures look so much like their real life counterparts. If you are a fan of the show, these figures are great for toy photography. From the beards, smiles, hairstyle and clothes, these figures are ready for their close up.
The minifigures
The set comes with the Fab 5 in some of their most iconic outfits throughout Queer Eye's five seasons. Unlike other LEGO sets, these minifigures come with extra outfits. With other sets based on TV shows, each character gets one outfit. Even in other LEGO sets not based on shows, a character will only get one outfit. In the Friends Apartment set you aren't getting Ross in his red sweater and his grey button up. In Star Wars sets, you aren't getting two different Luke Skywalker torsos in a set, and in that same set, you definitely aren't getting a second Han Solo. I mean, you aren't even receiving both Peter Parker and Spiderman in a set!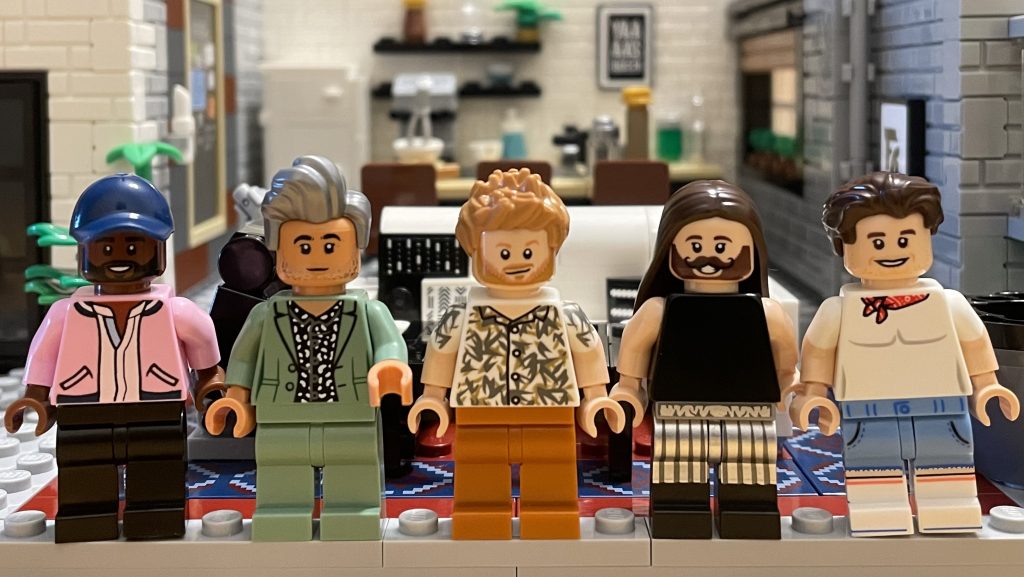 So extra
With Queer Eye, though, you are: Karamo, Jonathan and Antoni all come with a second torso. Karamo has two blazers, his pink one and a printed blue one. Jonathan comes with his Love is Love sweater and a black halter top. Antoni comes with his T-shirt and bandana outfit, and a black leather jacket with the words Rebuild The World printed on the back. If that wasn't enough, you get two extra pairs of legs, two extra hair pieces and a second baseball cap for whatever minifigure is getting a makeover. Sometimes, with a set, I will think, wouldn't it be cool if it came with this outfit also? With this set, I don't have any of those thoughts.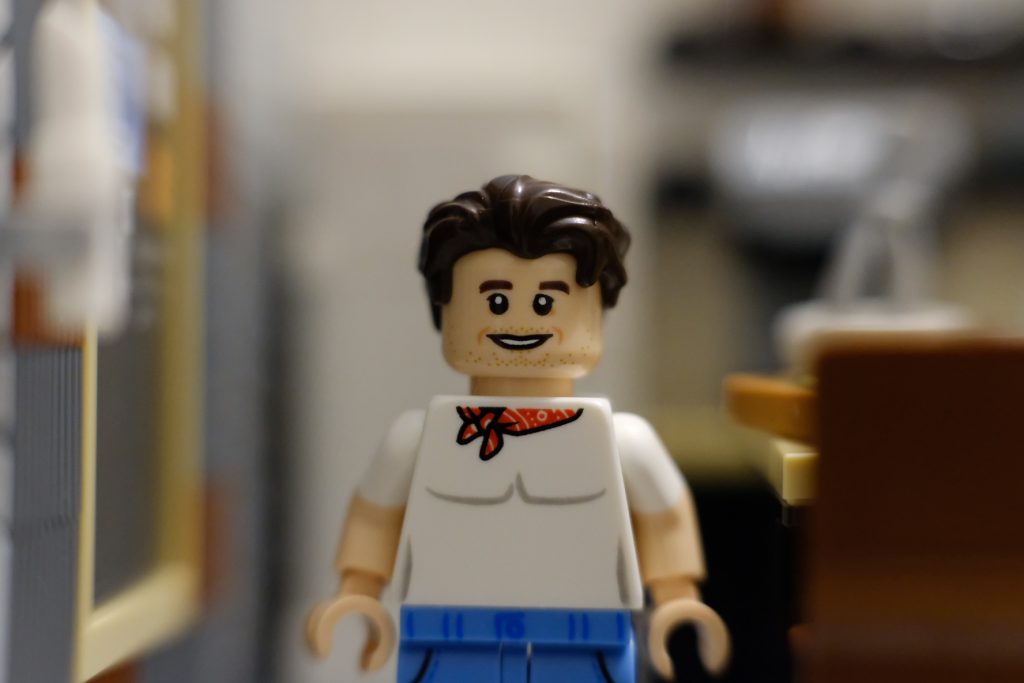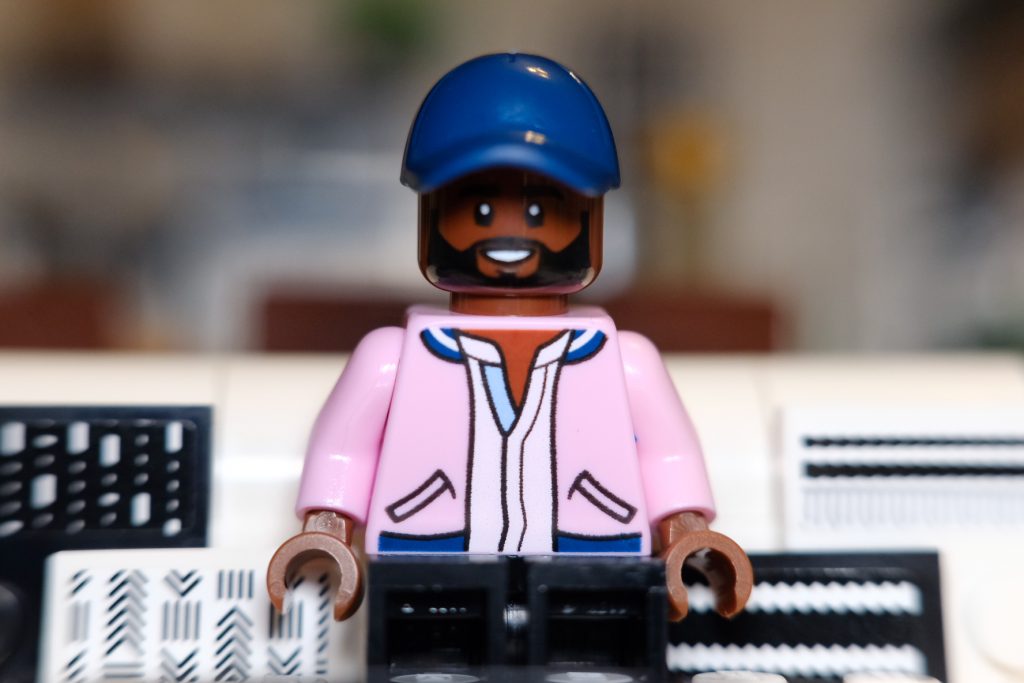 Did I mention that Antoni, Jonathan, Tan and Bobby all have two facial expressions? Well they do. Honestly, these minifigure are so close to their real life counterparts, it's uncanny. LEGO did a wonderful job, turning the Fab 5 into minifigures, they really have captured their personalities in the plastic.
Every guest is a hero
In true Queer Eye fashion, this set not only comes with the Fab 5 but with someone who receives a magical makeover. The Fab 5 and the show's producers affectionately refer to every guest on the show as a hero. The show itself has featured some extraordinary people, from all walks of life. But how special of LEGO to include one of the Fab 5's real-life heroes in the set. As I said in the opening paragraph, until this month, I had not watched a single episode of Queer Eye, so when I got the box and saw who the special guest was, it didn't mean much to me.
Kathi Dooley – special guest
Having watched the show, I can now say that if you are a fan of Queer Eye there is no one better to choose. Without further ado, (yes that is a reference to the special guest) I give you Kathi Dooley. She is a dedicated teacher in Jonathan Van Ness' hometown and played a huge role in his teenage years. Kathi was featured in Queer Eye Season 4, Episode 1 "Without Further Ado." In one of those scattered quotes hidden throughout the instruction guide, Jonathan says, "So happy this set comes with Kathi Dooley! She is my childhood hero and means so much to me. Plus, I get to play cutting off her mullet as many times as I want now." Spoiler Alert: She had that mullet for over 30 years.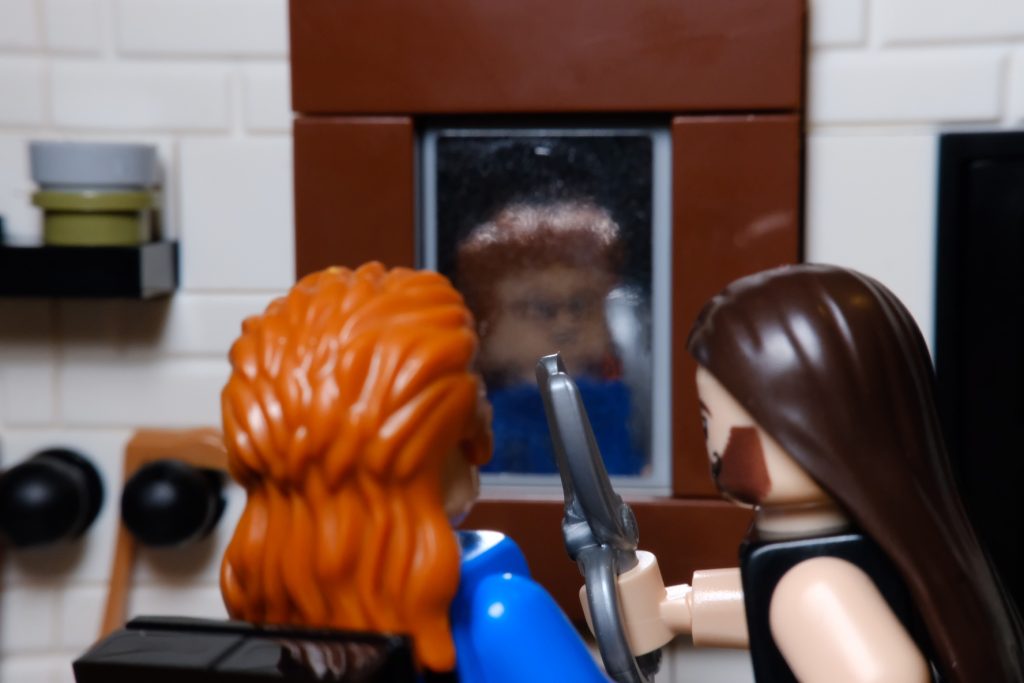 Speaking of Kathi Dooley's mullet, the set comes with two minifigures of Mrs. Dooley. One with the iconic blue top she wore in the episode and, of course, her fiery red mullet, pre-makeover.
The second Mrs. Dooley is the Mrs. Dooley with her fresh new look. Her tan jacket she picks out with Tan along with her new hairstyle specially cut by her former student Jonathan.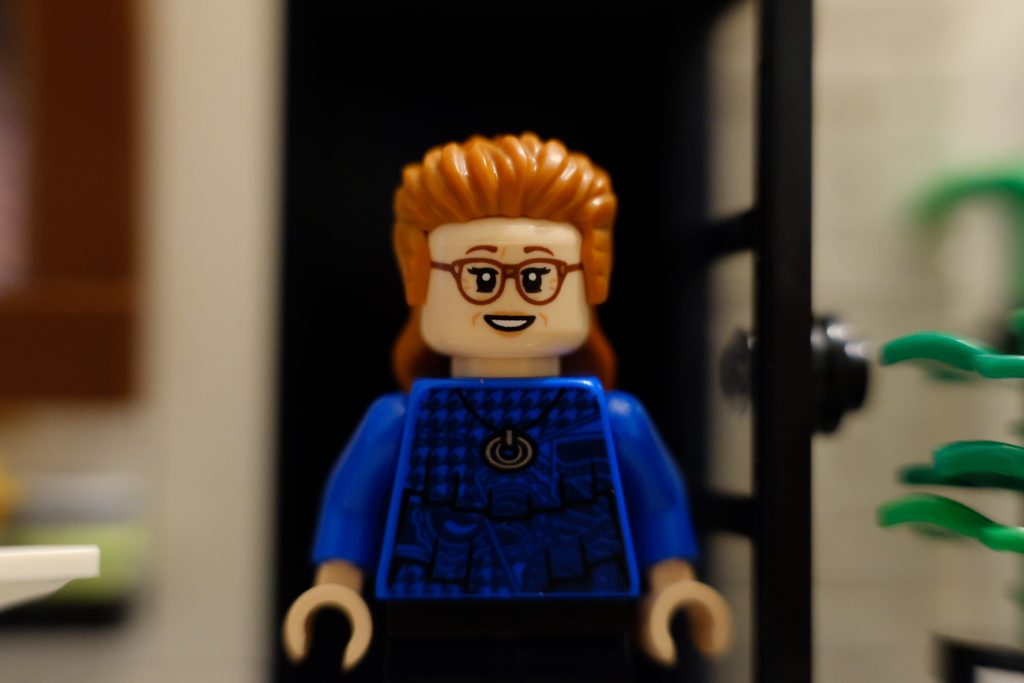 Can you imagine LEGO making a minifigure out of one of your favorite teachers? One who changed your life.
The Loft
You probably are wondering why I haven't talked about the actual apartment yet. But, like the show, I've been more focused on the people than the incredible Loft where they spend five minutes at the end of each episode. That isn't to say that the Loft build isn't anything special. Because it is. Having built the Friends Apartments set, and having seen The Big Bang Theory and Seinfeld Apartment sets, I can say that this build, like all the others, is filled with Easter eggs for fans of the shows.
Though, the loft is a relatively small build compared the other modular apartments or even sets based on TV shows, it has the second smallest piece count, coming in just ahead of The Big Bang Theory set. But. don't let its 974-piece count upset you. They make the most of it.
The sections
The Loft is sectioned off into different areas. The show itself barely spends anytime in the Loft itself, so the creators of the build and Bobby Berk decided to make sections that would represent and encompass what they do on the show.
There's the lounge area decorated with a bright red carpet and their white couch accented with black and white pillows. In the show, the Lounge is where the men watch what happens to their guests after they leave.
A kitchen, for cooking meals. The refrigerator is fully stocked—there's an espresso machine and, of course, an avocado. They are all the rage. My favorite part, is the YAAAAS QUEEN poster hanging on the wall.
There's a grooming station, which comes with a really cool reflective mirror. So, you can show your guests their new look.
And the STYLE, TASTE, CLASS glass board is on-point.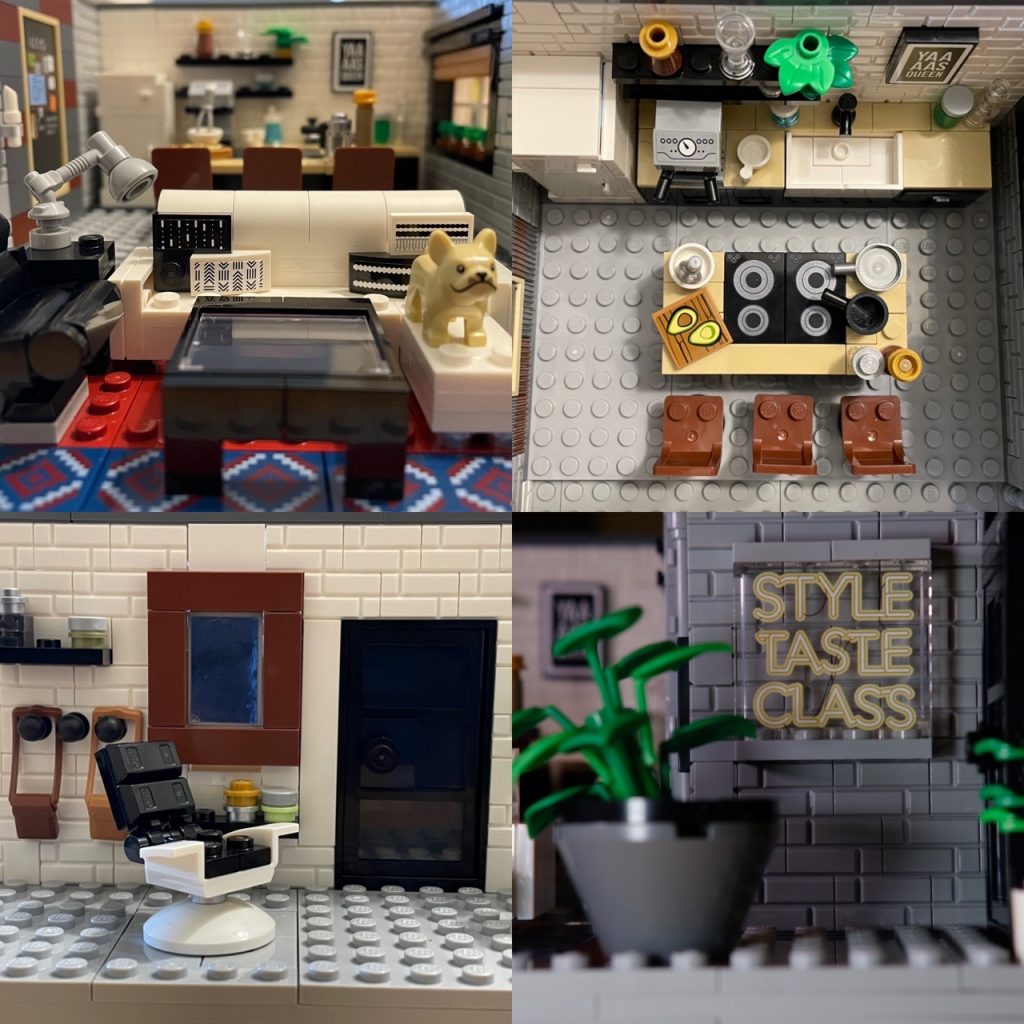 Wait a minute! Oh! There's more
Behind the set, there is a section for all your extra, outfits and accessories. Where does that door open to? You might be wondering. Well…
Behind, Bobby Berk's planning space, there is a secret. When your special guest enters the black door in the grooming station. Like a magic trick, they come out with a whole new look and style. All they have to do is spin.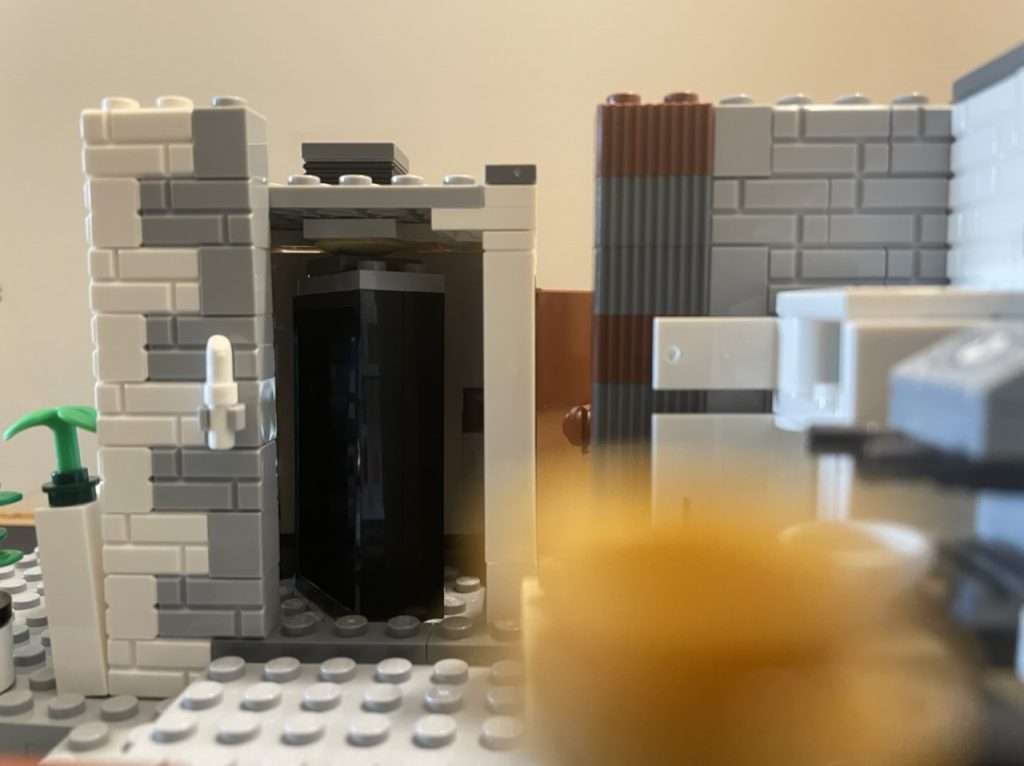 The window to the soul
So, I made a section dedicated to this window. I just wanted to mention, I appreciate that LEGO takes the time to include a good looking window. In the show they always show shots of the window, and occasionally transition in from the outside. It's all about the details and LEGO nailed it here. Whenever they show the Loft, this amazing light is coming in from the window. Now I can have light shining through a window, with nice plants to brighten my LEGO minifigures' day. There's also a lot of green, meaning plants, in this set which I love. They say adding greenery to your life makes you happier—it turns out adding it to your LEGO apartment does the same thing.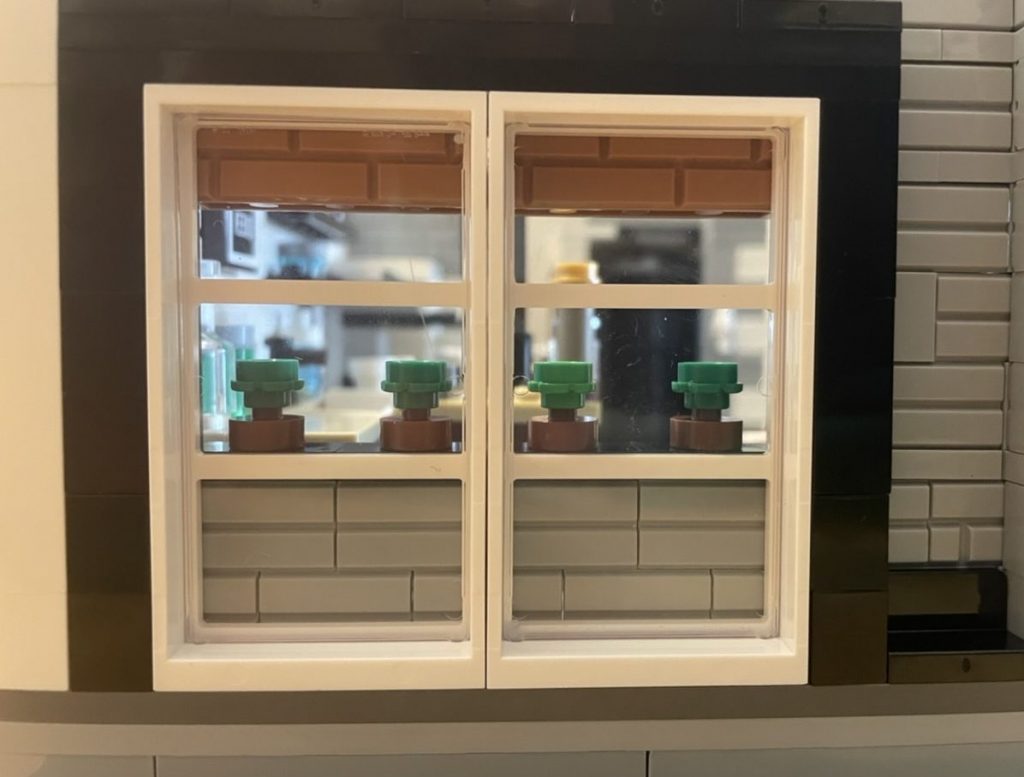 The Loft in numbers.
-This set is 974 pieces
-7 minifigures and 1 French bulldog
-The Loft features 5 distinct areas representing each of the Fab 5
-1 what I would consider a minibuild not attached to the apartment
-17 sticker accessories
-3 extra outfits for the guys to change into
-2 extra legs
-2 extra hair pieces, and 1 extra baseball cap
-10 plants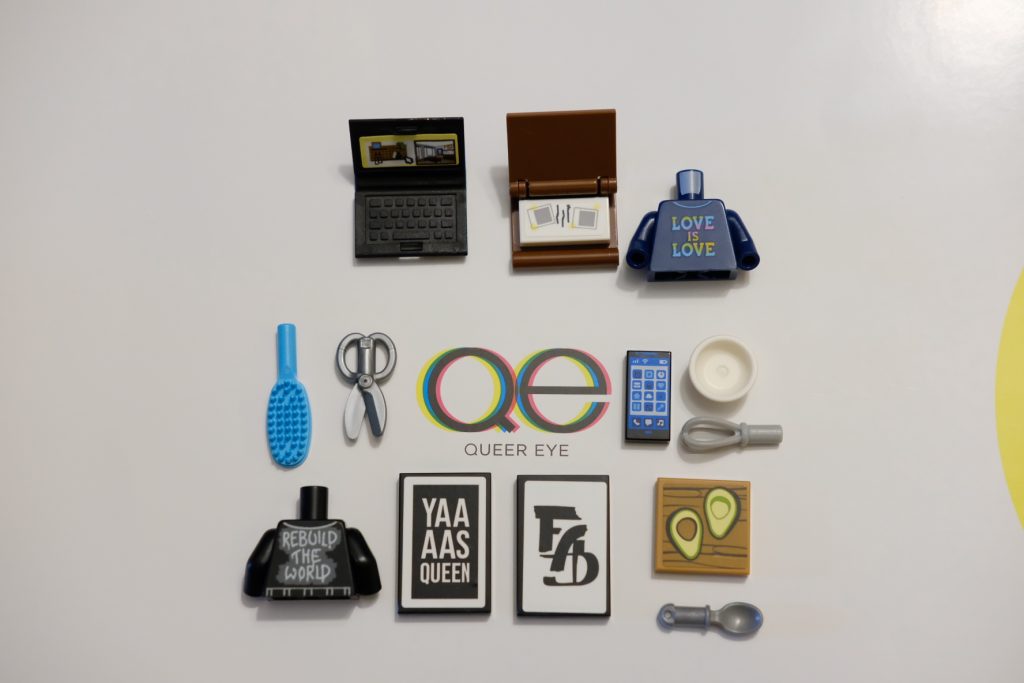 There's even a minibuild
I love how this set included a minibuild where you can make a TV stand with the show on it. How cool is that? You can take the LEGO version of the show with you anywhere. They even give you a clothes rack for your extra torsos. They really thought of everything. Keep your space clean, people. Don't throw your torsos on the floor!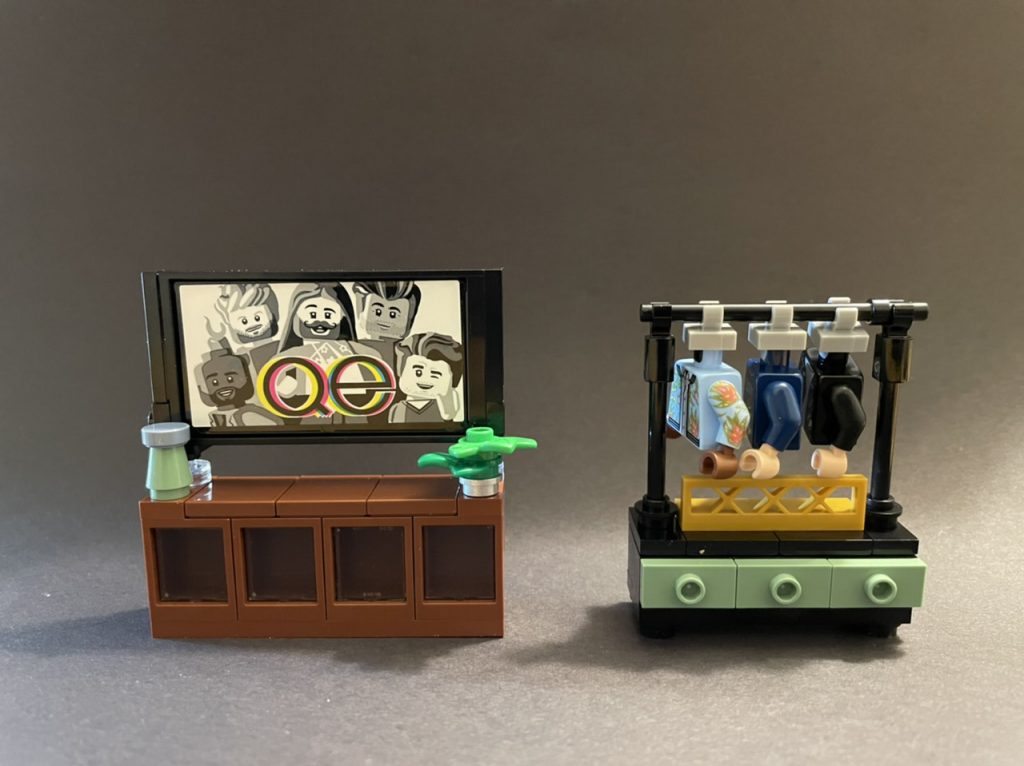 Is this set worth it for toy photographers?
The simple answer is yes. But not for the reasons you are probably thinking. It isn't great if you want to recreate scenes from the show. I can really only think of a few shots I would take physically using the set if I was basing it on the show itself. However, as a toy photographer, if I am going to buy a set, I look at the minifigures and all the accessories and random bits that come with the set. If I think the figures and extra stuff in the set will inspire me or aid me in my toy photography, I'll buy the set. For me, the minifigures, with all the extra torsos and legs, would be worth it alone. Add in the cut avocado, the food in the fridge, the YAAAAS QUEEN poster, the espresso machine and the bulldog and there's 100 different photos to take.
For Bruley
The Loft is not complete without their friend Bruley the French bulldog. He appeared in 16 episodes and belonged to Michelle Silva, a producer on the show. Sadly, he passed away in 2019. This set not only honors Jonathan's teacher, it includes a beloved pet. I could just cry.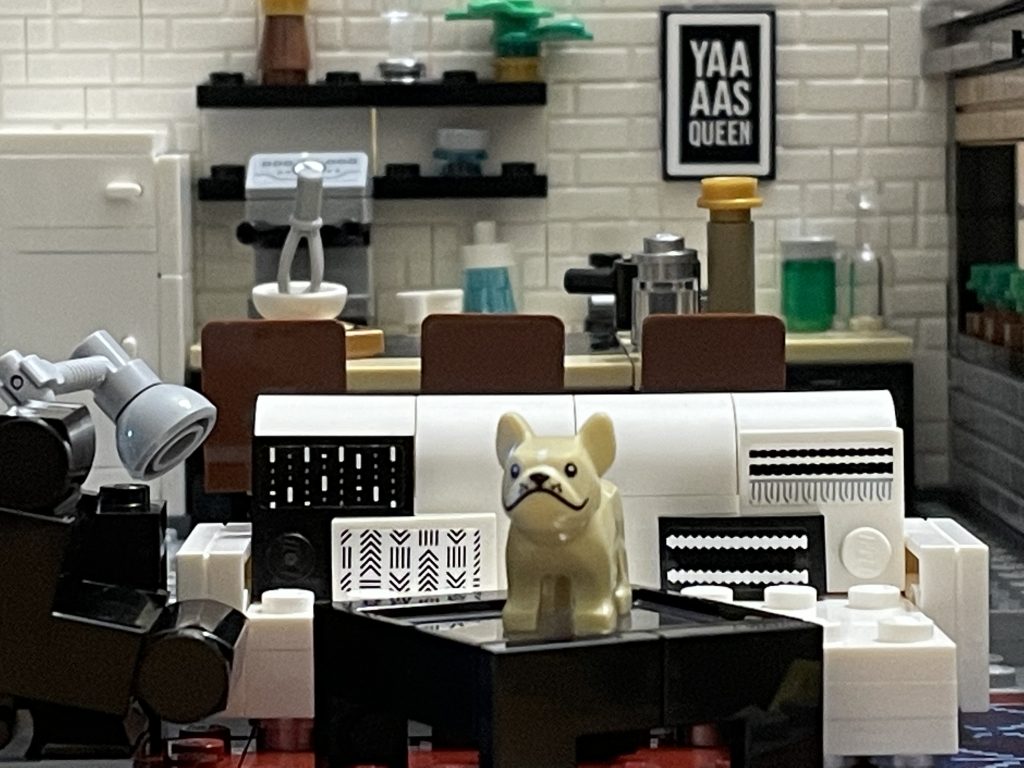 It's all about acceptance
I wasn't a fan of the show before. I'd never seen an episode. But when I was asked to review this set, I knew I didn't want to let fans of the show down. On the surface, I at least knew that LEGO making this set means more to people than a simple it's a set for a show. So I figure I'd watch one episode to get a feel for the show, to write a better review. Next thing I know, I'm binge-watching all five seasons. And everything in that little instruction manual meant so much more to me. (Did I mention that instruction manual?) I've accepted that I am a fan of the show and I've accepted I am a fan of this set.
At the end of the day, you will probably only get this set if you are a fan of the show. For, fans of Queer Eye, I can't recommend this set more. Like the show, it was created with LOVE. You can see it in the small details, in the interviews scattered throughout the manual. LEGO, the Fab 5 and the creators of Queer Eye really took this set to another level—every detail is special. If you have never seen the show, watch a few episodes, because it's pretty amazing, just like this set.
So, thank you, LEGO, for sending this for me to review. Thank you for opening my eyes to Queer Eye and for gifting the world with this set.
As Tan France would say. "Don't forget that French tuck."