Earlier this year I was offered the opportunity to beta test the latest offering from Lensbaby: the Obscura. When I received the original email offer, I had no idea what I was agreeing to. I said yes, completely unprepared for how much this lens would push me in new directions and test my confidence.
My initial reaction was excitement. How cool is it to be asked to beta test a new lens? Especially one based on the foundations of photography: the pinhole. Once I received the lens and had a chance to take a few test photos, my excitement quickly faded. The lens I was sent is a 16mm pancake lens. Couple that with a f90 aperture and every thing (and I mean everything!) in the setting is reveled! There is no fudging reality with beautiful bokeh using this lens. A crisis of confidence quickly followed, especially after I made the mistake of checking out the beta test group of photographers on Facebook. Already, some of my fellow Lensbaby enthusiasts had created jaw-dropping photos. That was a true "Oh shit!" moment.
The Obscura
The Obscura comes in two focal lengths; a 50mm created for the optic swap system and a standalone lens, plus the 16mm created for mirrorless cameras. As I mentioned previously, I was playing with the 16mm, which has no ability to focus and only three F-stops: f/22, f/45 and f/90. Each setting has its own distinct look. While the f/90 aperture isn't a true pinhole, its near-infinite focus and crisp edges feel like one. The f/45, or Sieve, creates these crazy artifacts that show the underlying lens technology (multiple pinholes) plus a dreamy glow and some of the crispness of the f/90. The f/22 setting is called the Zone plate, which creates a maximum dreamy effect and cool stretching along the edges. In my experience, toys look best when placed in this lens' center sweet spot.
Unfortunately, this made my tried and true "rule of thirds" composition rule obsolete. It was just one of the many habits I had to throw out because they didn't work with this lens.
Cue the panic attack.
Dark night of the soul
In my Creativity Workshops I talk to my participants about the creative process. It goes something like this: original idea filled with high expectations > dark night of the soul when nothing seems to work out > followed by ending up with something imperfect but not bad. I found this idea in Austin Kleon's book Steal Like an Artist. This lens took me on that journey and almost broke me.
At one point I even offered to send the lens back, I was so convinced I wouldn't be able to take a photo of a toy I would be proud of. Since my offer wasn't accepted, I had no choice but to keep going. So I picked myself up and I put aside my preconceived notions of what I thought this lens was and took a close look at what it was really doing. Part of that process was changing my subject. What did I have that was big enough to fill the frame and be universally recognizable enough to work with this strange new lens?
I put aside my LEGO minifigures and pulled out my Diamond Select Muppet Show figures. I've had them in my shop since the Seattle Photo Meet-Up back in 2016. It was high time they came out and played! Once I switched up my figures, lowered my expectations and got back to work, I started to turn the corner on my despair. I also pulled out my dragons and dinosaurs because their shapes where iconic enough to read no matter how distorted the image might be. The shot below was one of the first 'successes' that showed me it was possible to make this lens work with toy photography. Once I had this image under my belt, I was off and running!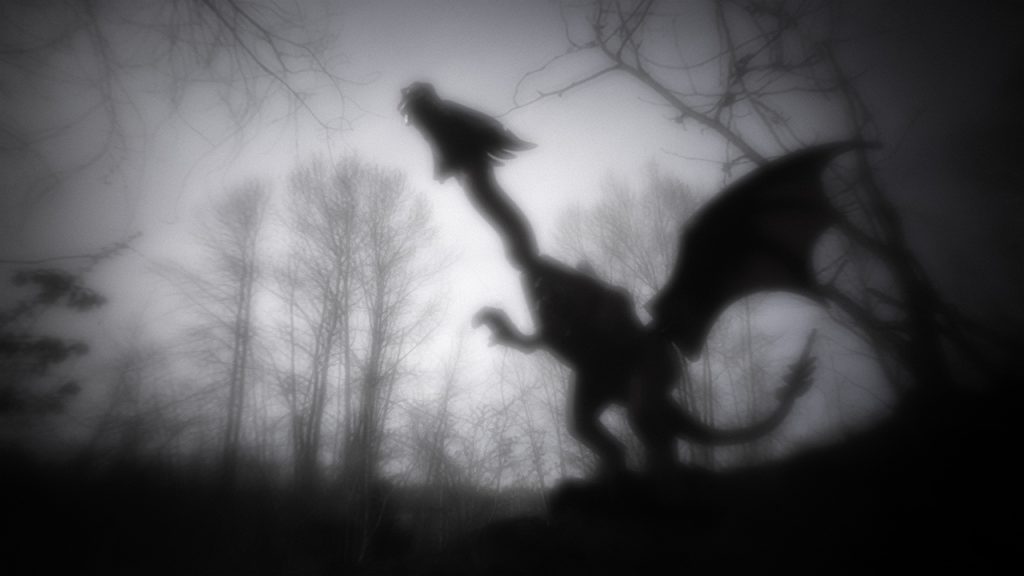 Embracing the unthinkable
Besides changing up my toys, I also had to change two other aspects of my workflow. I had to embrace the unthinkable (to me): more post-production in Photoshop than I like and adding a tripod to my kit.
When you have a camera with an f/90 aperture, it needs a lot of light. I had the choice of photographing hand-held and bumping up my ISO to 6000+, or I could resort to a tripod for stability and lower ISO settings. I opted for the tripod for a variety of reasons. I researched low-to-the-ground options and settled on the edelkrone StandONE foldable camera mount. By embracing this low-profile camera mount, I was able to capture each scene in all the lens settings and decide what I would use once I could see the image on my home computer. In the end, I combined aspects of at least two of the settings into the final image.
During this time, I was also moving my photo library to Lightroom. This gave me access to Silver Efex Pro 2. I had great fun playing with the settings and pushing some of the images into either high-key black and white, or a more nostalgic look. It's been years since I moved sliders hard right or left to see what would happen. I love experimenting in this way.
By embracing the unthinkable and breaking my own rules, I was able to push past my own roadblocks.
In conclusion
I'm so grateful for this opportunity to beta test the Lensbaby Obscura. I was able to push past my own self-limiting beliefs, and as a result, I have a LOT more compassion for the people who take my workshops and I have a better understanding of my own process. While this lens isn't for everyone, the possibilities of the Obscura are amazing. I've seen fabulous portraits, architectural and landscape photos from my fellow photographers. For the vast majority of beta testers, this lens pushed them outside their comfort zones. It seems I wasn't the only one who struggled. From what I can tell from the final images and launch videos, we all came out stronger for the experience.
Whether or not you decide to add this very distinct art lens to your kit, I hope you will find opportunities to challenge yourself photographically. It's never comfortable, but by embracing the challenge, you may come out the other side stronger and more confident.
If you have challenged yourself photographically, I invite you to share your experience below and tell me how it changed you.