LEGO never stops surprising fans—not so long ago, they released a Sesame Street set, and now we get Winnie the Pooh, yet another iconic TV series made of bricks. This set had been expected since a similar project by Ben Alder achieved 10,000 supporters on the LEGO Ideas page.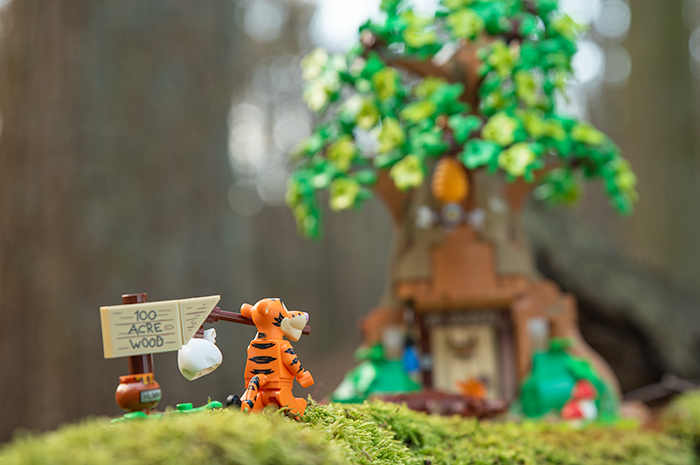 Main construction
Considering it includes 1,265 pieces, the Winnie the Pooh set seems quite small, but I wouldn't say it's a disadvantage. Construction is solid (except maybe the tree's crown) and very detailed. Compared to Alder's original project, only the shape of construction remains almost unchanged. The build solutions used in this set are much more advanced than originally expected. Also, the colors are brighter and more vivid, which makes everything quite attractive and unusual.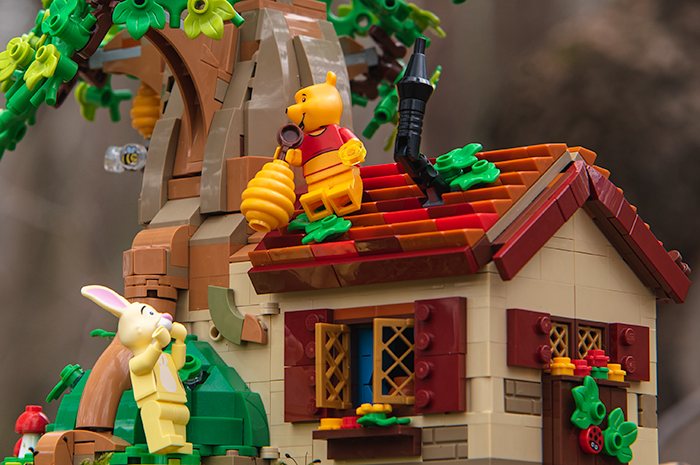 Tree crown
I like this part of the build most in terms of its visual appeal, functionality and elements used. On the other hand, it's annoying that every time I take the tree outside and put it in the bag, almost all branches fall apart—well, there is always something for something. Interestingly, one of the main elements of tree crown is part 49577, which was used in different colors as a coral reef. There are 24 pieces and that quantity is just enough to design and build your own tree. All these elements are attached to each branch by a towball element, allowing it to rotate freely and change the green branch's angles. You can easily adjust the tree to your frame, no matter where you're taking the photo. The tree also boasts two hives with bees rotating around between the branches. The bees are printed on transparent round tiles.
Let's go inside…
There is not much space here, but it's a cozy and well decorated house. Access to the interior is easy, as the rear part of construction can be folded out.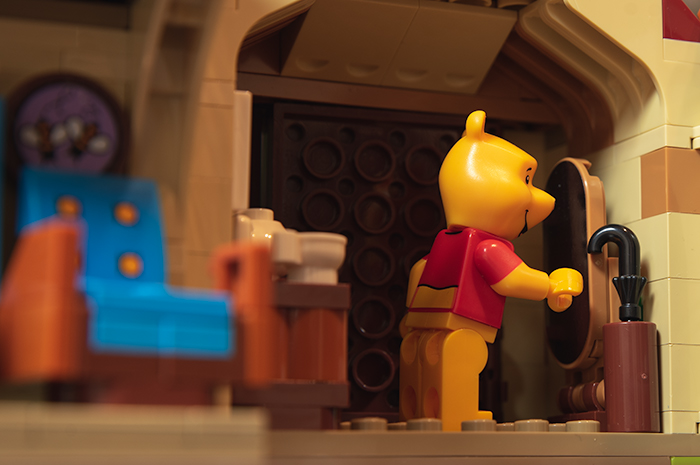 Details
What I really like about most LEGO Ideas sets are all the details and printed elements. It's no different here, however we also have some stickers to apply—fortunately not too many. I fell in love when I saw the printed honey jars, and the bees and ladybug on 1×1 round tiles. All these elements could help a lot with storytelling in photos. I like to include these kinds of little things in my pictures, so I'm pretty sure these elements will serve me well.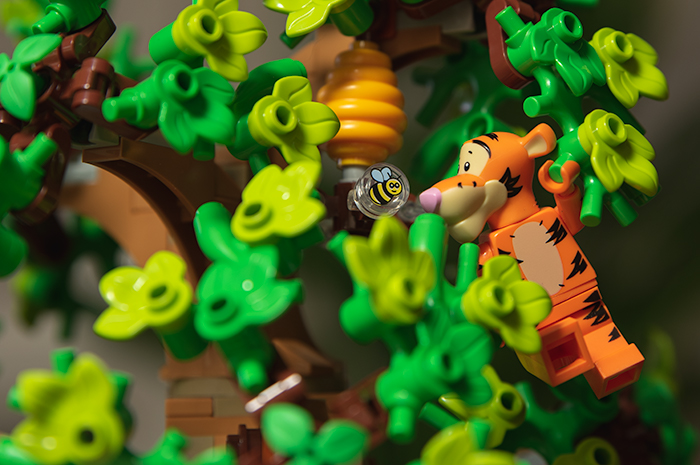 Minifigures
Let's put aside all these minor things and focus on what's really important here—the minifigures! This set contains five unique minifigures, including Winnie the Pooh, Piglet, Tigger, Rabbit and Eeyore. I'm a bit disappointed we didn't get Owl, who was presented in the original project. It's a pity. Most fans can enjoy a sigh of relief, though, as Tigger and Eeyore are actual molded minifigures instead of brick-built stand-ins. Tigger is my favorite minifigure in the set. The fun-loving tiger looks good from each side, unlike Pooh. If you look at Pooh from the side he seems to be quite a fit bear, but I'm being a bit clingy here. Overall, I really like each minifigure from this set.
Final thoughts
Winnie the Pooh's house is a perfect display, but it also has big potential for toy photography. You can use it as a main subject, but it also works perfectly as a background, because it looks great from many perspectives. Additionally, I guarantee the five minifigures will spend many hours in front of the lens. For me, this set is exactly what I've expected from another LEGO Ideas reveal.